One of the questions I get asked most is how to style a coffee table. And it's a great question! When it comes to coffee tables, it's way too easy to go from bare to overloaded. After all, when you're working with a small surface area, even one or two objects can make or break your arrangement. So I thought I'd use the occasion of our pretty new brass and white concrete coffee table to share my top three coffee table styling tips! These tips apply for all shapes of coffee tables, but they're especially suited to round ones like this Remy Coffee Table by Sunpan. Made of brass and white concrete, the table beautifully exemplifies Sunpan's commitment to well-priced, high-quality design! I especially love that this is a tray-top coffee table. The raised edges do such a lovely job of containing the careful composition within.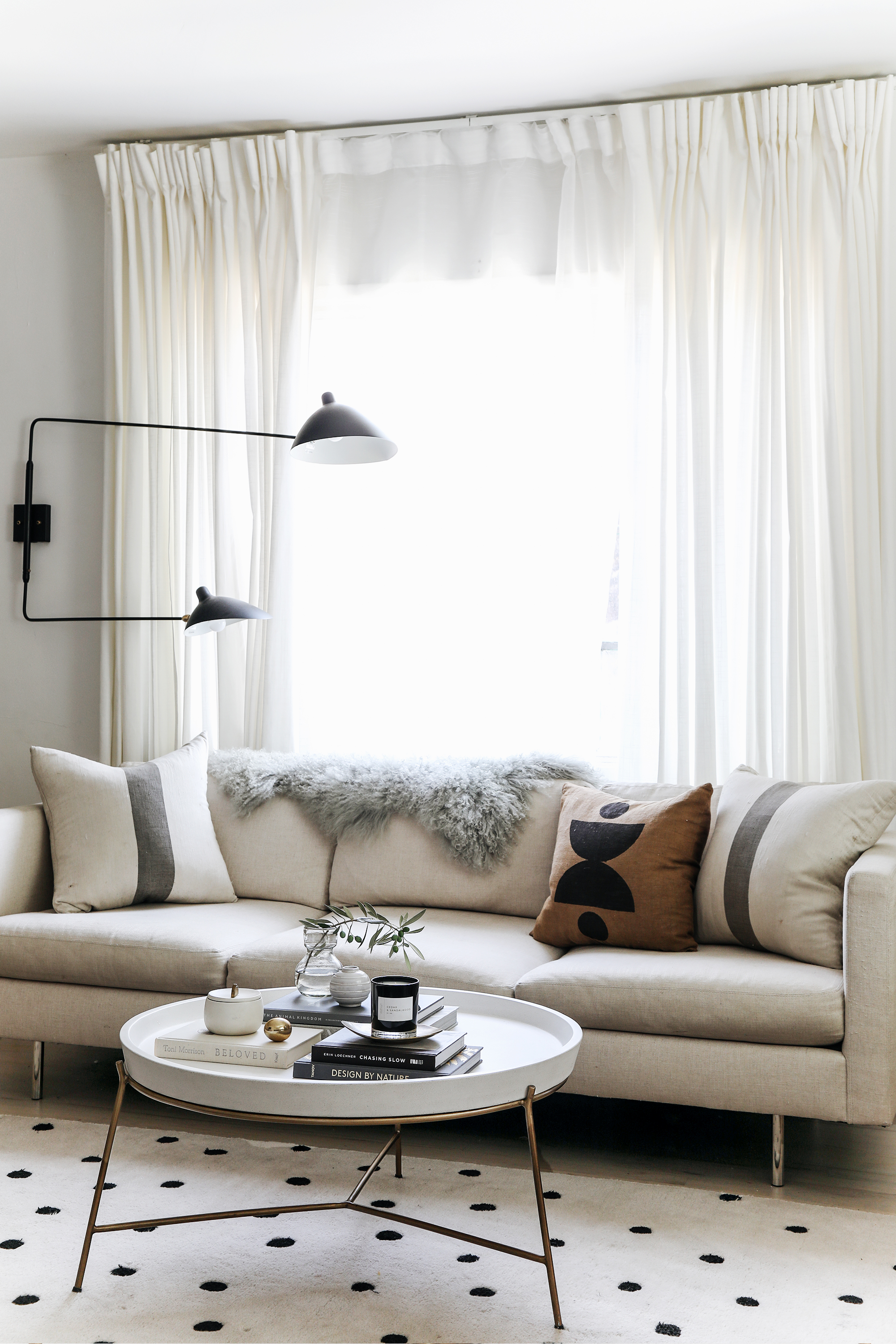 1. Think In 3's: I always think of myself as creating triangles when I'm styling, since the triangle is such a harmonious and stable shape! In this instance, I used three stacks of books to define a triangular area within the round frame of the coffee table. I then gathered my objects in groups of three, as well. There are three mid-sized pieces (the candle, the lidded jar, and the glass vase); and there are three small-sized pieces (the brass egg, the marble pyramid, and the petite ceramic vase).
Finally, I structured my color palette in trios as well! The vignette as a whole is comprised of whites, shades of grey, and brass. Then, within that palette, there are three pops of brass (the egg, the plate on which the candle rests, and the handle of the jar's lid), as well as three touches of dark charcoal (the spine of the book, the candle, and the marble pyramid). A lot of strategy goes into this seemingly effortless mix!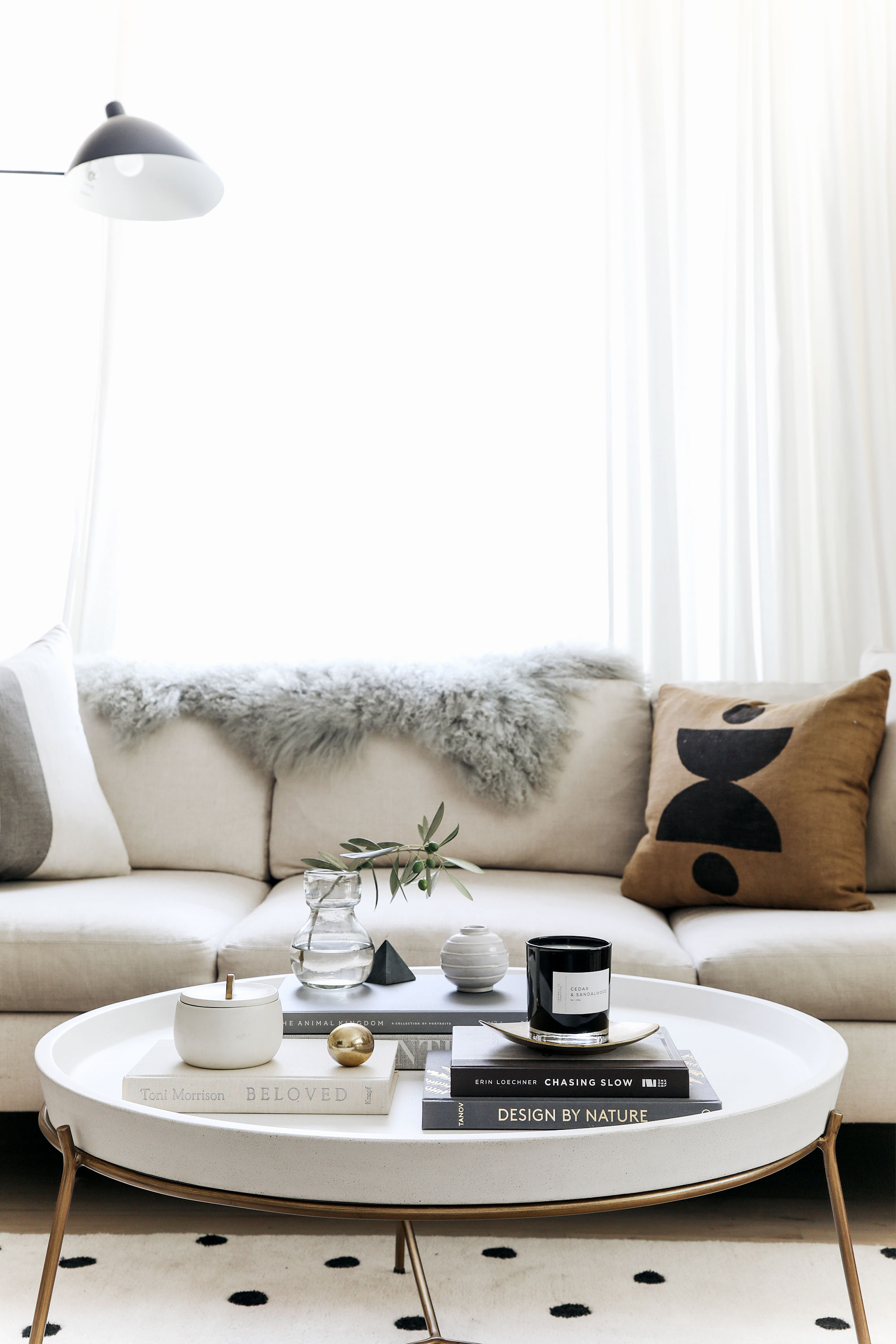 2. Keep a Low Profile: While I do have a soft spot for a coffee table with a towering bouquet of flowers, that type of arrangement isn't practical for day-to-day life! One of my most important coffee table styling tips is therefore to keep your stacks and objects lower than 6-8 inches total. And even then, have only a few items that protrude that high—the majority should be 4 inches high at a maximum. Too tall and you risk that overloaded look! Here, I've limited my stacks to two books, and the pieces on top of them are relatively squat too.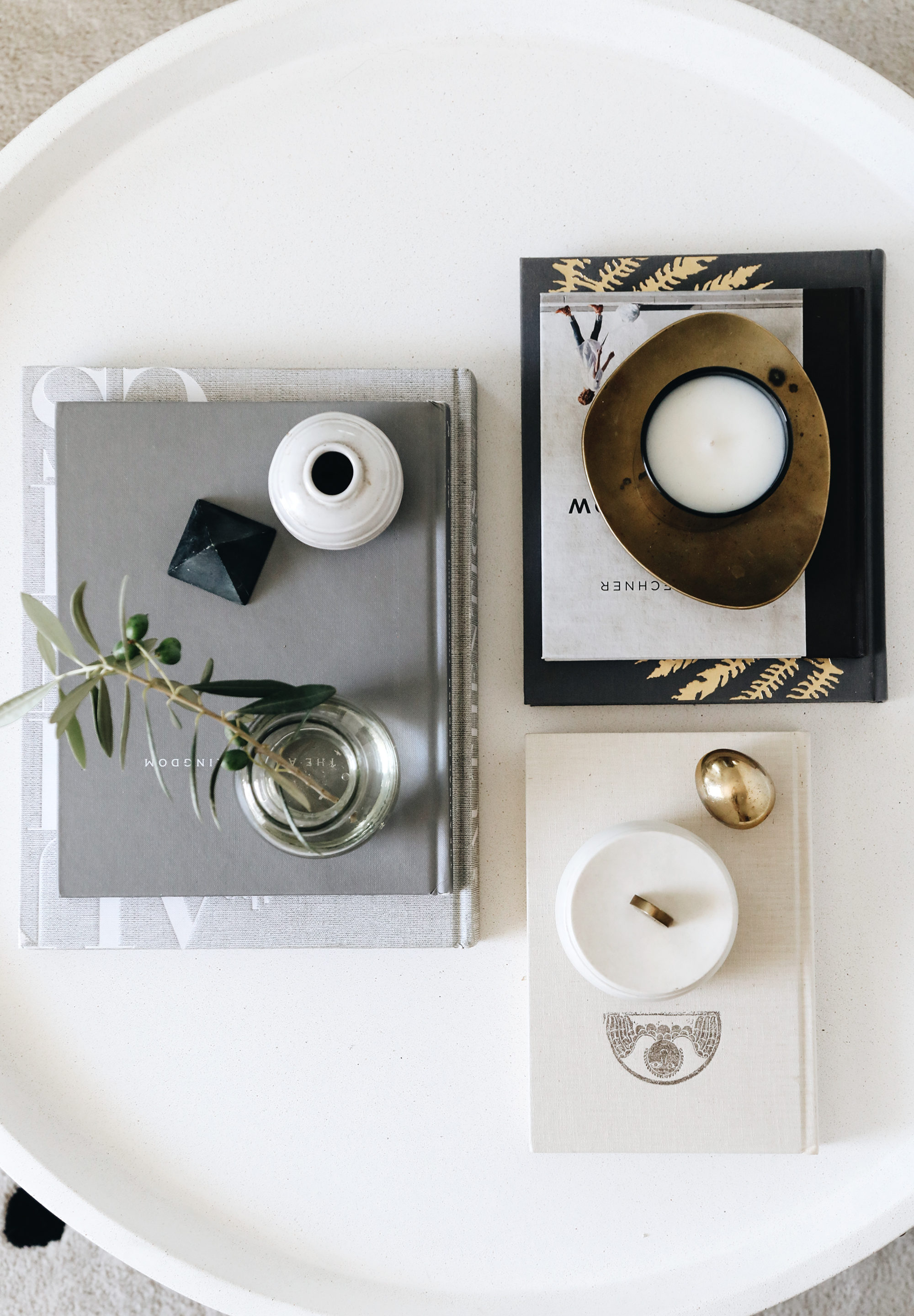 3. Embrace Negative Space: The temptation to fill every inch of surface space is strong. But you must resist it, my friend! Allow room for your objects to breath by leaving plenty of negative space in your arrangement, both around your stacks and between them. This will not only make each piece you do choose stand out all the more, but it will allow for the pretty texture of your table's top to contribute to the scene. This Sunpan coffee table has a subtle terrazzo effect that would be a shame to cover up!
P.S. Loving this table? Sign up for the Sunpan newsletter to receive information about new products, market events, and more. Sunpan has so many useful tools for designers like trade pricing, live inventory, reserve features on backordered items and quick-ship options. Oh, and be sure to follow @sunpan on Instagram for beautiful design inspiration, too!