Over the years it's been fascinating to watch the evolution of healthy home cleaning habits and the products available to support them. Growing up, my mother eschewed harsh chemicals in favor of basics like baking soda and vinegar. It meant our home was healthy, but it also meant we smelled like we lived in a pickle factory. Then, as I reached the age where I was cleaning my own home, the market was flooded with "green" products that loudly proclaimed their virtue—many of them with scents that caused me to question those claims, prices that had me calculating the precious cost of every spritz of surface spray, and eyesore packaging that wasn't any more stylish than my mom's box of baking soda.
Now, healthy cleaning 3.0 has arrived in the form of Grove Collaborative. Founded with the belief that safer, environmentally-friendly products should be easily available for everyone, Grove is your new go-to for all-things sustainable around the house. Every product on their site meets their impeccable standards for being non-toxic, effective, and cruelty-free. Not only do they carry a huge yet thoughtfully curated selection of eco-friendly brands, they also have their own in-house label that I'm frankly obsessed with. It's subtly designed, sustainable to the max, and has products I actually WANT to leave on my counter so they're readily accessible when it's time to use them. Here's a few of my favorite stylish—and of course effective!—options from Grove for cultivating healthy home cleaning habits in every room of your house.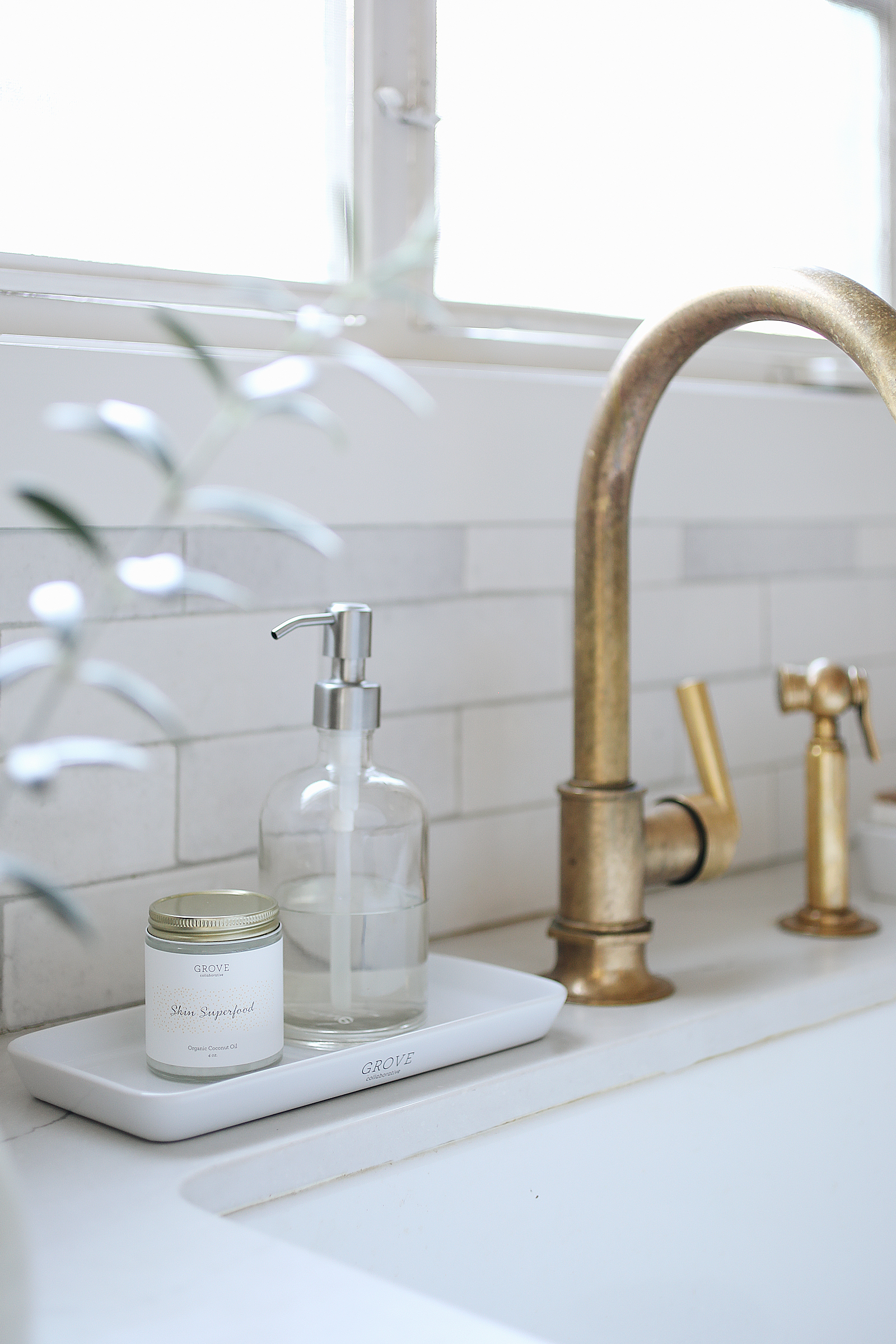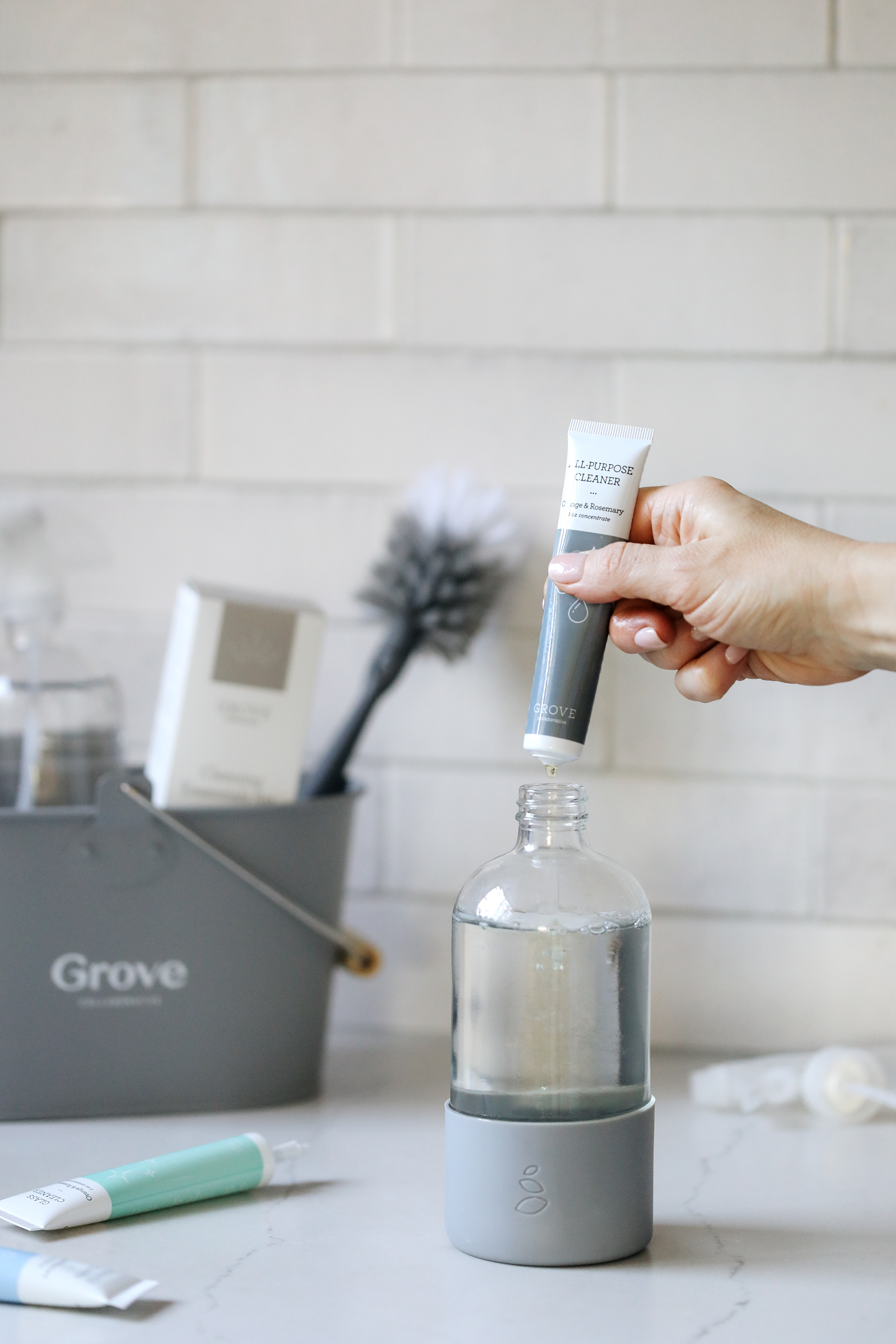 In the Kitchen: With so much activity in the hub of the home, staying organized is key to keeping a spotless kitchen. Grove makes a variety of sleek glass spray bottles and soap dispensers, so you can stay streamlined while you clean. Thanks to the compact packaging of their cleaning concentrates, each glass bottle can be used to mix countless batches of surface, bathroom, and glass spray, with minimal waste being created. What's more, the silicon sleeves of the bottles are color coded so you know exactly which solution you're reaching for! Store them all in a handy grab-and-go cleaning caddy—tuck in a scrub brush with replaceable heads while you're at it—and everything you need for sparkling, stylish, sustainable kitchen is right at your fingertips. Oh, and speaking of fingertips, a sink-side jar of Grove's organic Skin Superfood is just what the doctor ordered for a little nourishing self-care once the dishes are done!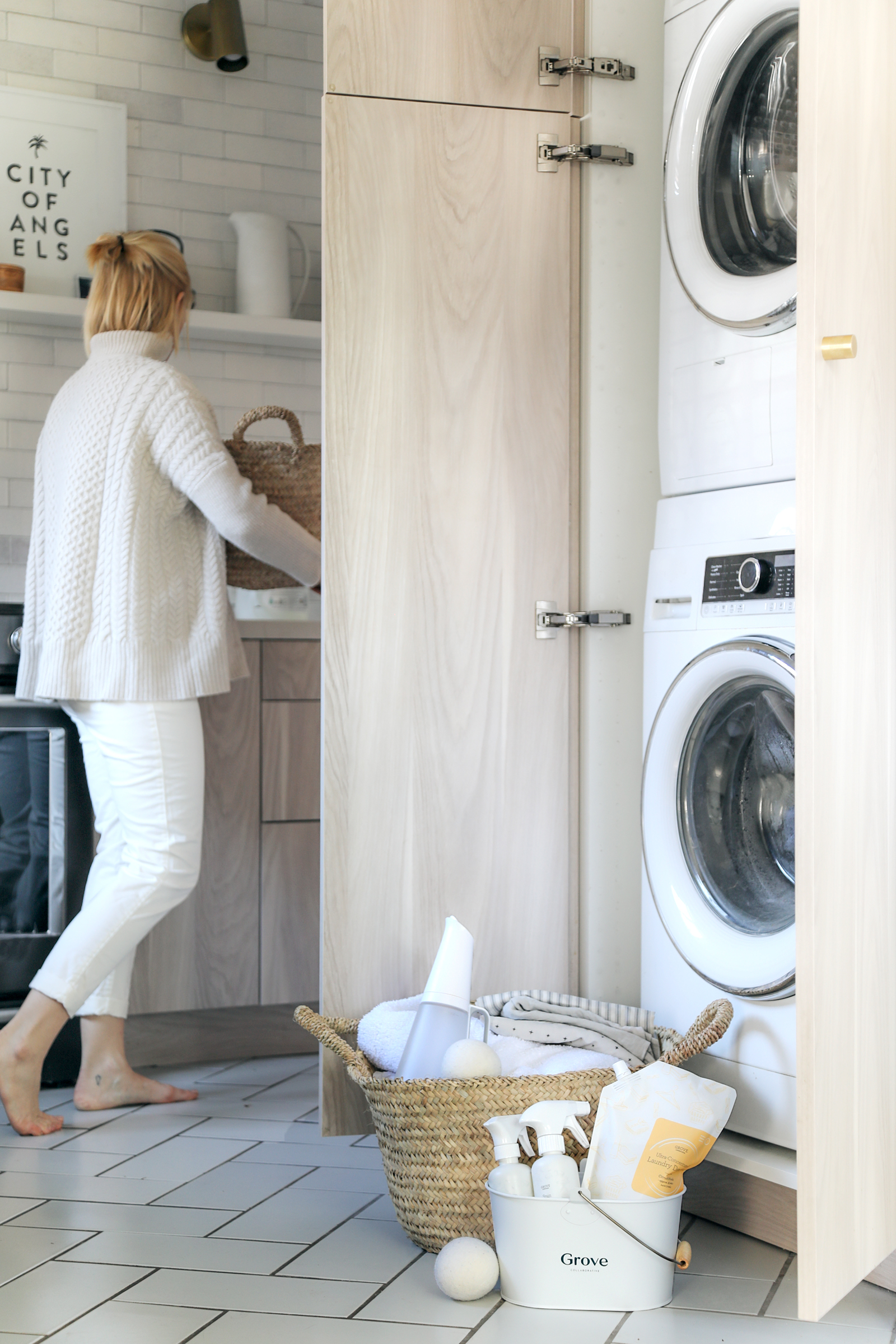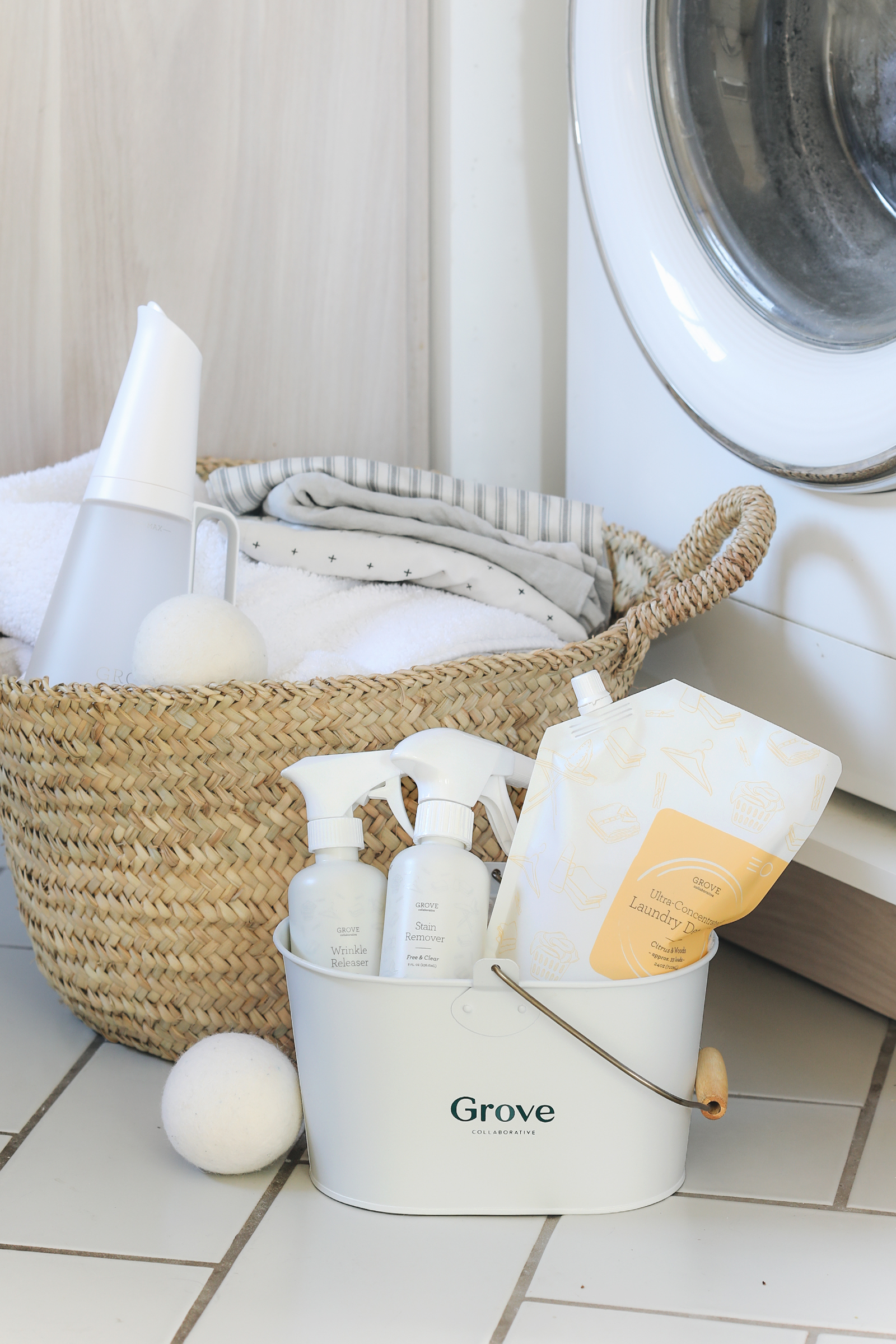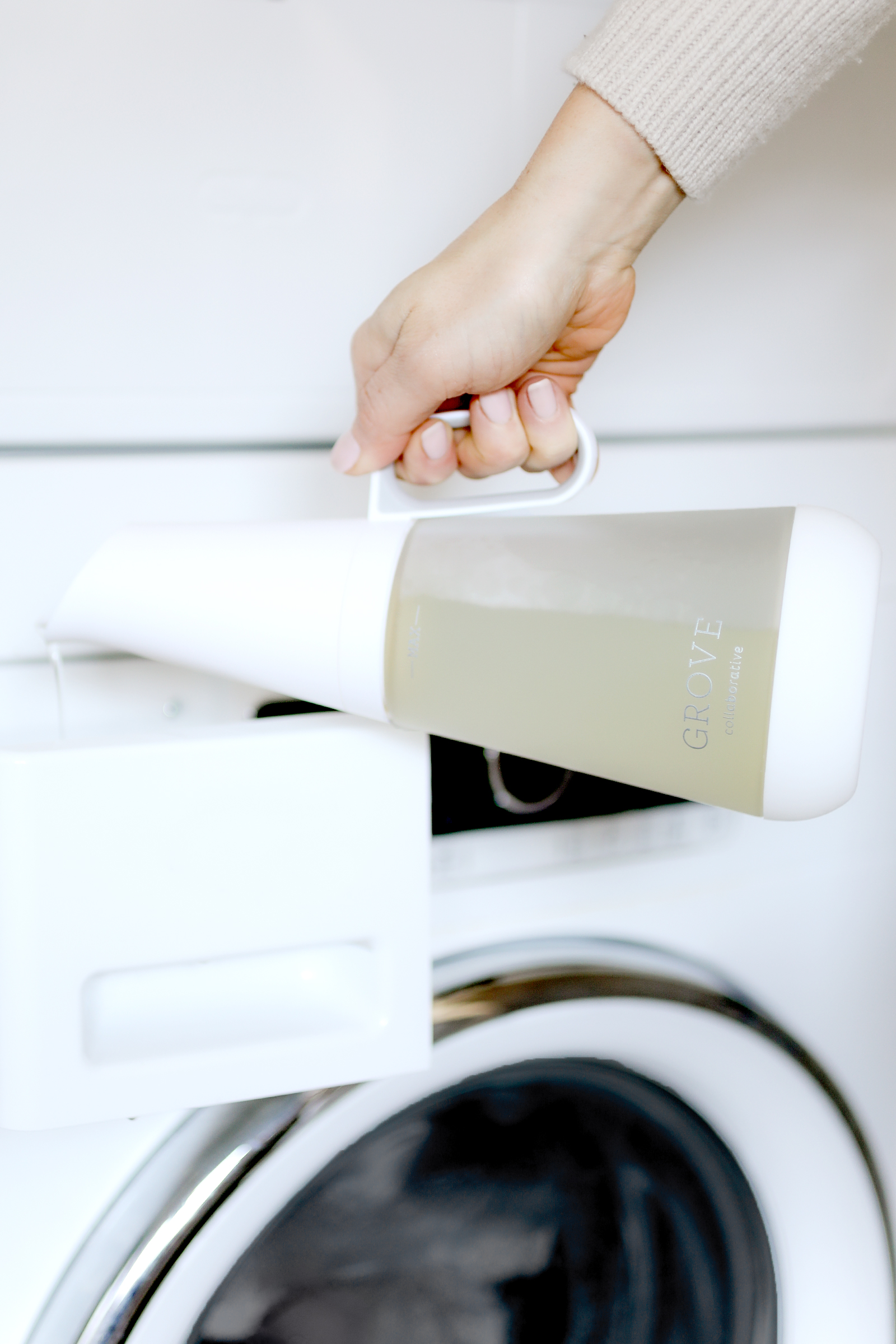 Laundry Time: Of all the chores on my to-do list, laundry has always been my least favorite. Yet with a baby on the way, I know the number of loads I wash each week is only going to increase! So I've been on the lookout for ways to simplify our laundry process, and Grove's reusable detergent dispenser grabbed my attention right away. It has a patent-pending, auto-dosing mechanism that prevents the messy drips and dribbles I always seem to get when I pour detergent straight from the package. What's more, when used in concert with the ultra-concentrated laundry detergent that Grove offers, it cuts plastic waste by 80%. I'm a huge fan of the Citrus & Woods scent option for Grove's 96% bio-based detergent; it's pleasantly palpable, never overpowering!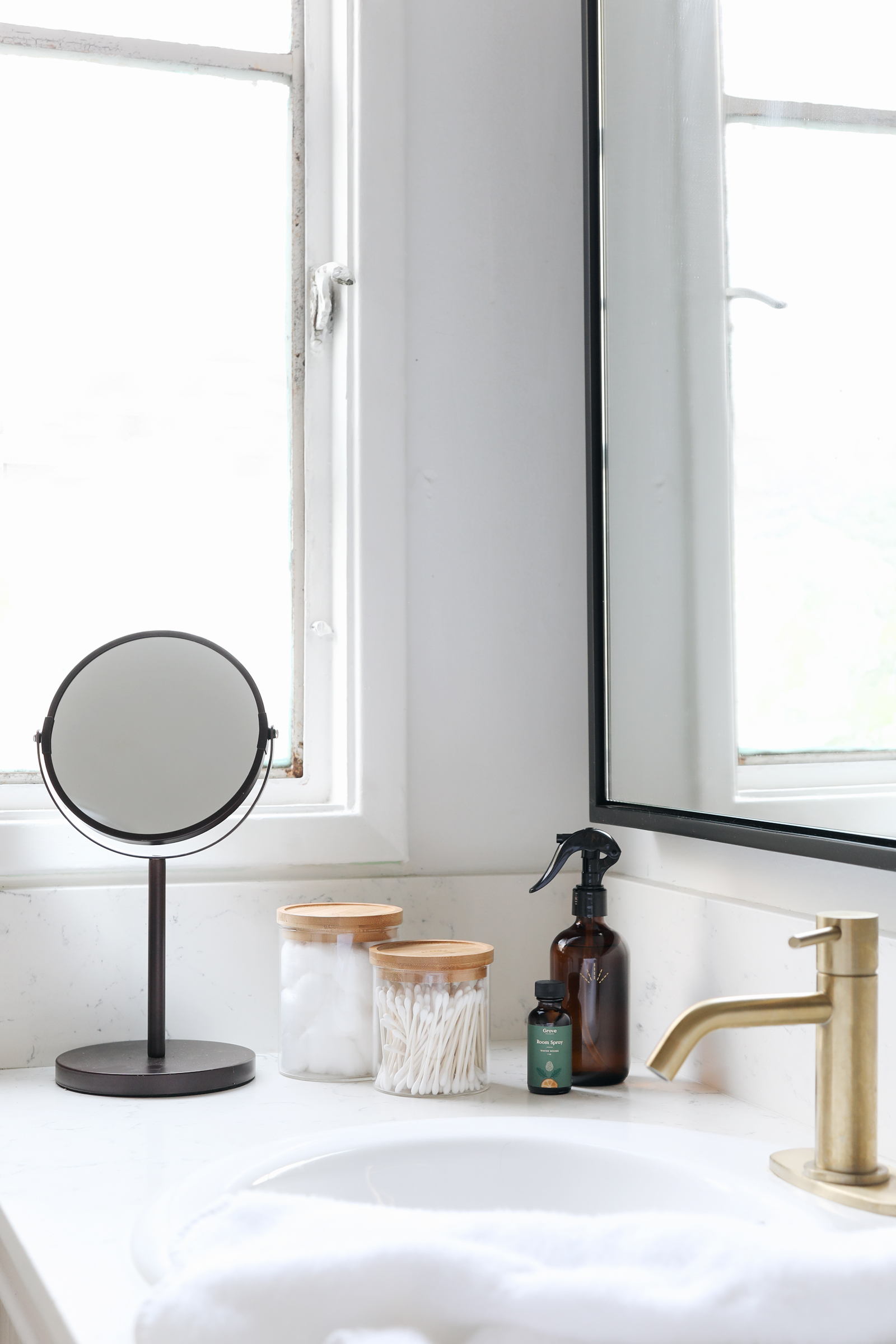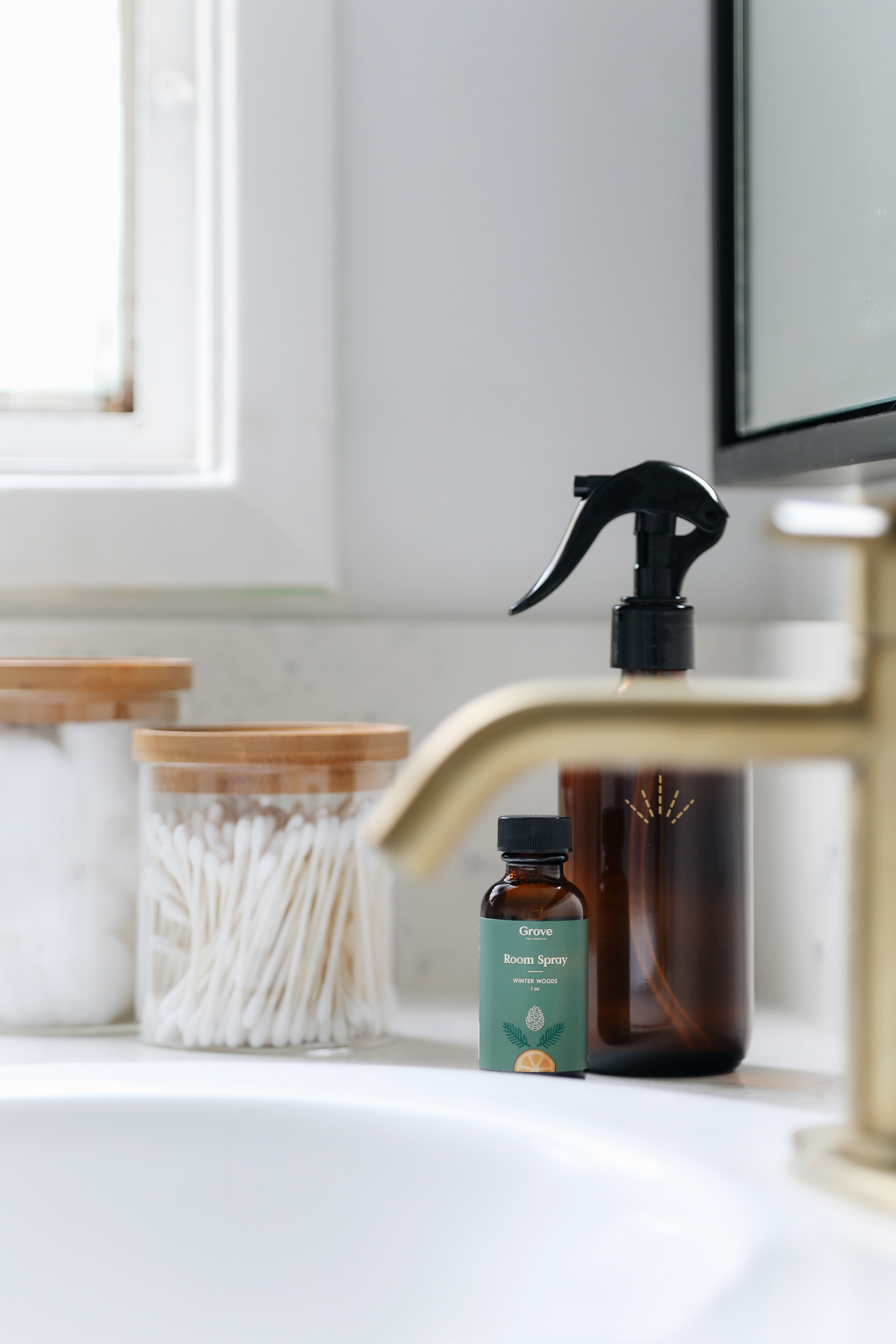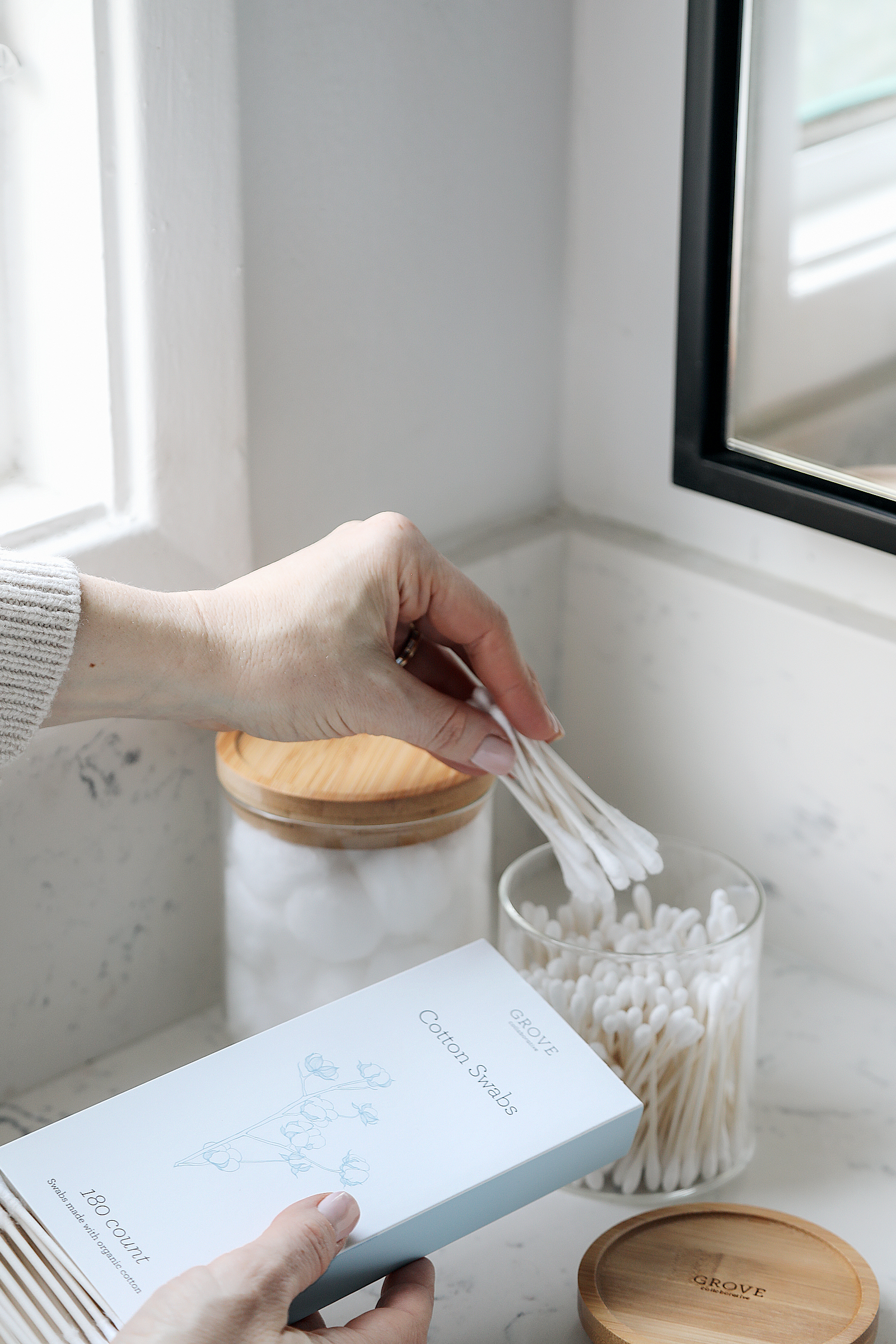 In the Bathroom: The best bathrooms feel like a soothing, clutter-free sanctuary from the everyday. If were up to me, our bathroom vanity would remain clear at all times. But with limited under-cabinet storage, it makes sense to keep a few essentials out at all times. Grove's petite bathroom canister set is the perfect size to store their organic cotton balls and cotton swabs, without losing too much valuable counter space. As for that other bathroom essential (air freshener, phew!) Grove's got you covered there too. A reusable amber glass spray bottle mists delicate fragrance that you can customize yourself from a variety of 100% natural essential oil concentrates. I'm stocking up on the limited-edition Winter Woods scent while I can!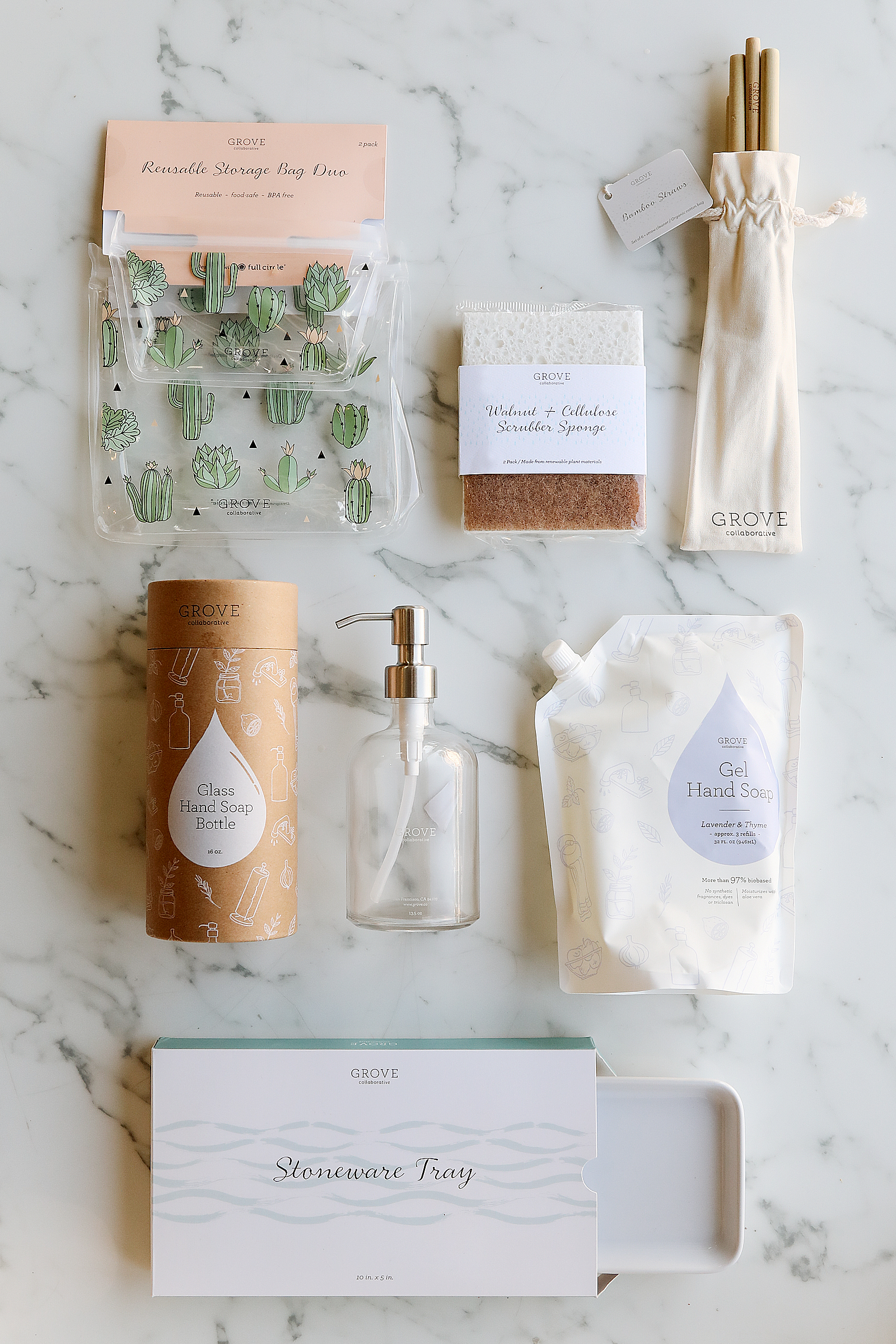 New Healthy Home Cleaning Habits Waiting to Be Discovered! Not only does Grove stock products you're already hooked on, they're brilliant about sending free goodies with every order—so you can try new items and make sustainable swaps you may not otherwise have discovered! In fact, if you're new to Grove and shop through this link, you'll receive the free gift pictured above: Grove Bamboo Straws, Grove Reusable Sandwich Bags, Grove Hand Soap Pouch, Grove Hand Soap Dispenser, Grove Walnut Scrubber Sponges, and a 60 day VIP trial. While Grove Collaborative is a free service—you only pay for products you buy, and shipping is always a flat rate of $2.99—that VIP membership gets you free shipping on all orders, 4 free gifts per year, early access to new products, and more! To claim the free gift set above, you'll need to spend $20 at checkout on the site. Oh, and when new customers spend $39 or more, you'll also receive a free Grove ceramic sink-side tray, in addition to the other free items. So click here to fill your cart and claim all your goodies, and spruce up your home with sustainability and style!
Photos + Styling: Anne Sage. Disclosure: I partnered with Grove Collaborative to concept, style, shoot, write, edit, and share this post. All opinions are and always will be my own. Thank you for supporting the brands that enable me to bring you fresh inspiration daily!