One of the questions I'm asked most often is how to pull off a bathroom upgrade with no renovation. It makes sense! The bathroom is often the room we most want to transform when moving into a new house, but a full bathroom renovation takes considerable planning and budget.
I've been staring at my own lackluster primary bath for the last year and a half, knowing that a complete remodel is still years in the future. So I finally decided to give the space a facelift using bathroom finds from All Modern. The finished result is exactly what I need to keep me happy while I save for a gut job. Here's how I created a refreshed sense of style in my bathroom—with no renovation!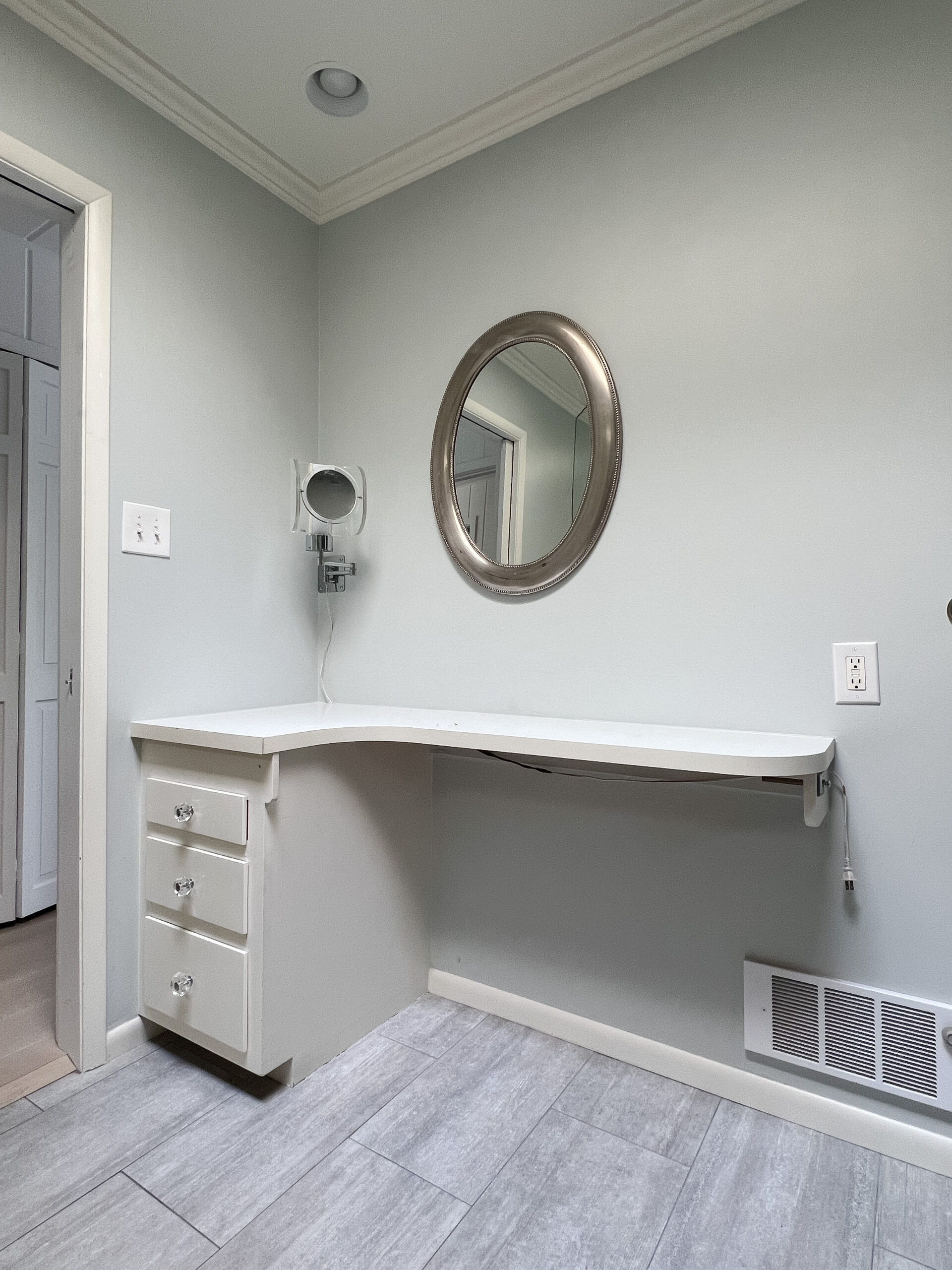 As you can see from these before photos, the bathroom wasn't the epitome of chic but it also wasn't in terrible condition. That's why I knew it would be low on our priority list for renovation; though not cute, it was much more functional than other rooms, like the kitchen. Still, the drab finishes and dated hardware were bumming me out. A facelift was just what the design doctor ordered!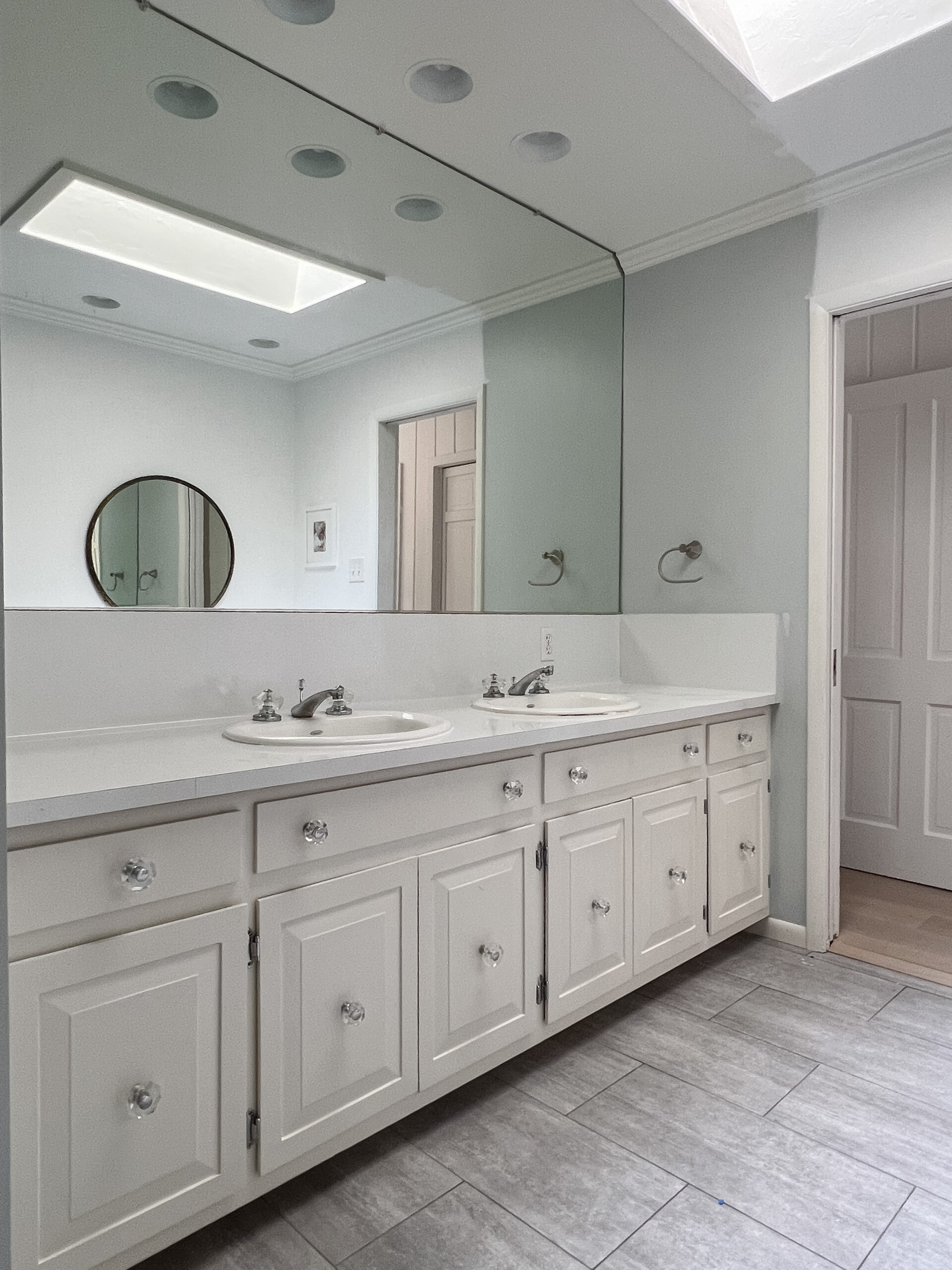 How to Upgrade a Bathroom without Remodeling
Thankfully there's lots you can do in the bathroom to update the space. I started with a fresh coat of paint on the cabinets and walls. Because bathrooms have a small footprint, the cost and time required to repaint is usually much lower than other rooms in the house! I also added travertine stick-on tiles to the floor and tried my hand at a faux marble paint job on the counter. Swapping out the icy blue and grey tones for welcoming shades of tan and greige laid the perfect foundation for my next upgrades.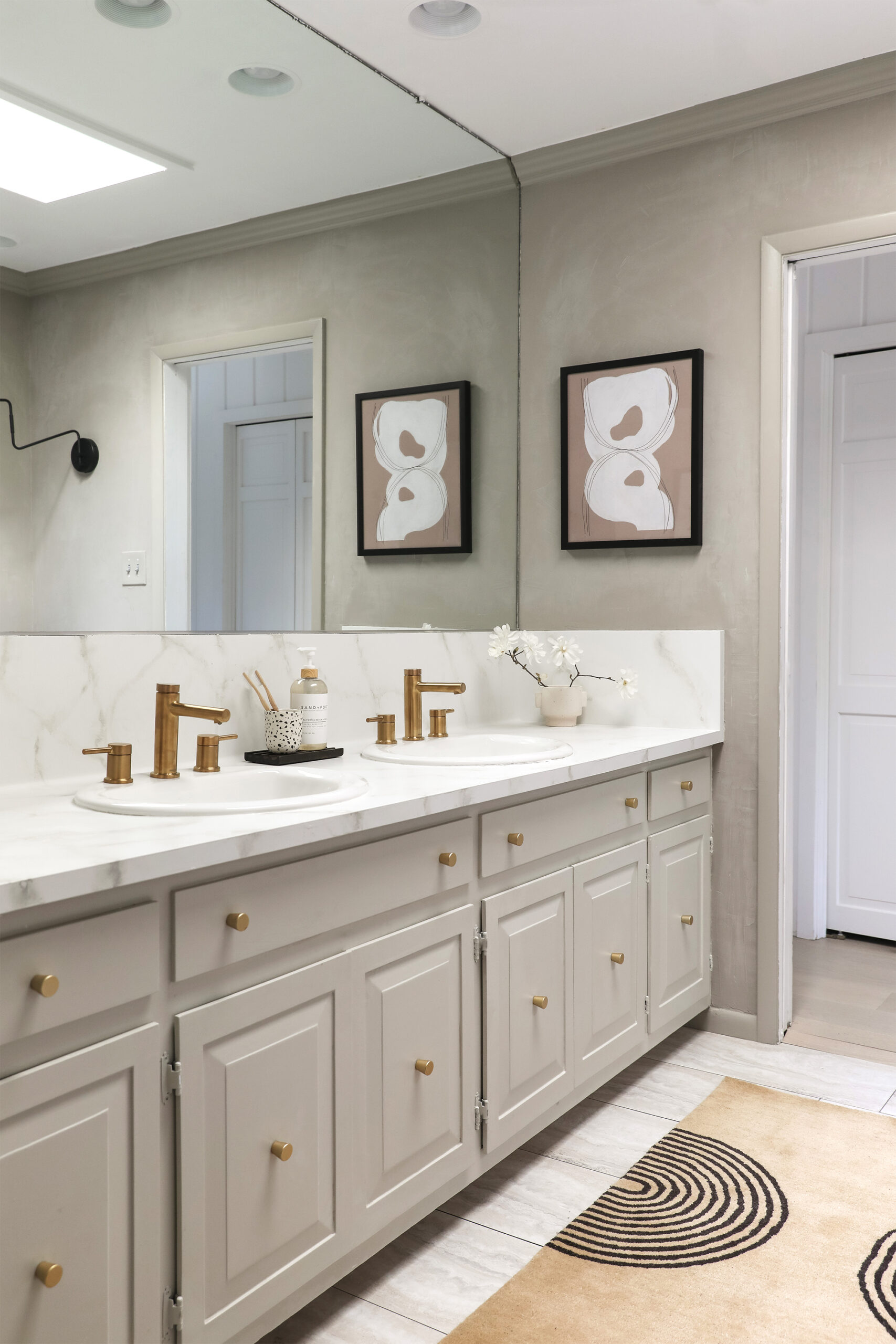 Swap Out Your Bathroom Hardware for Major Impact
The single biggest change that people overlook when updating the bathroom is replacing the hardware and fixtures. Swapping out tired cabinet knobs and tacky faucets is often a task you can do yourself (or hire a pro for not too much money). And adding a wall sconce or new mirror lends a sense of architecture to an otherwise blah space.
In my case, a modern brass faucet and brass cabinet knobs go a long way towards bringing this double sink cabinet into the 21st century! Over the vanity, a round black mirror in a statement-making 36″ inch size fills the wall much better than the too-small oval mirror hanging there previously. Finally, a sculptural swing arm sconce brings a sense of artistry and drama to this spot where I do my self care!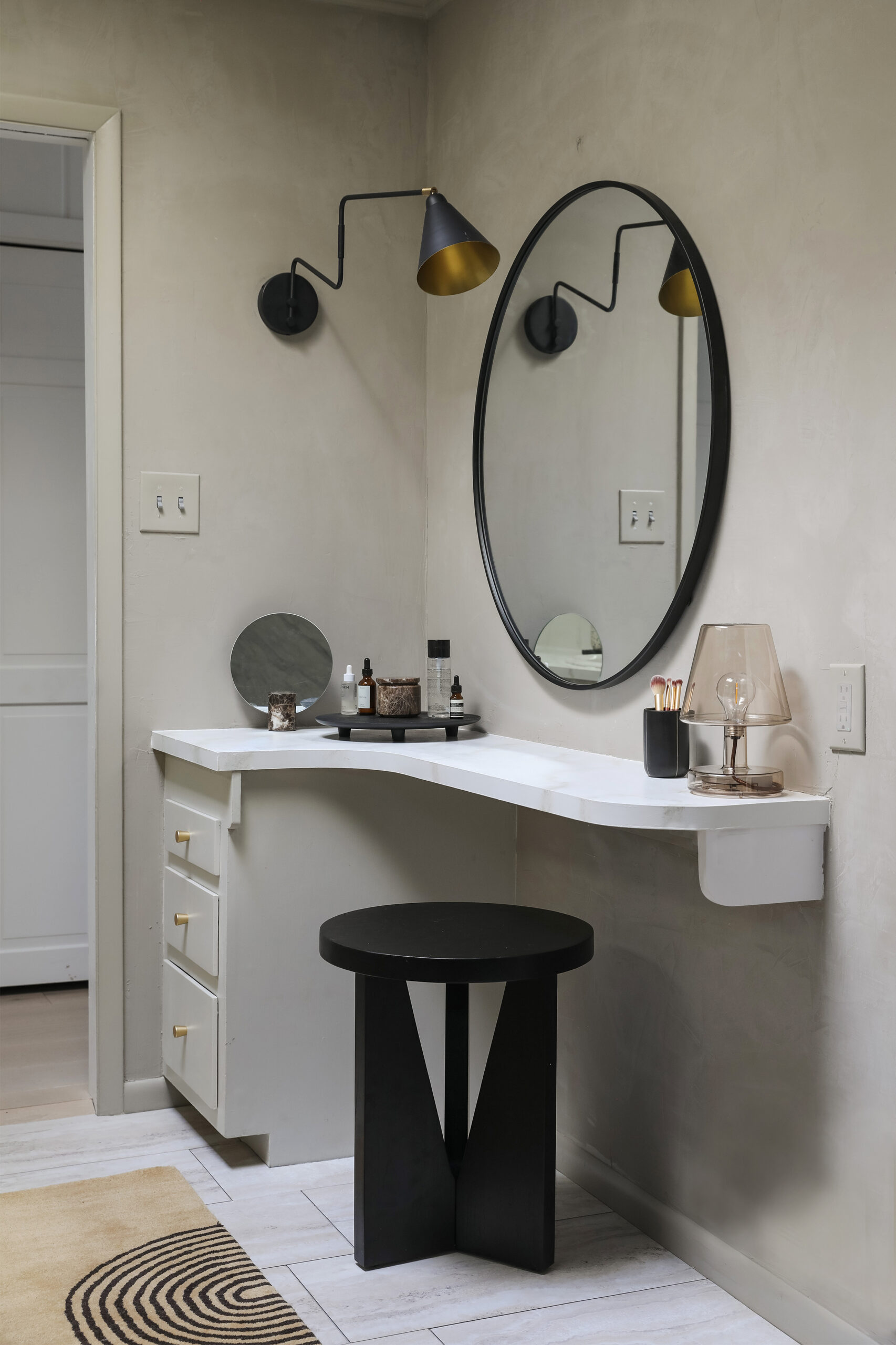 Hang Artwork and Choose Elevated Bathroom Decor
We spend so much time selecting artwork and decor accents for the living room but often forget to do the same for the bathroom! Yet mounting framed art and layering in pieces that feel borrowed from the living room can inject a feeling of intention that is often lacking in bathrooms.
The layout of our bathroom lent itself nicely to flanking the sinks with an abstract print and a fine art photograph. A crackled ivory vase anchors one end of the counter, while a weighty stone tray holds hand towels at the other end. Across the room, a tripod base table is the perfect height to moonlight as a vanity stool. Things were really starting to shape up now!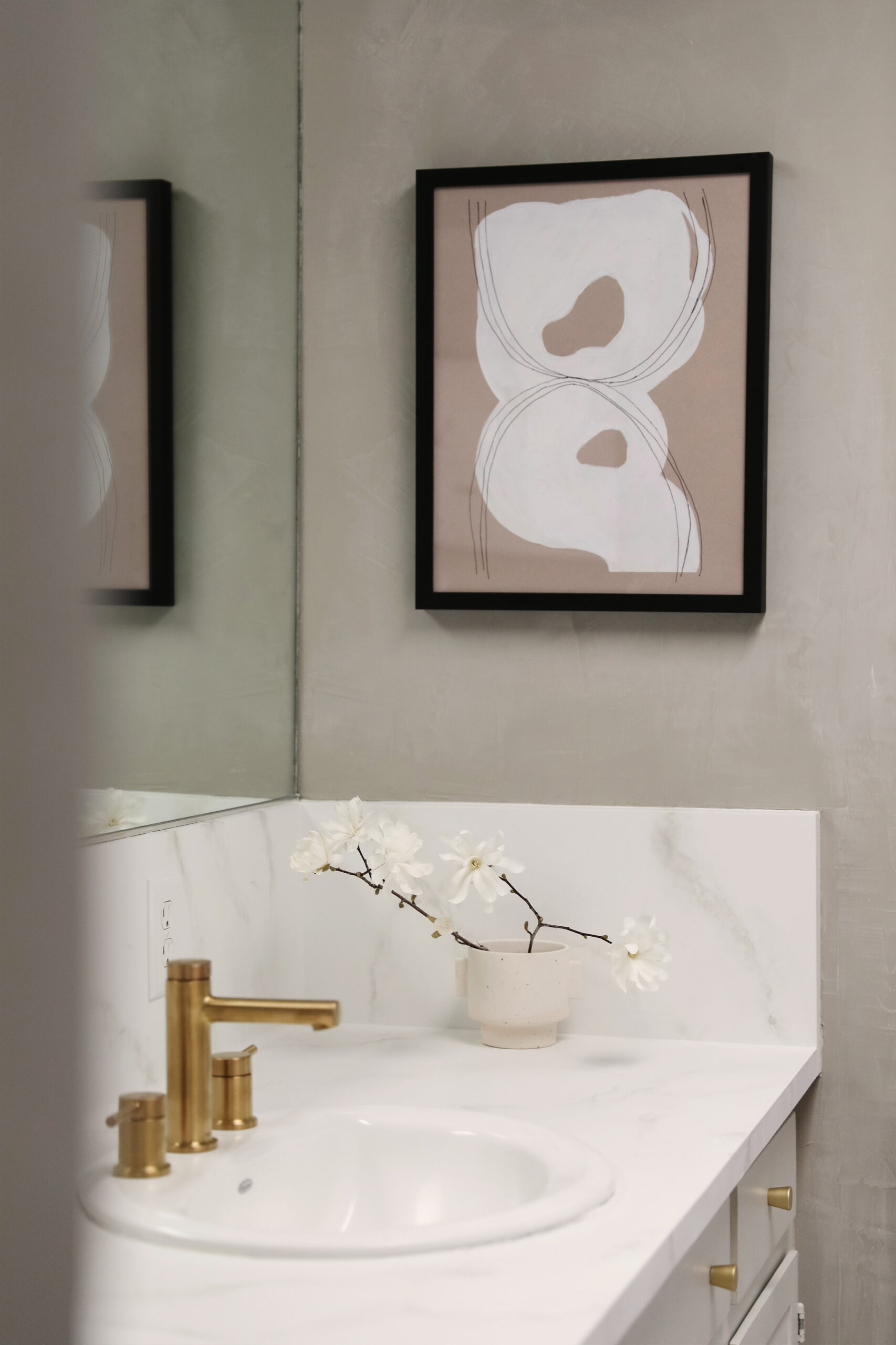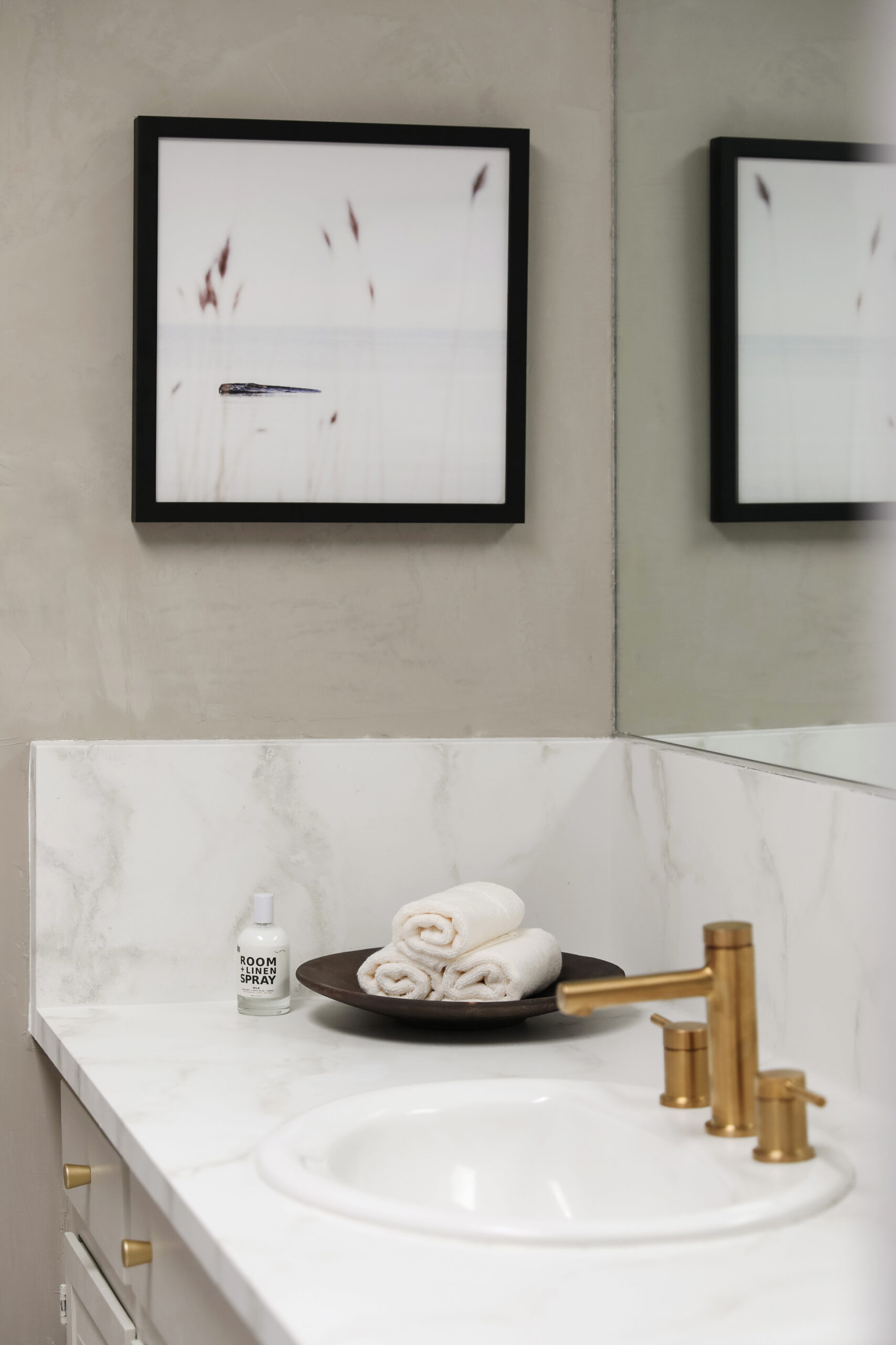 Go for Spa-Inspired Touches
Whenever I'm brainstorming ways to make a bathroom feel more inviting, I think of my favorite spa experiences and incorporate similar touches. Soft, thirsty towels are of course the perfect starting point! This towel set features a plush blend of cotton and eco-friendly bamboo, and I love how the ivory is a cozy alternative to white.
The bath towels also have sewn-in hanging loops, perfect for hanging on brass robe hooks that complement the room's other hardware. Personally, I find hooks to be a more modern looking option than a towel bar—and they help towels dry faster too! Finally, a walnut accent stool just outside the shower door holds additional towels and toiletries. The wood grain has such a lovely organic warmth to it!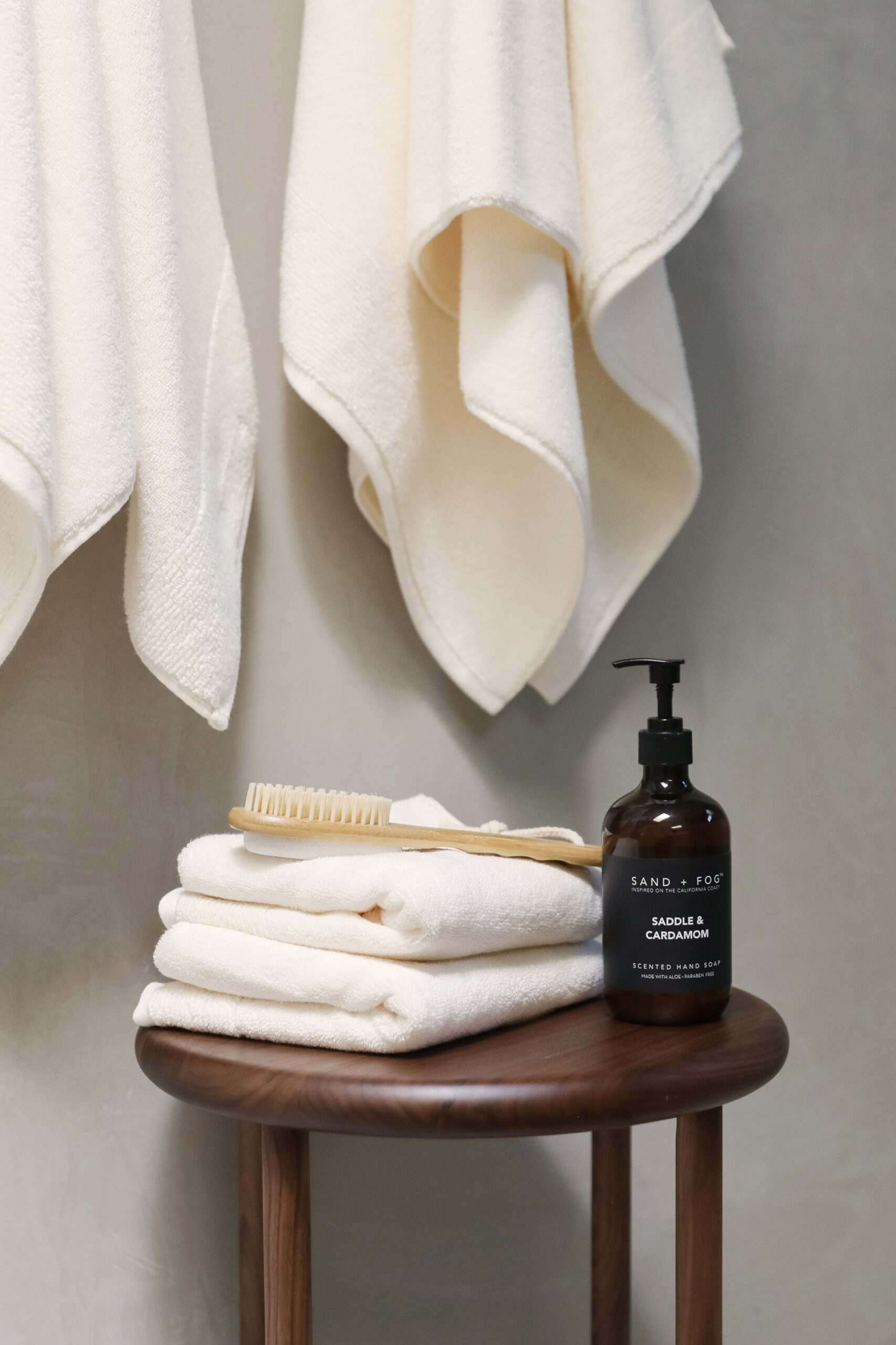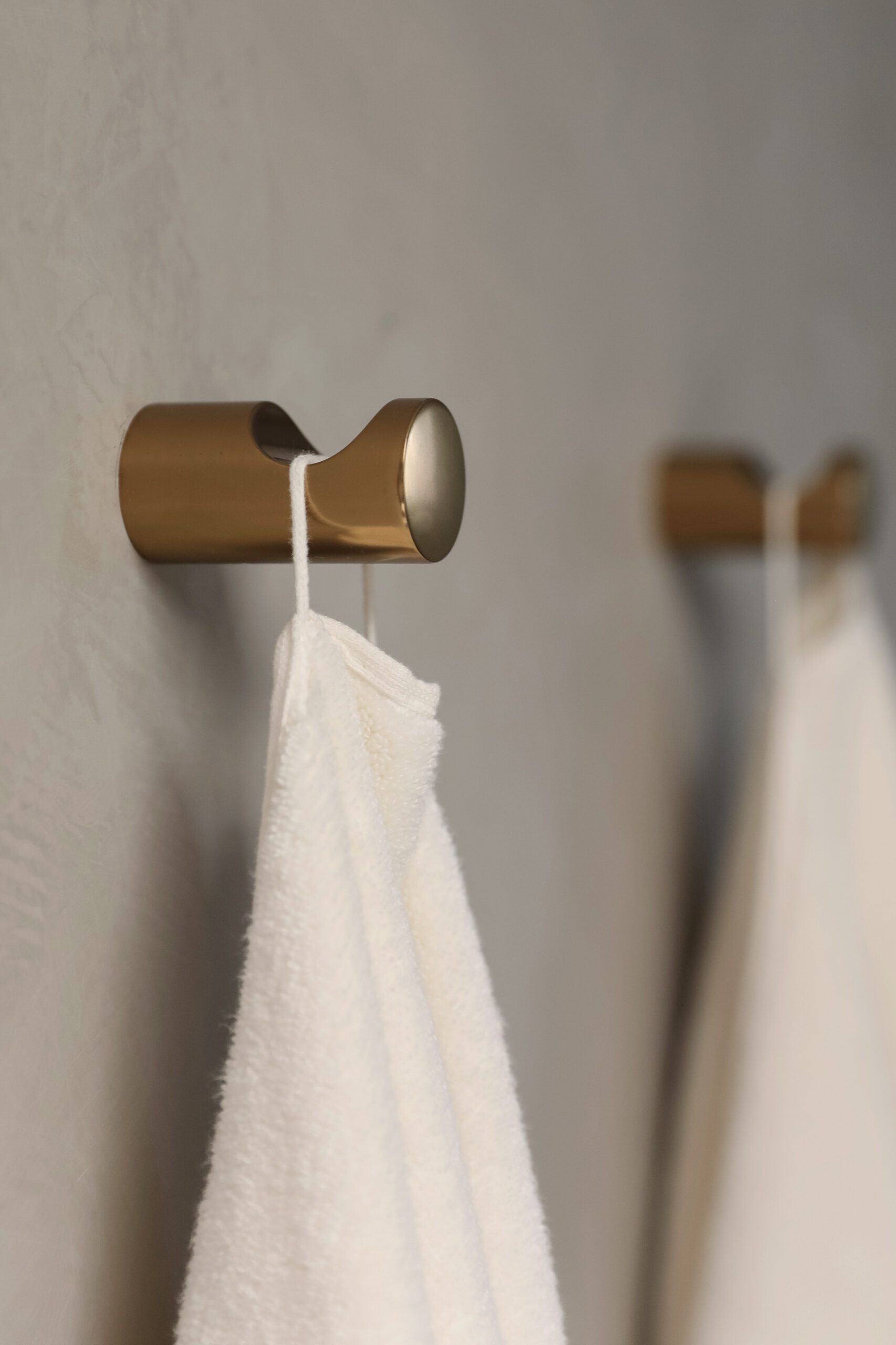 Combine Form and Function for Maximum Style
Bathrooms are first and foremost utilitarian spaces. However, whenever choosing functional items, I always look for little ways to add personality too. For example, on the vanity a black stoneware cup with a minimalist stripe detail corrals makeup brushes. A mini table lamp is not only battery operated (no cord clutter!) but also makes a cool alternative to a plug-in nightlight.
Keeping my skincare organized and neatly within reach is a major bathroom goal for me. A footed tray in the most exquisite ebonized wood displays my of-the-moment lotions and potions; it matches the wood soap tray next to the sink, too! A marble storage jar and round table mirror complete the scene with eye catching brown and white veining. The jar currently contains 50 hair elastics, but I give it two weeks until they've all disappeared between the couch cushions, ha!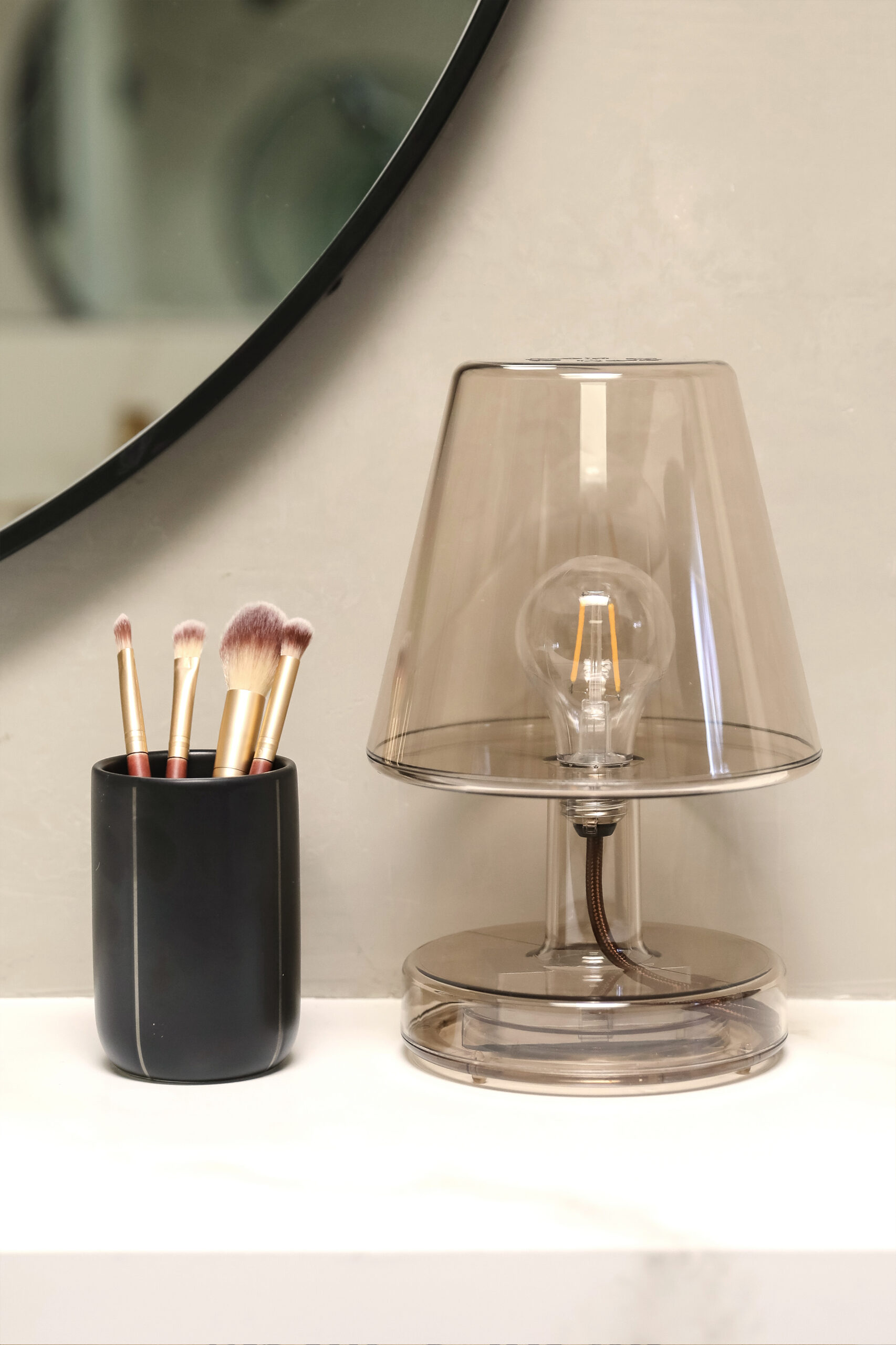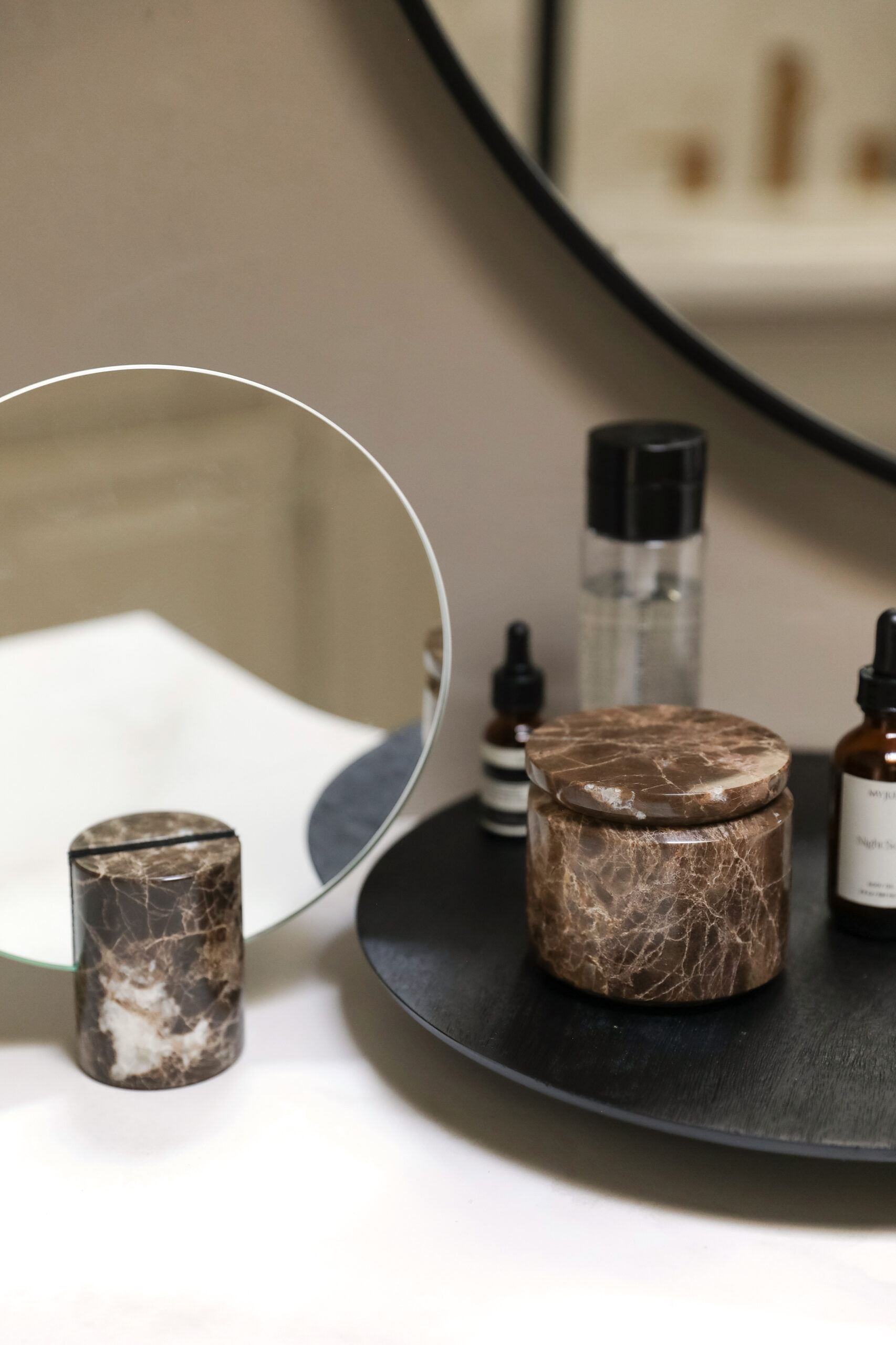 I wish these photos could convey how much better it feels in this bathroom now! Prior to implementing these changes, the space was stark and cold, and I mostly used our guest bath because I didn't even like to go in here. Now I can't wait to make myself at home, thanks to these thoughtfully chosen pieces. Whether you're doing a bathroom upgrade with no renovation—or putting on the finishing touches on post renovation!—shop all these pieces at AllModern using the links below!

Disclosure: I partnered with AllModern to concept, style, photograph, write, and share this post. All opinions are and always will be my own. Thank you for supporting the brands that allow me to bring you fresh inspiration!