For a while now I've been receiving a weekly haul of seasonal fruits and veggies from a local CSA service called Out of the Box Collective. (They're fab! If you're in the LA area, I highly recommend them!) As much as I appreciate the fresh flavors and the healthy additions to my diet, my favorite part about the box is actually how it forces me to stretch myself in the kitchen and use every last item lest food go to waste. This tasty Thai beet soup is a perfect case in point!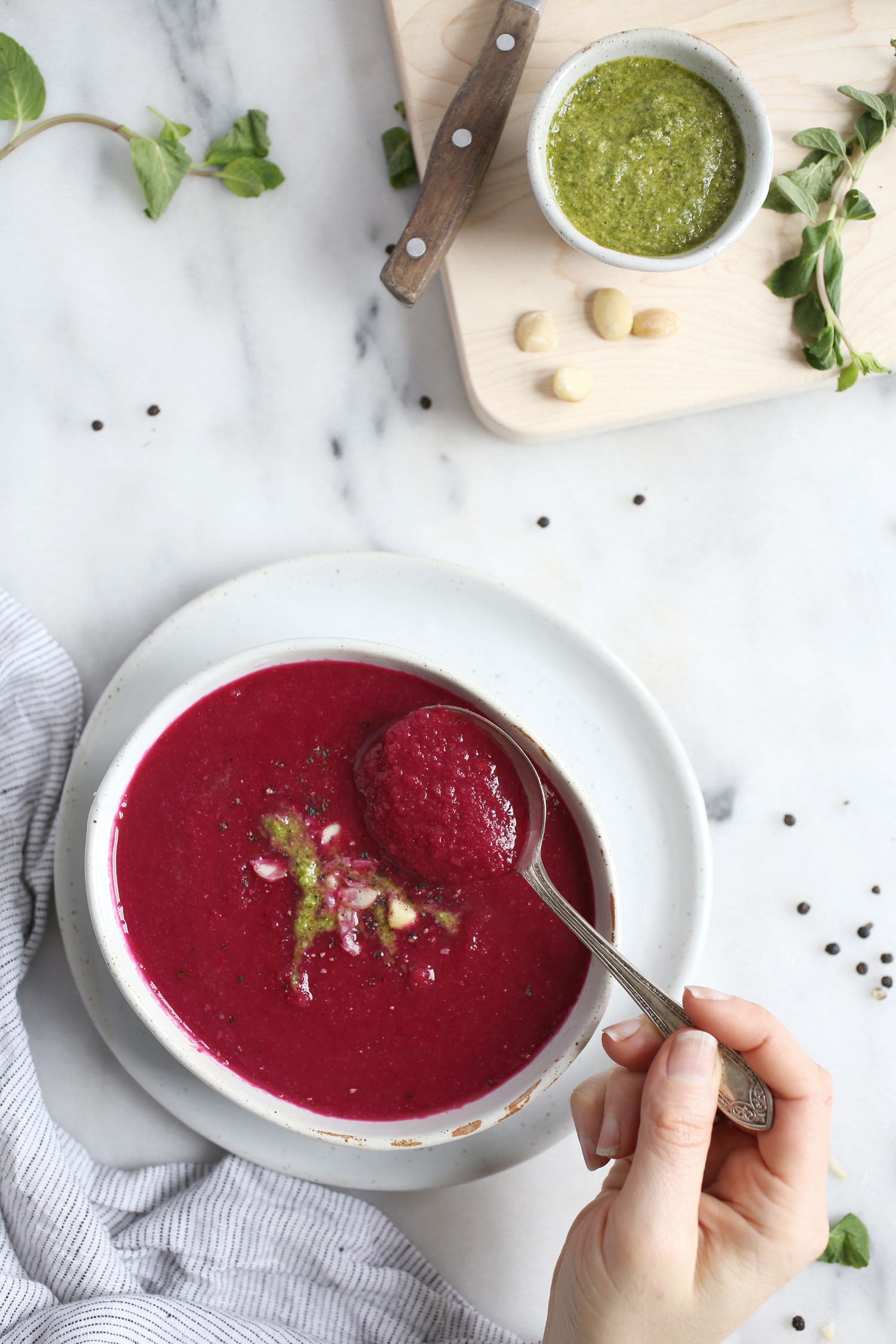 On Sunday I was cleaning out the fridge to make space for that night's delivery and found myself with a random selection of stragglers in the crisper drawer. Some shriveled beets and puckered apples mingled with droopy mint and flagging cilantro, while a tuber of ginger had started to sprout mold. I could have juiced the whole lot and called it a day, but the drizzly grey skies were calling for soup. I'd never had beets in combination with the Thai trifecta (say that five times fast!) of mint, ginger, and cilantro, nor had I ever put apples in a soup, but I had a suspicion that everything combined would taste pretty good. Rather than look up a recipe on Pinterest, I decided to test the hypothesis myself!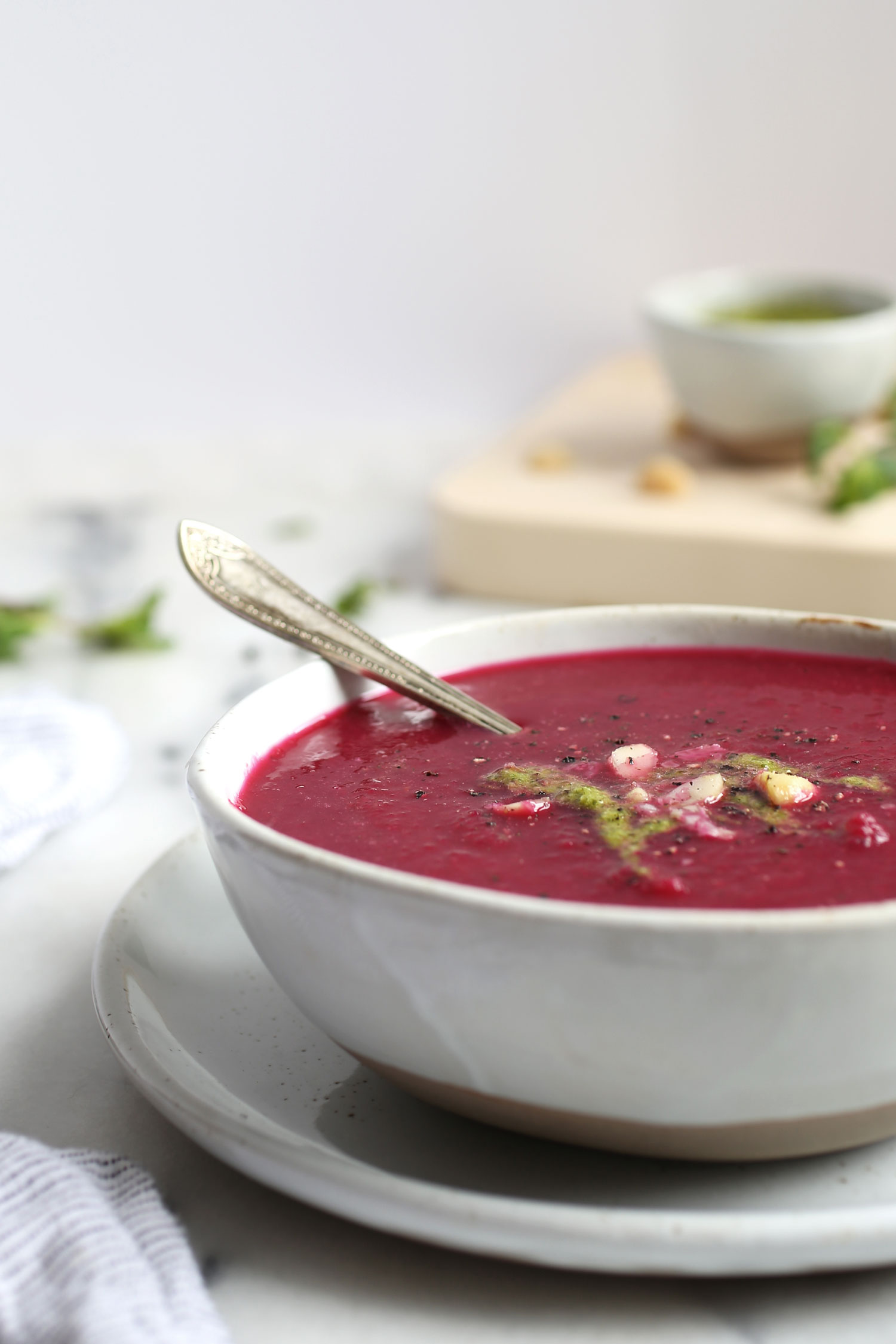 One big pot of delicious beet soup later, I can definitely say that I'll be making this recipe a regular in my dinner rotation! The beets and apples make for a rooty, fruity soup that deftly showcases the bright zing of ginger. A swirl of mint and cilantro pesto, made with macadamia nuts for a Pacific Rim twist, adds a layer of complexity—and looks awfully pretty in the bowl too! Like many soups, the proportions for this recipe are flexible. So use what you have on hand; play around and have fun. When it comes to adventures in the kitchen, there's nothing to lose and everything to gain!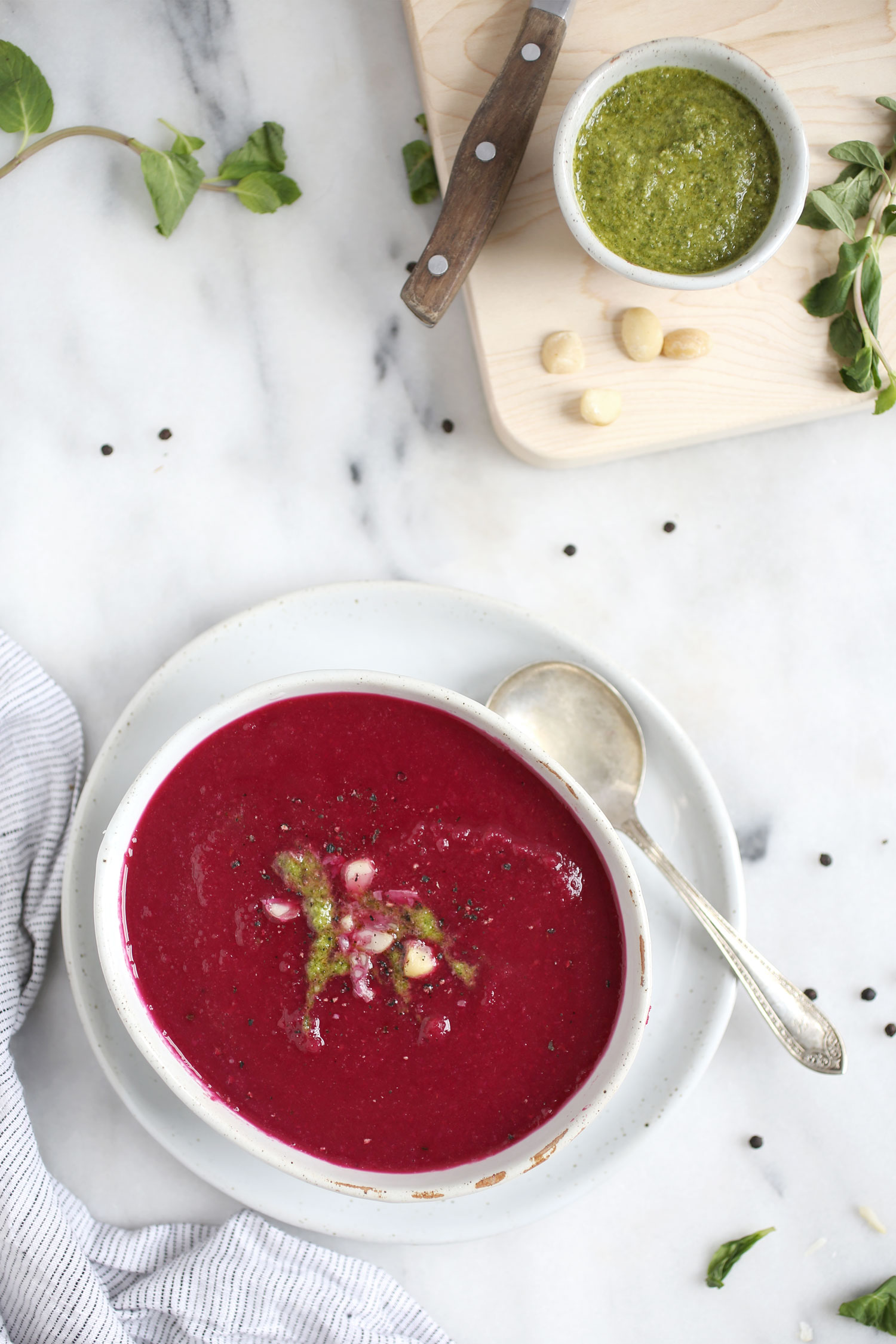 Thai Beet Soup with Mint Macadamia Nut Pesto
For the soup
(makes about 10 cups)
6 medium beets
2 medium apples
1 medium onion
2 cloves garlic, crusehd
1 knob ginger, about the size of your thumb, grated
2 stalks lemongrass, sliced lengthwise
8-10 cups vegetable or chicken stock (exact quantity depends on desired thickness of soup)
salt to taste
For the pesto
(makes about 3/4 cup. Save the extra as a dip for veggies!)
2 cups loosely packed cilantro leaves
1 cup loosely packed mint leaves
1/2 cup roasted macadamia nuts
1/4 teaspoon salt or to taste
1/2 cup extra virgin olive oil
1 tablespoon toasted sesame oil
juice of one lemon
a few tablespoons water as needed
First make the pesto. Place all ingredients in a food processor and puree. I like my pesto quite runny, especially when I'm using it in soups, so after checking the consistency I add water a little bit at a time until my desired thickness is achieved.
Roughly chop beets, apples, and onion into large chunks. (You'll be pureeing them all later, so no need to be fussy!) Place everything in a large pot with the ginger, garlic, and lemongrass, then add stock until chopped ingredients are just barely covered. Bring to a boil on high heat, then turn burner to medium low and simmer for about an hour, or until everything is mushy. Remove lemongrass and discard. With an immersion blender, puree until smooth. It will be quite thick, about the consistency of apple sauce, so add more stock as needed until it's as thick or thin as you like. Bring temperature back almost to a boil before serving. Garnish with a spoonful of pesto, some chopped macadamia nuts, and additional fresh herbs. Enjoy!