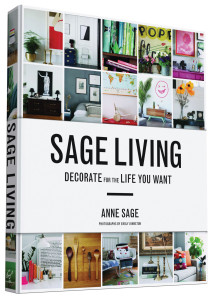 Published by Chronicle Books in the Fall of 2015, my interiors book Sage Living: Decorate for the Life You Want explores the intersection of design and personal growth. Here's what reviewers had to say about it!
"Perfectly named style maven Anne Sage knows a wise truth: decorating our living spaces for our goals is the first step in making them happen. In Sage Living, she goes beneath the stylized surface to help readers decorate for the lives they truly want."
—Amazon
"Looking past trends and decor for show, Sage Living goes deeper to explore how our homes help us connect, entertain, create, celebrate and grow with our friends and family."
—Nathan Williams, Editor-in-Chief of Kinfolk Magazine
"What I love about this book is how it breaks down the relationship between our home and our happiness."
— Emily Henderson, TV personality and blogger
Pick up your copy today at Amazon or Barnes & Noble!