All year I've been reciting the same refrain: I have a closet full of great clothes but wear only a small percentage of them. I'm in a rut born of convenience, reaching for a few basic items on repeat and styling them with zero imagination. It's a pattern that I'll bet a lot of us stumble into! So this fall I've decided to turn to an expert to help me update my style with fresh new looks, and there's no one whose advice I trust more than Catherine Sheppard of The Life Styled! I've known Catherine for years and not only find her blog and Instagram full of fun and forward-thinking fashion inspiration, but also adore her smart and strategic approach to dressing. She's kind of a fashion nerd, really, and approaches styling through the lens of scale, proportion, balance, and all the other juicy design principles that get my heart racing! When I pitched the idea of a little collaboration series to Catherine, she came over to rummage through my closet and come up with six outfit ideas that combined items I already owned with a few of the season's new must-haves. We're calling it 'The Science of Fashion', and I'm so excited to share these looks with you all autumn long!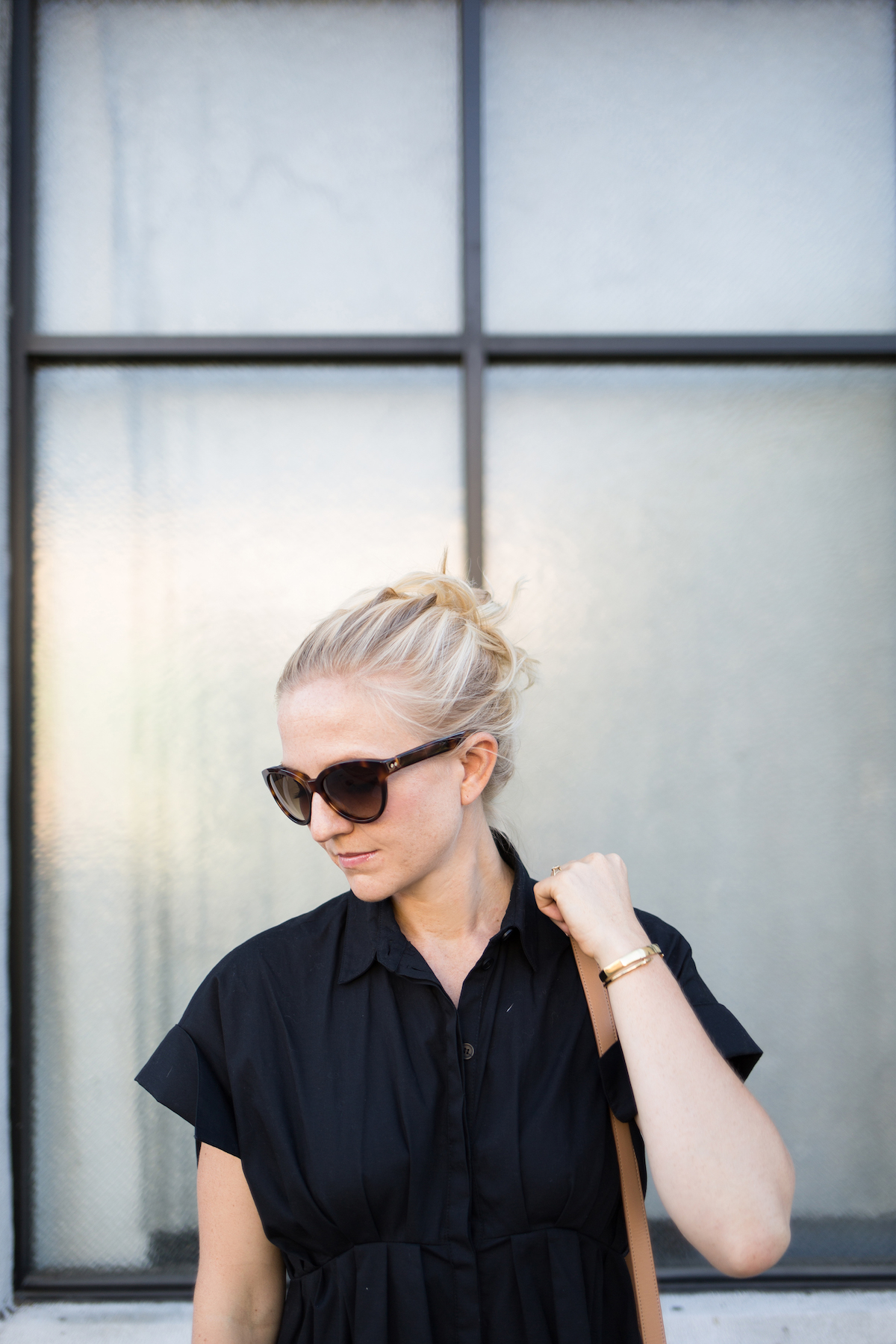 The first thing we tackled was that ever-present question of how to transition from summer to fall fashion, and Catherine's smarts immediately went into overdrive. I've had this black Ruti shirt dress since July but haven't gotten much use from it because the things I love about it—the pleated, architectural silhouette, the deep, inky hue—are the very things that leave me wondering if it's too heavy for summer. Catherine pointed out that it was indeed a weighty piece, less because of the season and more because of my fair coloring. In other words, summer or fall and beyond, all-black can be an overwhelming look on anyone if the rest of the outfit isn't selected with skin and hair in mind!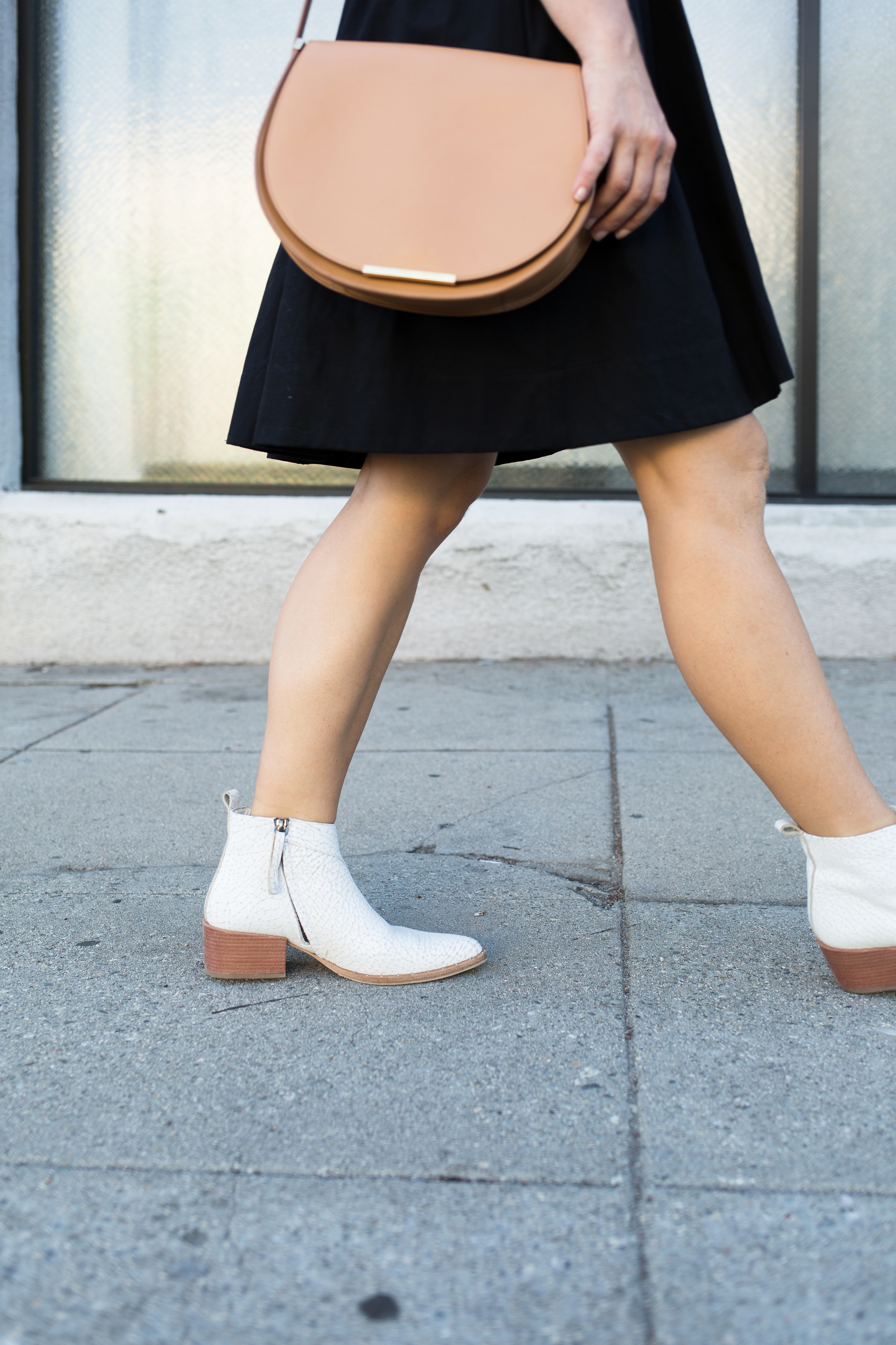 The solution? Accessorize according to tones! For a blondie like me, white booties and a tan bag complement the pale notes of my complexion and soften the sharpness of the dress—and also happen to solve the seasonal transition issue since the combo has one foot in the lightness of summer and one in the drama of fall. Additionally, the warm brown of tortoise sunglasses offers a half-step between the two. This guideline extends to all skin and hair tones; brunettes and medium skin tones would do well to pair black with olive and chestnut accessories, while deep skin tones look striking with the flash of silver or gold (these metallic oxfords are the perfect example). I'd never have thought to pair my black dress with white shoes, but Catherine's scientific reasoning makes perfect sense. Experiment with it yourself and let me know how it goes!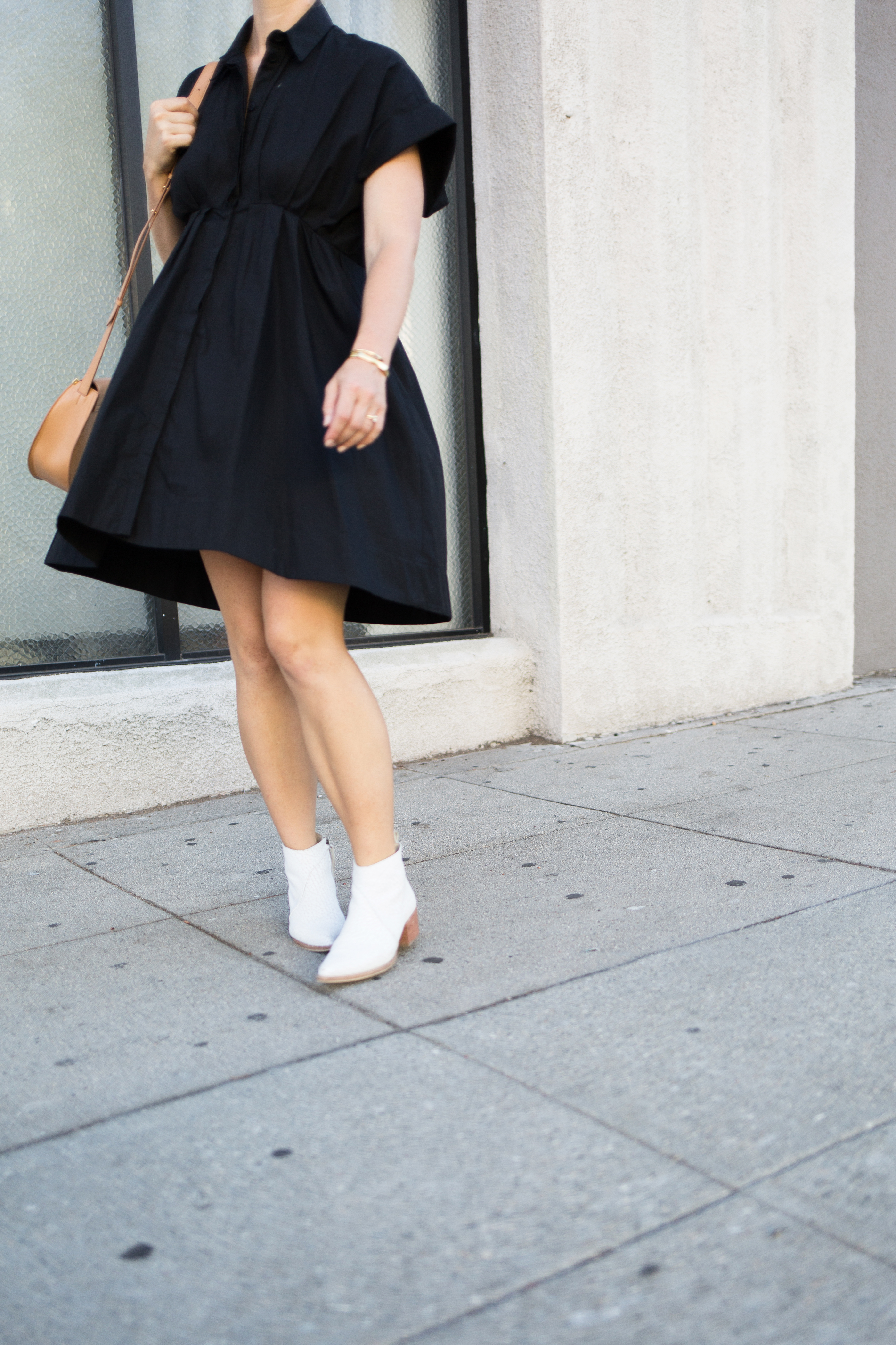 Shopping Guide: Black Shirt Dress, Ruti. FRIDA SALVADOR White Booties. Cuyana Tan Saddle Bag. J. Crew Tortoise Cat Eye Sunglasses. Noonday Collection Gold Cuff Bracelet. Elizabeth and James Gold Arrow Bracelet. Thank you to Joanne Pio for taking these gorgeous photos and of course to Catherine of The Life Styled for your styling expertise!