For the past two months I've been tackling a pretty significant health project. I'm on a Candida cleanse, which means I'm trying to rid my body of a chronic yeast overgrowth by starving it out of my system. While it's not a restrictive diet in the caloric sense, the list of foods I'm avoiding is quite extensive and keeping my tastebuds engaged has been a challenge! Thankfully I've had some priceless support in the form of my nutritionist Jennie Miremadi. Not only is she constantly on call to field my questions ("I know can't have coffee but can I have green coffee extract?" "Why is my poop this funny color?" "How am I going to survive a weekend in Vegas on this diet?!"), she's also got an extensive repertoire of recipes that are satisfying, delicious and easy—and that just happen to be insanely healthy too. Since she passed this Thai curry spinach soup along to me it's earned a spot in my permanent meal rotation!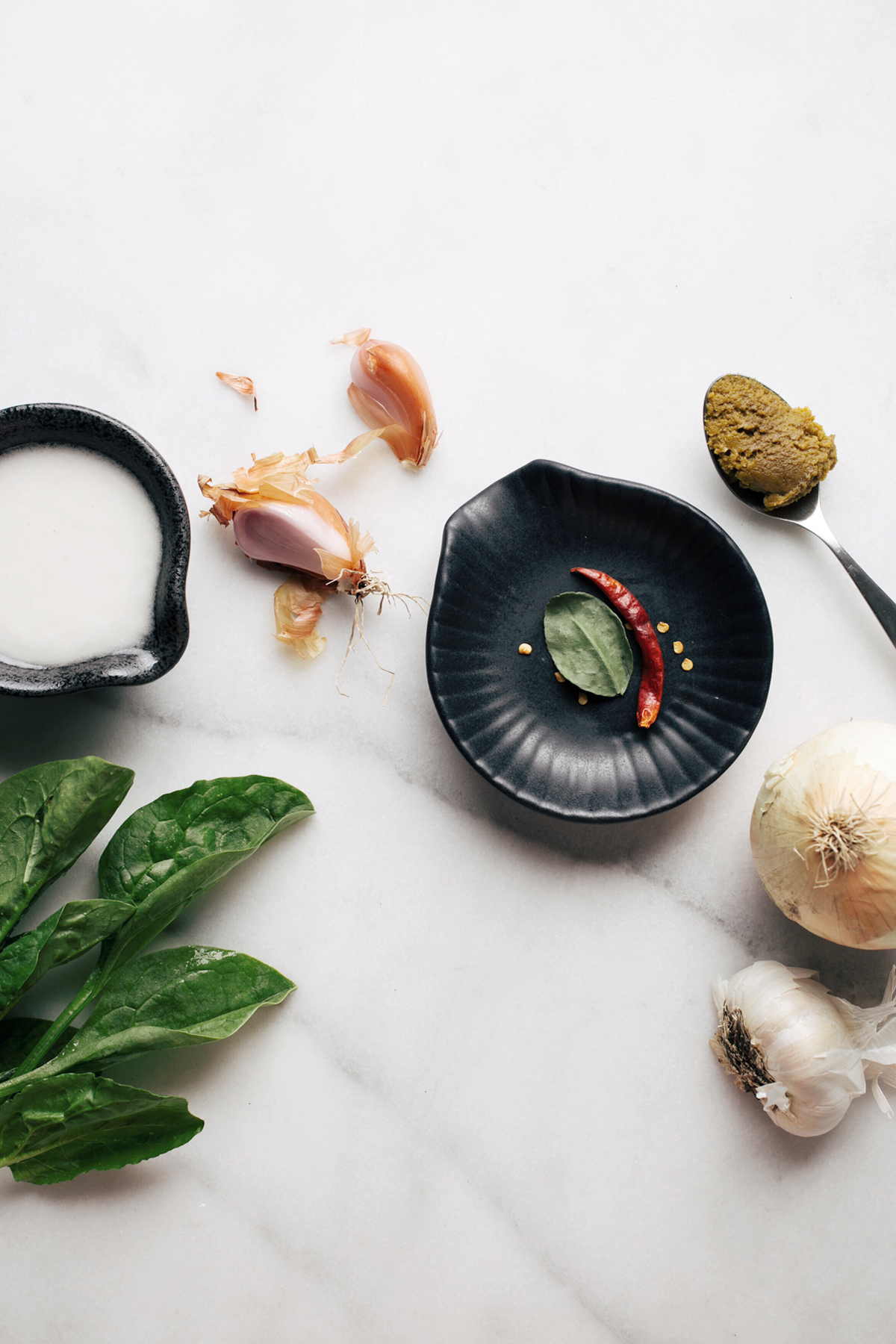 This is definitely one of those recipes whose simplicity belies its complex, layered flavors. It's a little smooth and a little spicy. A little bright and a little earthy. And each ingredient plays so nicely with the others that they relinquish their individual characteristics to create a whole that's so much more than the sum of its parts! It's hearty enough to be a meal on its own with a side salad, but you could also bulk it up with some sauteed beef or shredded chicken (I always have extra of the latter on hand since I make my own chicken stock in the crockpot). The Thai spiced almond garnish is my own addition, because who doesn't love a zesty touch of crunch!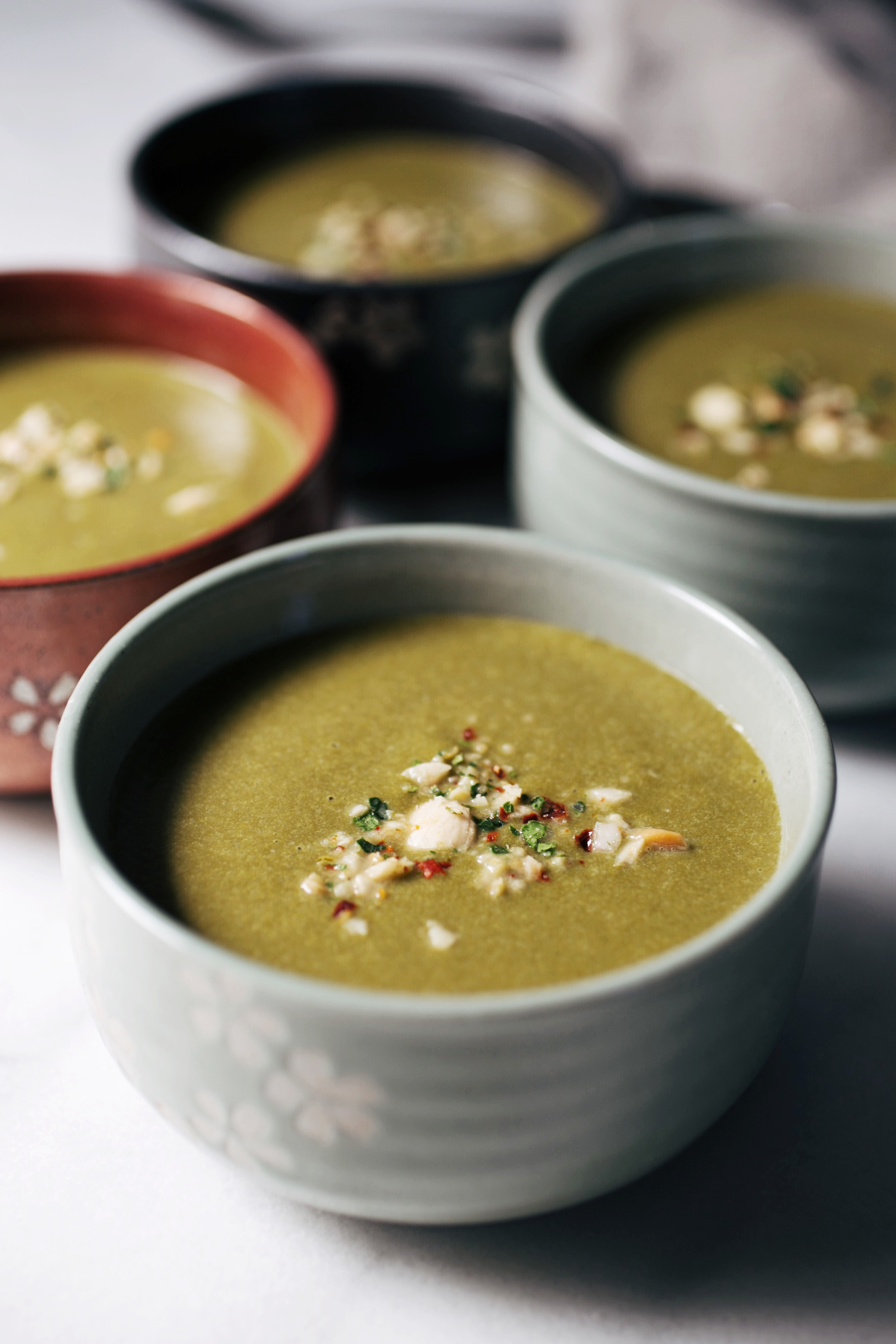 I'll be sharing more about my experience in the Candida cleanse in a separate post, but for now you've got to add this recipe to your fall rotation! And for more clean eating recipes no matter what your health agenda, be sure to follow nutritionist Jennie Miremadi on Instagram. She just posted a chocolate chia seed pudding that would be the perfect post-soup dessert!
Dairy-Free Creamy Curry Spinach Soup
Makes approximately 5 1/2 cups

2-6 oz. packages of pre-washed, organic spinach leaves (approximately 8 cups)
1 yellow onion, chopped
1 shallot, minced
1 clove garlic, minced
1 14-oz. can organic, full fat coconut milk (BPA-free, gum-free)
16 oz. organic chicken broth (homemade or sodium-free boxed)
3 tbsp. Thai Kitchen green curry paste (or other sugar-free, additive-free green curry paste)
1 tbsp. olive oil
Sea salt to taste
Thai Spiced Almonds (recipe below)
Heat olive oil over medium heat in a sauté pan. Add onion, shallot, garlic, and green curry paste, and sauté until vegetables are tender. Add spinach to onion-garlic-green curry mixture and sauté until spinach is just wilted, about 2-3 minutes. Once vegetables are cooked, add chicken broth to vegetables and bring to boil over medium heat. Reduce heat and add coconut milk to chicken broth and vegetables, simmering uncovered and stirring occasionally for 10 minutes. Remove soup from heat and use an immersion blender to blend ingredients. Alternatively, pour soup into a blender and blend until creamy and smooth. Adjust sea salt to taste. Pour soup into bowls and drizzle with a little bit of coconut milk, if desired. Garnish with Thai spiced almonds and enjoy!
Thai Spiced Almonds
Makes about 1/4 cup of almonds.
1/4 cup Marcona almonds
4 dried kaffir lime leaves
2 dried thai chilis
In a spice grinder or blender, grind lime leaves and chilis until nearly powdered. Add almonds and pulse a few times until just broken into chunks. Use to garnish green curry soup, and store remainder in the refrigerator.