Hooray for Friday! I'm jumping for joy about the weekend. Though I'm working all weekend—with a photo shoot, a mentoring session, and an event at Light Lab—I'm thrilled that I'll be able to concentrate on those things without my inbox piling up while my back is turned! Oh, and you know what else I'm thrilled about? Another Science of Fashion post in my collab with Catherine of The Life Styled! If you're just tuning into this series, we're putting Catherine's styling expertise to work and breaking down the nuts and bolts of how to assemble fresh and relevant outfits for fall.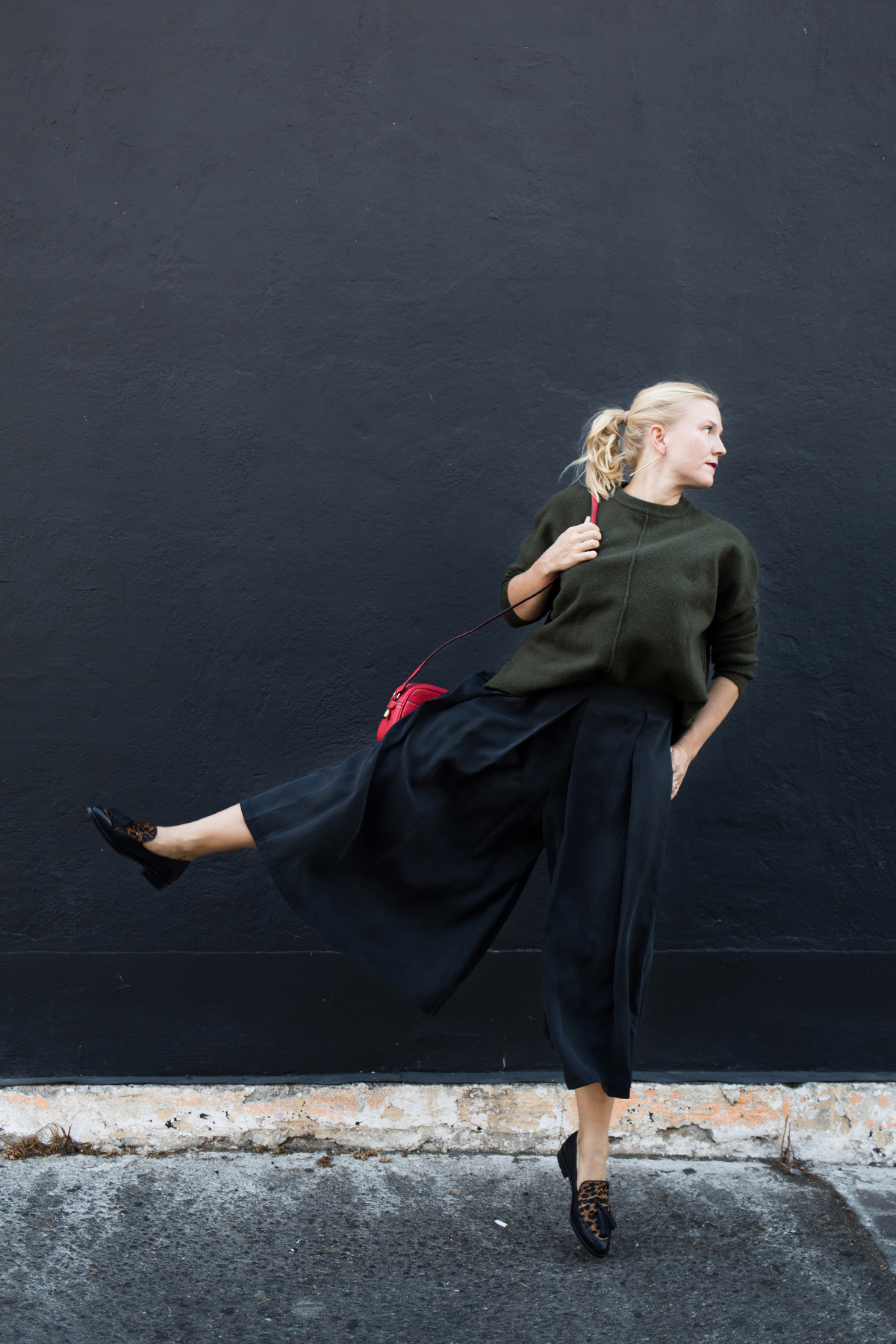 Today we're tackling one of my all-time favorite topics, how to get away with feeling as comfortable as if you were wearing your pajamas in public while simultaneously looking like you have your act together. The enabling item in question this time around was a pair of black silk culottes that I couldn't resist at the store, because slipping into them in the dressing room was like sliding through air. Yet when I got them home, all the slim tops I intuitively reached for in an attempt to balance out their volume just enhanced the bottom-heavy silhouette of the pants.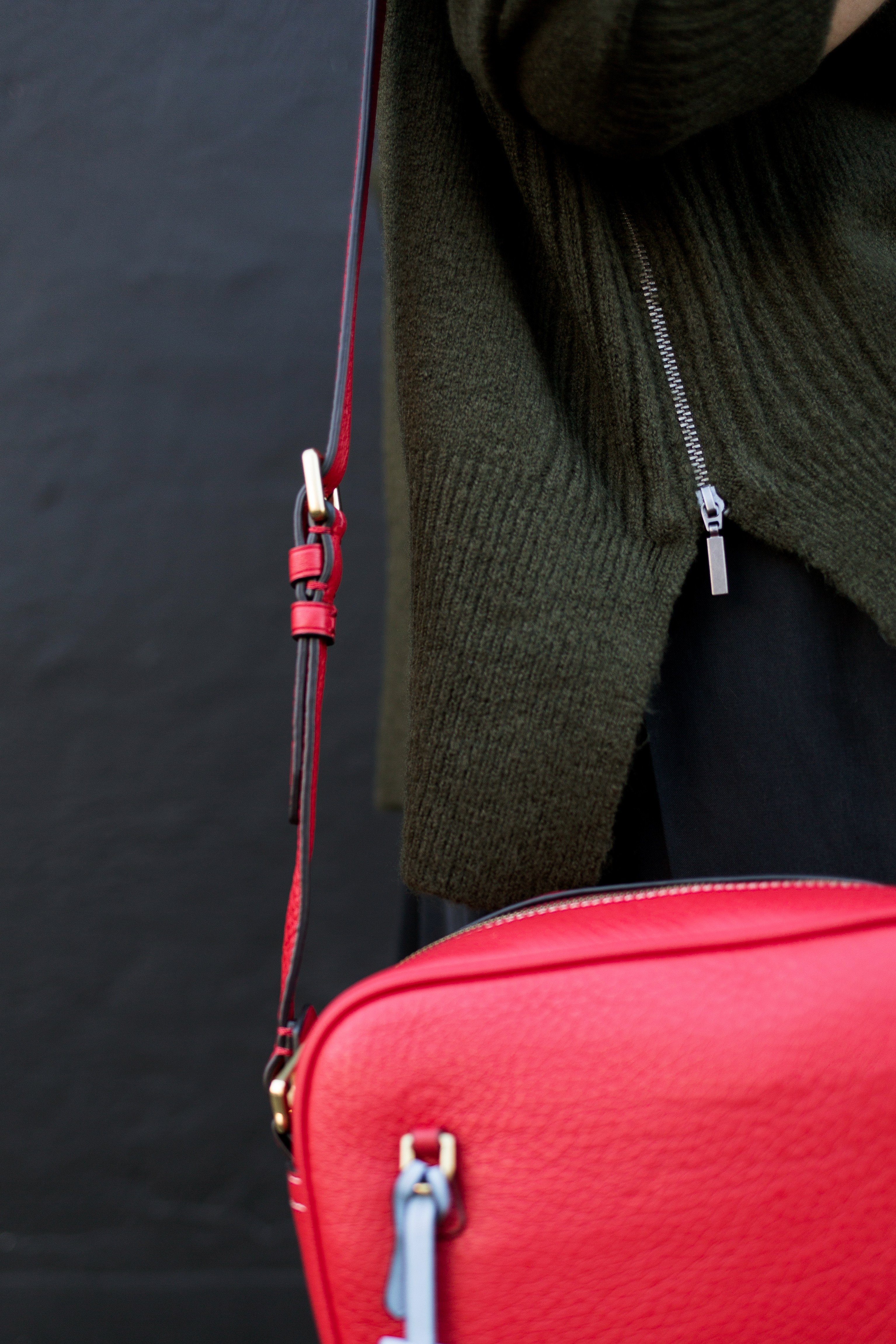 It was Catherine to the rescue again! When she invited me to try a boxy sweater as a better pairing with the culottes, it was like my world opened up. With the shape up top echoing the one down below, a sense of vertical symmetry is achieved that wasn't present when I was trying out my slim tees. Tucking the sweater in just enough to highlight my waistline prevents the combo from drowning me altogether, and selecting a sweater with a fluid drape enhances the relaxed attitude of the outfit as a whole.
As for the accessories, I stuck with the counterintuitive thinking and pulled a hit of poppy red into the mix. Red and green are usually verboten for me—even at Christmastime—but the desaturated mossy hue of the sweater reads more like a neutral than a true green so the palette works! And of course a dignified tasseled loafer with a sassy leopard twist feels right no matter what the occasion. I especially love the lengthening effect provided by the long, narrow vamp on these bad boys! It's pajama dressing at its finest, wouldn't you agree?!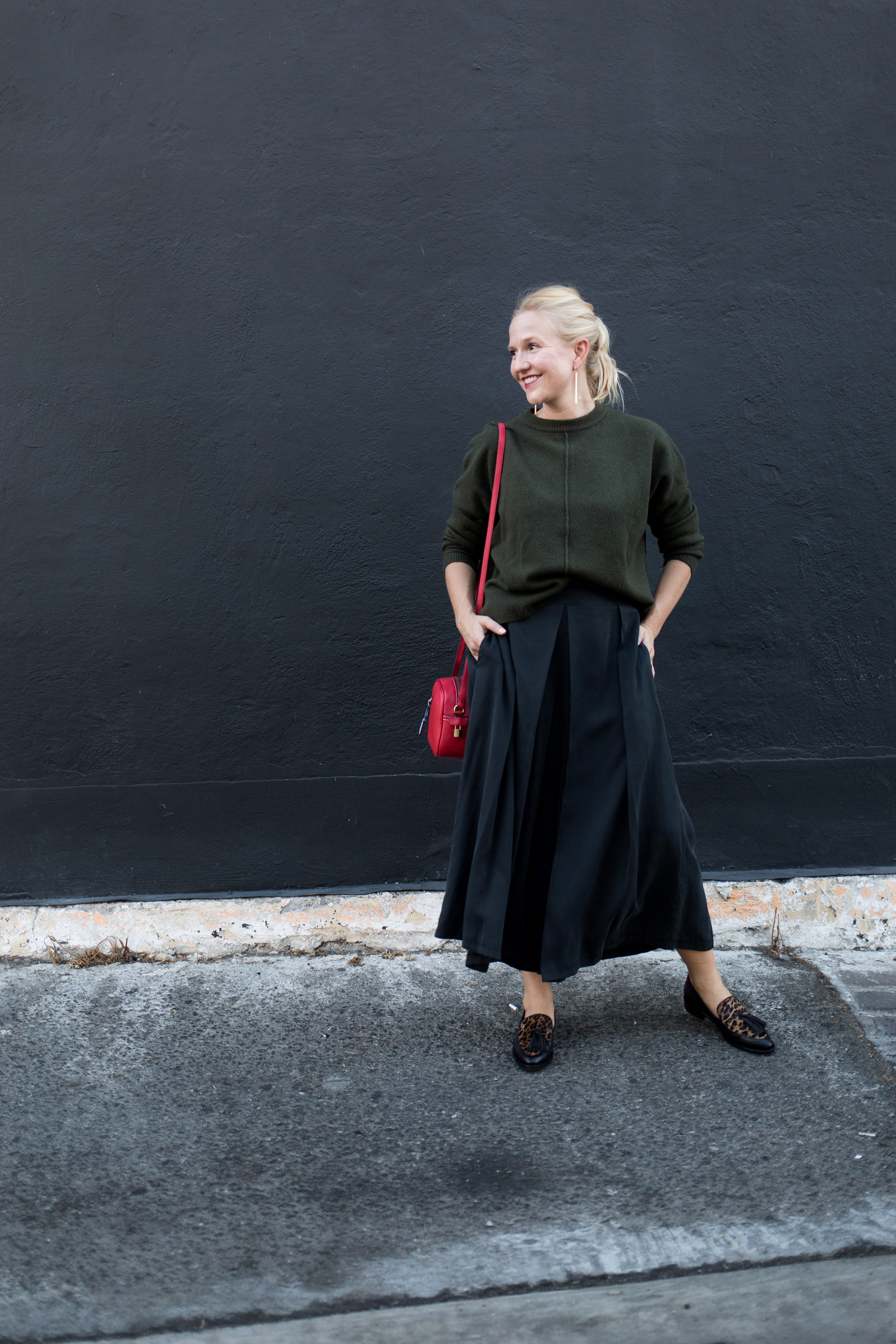 Shopping Guide: 1. Ruti Black Culottes 2. Topshop Green Boxy Sweater 3. J. Crew Red Crossbody Bag 4. FREDA SALVADOR Leopard Tasseled Loafers 5. Noonday Collection Gold Drop Earrings. Photography: Joanne Pio Styling: Catherine Sheppard of The Life Styled