It has been raining non-stop here in LA this winter. The constant drizzle reminds me of all the things I loved about grey, chilly weather when I lived back east. There's nothing like a taking a long nap, settling in with a juicy novel, or hunkering down on the couch for a movie when it's wet outside and you've nowhere else to be. And if the scent of a homemade sweet treat wafts from the oven and throughout the house while you're doing those things, that's the very definition of heaven on earth!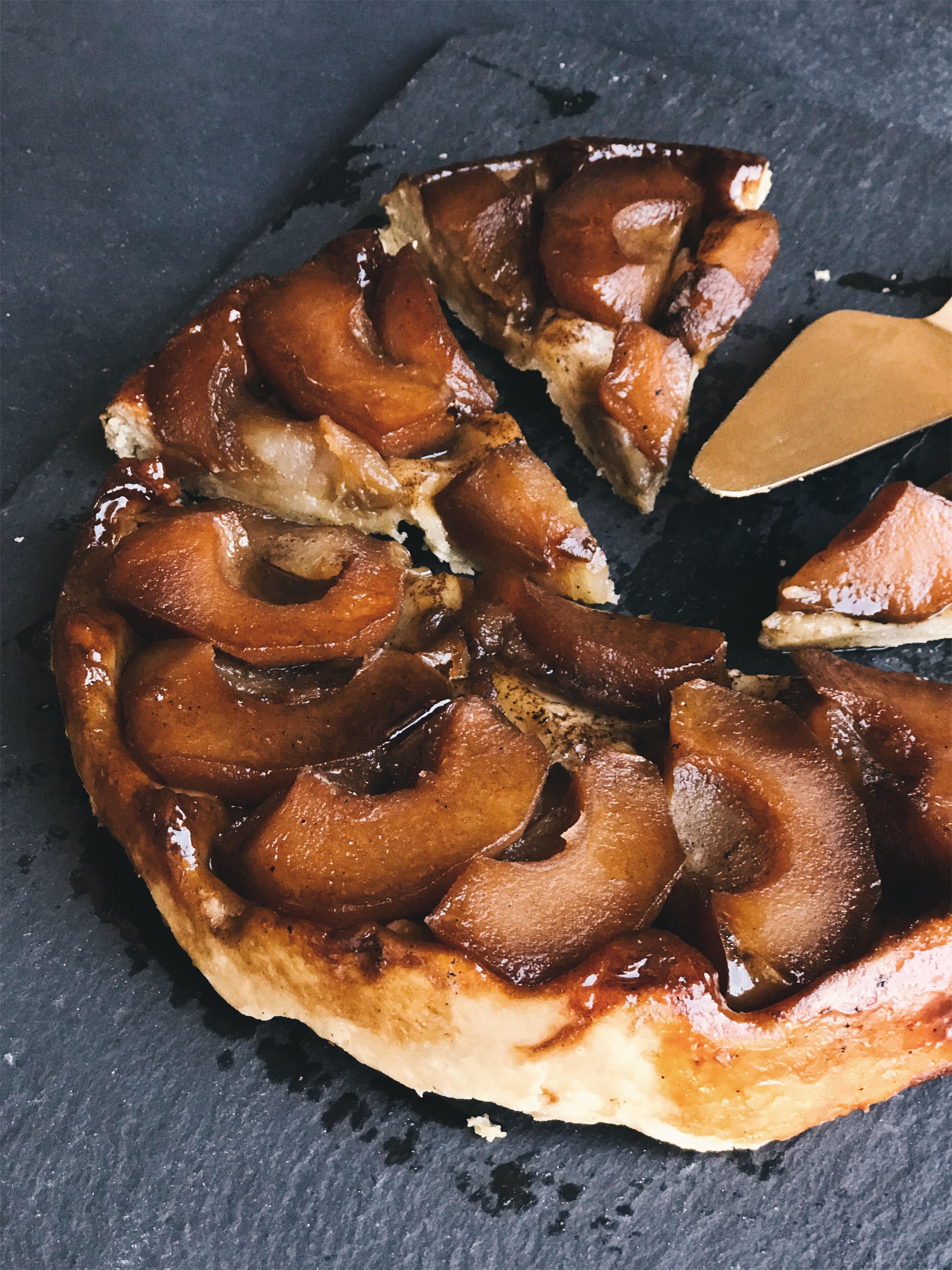 If creating heaven on earth is part of your agenda this weekend, then this recipe for tarte tatin is a godsend. Fast and easy to make even completely from scratch, it offers all the cozy, gooey goodness of traditional apple pie with none of the fussy prep work. It comes to us from Annette Joseph (she made this for us on the last day of our styling workshop a few weeks back!) who loves it both for its simplicity and its crowd-pleasing appeal. Flaky, buttery crust lays the foundation for roasted apples enrobed in a rich caramel sauce, and it comes together in less time than your butt indent will disappear from the sofa when you get up to make it! So run to the kitchen, toss this baby in the oven, then get back to the critical mission of relaxing this weekend. And if you insist on strenuous activity, then let it be the arm-toning you get when you whip up some cream to top this decadent dessert!
Annette Joseph's Foolproof Tarte Tatin
For the Pie Crust (can be made up to 2 days in advance):
1 cup all purpose flour
2 tablespoons sugar + 1 teaspoon sugar for the top crust of the pie
1 stick butter chilled and cut into cubes
1/4 teaspoon salt
¼ cup ice water
Make the pie crust. In a food processor, pulse together flour, sugar, and salt for 3 seconds. Add butter and pulse into pea-size pieces, about 3 minutes. Drizzle cold water, 1 tbsp at a time, and pulse just until evenly moistened and pulls away form the sides and forms a ball, about 3 minutes. Turn dough out onto a work surface and gather into a ball, turning dough to combine any dry crumbs. Wrap dough in plastic wrap, then press into a disk about 1 in. thick. Chill dough at least 1 hour and up to 2 days.
Now prepare the caramel top. In an 8″ iron skillet place 1/4 cup sugar and 3 tables tablespoons butter. Place on medium heat until sugar and butter are the color of caramel, a dark amber. Watch closely so the sugar does not burn. Once you have the desired color pull off the heat and set aside.
For the filling, slice 8 granny smith apples into equal slices (you can even just halve them!) and toss with 1/4 cup sugar in a large bowl.
To assemble the tarte tatin, place apple wedges in a circular fashion on top of the caramel top in the skillet, forming a beautiful pinwheel design. Stack the apple round and round until all the wedges are incorporated. Roll the pie dough into a 10″ circle, to about 1/8″ thickness. place the dough on top of the apples, and fold the excess dough under itself.
Place the skillet into a 350 F degree oven for 60 minutes or until the filling is bubbling around the edges.
Remove from the oven and let the tarte cool for 15- 20 minutes.
Then carefully invert the tarte onto a platter. If some of the apples shift don't worry, you can simply rearrange them into the pinwheel, serve with fresh whipped cream.