True story: In the 8th grade, I desperately wanted to shop for clothes at a thrift store. I mean, it was 1994 and everyone was doing it. My mom had her feelings about secondhand clothing, and since she controlled the pursestrings it was outfits from Gap Kids for me. But I was obsessed with finding a tee that looked vintage, in particular a ringer tee with contrast trim on the sleeves. I convinced her to let me buy a men's gym shirt that effected the look, only to get it home and discover that instead of fitting me like the cute, shrunken baby tees my classmates were wearing, it fit me like…well…a men's gym shirt. My teenage dreams of coolness were crushed.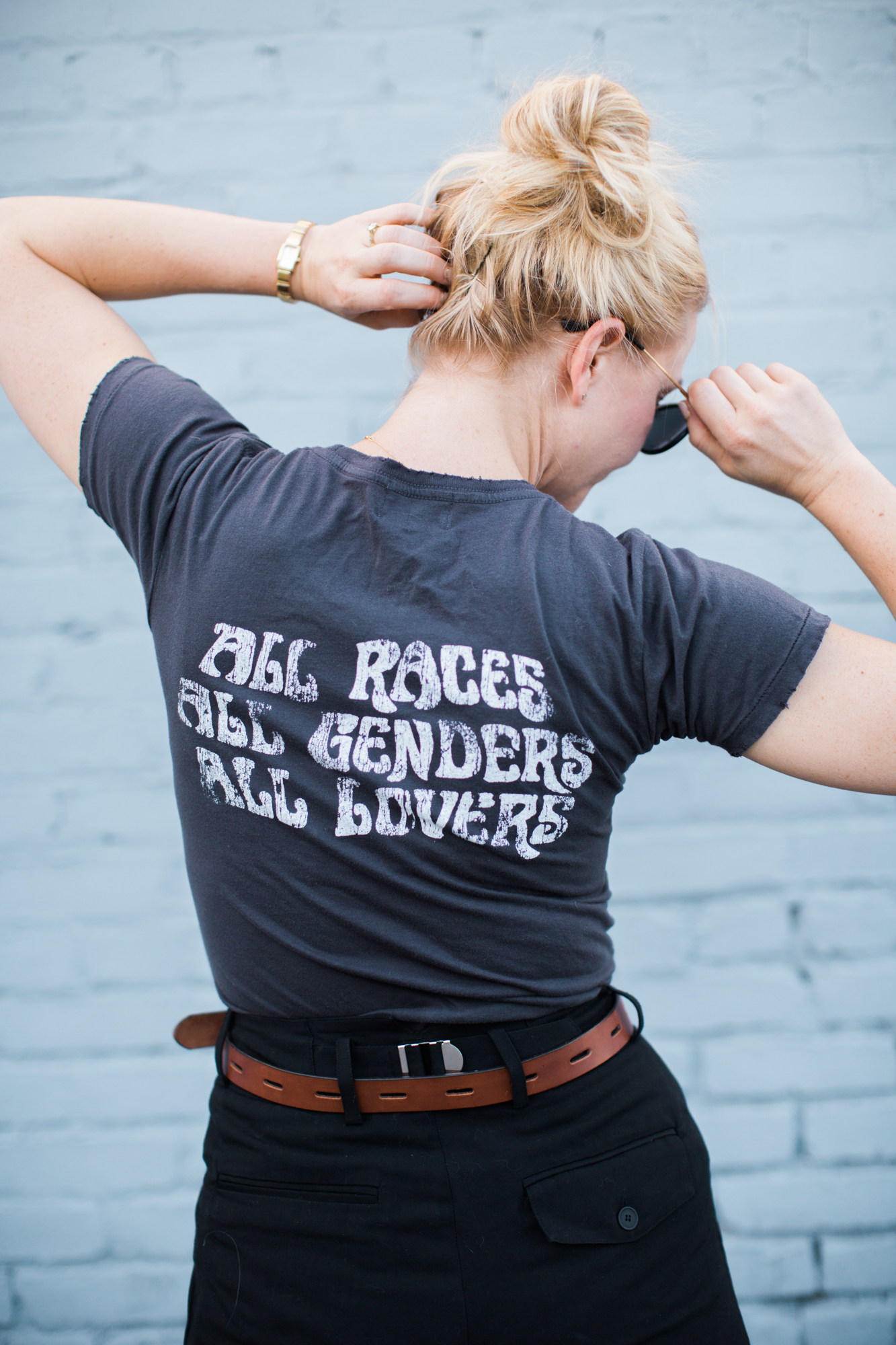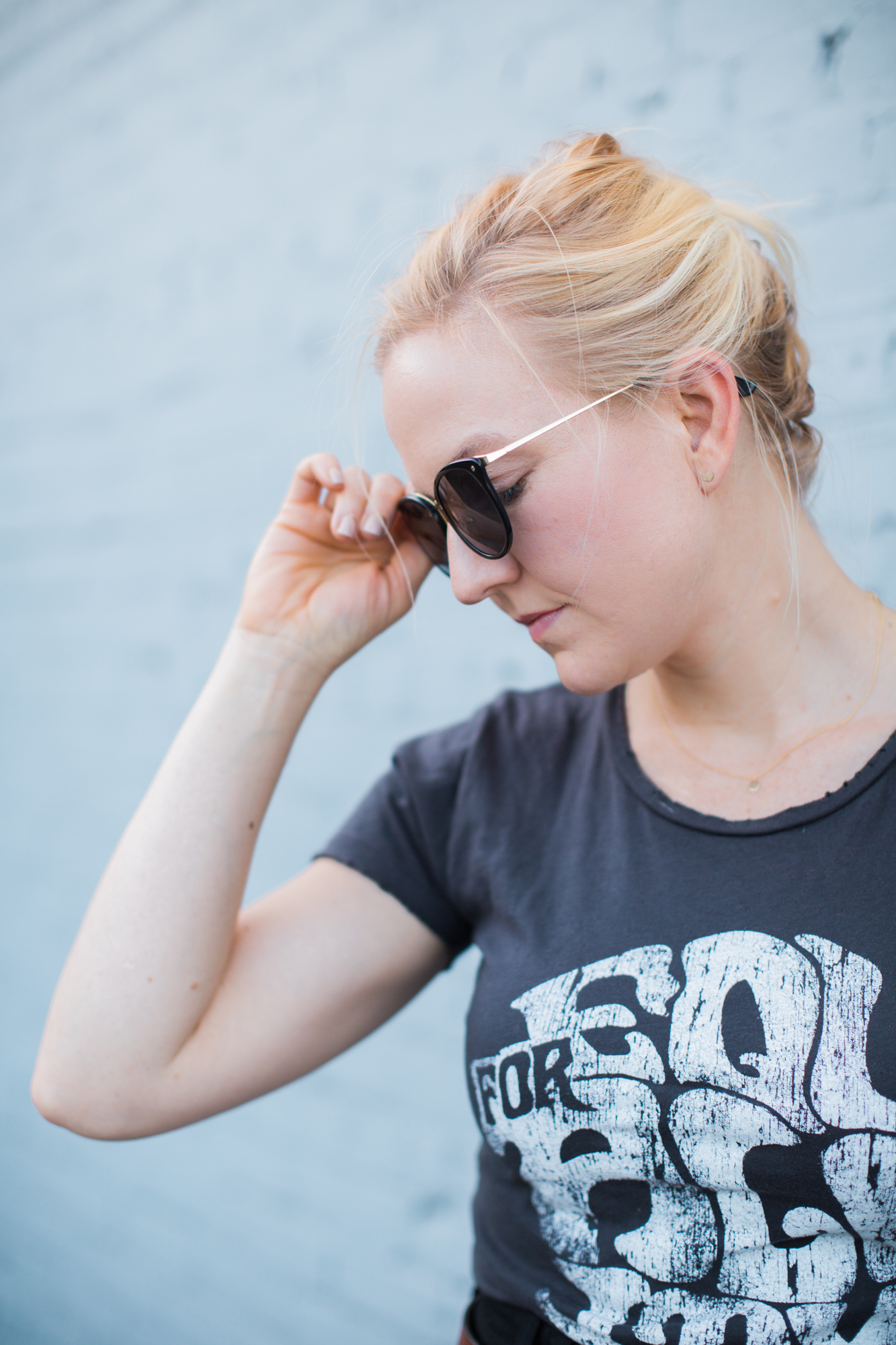 Today, almost 25 years later (oof that makes me feel old), it's easy to snag tees that have a vintage vibe with none of the musty thrift store smell attached. But not all tees are created equal, of course! This week's Two Girls, One Kit puts the spotlight on Dazey LA, a small batch apparel line based right here in SoCal with a mission to deliver positive expressions of change, expressed in hand drawn 70's typefaces and delivered on super soft, faded cottons. It's exactly the look my thirteen-year-old self was craving, with a bonus side of activism!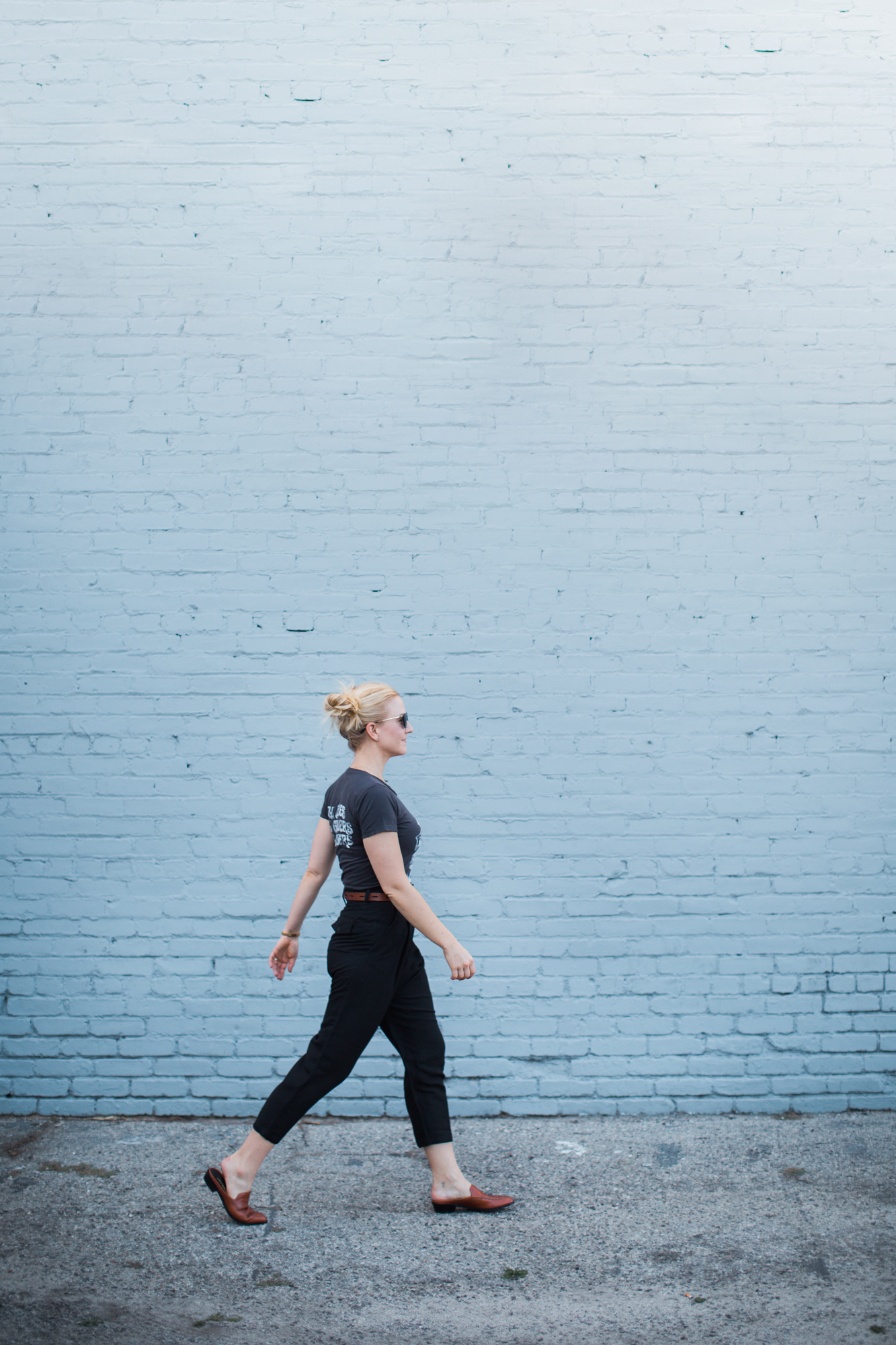 Caroline and I went for the Equ-all-ity Tee, not only for its weather-beaten, pre-loved finish but for its inclusive message. We didn't share our outfits with each other before we met to shoot, yet I love that we both independently chose the same silhouette—with our own spin on it, of course. My high-waisted black trousers nip the tee in at the waist and give it a dressed up feel, and my caramel brown accessories further the put-together vibe.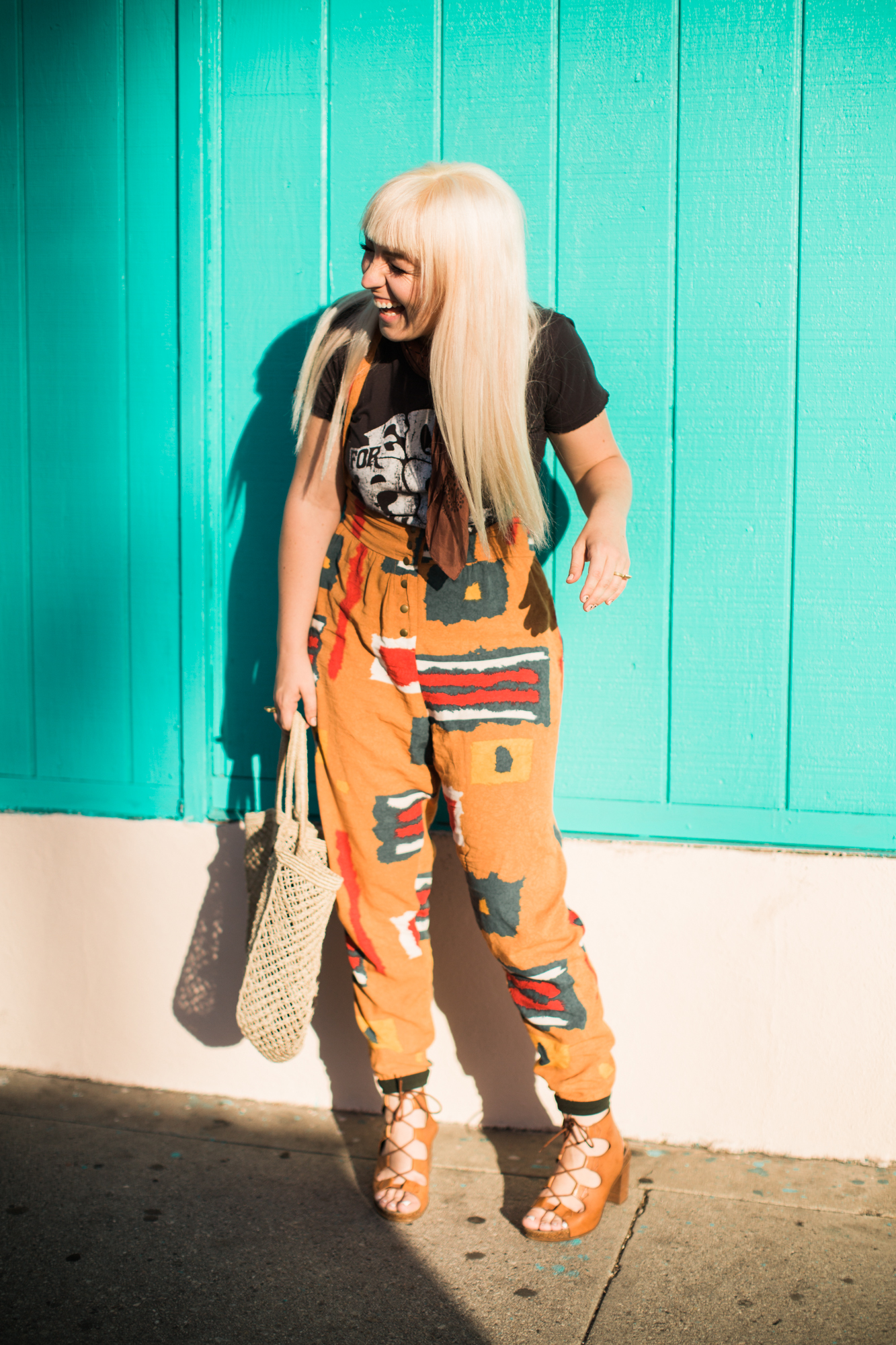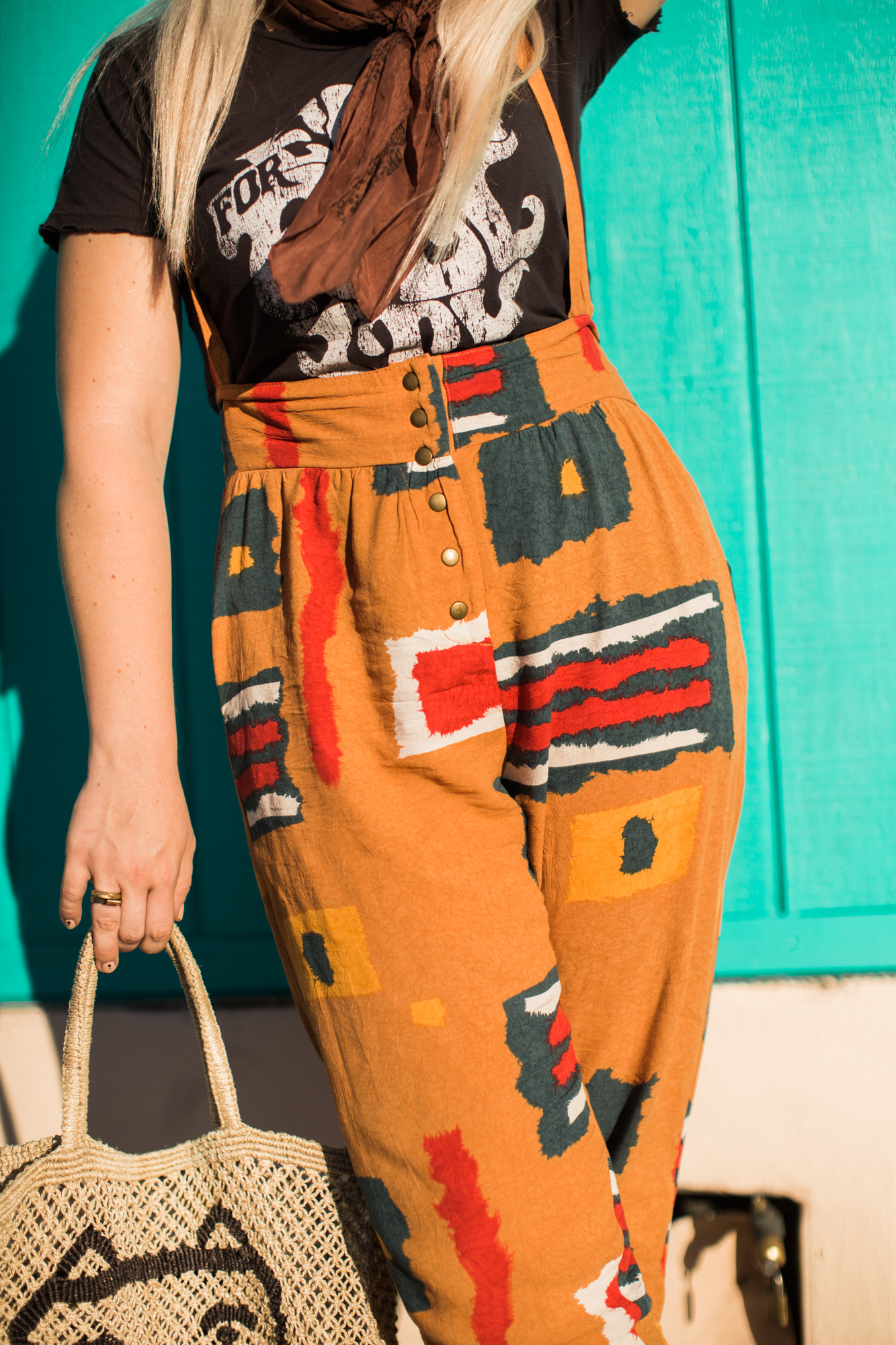 Caroline's trousers, though similar in shape to mine, certainly occupy a different orbit in the universe! They're loud and proud, just like her personality, and they make a serious statement of style. Playful extras in the same earthy palette of gold and tan, bronze and terra cotta, finish off an eclectic mix that would have looked as fashion-forward in 1994 as it does today. Proof that when you own your style, any look can be timeless!
Photos: Jayden Lee for Echo & Earl Photography.