I can still remember the first time I ever ate at a barbecue restaurant. I was in Massachusetts, of all places, and while the restaurant may have been north of the Mason-Dixon Line, the flavors were as down home as they come. From the plastic tablecloths and honky-tonk jukebox, and from the plethora of succulent sides to the squeeze tubes of sweet, sticky sauce, I fell deep and hard for southern food that day. Ever since, ribs with all the fixins' have been my top choice when I'm in the mood for an indulgent dinner out.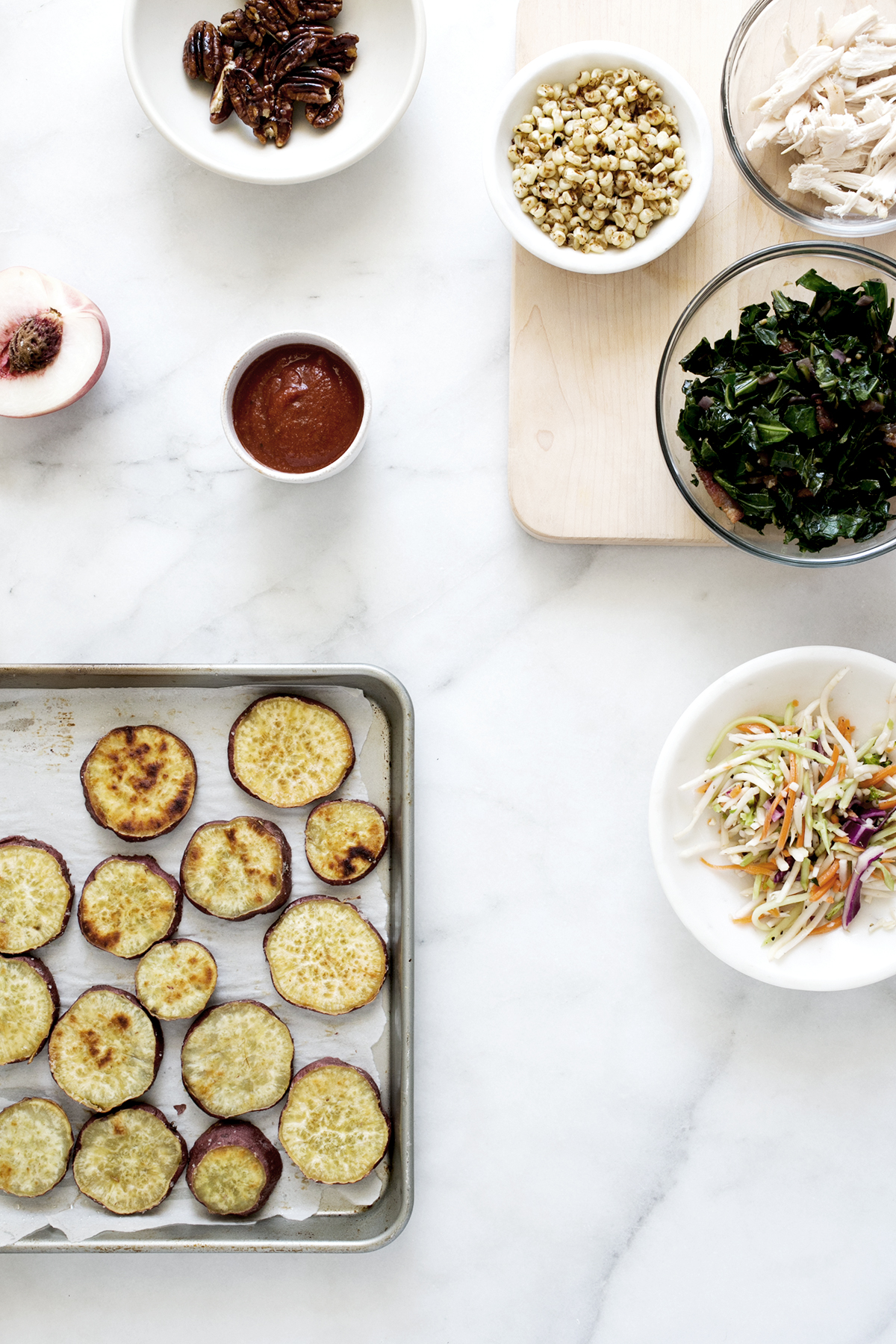 But the emphasis of that sentence certainly falls on the word 'indulgent' because Southern food isn't exactly known for its nutritional benefits—with the BBQ sauce in which I so enthusiastically smother everything being one of the worst offenders! That sweet, addictive flavor and sticky, finger-licking consistency come from a ton of added sugar; in fact some recipes I've seen for BBQ sauce call for a trifecta of honey, molasses, and brown sugar! That's all fine and dandy when you're out for a once-in-a-while treat, but sometimes I crave that barbecue flavor at home too. So, I decided to create a recipe for a bowl that combines healthy takes on all my favorite sides…and then top it with a reduced sugar BBQ sauce recipe made with new Truvia Nectar!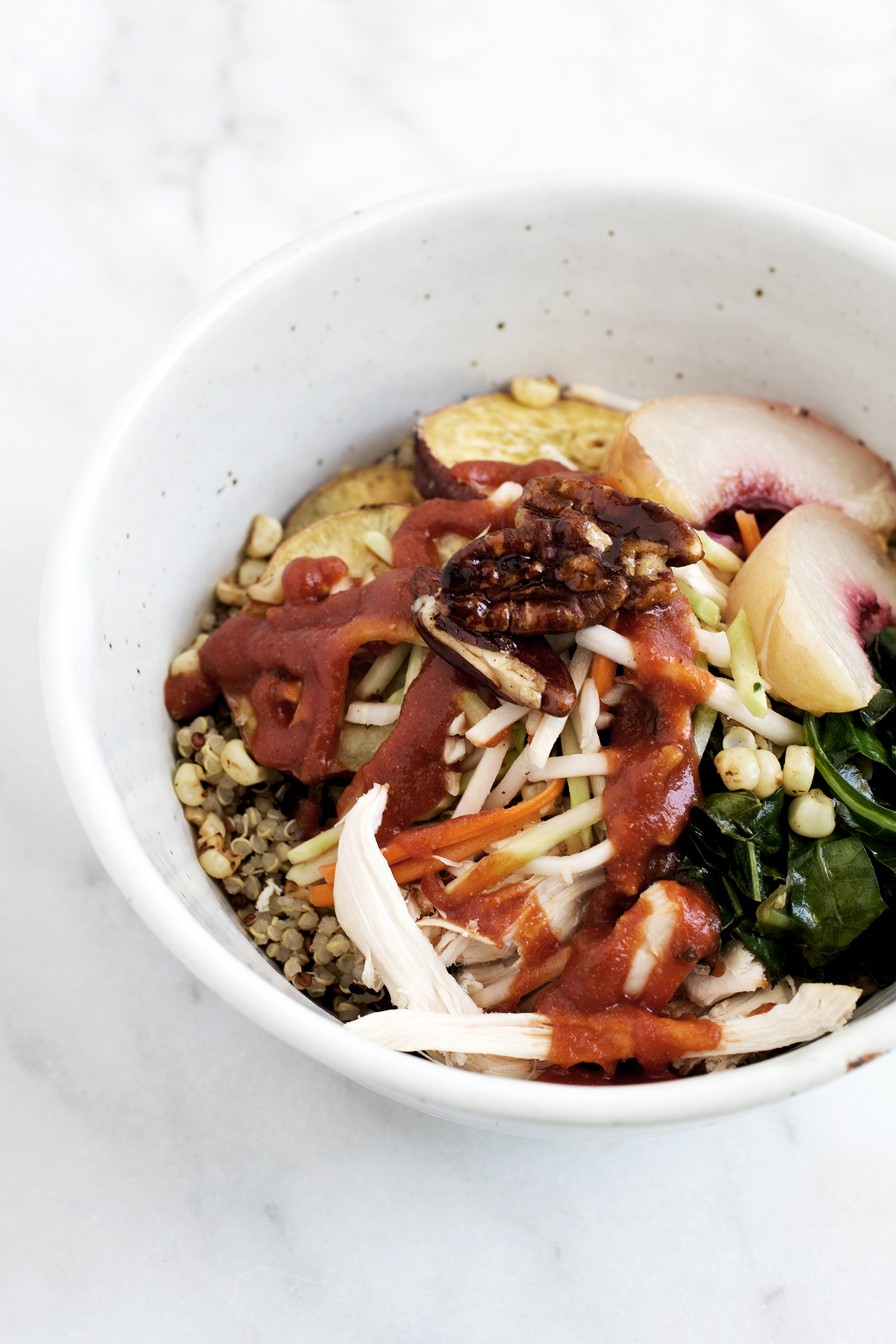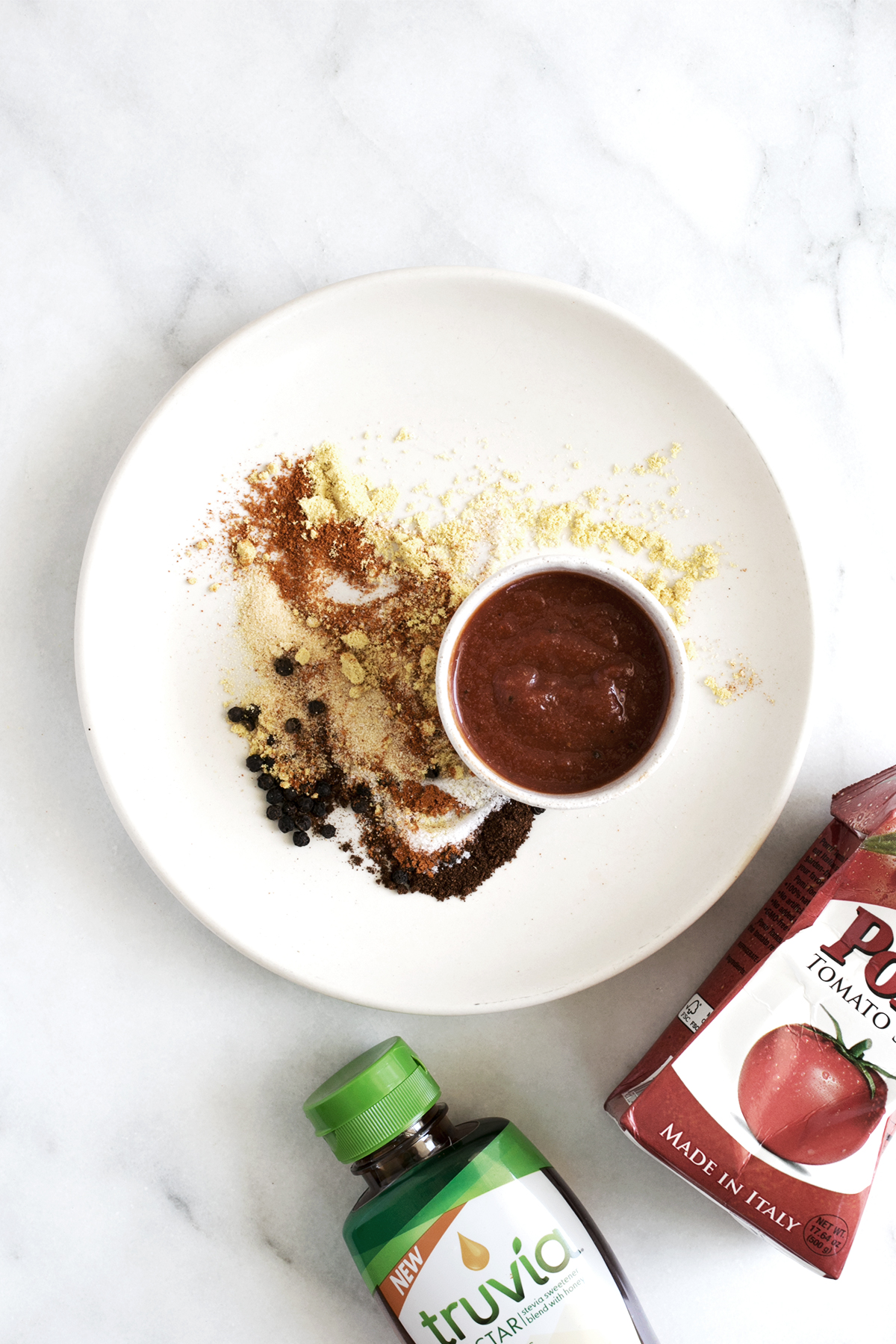 A blend of stevia leaf extract and honey, Truvia Nectar is the newest addition to the Truvia lineup. It has 50% fewer calories per serving than sugar, and because it's twice as sweet, you only need to use half as much. It's a no-brainer, reduced sugar swap for all the foods you love to make with honey—like oatmeal, tea, and of course, BBQ sauce. Making your own barbecue sauce is surprisingly easy. Making it with Truvia Nectar means its surprisingly easy to reduce the sugar and calories you're adding to your diet as well. This particular barbecue sauce recipe comes together in moments and delivers the exact flavor that hooked me all those years ago!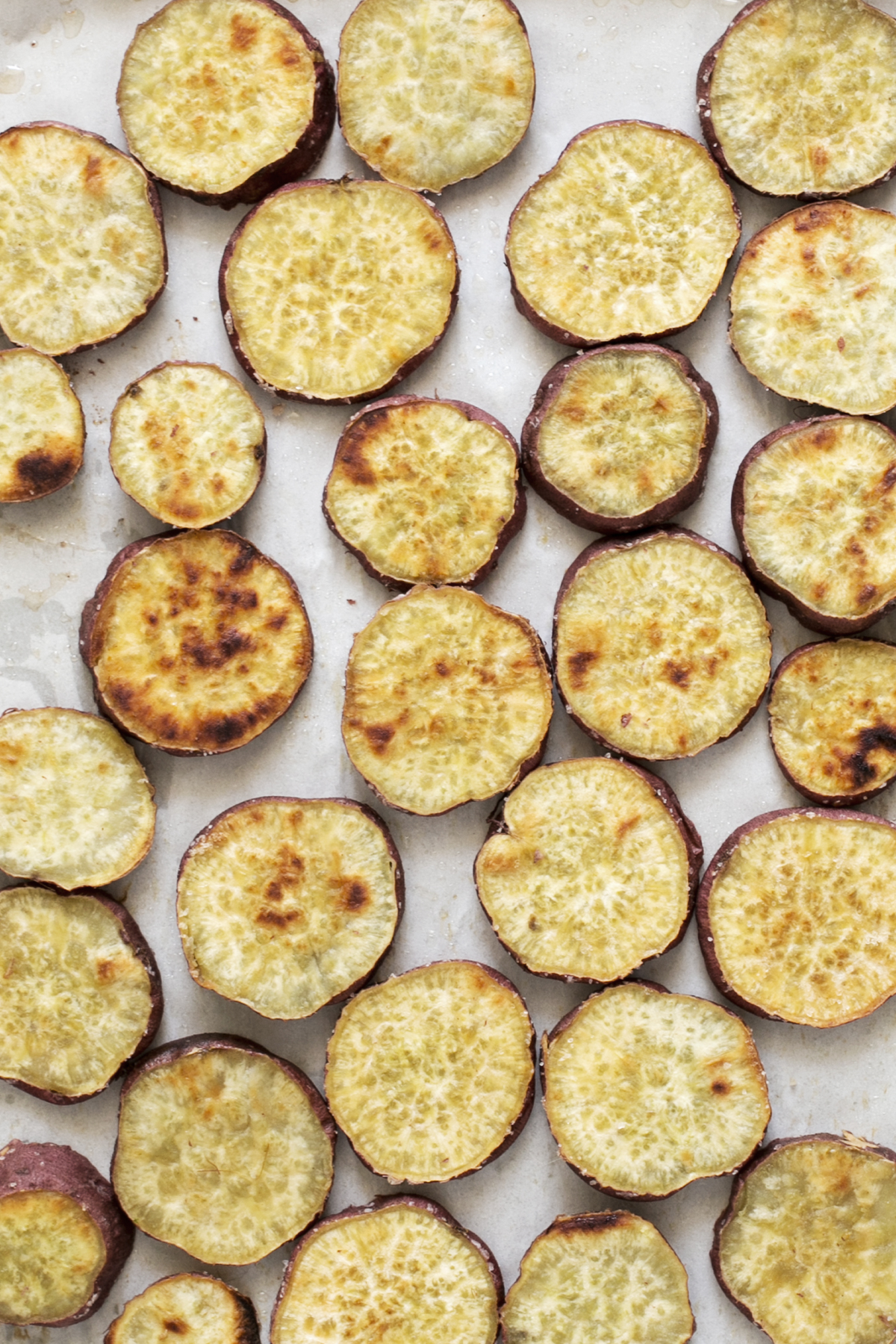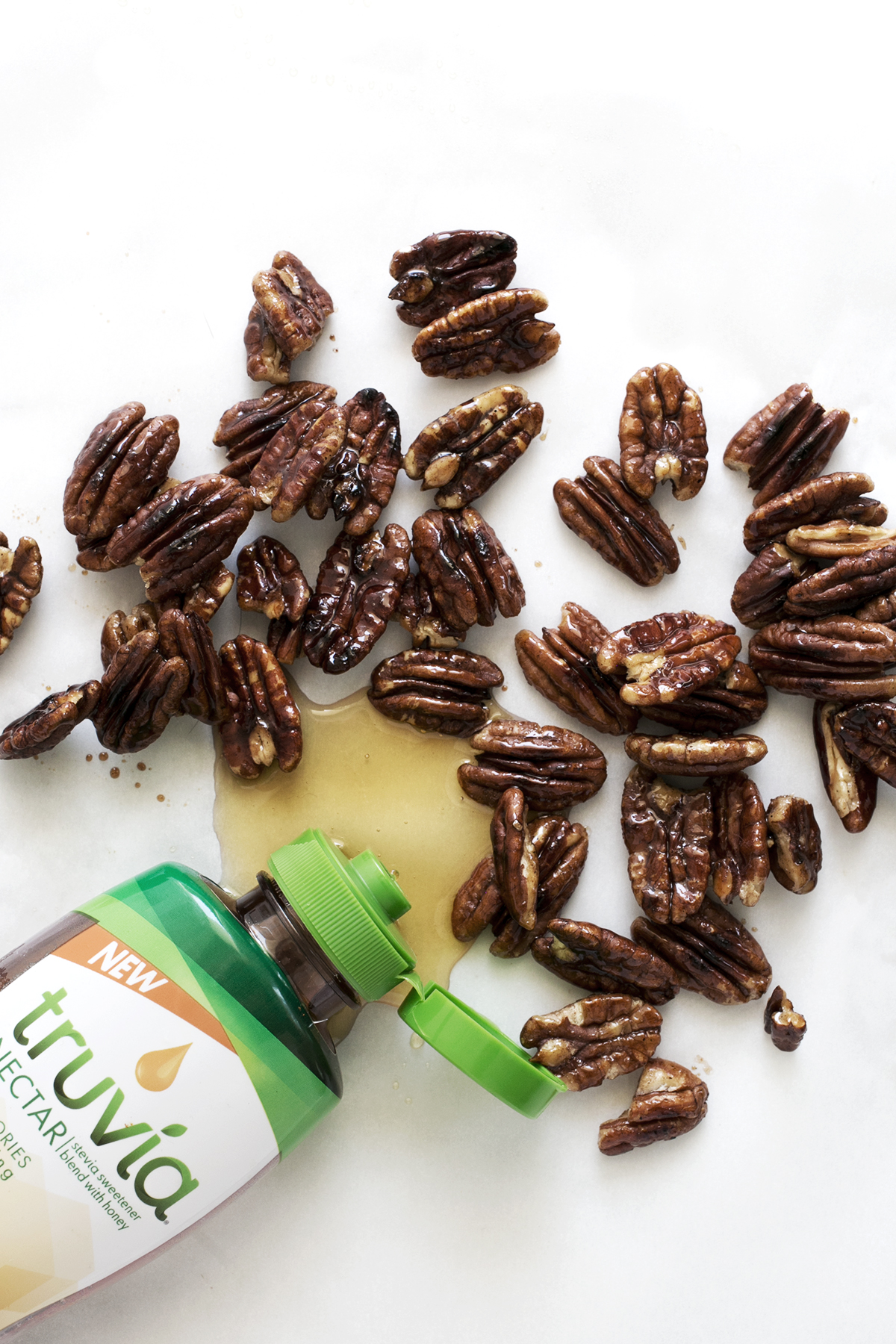 Of course, what good is sauce without all the yummy layers underneath? Don't worry; the whole gang is here in this build-your-own barbecue bowl. I've included collards and yams, coleslaw and corn, peaches and candied pecans. My meat of choice was some leftover shredded chicken I had from the previous night's meal, but you can use any protein you like—or leave it off altogether! I constructed my bowl on a base of quinoa, to give it substance and to soak up that extra sauce, but you could leave that out too and have more room for the real stars of this show. Each component is made simply, and while there's definitely about an hour's worth of prep involved here, it's well worth it! Store everything separately in the fridge and you've got a week's worth of tasty lunches, or put the whole spread out at once for your next gathering. And whatever you do, you'll want to keep a batch of this BBQ sauce recipe on hand at all times. After all, you never know when the craving will strike!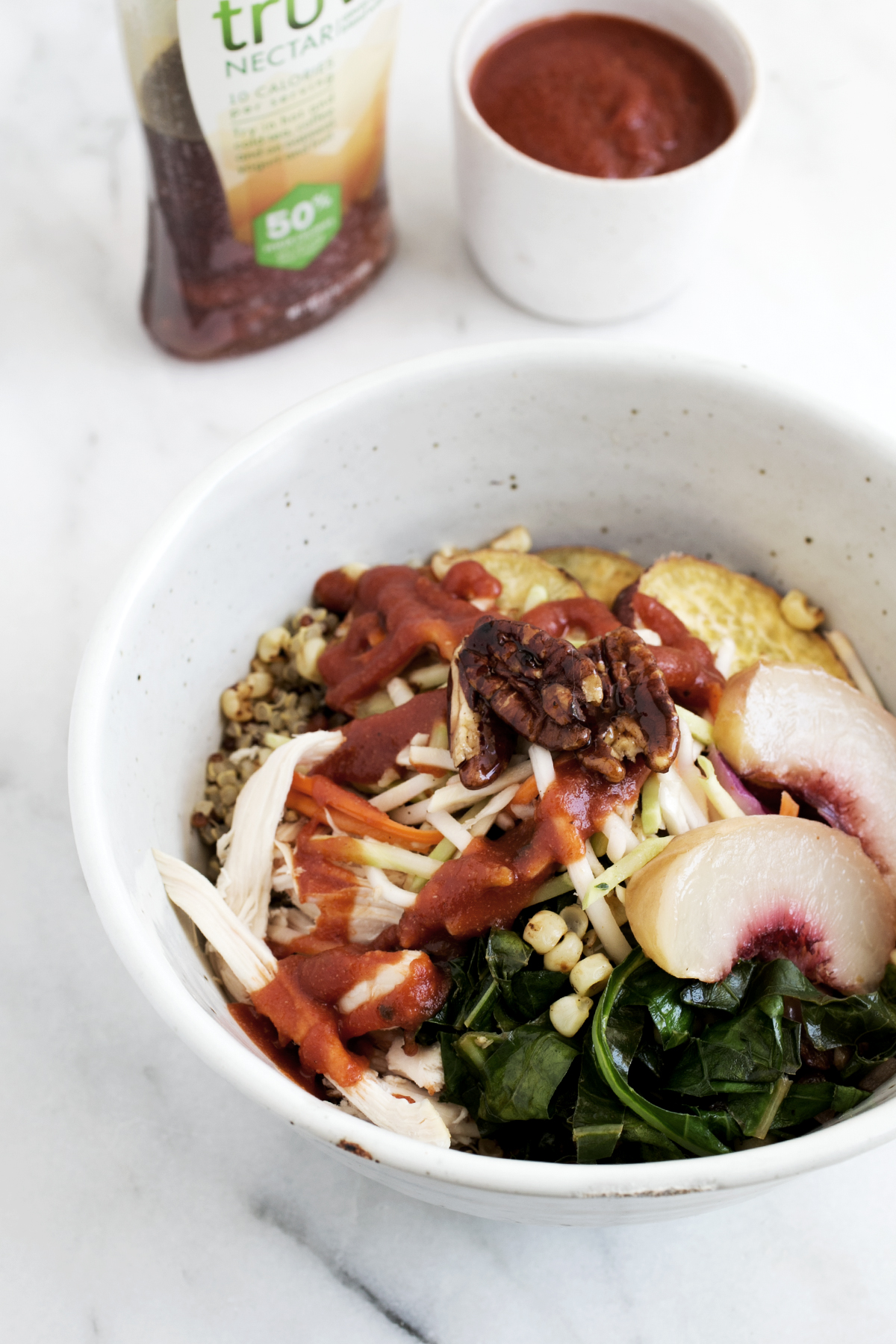 Build-Your-Own Barbecue Bowl with Reduced Sugar Barbecue Sauce
Makes enough for 6-8 bowls, depending on bowl size!
For the Barbecue Sauce
In a saucepan over medium heat, combine 8 oz. tomato sauce with 1 tbsp Truvia Nectar, 1 tbsp cider vinegar, 2 tsp Worcestershire sauce, 2 tsp garlic powder, 2 tsp powdered mustard, 1 pinch chili powder, 1/2 tsp salt, and several grinds of pepper. Cover and simmer on low for 20 minutes to allow flavors to combine, stirring occasionally and adjusting seasonings to taste, then remove from heat and let cool.
For the Coleslaw
Place a 9-oz bag of pre-chopped coleslaw veggies in a bowl (or combine 2 cups chopped cabbage and 1/2 cup shredded carrots). Whisk together 2 tsps Truvia Natural Sweetener, 2 tbsp cider vinegar, 1 tbsp oil, and a pinch each of salt, pepper, celery salt, and powdered garlic. Pour over veggies and toss to combine. 
For the Collard Greens
Dice one slice of thick-cut bacon. In a skillet over medium heat, crisp bacon and remove from pan. Return pan with bacon fat to the heat. Crush 1 clove of garlic and dice 1 shallot, then sauté in bacon fat until lightly browned. Cut the hard stems from 8-10 collard leaves and slice leaves into thin ribbons, then toss into pan with bacon fat. Add a pinch of salt and sauté until greens have wilted and become soft. Remove from heat.
For the Charred Corn
Husk and cut the kernels from 2 fresh ears of corn. In a dry skillet over high heat, place kernels and toss continually until they've browned and have even blackened in a few spots. Remove from heat.
For the Peaches
Preheat oven to 425 degrees. Slice 2 peaches in half and remove pits. Place on a baking sheet lined with parchment paper (make a little room on your yam pan, below!) and bake until soft, about 20 minutes. Once cool to the touch, slice into segments. 
For the Yams
Preheat oven to 425 degrees. Slice 2 yams or sweet potatoes into 1/4 inch thick rounds. Toss in a bowl with 1 tbsp olive oil or melted ghee, 1/2 tsp salt, and several grinds of pepper. Place in a single layer on a baking sheet with parchment paper and bake for 20 minutes or until surfaces have begun to brown. Remove from oven and let cool.
For the Candied Pecans
In a dry skillet over medium-low heat, toast 1/2 cup raw whole pecans until fragrant. Drizzle with 1-2 tbsps Truvia Nectar, depending on desired sweetness, stirring all the while to distribute evenly and ensure that the mixture doesn't burn. When the Truvia Nectar has begun to bubble and caramelize but before it becomes too dark, remove from pan and spread on parchment paper to cool. Nuts will become crunchy and candied as they cool!
Optional Additional Components:
2 c. prepared quinoa
 Two shredded chicken breasts or your choice of protein
Once you've prepared all the components, layer your desired proportions in a bowl and enjoy! Or, for a crowd, place components in individual serving bowls and let your barbecue lovers make their own bowls!