Can you believe it? Summer is over! Well actually, it's 106 degrees here in Los Angeles, so something tells me that summer isn't going anywhere for a while. While climate change may mean that the Labor Day holiday no longer marks the end of roasty-toasty days, the long weekend can still be a time to pause, reflect on the past season, and gear ourselves up for what the rest of the year holds! So in honor of the unofficial end of summer, here's a recipe for mini strawberry shortcakes, aka my favorite super-fast and crazy-easy dessert to serve when I'm in a pinch. If you're hosting or headed to an end-of-season gatherings this weekend, it's perfect for a crowd—and if you're simply looking to use up some overripe fruit, it's just right for that too!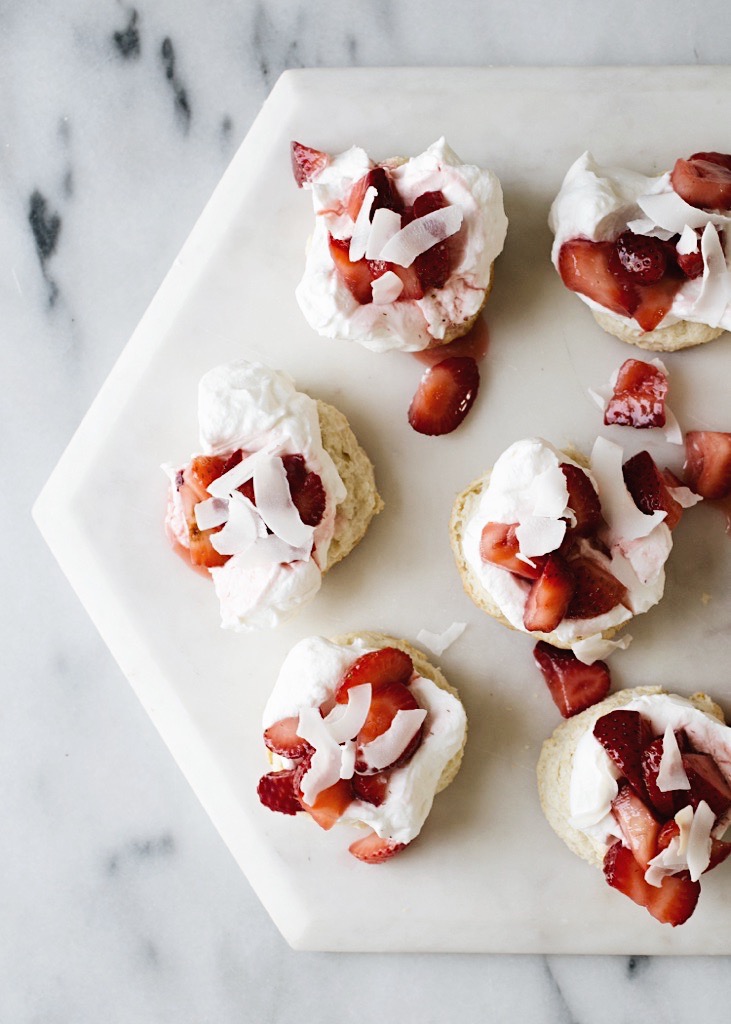 This recipe is built around my go-to, no-brainer biscuit recipe, the one I've made so many times over the years that I don't even have to measure anymore. It's foolproof in that it bakes up perfectly every time, always yielding a light and fluffy biscuit that splits right down the center to create a soft, spongy, welcoming bed for toppings. The secret is handling the dough as little as possible then baking at high heat for a crisp golden exterior and fluffy, flaky interior. I used strawberries to top them here, but you could go for diced peaches, raspberries, or any other juicy fruit that calls to you. Don't forget the chilled whipped cream, or if you're feeling like stretching summer out just a tad more, try vanilla ice cream instead. Guhhhh, writing this is making me want one right now!
Mini Strawberry Shortcakes Recipe
makes about 9 biscuits, which split in half to make 18 little shortcakes
1 pint fresh strawberries, sliced
1 tsp sugar
2 cups all-purpose flour
2 tablespoons granulated sugar (optional, if you like a sweeter biscuit)
1 tablespoon baking powder
1 teaspoon salt
1/2 stick butter (4 tablespoons), frozen (I keep a stick of butter in the freezer at all times, for this purpose)
3/4-1 cup buttermilk or whole milk
1 cup heavy whipping cream
1/2 teaspoon vanilla extract
1 tablespoon maple syrup
1. Make the strawberry topping: Place sliced strawberries in a bowl, toss with sugar, and set aside for at least 30 minutes to allow the sugar to draw out the natural juices of the fruit.
2. Make the biscuits: Heat oven to 500 degrees. In a mixing bowl, combine flour, baking powder, salt, and sugar if using. Toss with a fork to combine. Using the large holes of a box grater, grate butter into dry ingredients, then use a fork to cut the butter shards into the flour until the mixture resembles a coarse meal. Pour in milk and gently mix until just combined. Turn dough onto a floured surface and use the rim of a glass to cut 2-inch rounds. Place on a parchment-lined baking sheet and bake for 8-10 minutes, until golden brown. Move to a cooling rack and let cool.
3. Make the whipped cream: Using a stand or hand mixer and a chilled bowl, beat whipping cream until light and fluffy folds form. With mixer running, slowly drizzle vanilla and maple syrup into whipped cream until just combined.
4. Assemble the shortcakes: Remove the tops from the bottoms of the biscuits—they should split pretty easily—and place a blob of whipped cream and spoonful of strawberries onto each segment. I topped each one with a couple coconut flakes for texture, but hey, you do you!