There's a handful of fashion blog headlines that are like kryptonite for me. The ones I'm most vulnerable to are those having anything to do with how French girls dress. You know the ones I mean. "Every French Girl Has These Three Things In Her Closet!" Or, "French Girls Never Make This Mistake When Leaving The House!" I can't resist them, because who in her right mind wouldn't want to achieve that seemingly effortless blend of tomboy and sexy, on-trend and timeless, sophisticated and cool? Yet for all the times I've fallen for the bait, I've never actually put any of the tips to use in an outfit. So finally, this fall I decided to stop clicking and start putting my money where my mouse is. So here it is, my take on French girl style!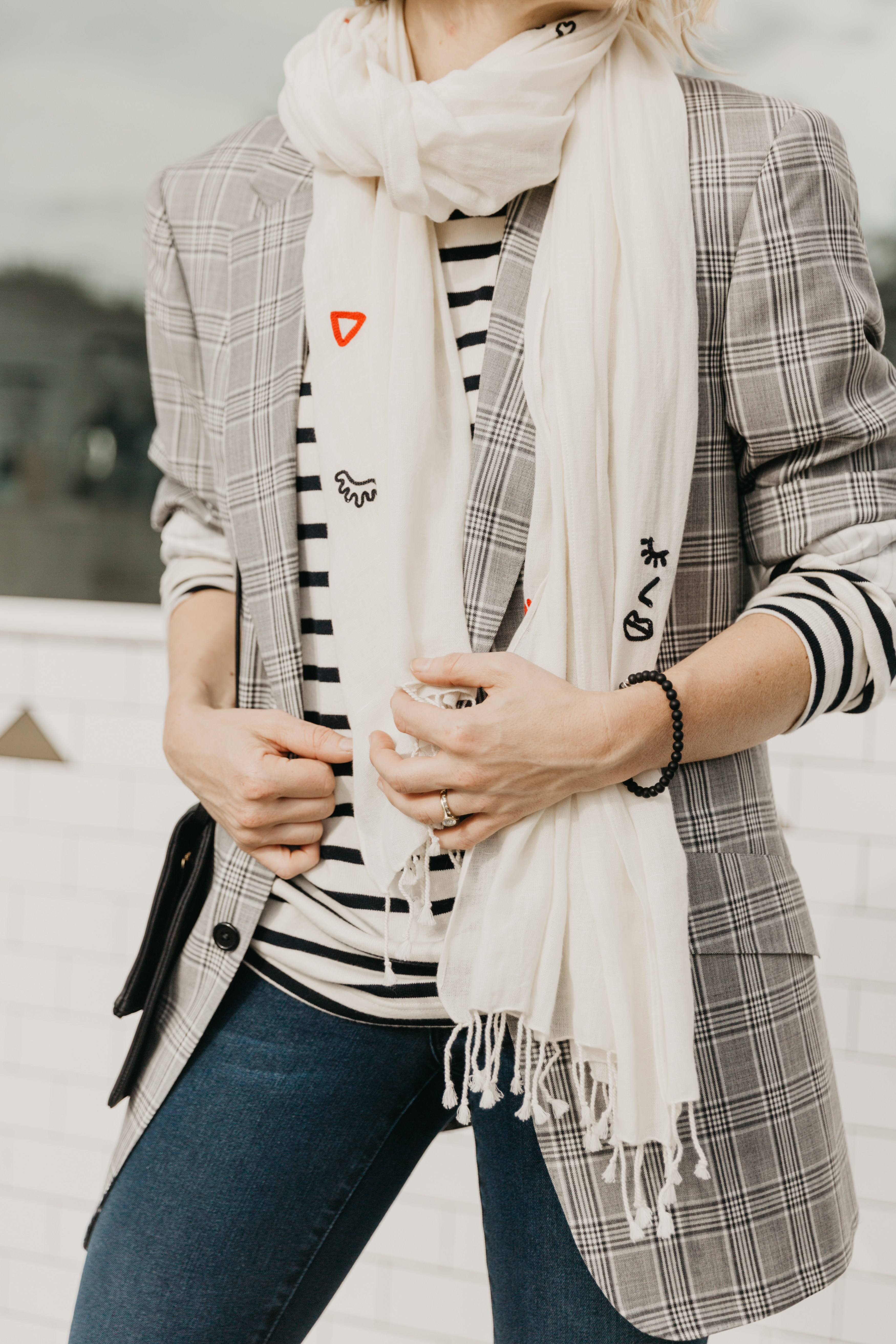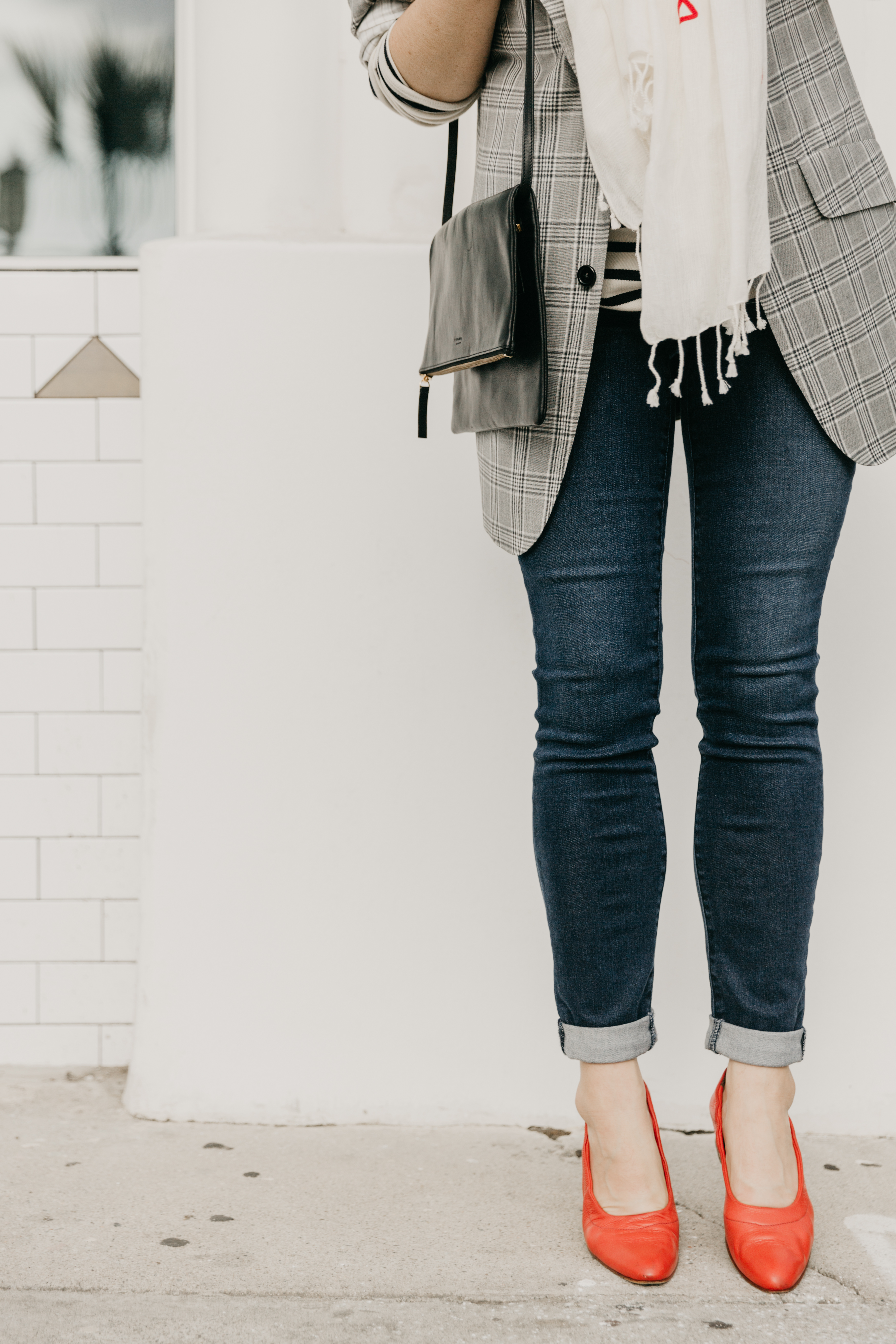 The first trick seems to lie in combining the classics in a fun, interesting way. There's no piece more French than a navy and white striped sailor shirt, and of course donning a menswear-inspired blazer for fall is a no-brainer! But wearing them together? Whoa. That's next level risky for me—a self-avowed minimalist—yet I channeled my inner Parisian gamine and gave it a go. The graphic patterns work nicely together, and because they're in the same subdued palette I'm not treading too far beyond my comfort level!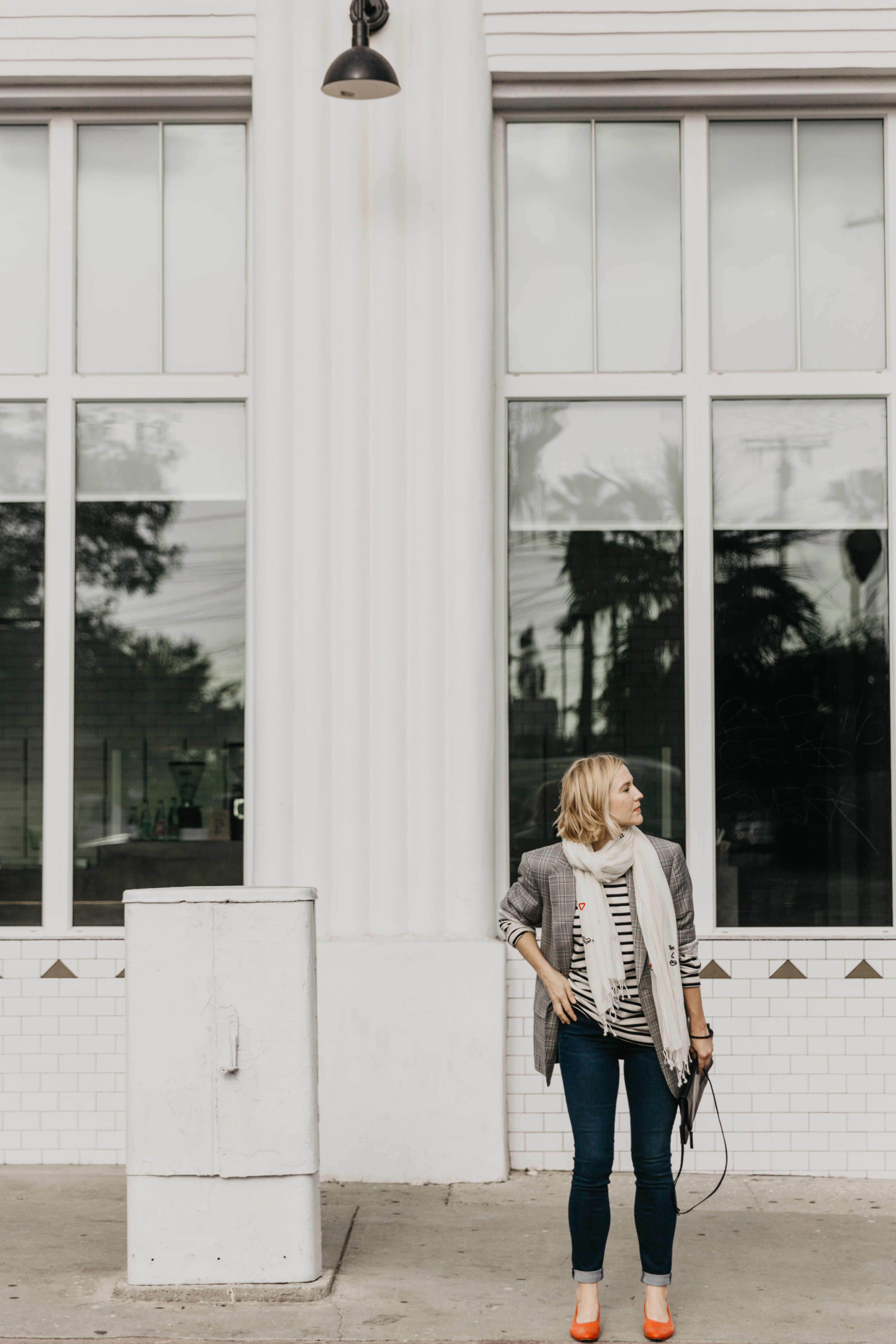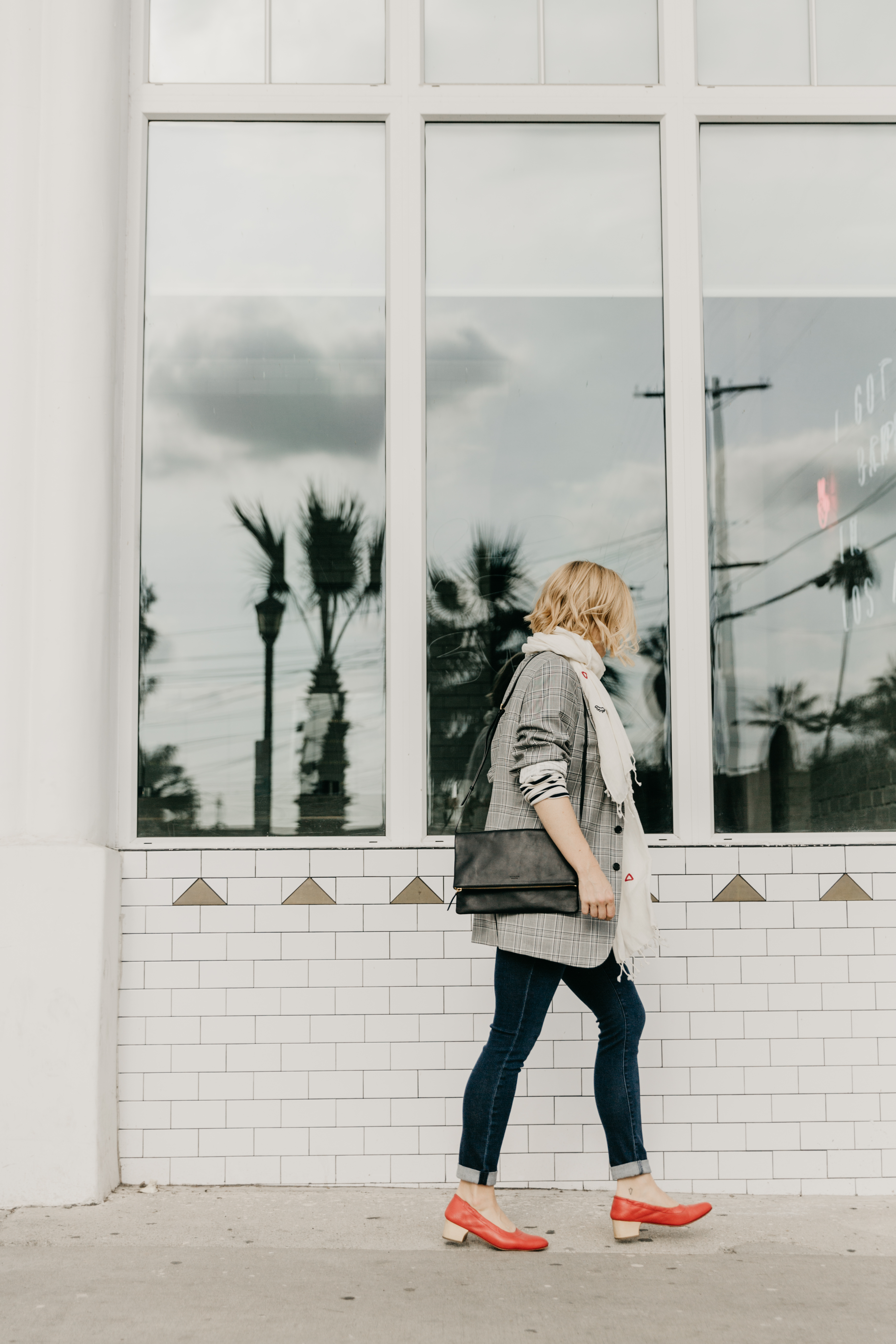 Another French girl secret seems to lie in the proportions of the outfit. A little flirtiness is key! For that reason, I went with a dark, slim denim rather than my usual oversized boyfriend jeans; the figure-hugging fit below my waist balances the boxiness of the top, ensuring the ideal balance of feminine and masculine. Finally, in a nod to the go-to red lip so often seen on French fashion icons, a red shoe and scarf with embroidered mouths completes the look. What do we think. Is it worthy of the headline "Every French Girl Will Be Wearing This Outfit This Fall!"?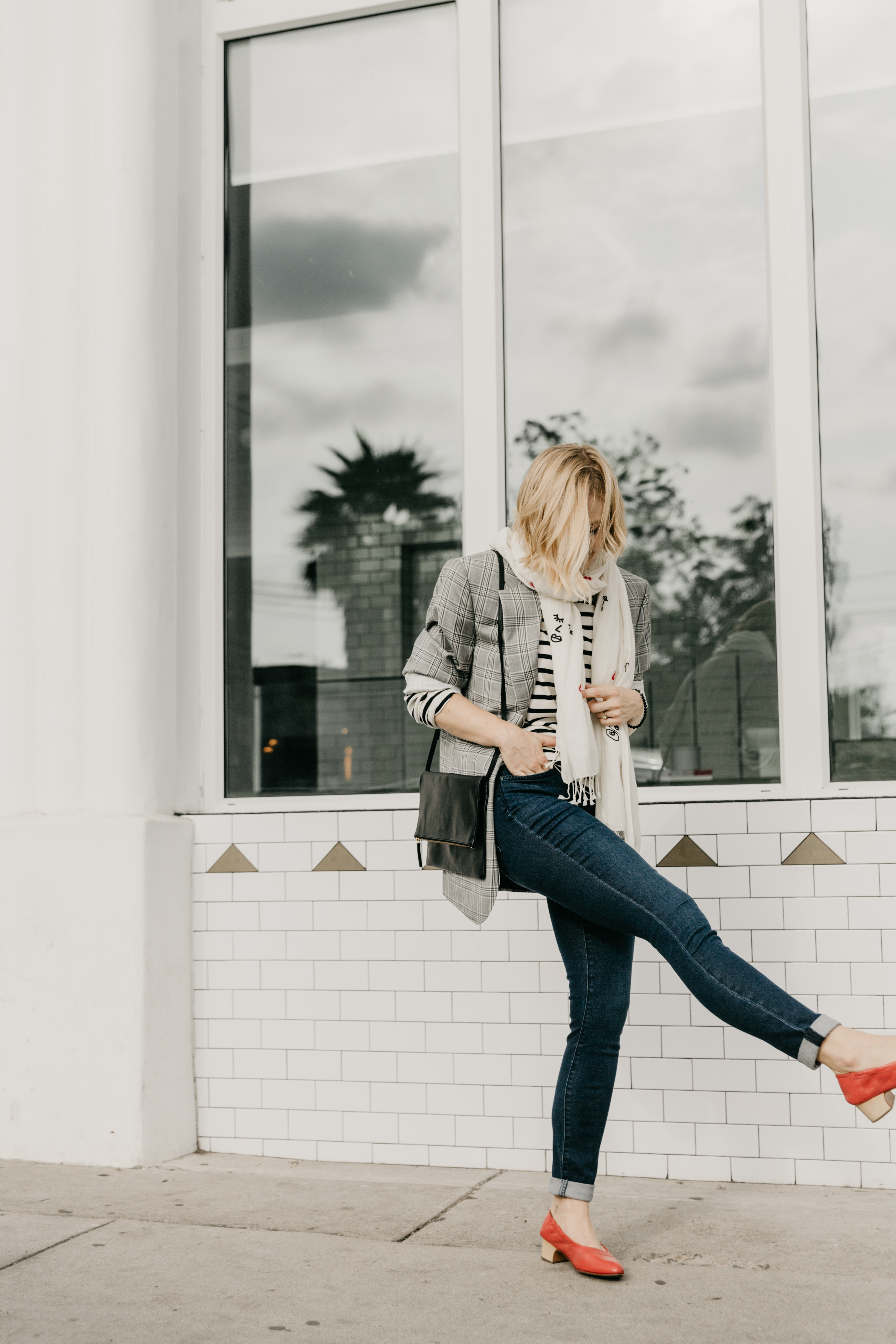 Shopping Guide: NYDJ Dark Wash Girlfriend Jeans. Joie Glen Plaid Blazer (similar to shown). Madewell Striped Sailor Shirt. Rachel Comey Block Heel Pump. Madewell Embroidered Scarf. Everlane Foldover Clutch. Photos: Eslee.