Spend even a week here on the blog and you'll learn pretty quickly that I find my inspiration absolutely anywhere and everywhere! Even the most unexpected source can spark ideas for any project, from decor makeovers to entertaining spreads and beyond. And frankly, the more unexpected the source, the better—because the finished product is always so much more than the sum of its parts! So, when Godiva asked me to create a festive tabletop inspired by their new Godiva Masterpieces line of individually wrapped chocolates and chocolate bars, I leaped at the challenge. Sure enough, the result is an easy yet elegant setting that brings to life the rich decadence of Godiva, and that also sets the scene for some seriously chic holiday hosting!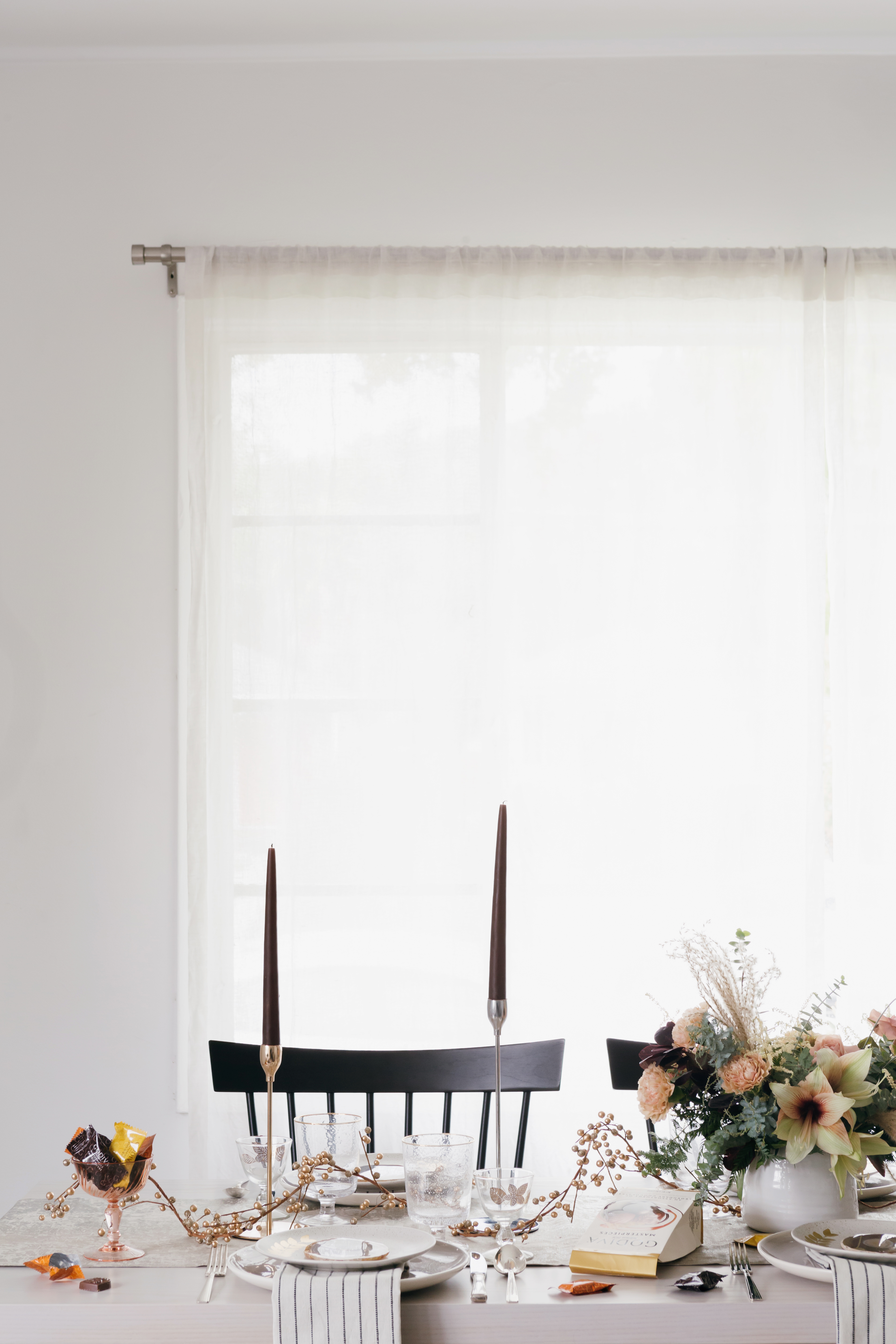 Color is often my starting point when concepting a table vignette. The trio of filling varieties in Godiva Masterpieces lent themselves perfectly to this decadent combination of glistening metallics and rich tonal hues. First, the toasty golden warmth of milk chocolate hazelnuts inspired shades of gold and copper throughout. Then, the dark chocolate ganache variety of Masterpieces made these deep cocoa candlesticks a much more apropos choice than my standard white candles. Finally, with Godiva's milk chocolate caramel lion as my muse, I positioned agate slices atop each place setting. The agates' swirling sugar pattern perfectly evokes the allure of confectionary delights!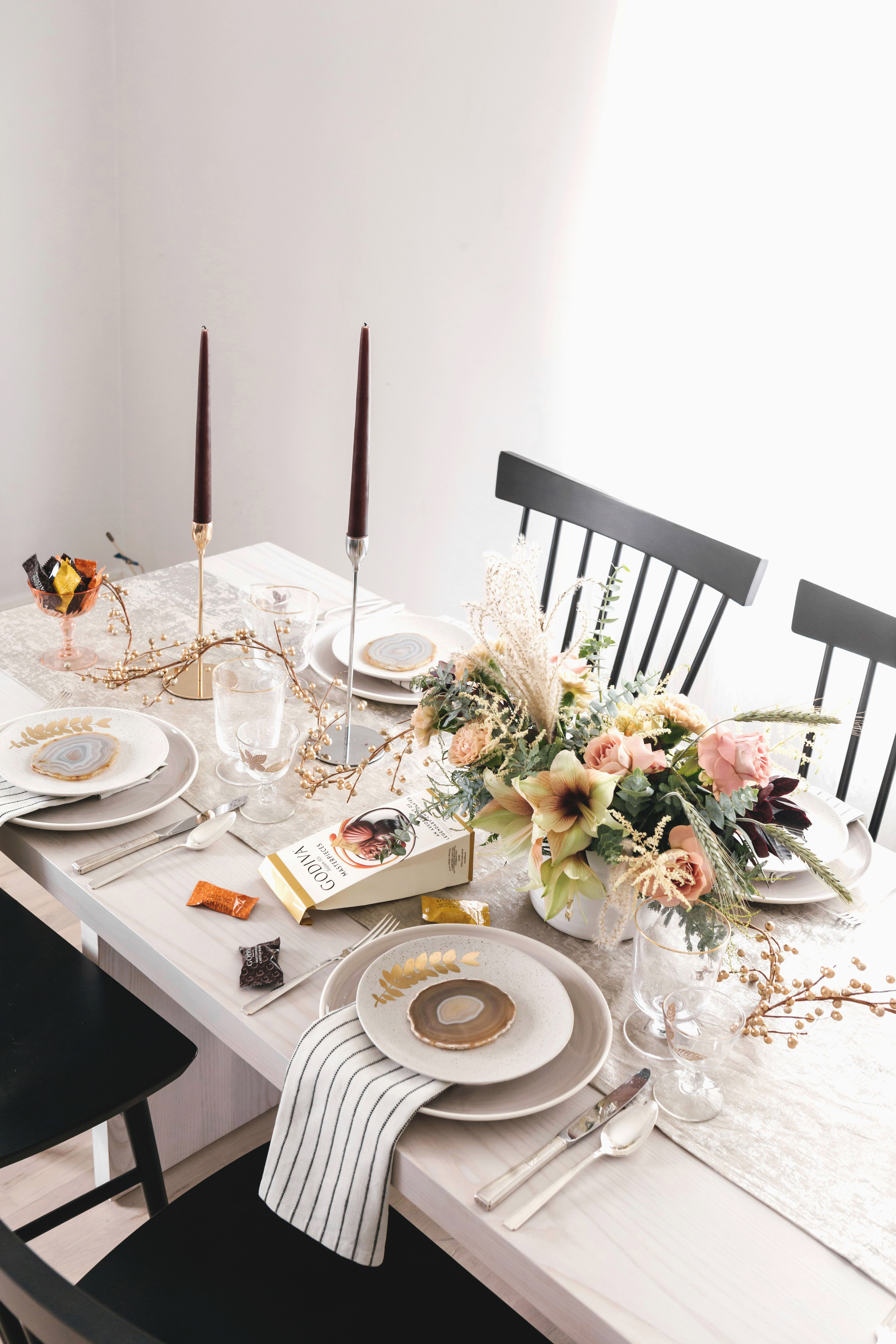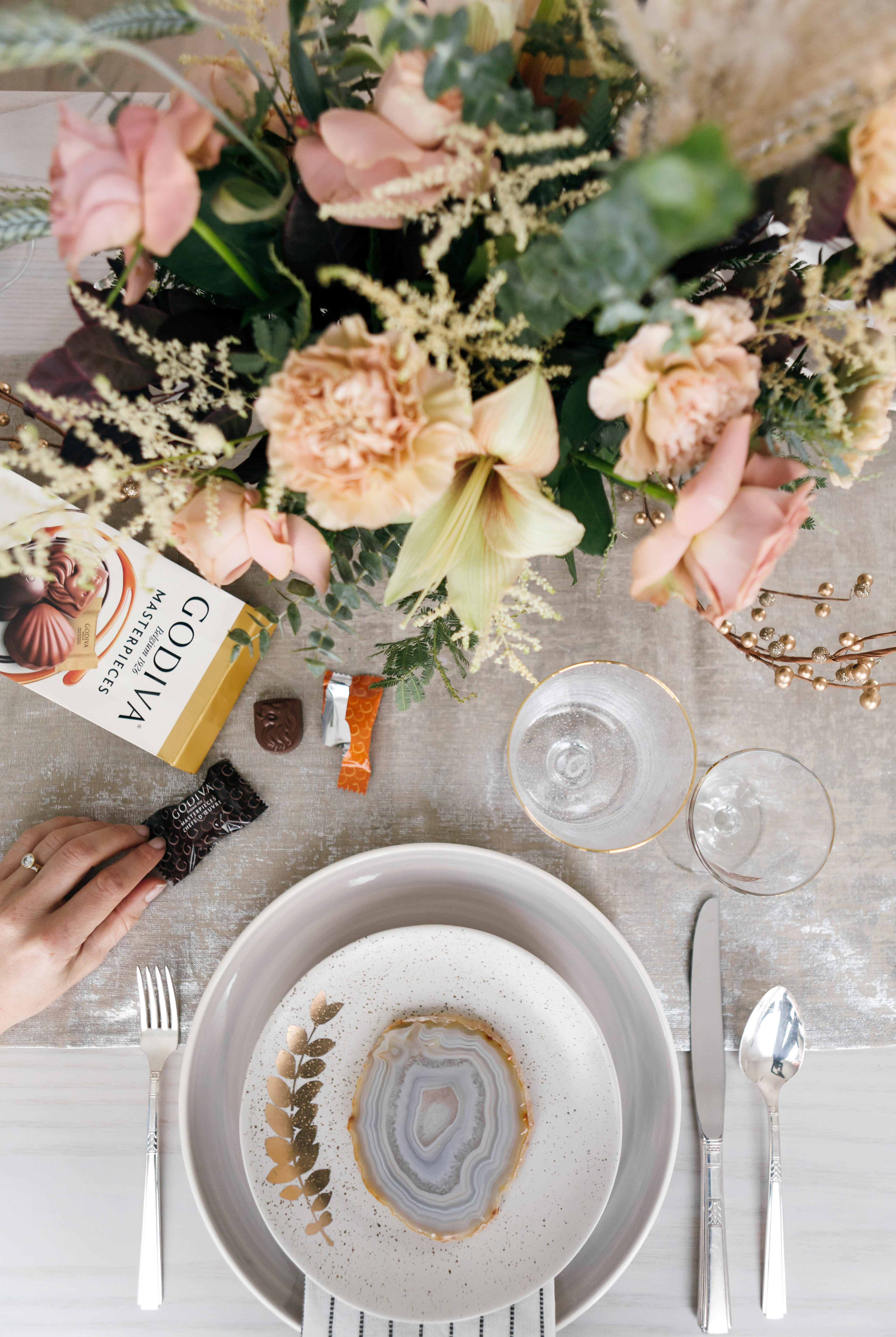 Once I'd determined my palette, it was time to hone in on texture and style. Godiva is known the world over for their heritage-driven approach to chocolate, and with Godiva Masterpieces they're bringing the luxe experience of their iconic boutiques to grocery stores, drug stores, and even your nearest Target! I opted for accents that call to mind that same Old-World tradition and refinement, combined with the glimmer and glitz that you'd expect of a holiday table! Delicate gold-rimmed stemware feels fancy indeed, and my grandmother's midcentury silver flatware provides an heirloom touch without getting too opulent. As for textiles, the juxtaposition of a silver-leafed linen runner with crisp striped cotton napkins personifies the elegant-meets-everyday sensibility of the new Masterpieces collection!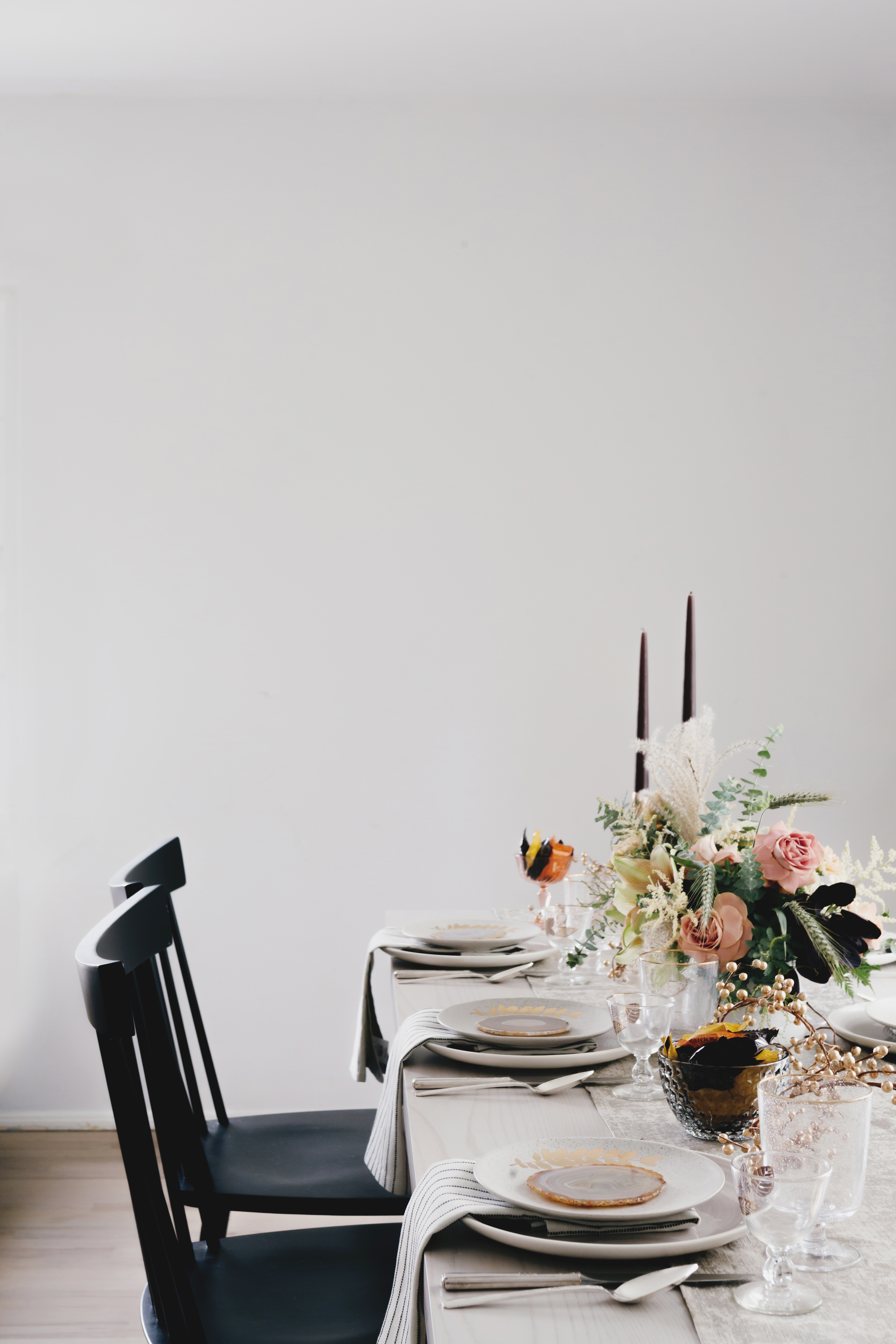 Last but not least, I considered the overall mood that I wanted for our scene. With the holidays upon us, I want nothing more than to embrace everyone in my life with an energy of generosity, bounty, and celebration! An overflowing flower arrangement creates an abundant tone, as do coupes and bowls filled with individually wrapped chocolates along the length of the table. (Who says you can't snack on dessert while you wait for dinner to be served?!) As for those agate slices at each place setting, they make a charming favor for guests to take home, along with a big handful of Godiva Masterpieces—if there's any left at the end of the night, that is!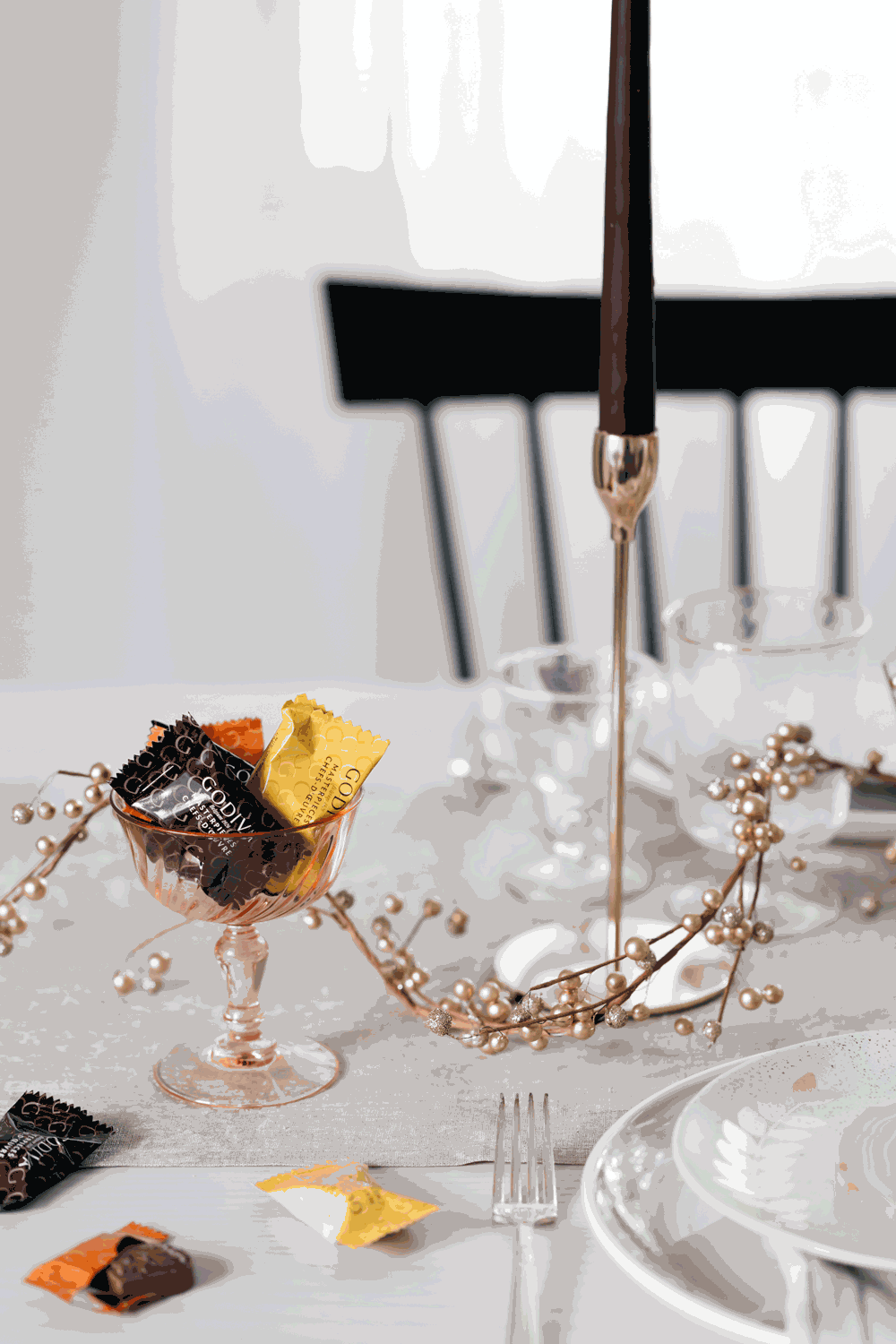 Photography: Monica Wang. Florals: Moon Canyon. Disclosure: I partnered with Godiva to concept, style, produce, write, and share this post. All opinions are and always will be my own. Thank you for supporting the brands that enable me to bring you fresh inspiration daily!