In the last week I've talked to so many people who are using the slow ramp-up of January to ease back into work and set new priorities. I'm myself am in the same boat. In contrast to the holidays, when the blog posts seem to write themselves (gift guides! tablescapes!), January is my time to reorient and make plans for the topics and themes I'd like to explore in the coming year. It's also a great opportunity to rethink the workspace too, since our physical environment is such a key component in our mental outlook! So I'm excited to share these snaps from a women's coworking space in San Francisco called Radiant. The space is co-founded by husband-and-wife team Tobi and Temi Ademolekun, who designed and opened Radiant with the goal of creating a vibrant, energizing home-away-from-home for independent female entrepreneurs at all stages of their careers. As you can see from these pics, they've done exactly that—and provided plenty of inspiration to anyone looking to spruce up their workspace for the new year!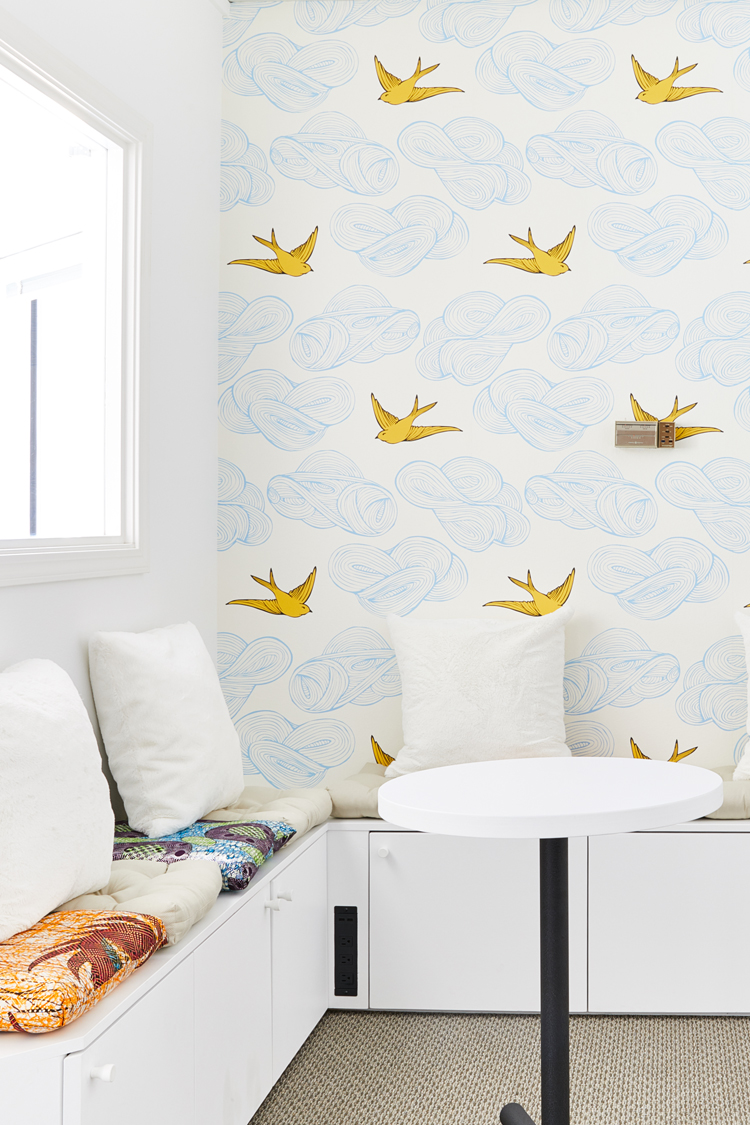 Create Sneaky Storage: No matter what your profession, streamlined storage is a workplace essential. After all, for most people—myself included—a cluttered desk is a cluttered mind! Plus with lots of people coming and going, both as regular members and as guests to the many workshops they host, the radiant team needed plenty of nooks and crannies for tucking away supplies and incidentals. A corner bench with built-in cupboards provides exactly that and also doubles as a cozy conference spot. Oh, and take note of the clever power strip for charging multiple devices!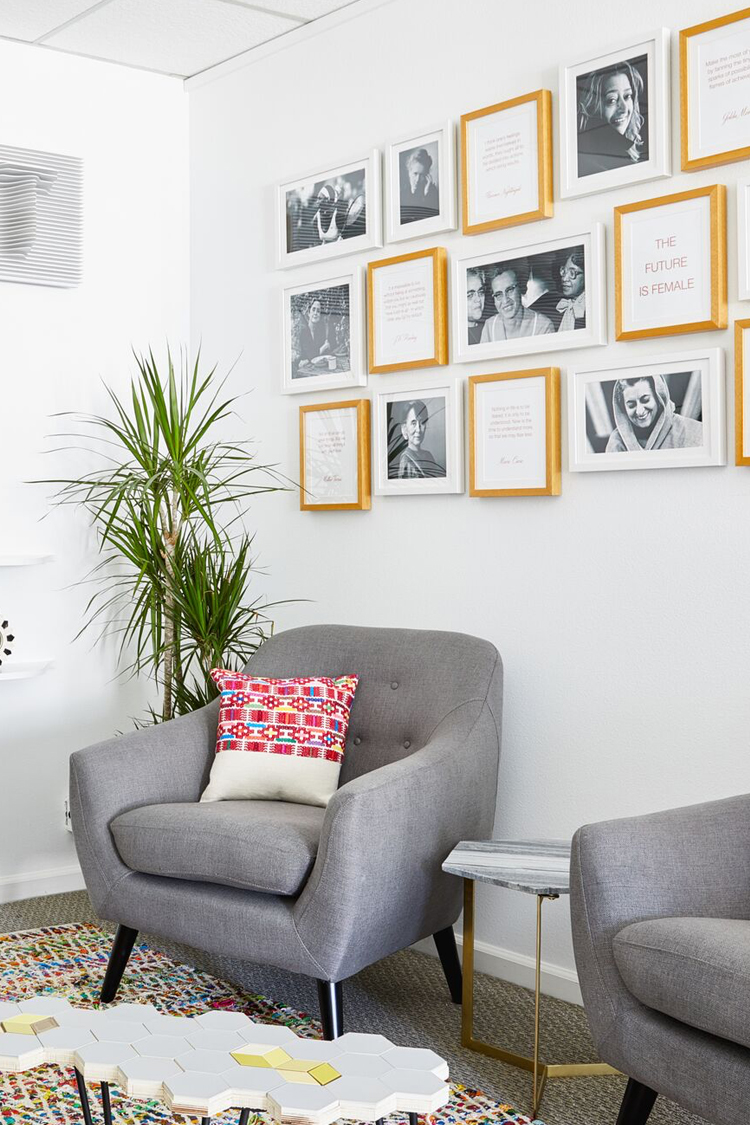 Rethink Your Gallery Wall: Temi and Tobi wanted Radiant to feel female-centric without being stereotypically girly. That's where this gallery wall comes into play, with its framed portraits of iconic female leaders and their words of wisdom. Black-and-white photos and a consistent typeface throughout give the vignette a cohesive look. It would be so easy to recreate this yourself using your own heroines in the frames!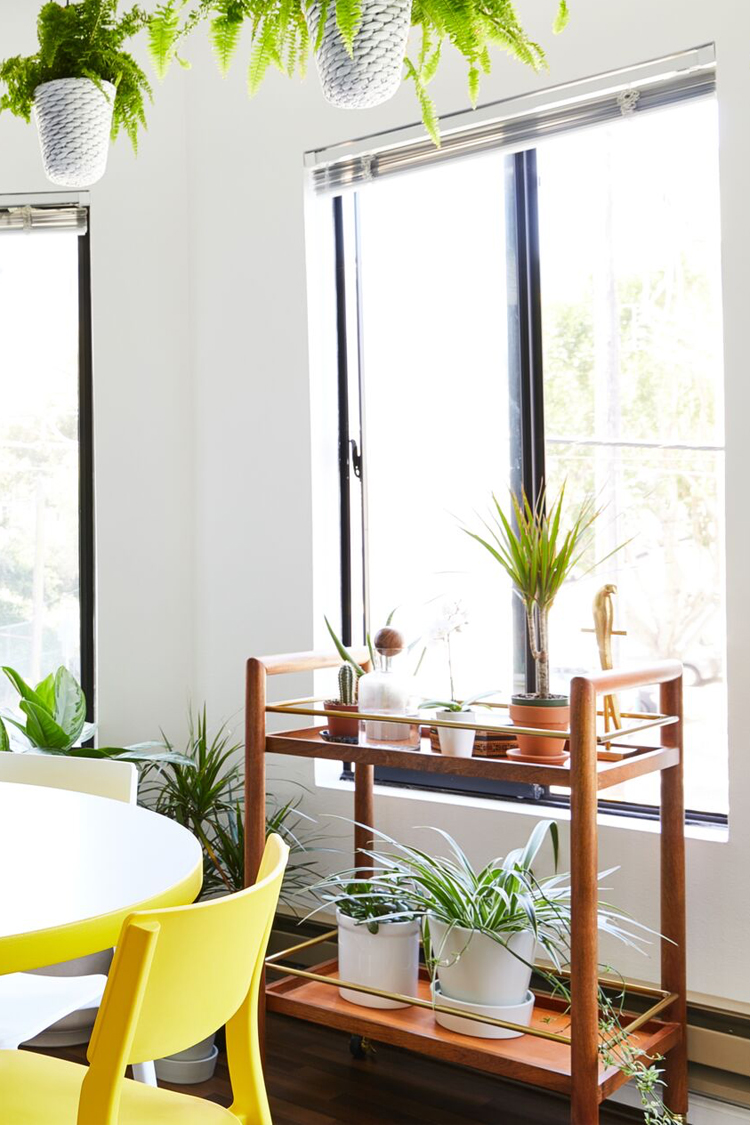 Bring Life to the Break Room: The few times I've ever worked in an office, eating lunch in the break room was a fate worse than deaf. So bleak was it in there, with the sad mini fridge and discarded Tupperware, that working through lunch at our desks was preferable! Yet a midday change of scenery is key for both productivity and sanity, so whether you work away from or at home, put a little effort into a corner retreat that's welcoming and upbeat. Radiant filled their kitchenette with greenery and vibrant furnishings, but for you it could be any attractive touch that draws you away from your computer—even just for 20 minutes!
Photos: Aubrie Pick via Radiant.