Every time someone asks me about my skin type, I shrug and say, 'I dunno!' Because honestly, I've got a little bit of everything going on. I break out at certain times of the month, whenever I stray from my healthy eating habits, and occasionally for no apparent reason at all. But I also get dry and flakey, dull and saggy. And then, of course, there are the fine lines that seem increasingly less fine these days! I guess you could say I have a confused complexion—and in January, the dry, chilly weather bumps that confusion into overdrive!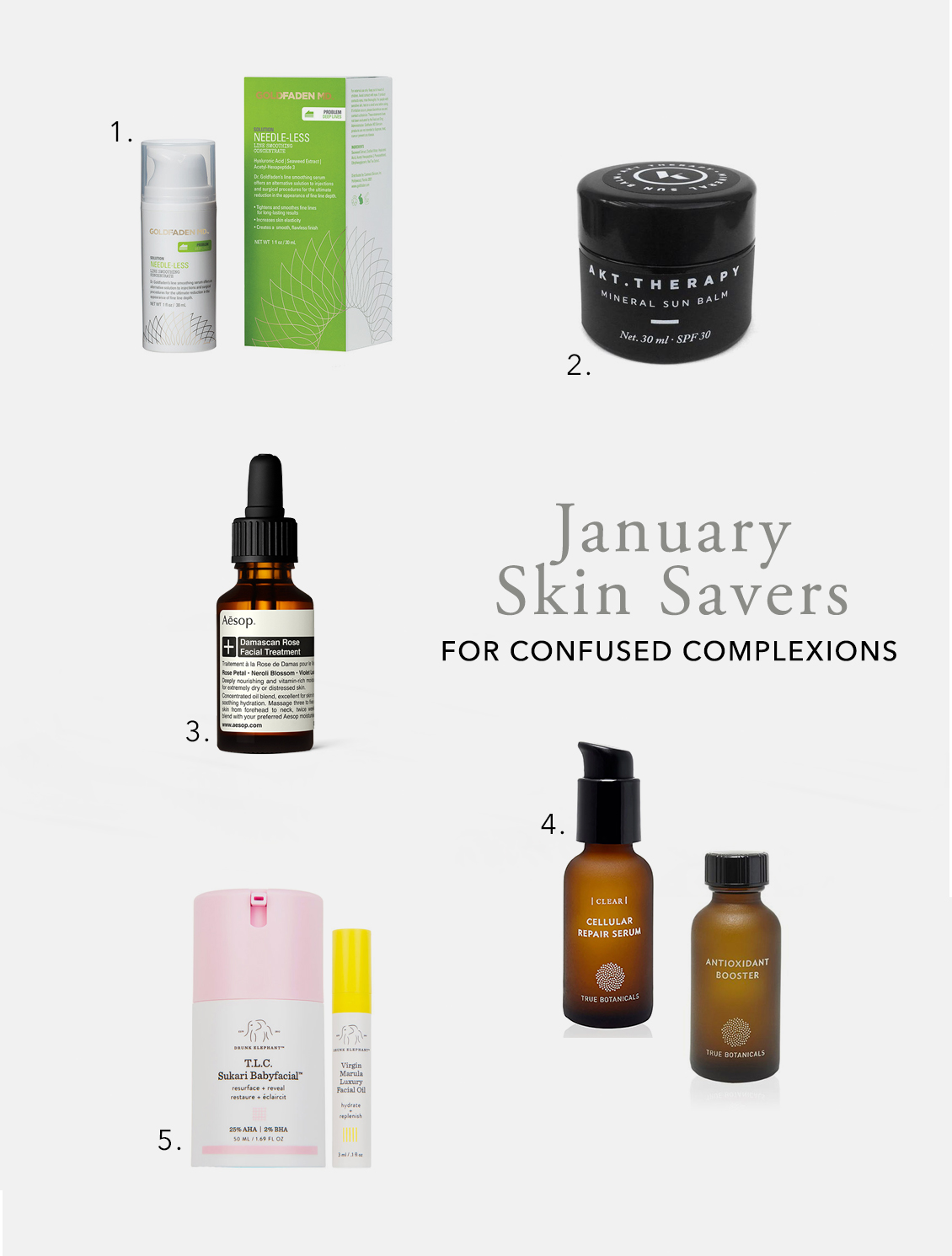 Thankfully, I've landed on a combination of products that's doing the trick to keep my skin looking relatively clear and calm. The secret seems to lie in a one-two punch of regular exfoliation to sweep away the gunk that would otherwise cause congestion, and deep moisturizing to replenish and protect. Plus as always, consistency in a routine is the most important thing of all, so I'm sticking with the following skincare winners for the foreseeable future!
1. Goldfaden MD Needle-Less Line Smoothing Concentrate + Goldfaden MD Wake Up Call: From a dermatologist-developed skincare line that unites potent natural actives with physician strength, this serum and moisturizer duo are packed with hyaluronic acid to plump and firm, as well as plant extracts that brighten and even tone. Plus the Needle-Less has an immediate effect on fine lines around the eyes and forehead; they really become less noticeable immediately upon application!
2. I discovered Akt Therapy Skincare when we were in Todos Santos—the company is based there—and cannot speak highly enough about it! Relying entirely on regional desert botanicals for its ingredients, the small but powerful collection of sun and skin balms also includes a clarifying mask that's not yet on the website but that's worth requesting via email. It smells like vanilla ice cream and leaves pores invisible!
3. Aesop Damascan Rose Facial Treatment: This one's like a deep, quenching drink for your skin, with the added miracle of a weightless finish and a divine floral aroma! It's great under makeup, so use it in the morning, in concert with the massage function on my Clarisonic Uplift. The resulting glow is (almost) as good a full night's sleep!
4. True Botanicals Cellular Repair Serum and True Botanicals Antioxidant Booster: A proprietary blend of seaweed extracts in this serum works to minimize damage a the cellular level, and a couple shakes of the Antioxidant Booster's powder formula ups the ante even further! I had one of those stubborn under-the-skin pimples along my jawline and created a paste from these two products to use as a spot treatment. Bye-bye, Mr Blemish!
5. Drunk Elephant T.L.C. Sukari Babyfacial: Holy moly, this is the mother of all exfoliating masks! It's definitely a once-a-week deal as it contains 25% AHA as well as a superhero cocktail of other acids. It tingles mightily when it goes on and leaves skin looking radiant, refreshed, renewed. Even Ivan loves it and finds that it helps keep ingrown hairs from shaving at bay. Hello, couple's Sunday self-care ritual!