Whelp, it's official. I've been struck down by this winter's latest scourge, the strange flu-cold-whatever that's been making the rounds. Though currently on day 5 of bedrest with no improvement in sight, I'm doing my best to stay upbeat on my steady diet of tea and toast and Twitter. It's all about perspective, after all, and what with all the heartache in the news this week, I've got it pretty good in my safe though snotty little nest of duvets and tissues. And as a bonus, I've got another fun winter style post to share with you before we head into the weekend!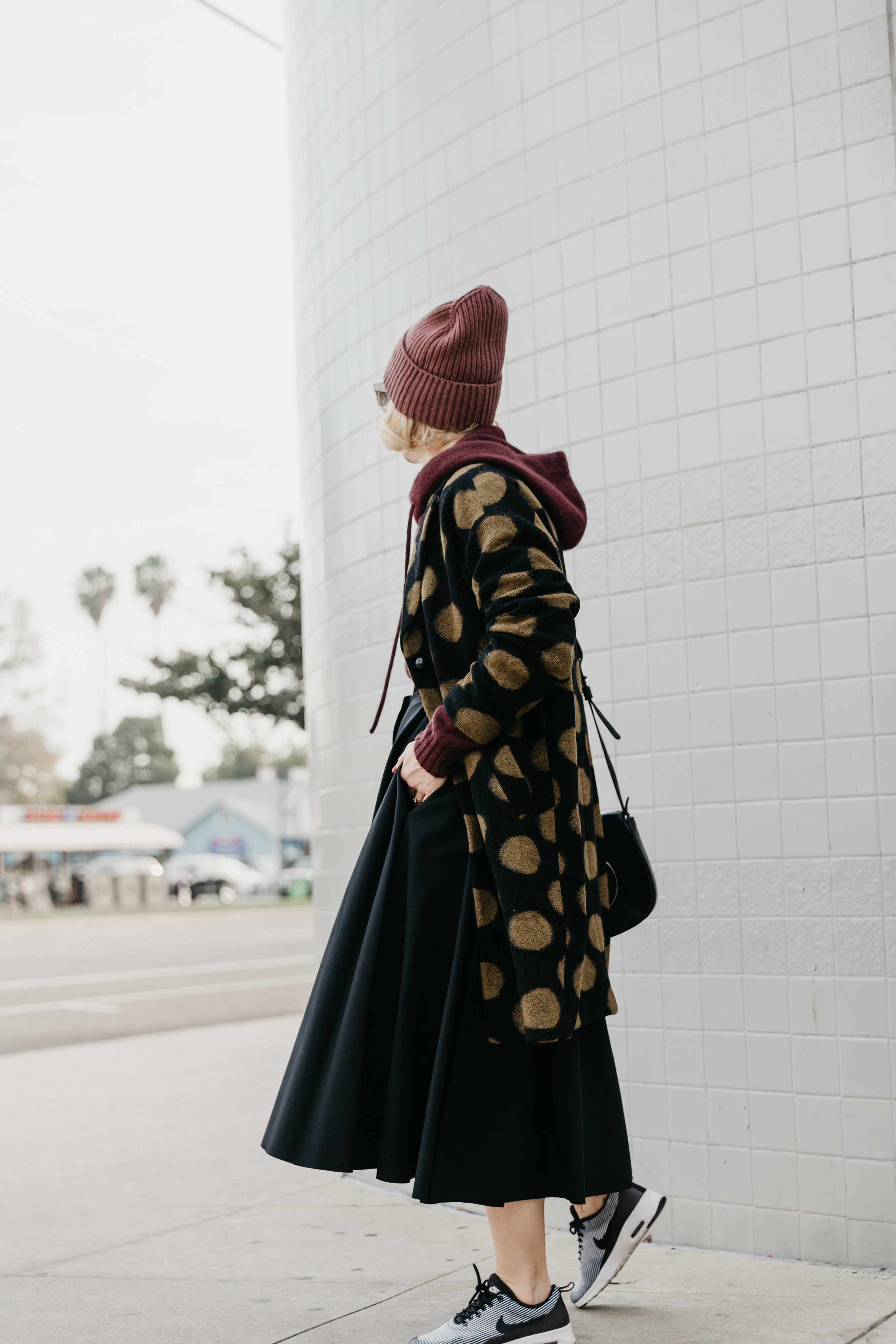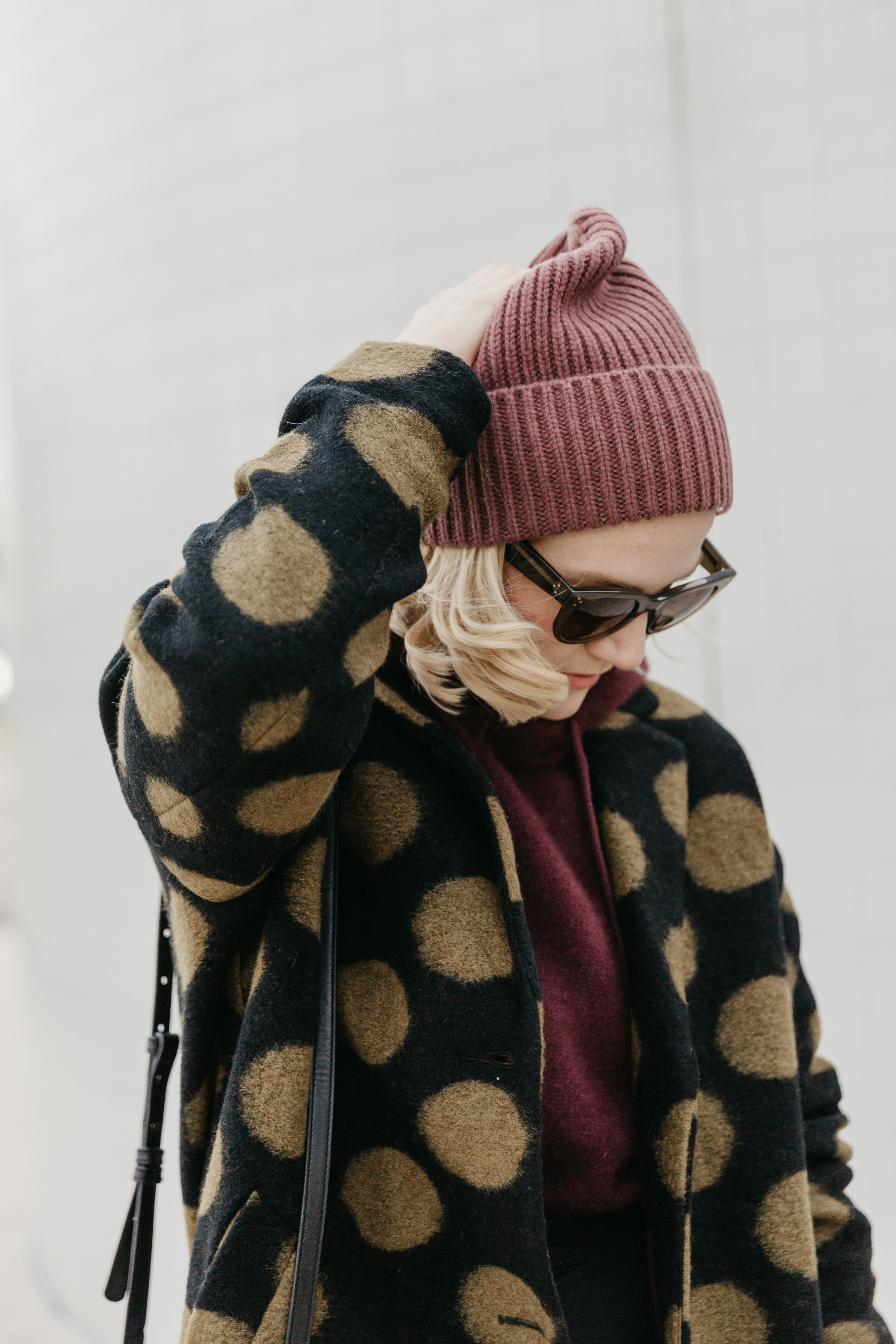 The first thing you need to know about this Ann Taylor polka dot cocoon coat is that it's currently marked down a whopping 75%, making it a mere $75, and an amazing bargain to carry you through to warmer weather (and wear next year too)! The second thing you need to know is that it's incredibly comfortable, constructed as it is with a relaxed drop-shoulder and oversized yet still flattering fit. It's the perfect layering piece, roomy enough for your favorite sweater hoodie when it's really chilly, but sleek enough to slip on over a slim top for a more professional look. And the last point of interest? Although it's got major look-at-me appeal with its eye-catching pattern, it's actually super versatile too, since its black and army green palette goes with pretty much anything that strikes your fancy!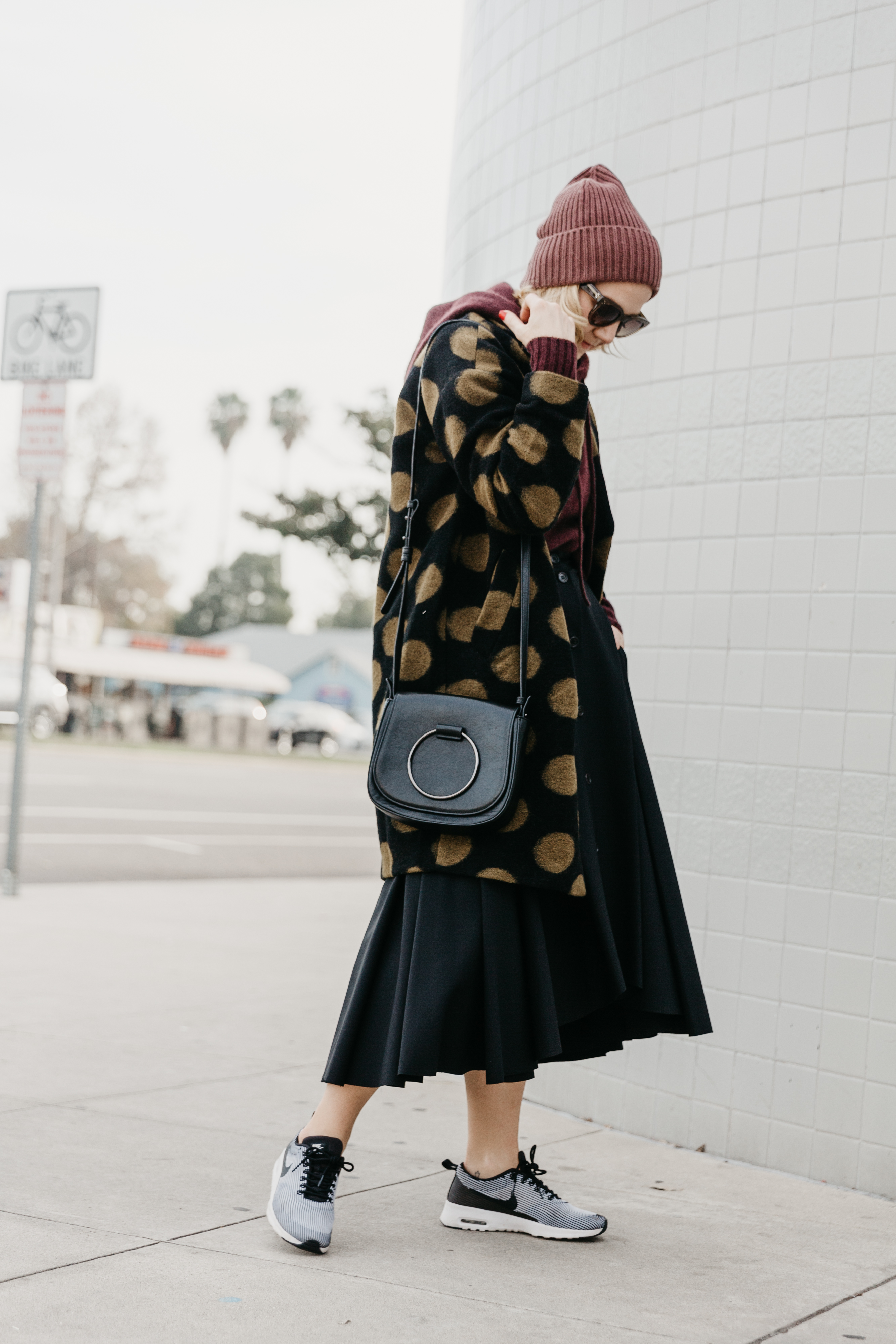 Since a coat this cool deserves an ensemble that can stand up to its panache, I decided to push my usual outfit boundaries and explore new terrain. I haven't paired a skirt with workout sneakers since my mom made me wear sensible shoes with my princess gown circa Halloween '92, but I've been drawn to this look via Pinterest and wanted to take it for a spin! I scored these Nikes during a layover in Hong Kong last year and they're still a fave, but the snakeskin version available Stateside now is pretty chic too. The circle skirt is one I usually reserve for fancier occasions but the daytime vibe of the accompanying items suit it just fine. Oh, and that crossbody bag with its metal circle detail? It's echoes the shape repetition of the coat so nicely, it's like they were born to be together. Combined with a knit beanie and designer shades to match the military hue of the polka dots, it's fashion matchmaking at its very best!
Shopping Guide: 1. Polka Dot Cocoon Coat 2. Cashmere Hoodie 3. Black Crepe Circle Skirt 4. Nike Sneakers 5. Thacker NYC Black Saddle Bag 6. Celine Sunglasses 7. Knit Beanie Photos: Eslee.