Happy Friday, friends! This has been a week of ups and downs. If you follow along on my Instagram stories, you know I'm on day 12 of a month-long nutrition overhaul to get some pesky health challenges in check. Change takes time, and I've alternately felt terrific and crummy since starting this journey. However I'm optimistic that I'm onto something, because on the good days, I feel really good! So I'm sticking with it, which means lots of cooking at home in the near future. Not that you'll hear me complaining about that ever since we wrapped up our kitchen makeover! Which brings me to today's business, the final few elements to highlight in our renovation. I've saved the best for last—and when I say best, I really do mean it. The day we installed our KitchenAid black stainless appliances was the day my cooking and clean-up game reached unprecedented heights!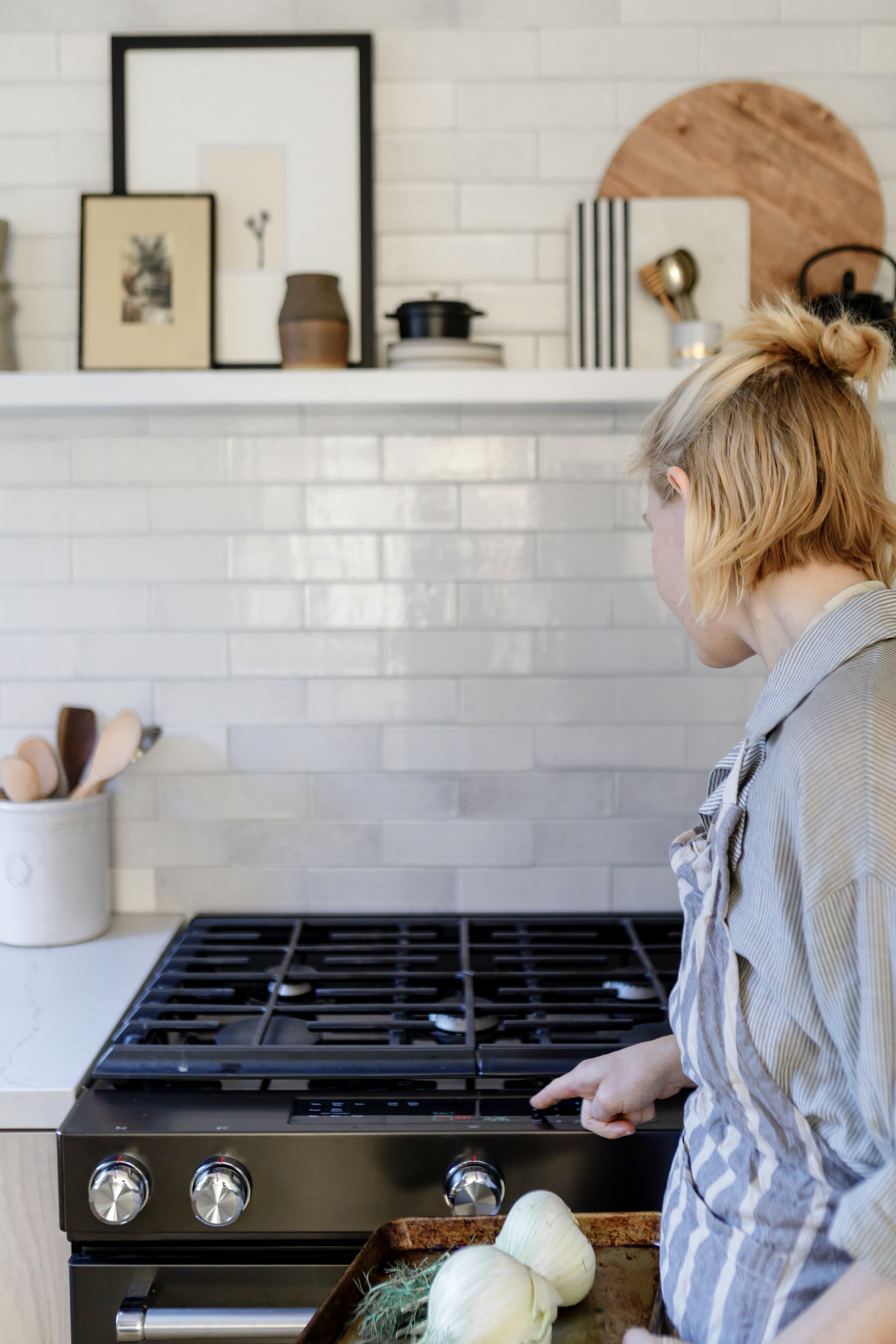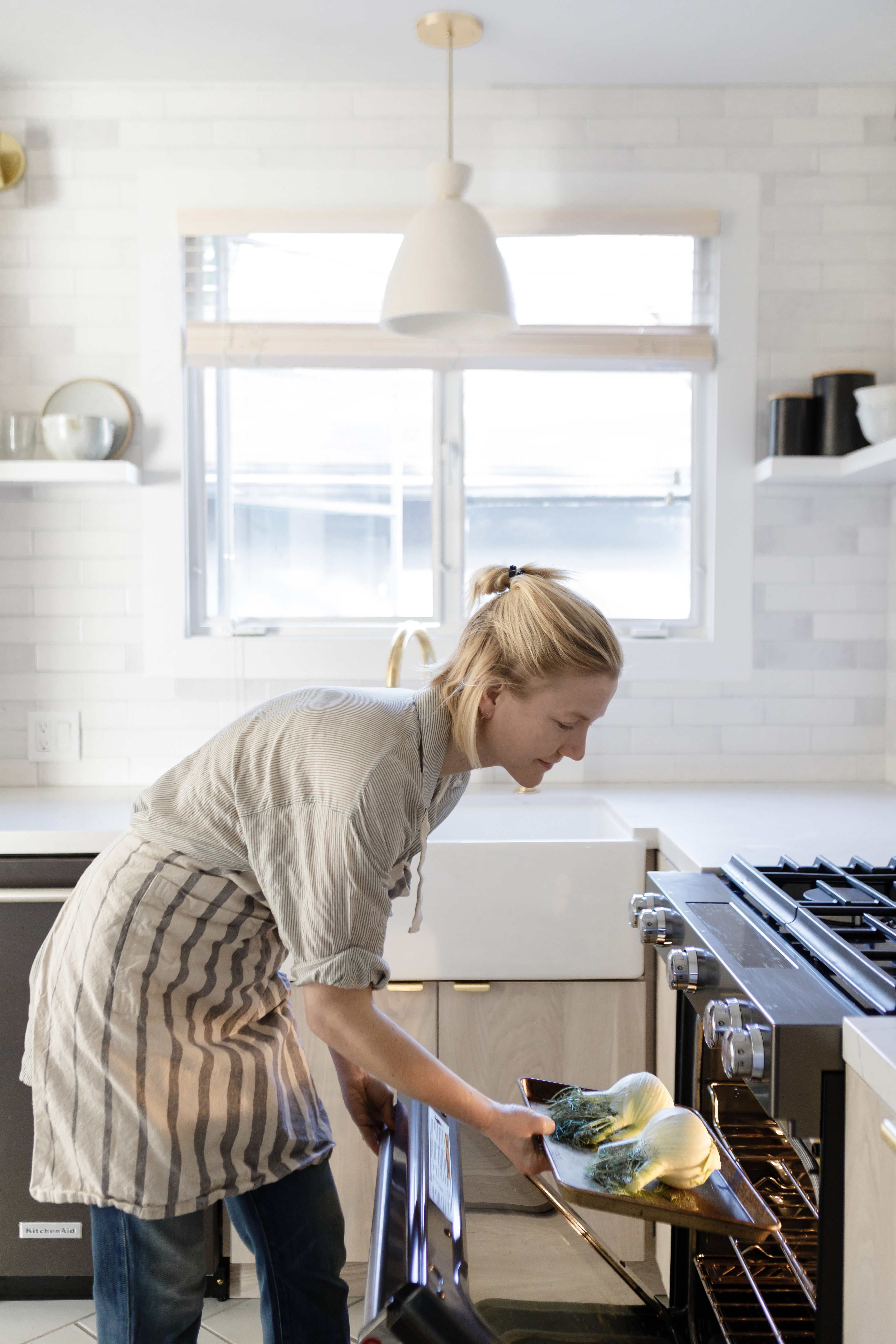 Asking me to choose a favorite from the suite of three appliances that KitchenAid generously contributed to this project would be like asking me to choose a favorite from a litter of kittens! Each is perfection in its own way. But if I had to pinpoint the one that I'd take to the grave with me, it's definitely our 5-Burner Gas Convection Range. For starters, it's an absolutely stunning complement to the warm yet modern kitchen design that Studio McGee did for us. The black stainless finish has a striking yet subtle luster to it, making the range's presence more multidimensional than a true matte black would have been. It's a dynamic addition to an interior palette that consists entirely of neutrals! As for the way it functions, I didn't even know a range could bring me such joy. The five burners get super hot, super fast, but they go very low too, giving me the utmost control over my cooking power. The interlocking grated top provides a level cooking surface so I can easily slide (not lift!) pots across the entire range to change burners or remove them from the heat—such a small thing but I don't know how I lived without it! As for the oven, it operates with an intuitive touch screen so I know exactly what I'm setting it to. An interior steam rack lets me add moisture to the inside of the oven to prevent foods from drying out as they cook. And best of all? It maximizes interior space so that I can cook three full sheet pans at a time, more than double what I was able to do in our old kitchen!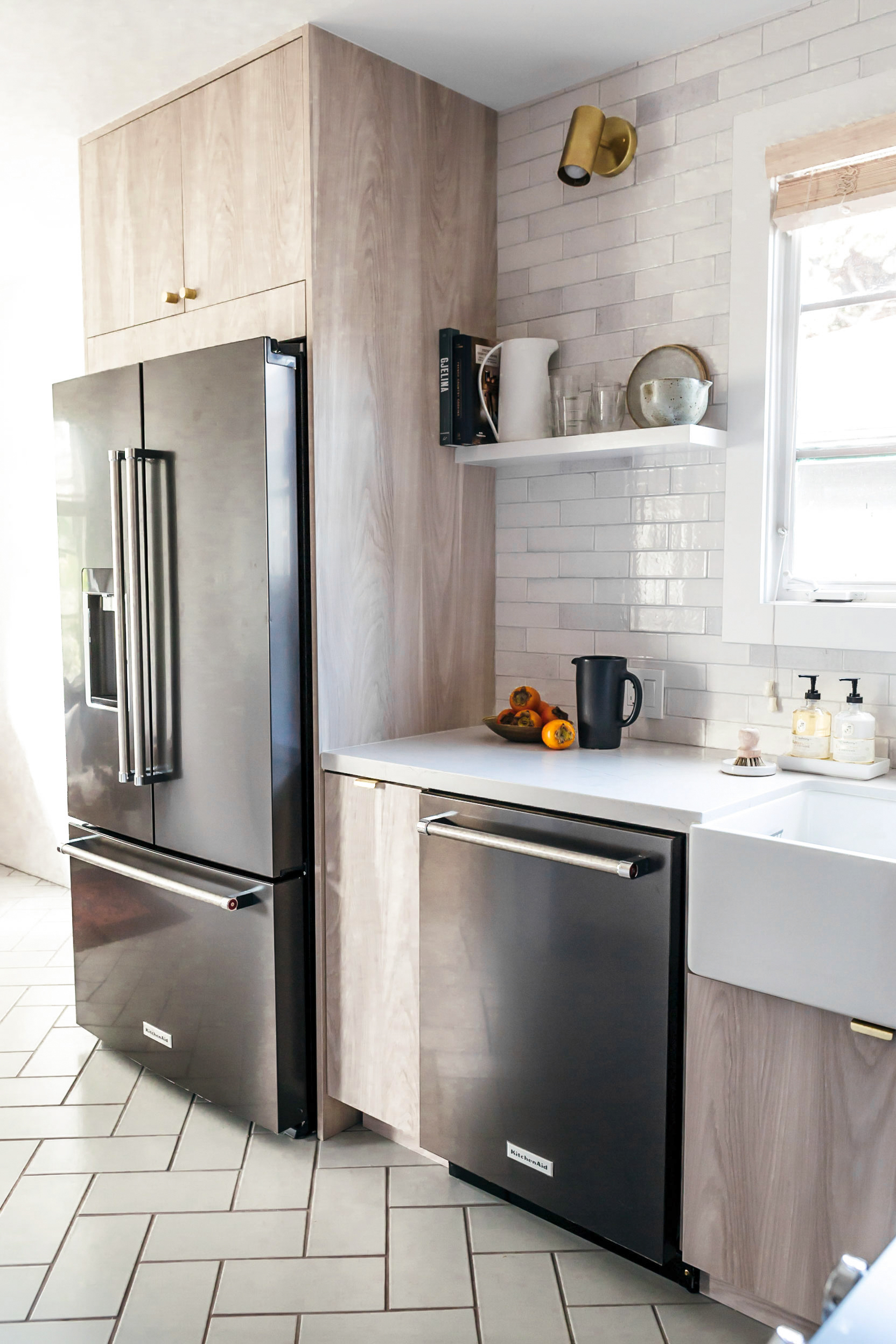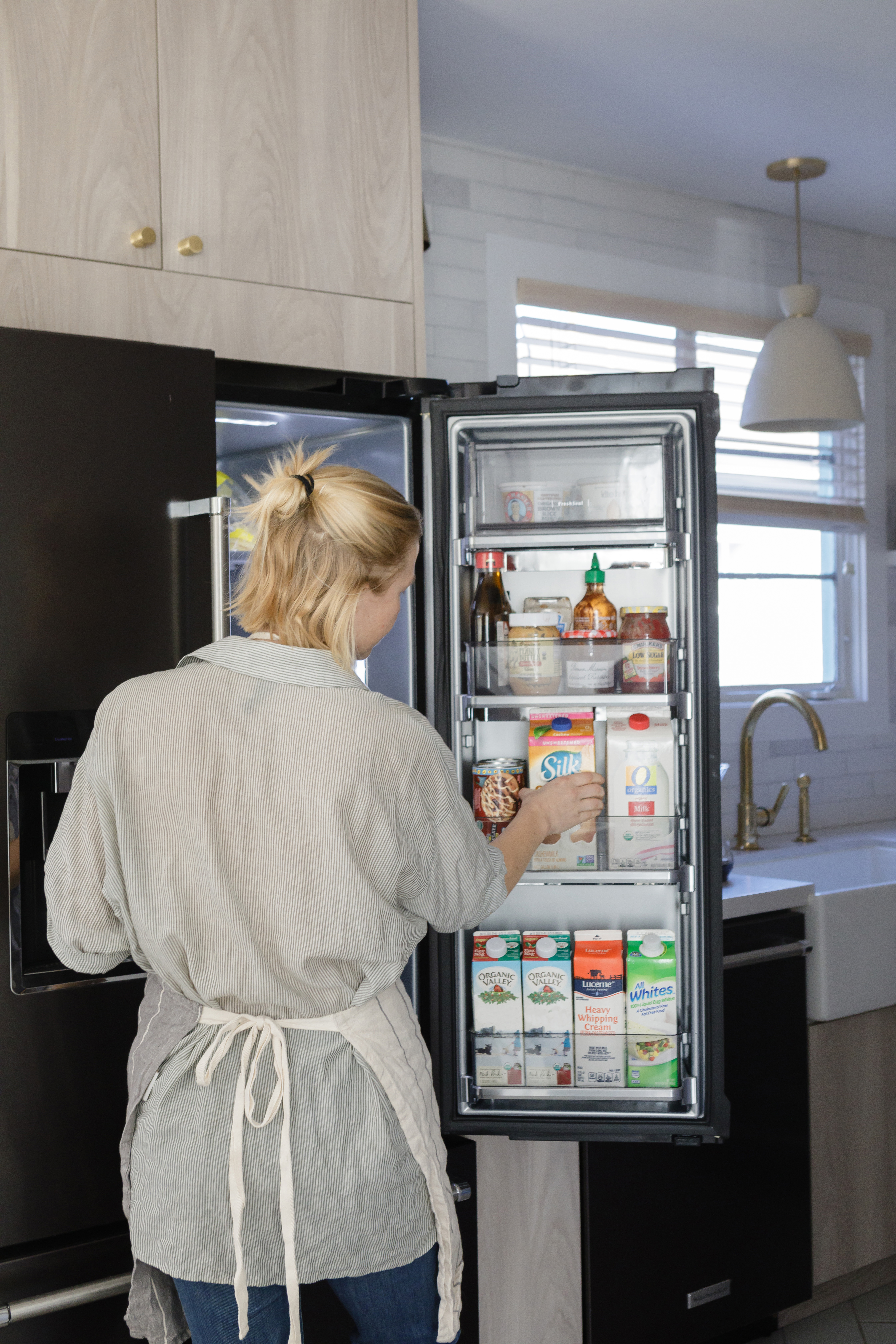 Speaking of doubling our capacity, upgrading from our old fridge to KitchenAid's 36-Inch Counter Depth French Door Refrigerator has been liking going from a 1978 Pinto hatchback to a Tesla. It's incredible how much time and money you save when you implement thoughtful technology and design! Our previous refrigerator was terribly inefficient, both in its layout and in its cooling ability. Food was always spoiling before we could eat it. Now, we're able to do larger and more economical grocery runs, and everything lasts days (or even weeks!) longer because the fridge's smart storage and temperature control features prevent pockets of too-warm or too-cold air from forming. The easily adjustable shelves make that game of 'Fridge Tetris' a breeze when unloading groceries, and the drawers never catch or jam thanks to their smooth-glide technology. A bottom freezer drawer means we have easy access to the things we reach for most. And finally, because this refrigerator is three inches taller than standard counter-depth models, it fills the gap that can be left above many fridges—meaning the streamlined look we worked so hard to achieve throughout the rest of the kitchen is maintained!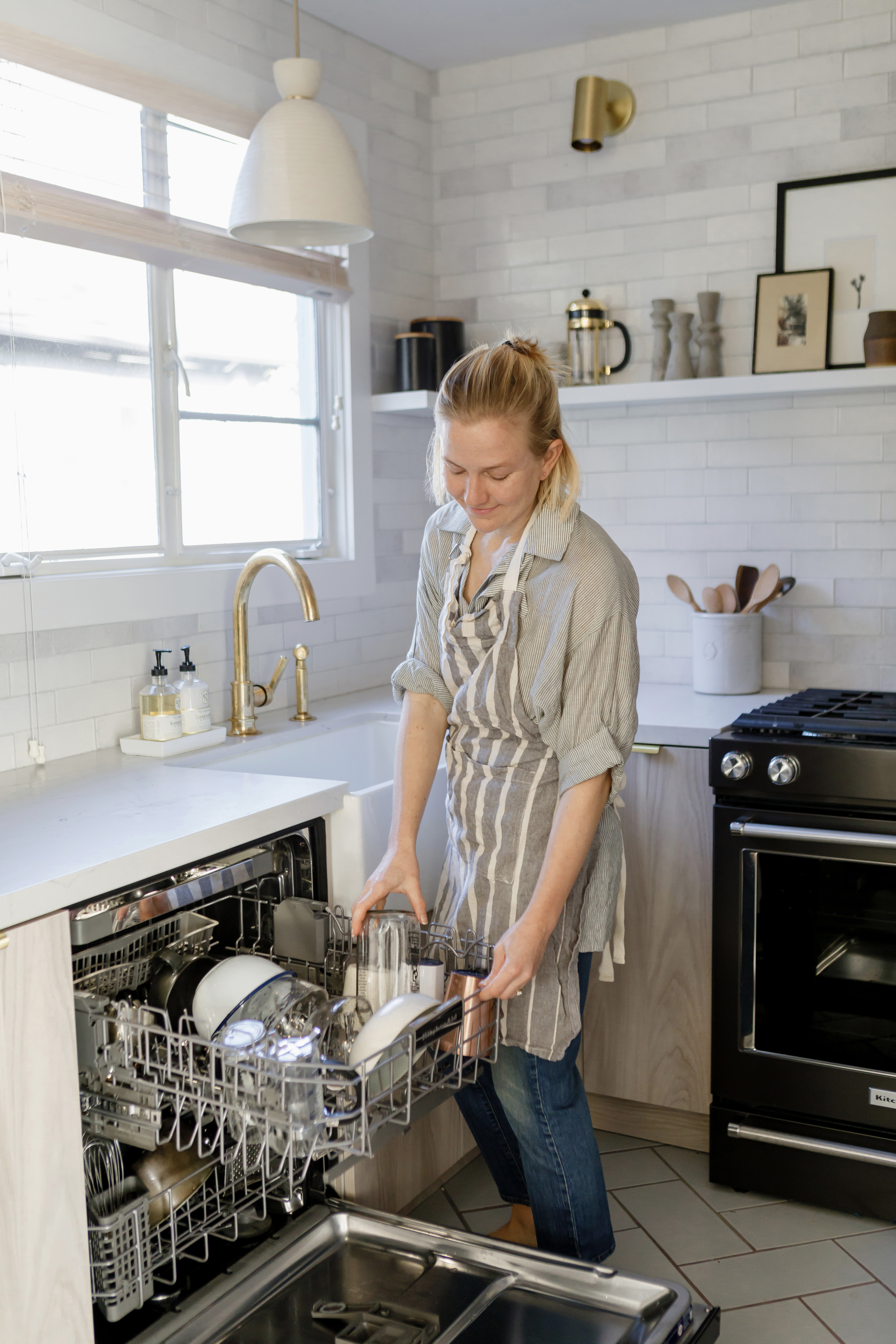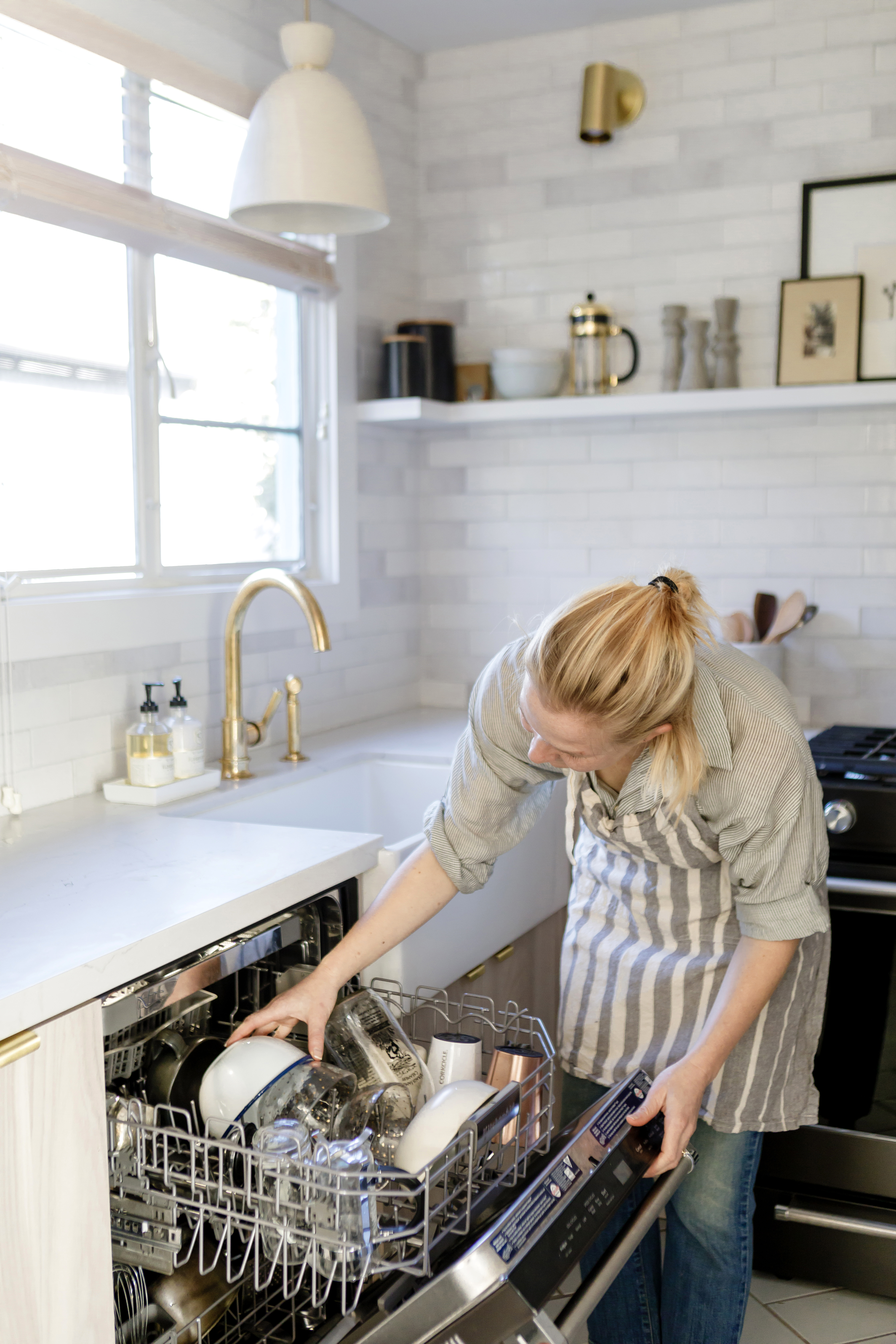 As for our new dishwasher? My previous experience barely even applies because this is the first time I've ever lived in a house with a working dishwasher! Sure, my parents had one when I was growing up, but it was so worthless that we used it to store pots and pans. My grandparents had a slightly better one at their house, and I'd load it for them when I went for visits, but I was always appalled by the fact that you had to wash the dishes before you washed the dishes. There's none of that rigamarole with our black stainless KitchenAid dishwasher, though. It has nine arms that direct powerful jets of water into every nook and cranny of the dishwasher, including hard to reach places. I've been testing the limits of how full I can load it, and I have yet to be disappointed. I can stack a ton in there and dishes still come out sparkling clean! It helps that a unique filter system continuously removes food particles from the water, meaning no gross bits circulating throughout the wash cycle and adhering to your dishes during the dry cycle. Plus, there's no need to ever remove and clean the filter! With all the extra meal prep I've been doing for this new nutrition plan, I've been generating a ton of dishes, but the cleanup workload feels light and easy-breezy. Adopting new, healthier habits can be hard, but getting the right support in the kitchen makes it a lot more doable!
P.S. Stay tuned for the final spotlight on our kitchen renovation next week, the full scoop on the compact washer and dryer that are making small space living a dream come true! Photos: Monica Wang Photography.