It's time for the second annual No Makeup Home Tour! Last year Kyla from House of Hipsters had the brilliant idea to round up a group of interiors bloggers for a day of sharing what our homes look like behind the scenes, and it was such a hit that we're doing it again this year! Social media can give the impression that the polished images on Instagram are the 24/7 reality, but the truth is that life is messy more often than it's not. I know for me, it's grounding to get a glimpse of my favorite bloggers' day-to-day lives—it's the home decor equivalent of seeing cellulite on a supermodel—because it takes the pressure off my (admittedly unattainable) desire for perfection. So without further ado, here are some unstyled, unfiltered snaps of my house, along with the secrets they reveal about my worst housekeeping habits. In support of our No Makeup Home Tour theme, the sun refused to come out when I took these shots. They're dingy and drab, further proof that it's not always bright, brilliant, and photo-worthy around here!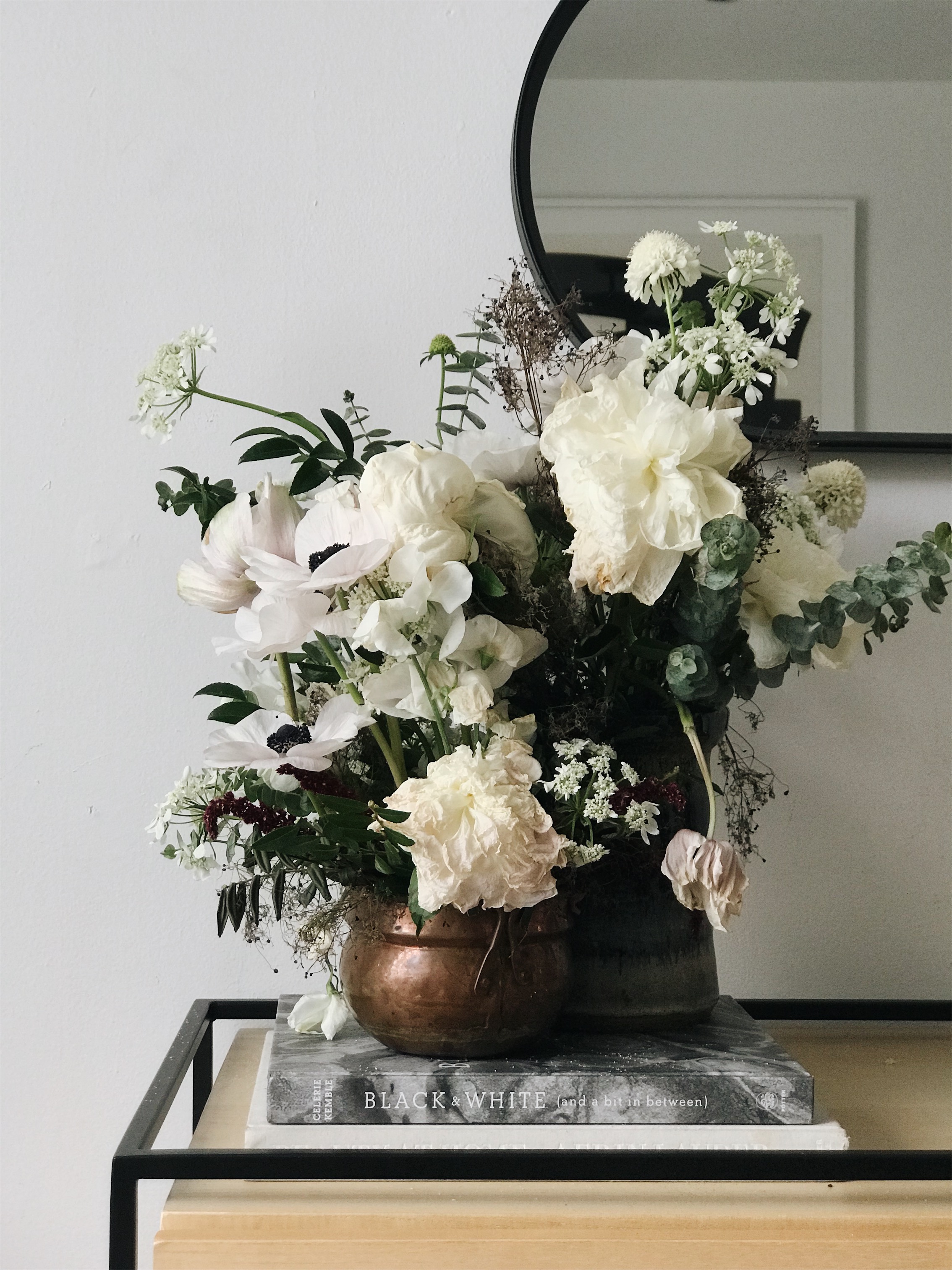 1. I leave flower arrangements out way past their prime. You know those lovely flowers in the top image of this post? Well, here they are two days later and I still haven't tossed them. Yes, they're droopy and dying, but I'll probably leave them here another two or three days because that's just how I roll. It's not because I find the expired bouquets aesthetically pleasing. Rather, I get exhausted just thinking about the steps required to ditch them: I'd have to carry them to the compost bin, dump them out, and wash the vases—splashing icky water and mushy leaves on myself in the process. So instead I just let them get sadder and sadder atop my dresser, disposing of them only when the water in the containers starts to smell so bad that it's like something dead is rotting in my bedroom. Which I guess, in fact, is exactly the case.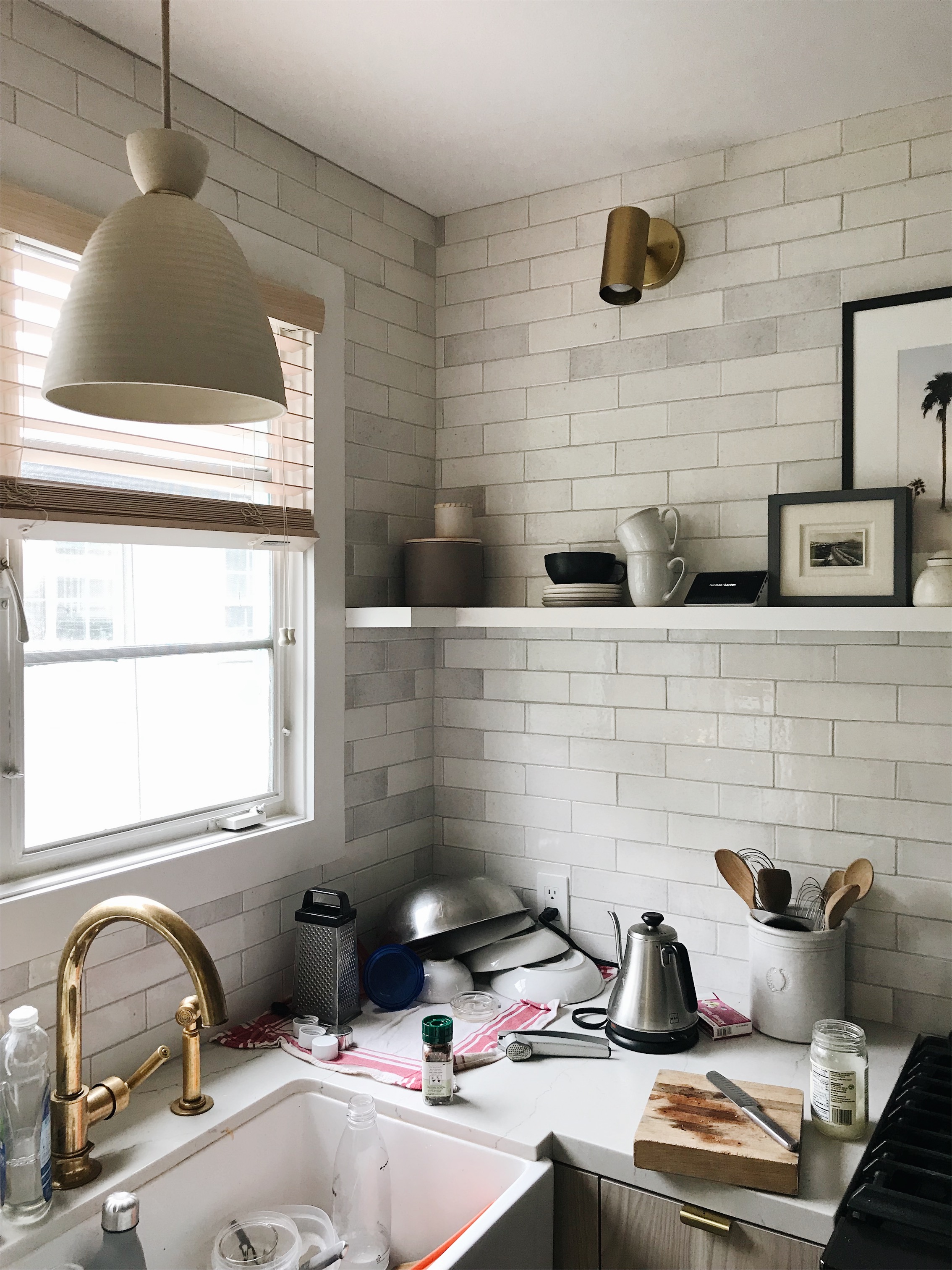 2. I'm really bad at keeping my kitchen countertops tidy. You know that kitchen renovation I completed late last year? Well, it certainly hasn't inspired me to change my clean-up habits. Ivan teases me that I have a magical ability to use every pan and spoon in our cupboards when I'm cooking a meal, and it's true that I do move through like a tornado when I'm in meal prep mode. In the wake of my destruction I leave lid-less spice containers strewn across the counter, cutting boards sticky with food residue, vegetable scraps that shrivel and stick to the cooktop. Oh, and as I've been thrilled to learn, it turns out that having an extra deep farmhouse sink just means you can pile the dirty dishes even higher before you absolutely have to wash them!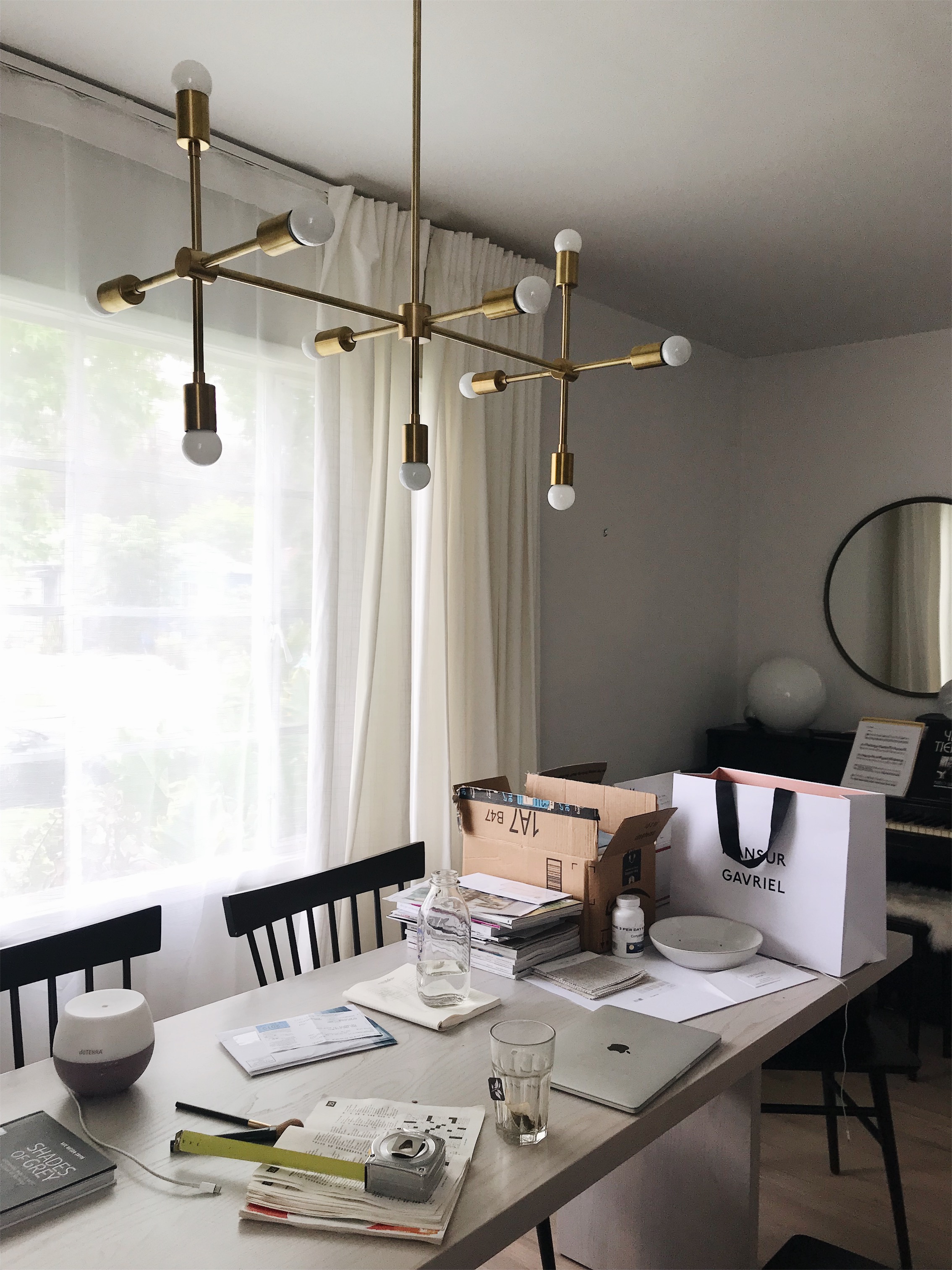 3. My workspace is a disaster zone. Wait a minute, you might be saying, isn't Light Lab your workspace? That big, beautiful creative studio that's only four blocks from my house? Well, to do my work there every day I'd have to leave the cozy confines of my living room, and that sounds almost as taxing as throwing out my dead flowers. So instead I work at my dining table, letting it pile high each week with magazines and cookbooks, fabric samples and discarded to-do lists. Oh, and don't forget the dishes that congregate after every lunch and tea break, as well as the unopened IRS notifications and DMV registration renewals. Add a few empty shopping bags and half-finished crossword puzzles into the mix for good measure, and you've got the perfect distraction for when I'm procrastinating: "I know I've got a deadline this afternoon but just look at this mess. I absolutely must clean it up right now, deadline be damned!"
P.S. Be sure to check out all the other No Makeup Home Tour participants! Lots of great peeks behind the curtains and plenty of authentic moments that I'm sure we all relate to completely!