Lately, my favorite interiors projects are the ones in which bold, simple shapes take center stage. Never underestimate the power of repeating circles, squares, or ovals to make a memorable impact! Case in point? This chic boudoir install from Modtage Design at this year's San Francisco Decorators Showcase illustrates how brilliantly simple forms can combine to create a unique and harmonious whole. Plus, it's perfect inspiration for an eclectic modern bedroom design—or even a mini closet makeover!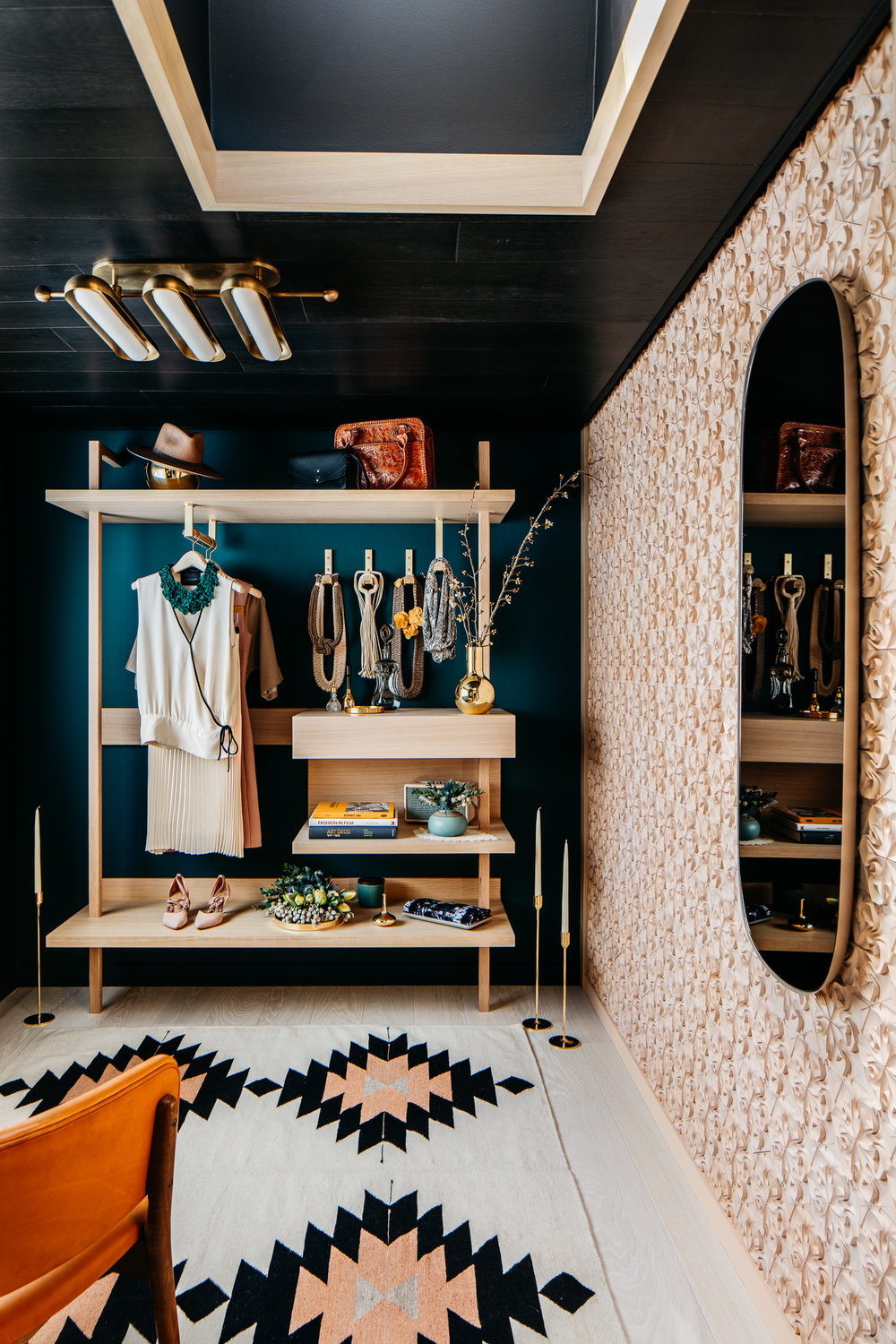 Modtage Design founder Gretchen Murdock, who specializes in combining modern design components with vintage objects and elements of the past, created this space using her signature approach of juxtaposing pattern and color with the clean, polished lines of Scandinavian and Japanese aesthetics. In this space, the sultry, curvy shape of the mirror is reflected in the oblong forms in that sexy ceiling fixture; and the smooth brass shapes are further echoed in the styling accessories such as the hat form and the spherical vase. As for the wardrobe display, a quiet blonde wood anchors the room with its crisp architectural grid. Employing simple, repeating formal elements allowed Gretchen to bring in other more elaborate touches, such as the handmade tile along one wall and the graphic rug on the floor.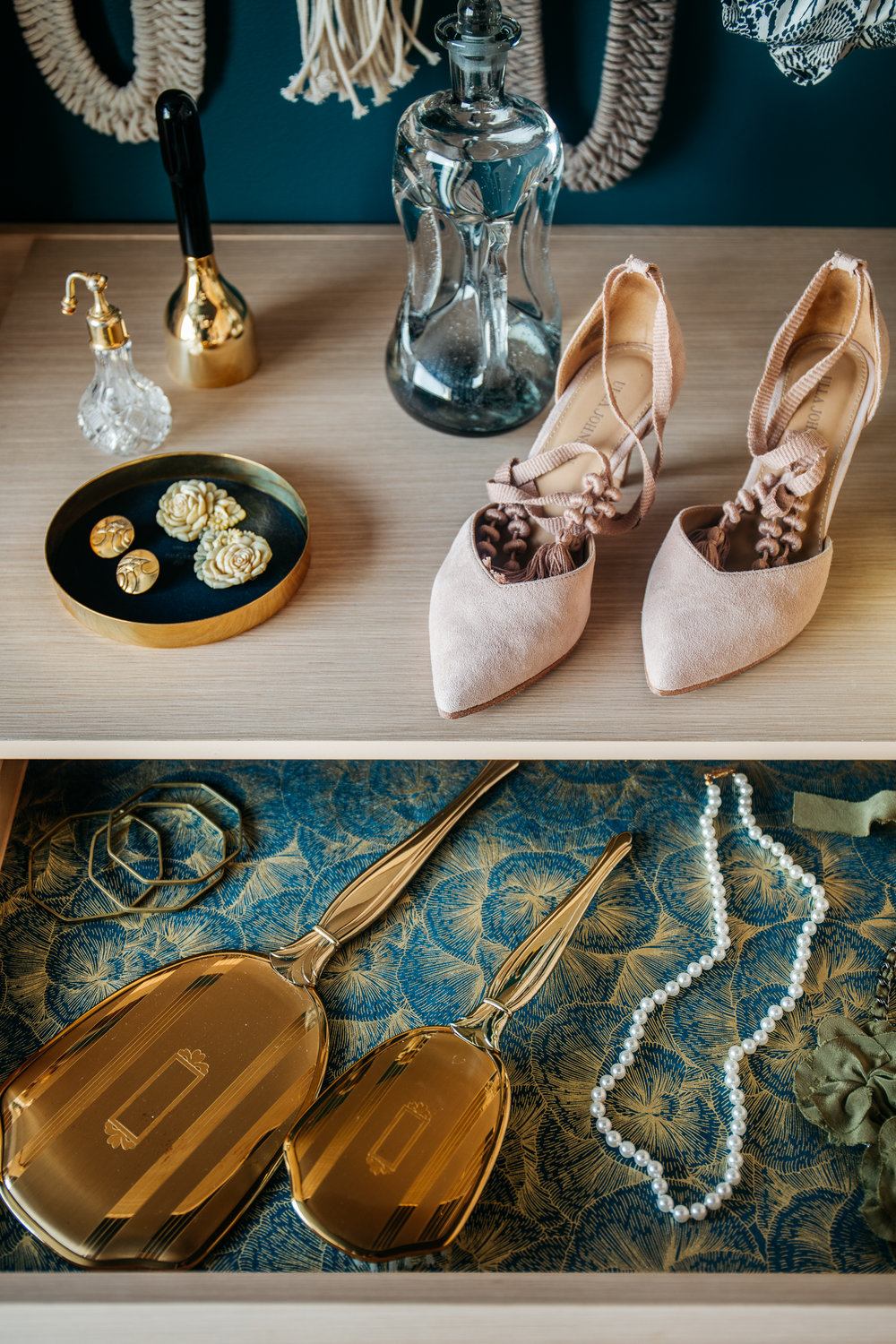 A closer look at the details reveals clever touches that could easily be implemented at home! How about lining the inside of a closet or your drawers with wallpaper, to add playful touches of pattern that bring a smile as you get dressed every morning? Or perhaps incorporating glimpses of metallic flash by using brass hardware when mounting hooks and shelves? Or, for an even bigger statement, if you've got a spare wall in your bedroom, why not turn your favorite wardrobe pieces into a rotating wearable art exhibit with a slim wall-mounted storage unit like the one here? This project is proof that you don't need tons of square footage to implement a few standout touches to take your space to the next level!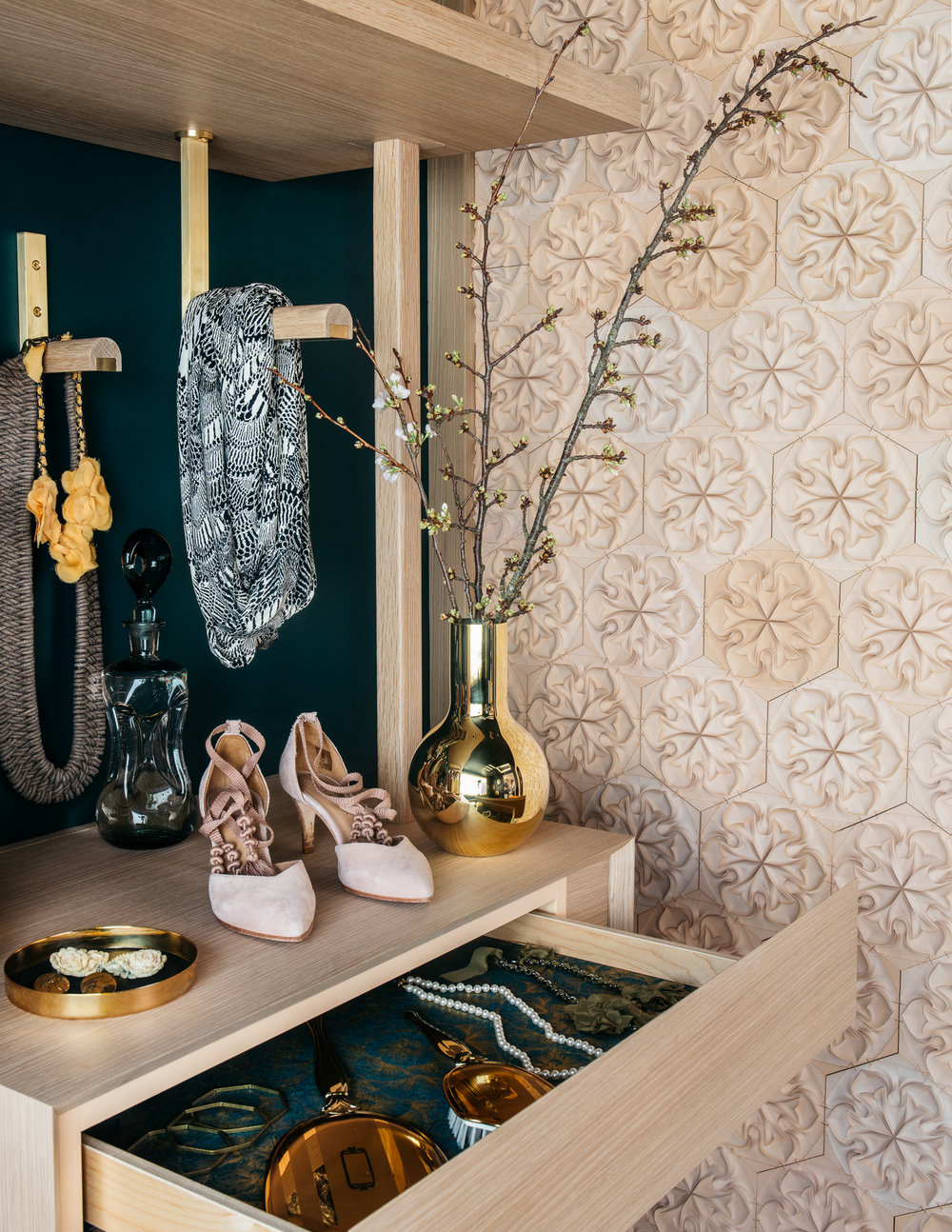 Design + Styling: Modtage Design, @modtagedesign. Photos: Christopher Stark, @christopherstark.