For three years in a row, I've visited Italy. And for three years in a row, I've returned to the States full of a renewed energy for playing hostess. You see, the Italians just get it when it comes to entertaining. Unlike many Americans I know (myself included!), Italians place zero stress on their get-togethers. There's no frenzied buildup, no self-imposed expectations of perfection; there's only an effortless joy that results in laid-back contentment amongst host and guests alike. It's the same casual ease that epitomizes summertime for me, and its so palpable that it practically follows me home in my suitcase after each trip! I was still glowing with these good feelings after my recent trip to Venice when Freschetta reached out to me for ideas on how to celebrate two just-released varieties in the Freschetta Gluten Free pizza lineup, so naturally I was inspired to implement some of my favorite summer entertaining tips inspired by my travels to Italy. Read on for three ways to make all your gatherings this season a chance to connect and unwind, Italian style!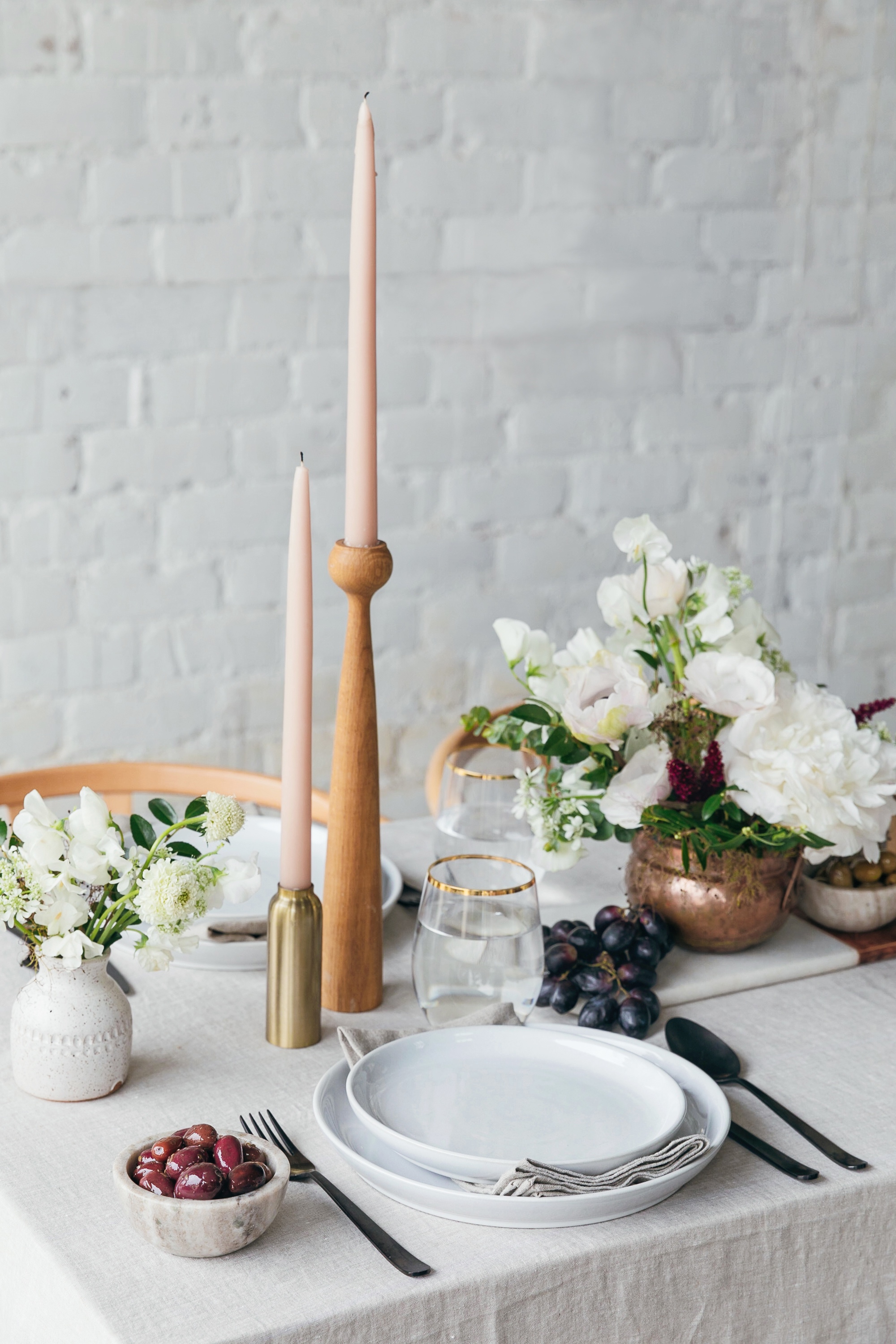 Tip 1: Evoke the elemental. One thing I can't help but notice in Italy is the deep appreciation everyone has for the land and the history around them. It's present in everything from the wide range of heirloom produce in the markets, to the time-faded hues of cities like Florence, Rome, and Sienna, to the respect every Italian seems to have for the generations that came before them. (On my water taxi ride from the airport in Venice, my driver regaled me with tales of his great-grandfather, who lived in the same apartments he himself now inhabits with his own children!) Bring to life that sense of the elemental by setting your summer table with simple, timeless, elemental components like ceramic and stone, wood and washed linen. Keep shapes a little on the hefty side—nothing too precious or refined—and incorporate aged metallic accents like the patinaed copper, brushed brass, and matte black flatware I employed here. A neutral palette throughout calls to mind rolling sun-baked fields under a wide Tuscan sky.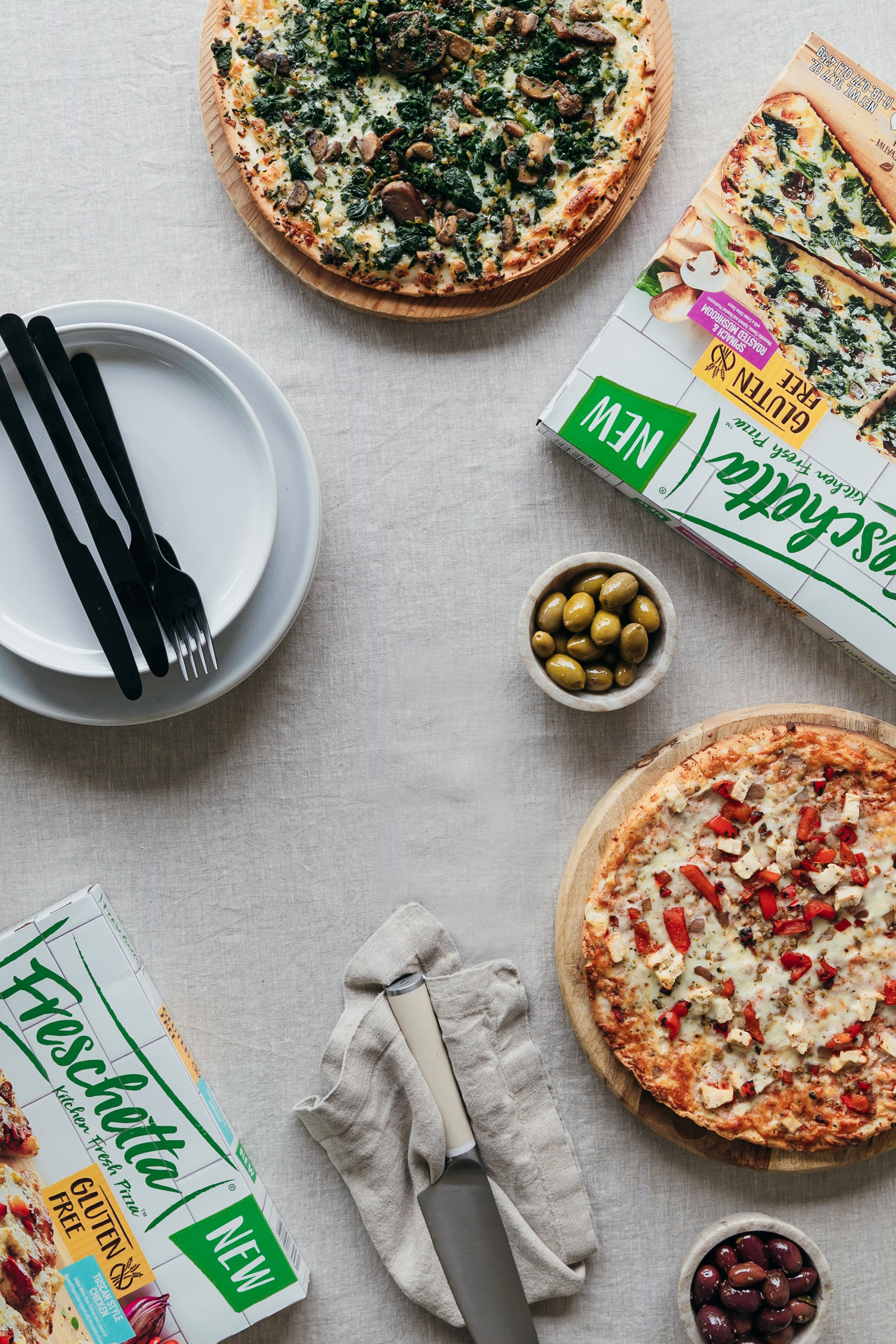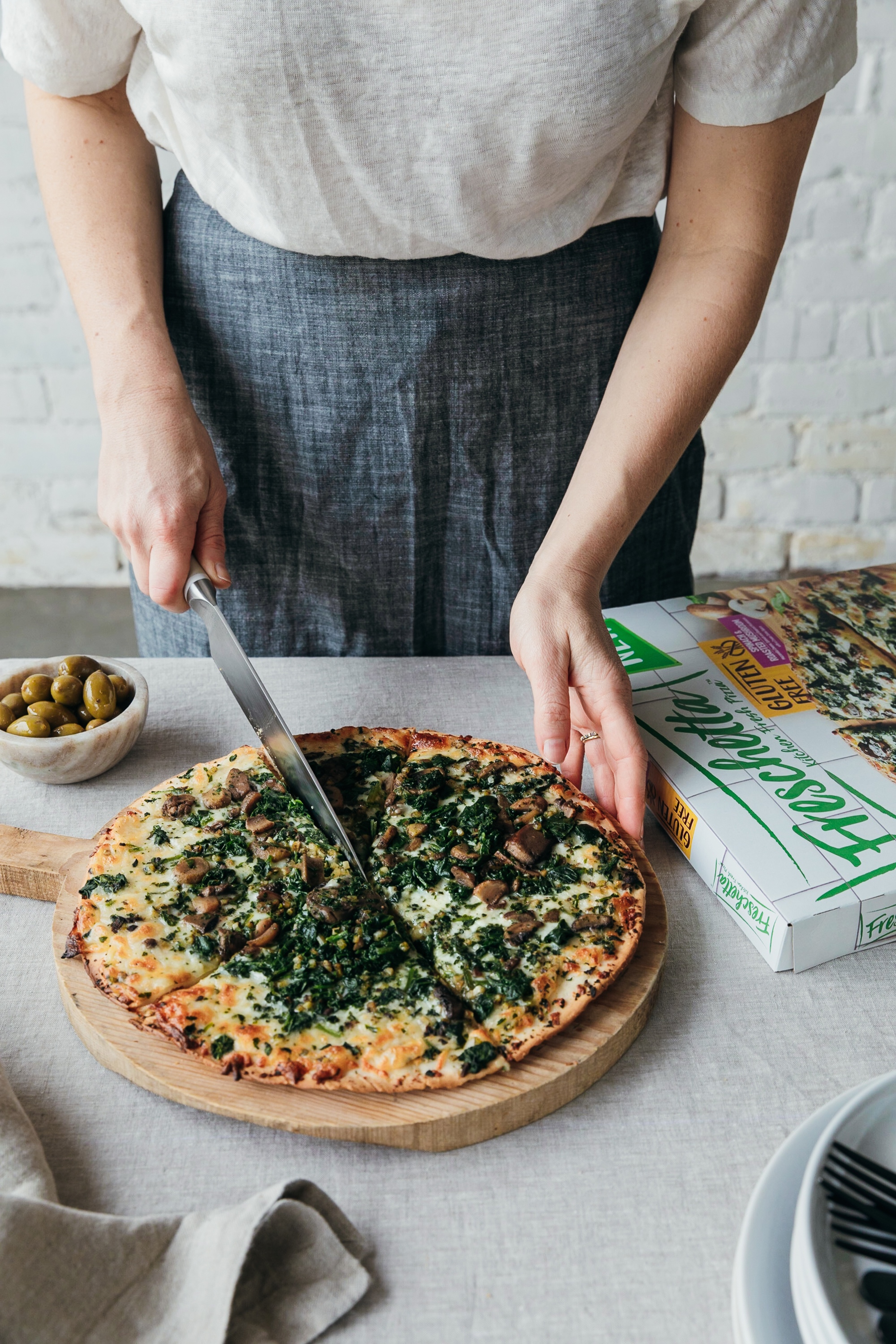 Tip 2: Make appetizers easy and plentiful. In Italy, appetizers are aren't something to rush through but rather an event unto themselves! I still remember how charmed I was on my first visit to Italy when small slices of pizza accompanied our cocktail course; I'd always thought of pizza as a main dish, but I now consider it a fabulous food to kick off a gathering. A slim wedge or two makes the perfect warmup to a sit-down affair, and the new Spinach & Roasted Mushroom and Tuscan Style Chicken varieties from Freschetta Gluten Free are quick, sophisticated, and delicious options for getting the party started—plus they suit special dietary needs! Spinach & Roasted Mushroom unites mozzarella, spinach, and roasted portabellini mushrooms atop a flavorful cream onion sauce, while Tuscan Style Chicken combines grilled white meat chicken with a blend of roasted vegetables, mozzarella and a sauce made from vine-ripened tomatoes. The two new varieties join the existing Freschetta Gluten Free favorites, Pepperoni and Four Cheese; and all four feature a crust that's as delicious and crispy as traditional pizza yet is certified gluten free by the National Celiac Association. Pop one in the oven when guests arrive, and ten minutes later you're passing around slices of piping hot, gooey pizza. No one at the table feels left out due to dietary restrictions—and everyone is primed for an evening of good eats and great company! (Oh, and don't be surprised when you have to heat up a second or third pizza almost immediately because the first one was devoured so fast!)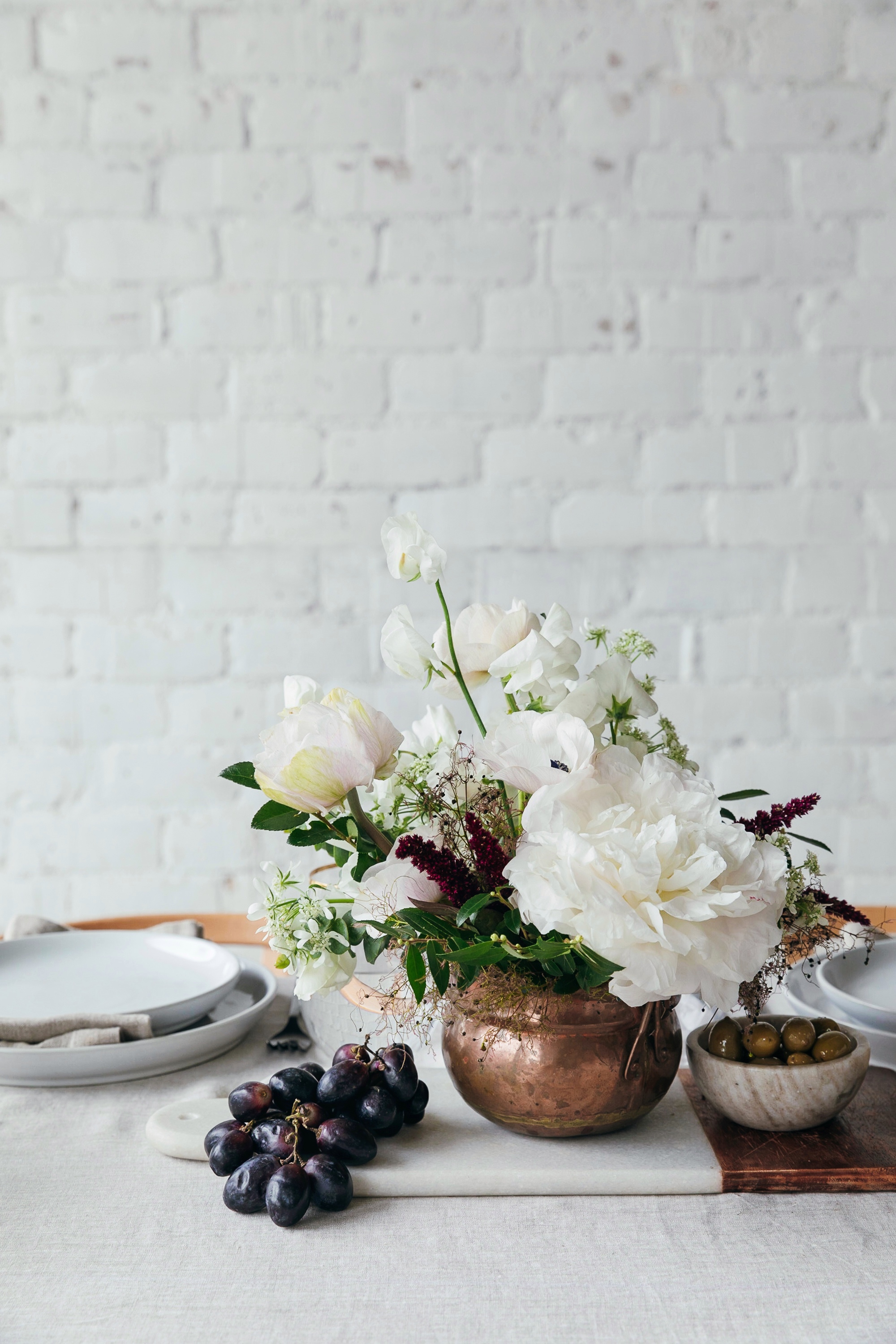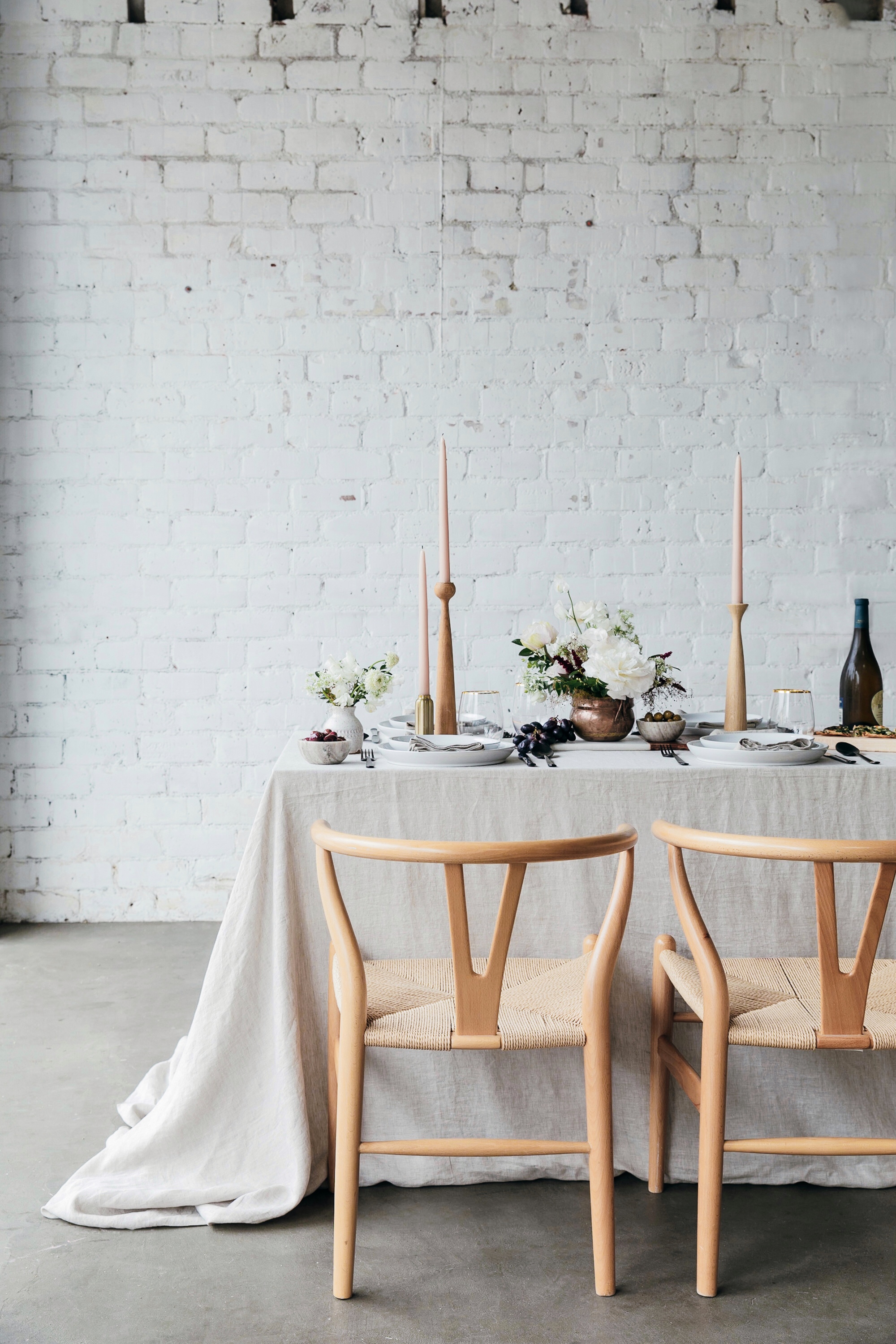 Tip Three: Incorporate food into your tabletop decor. Remember those market stalls of heirloom produce I mentioned? Not only do they bring interest to the menu, they're also a gorgeous addition to the table! Everything from blushing apricots to deep purple artichokes enjoys an appearance at both Italian and American markets during the course of the growing season, and all of them are too pretty to be hidden in the refrigerator. So for this table setting I kept the floral arrangements relatively simple—just a medium grouping of peonies and sweet peas with greens, plus a small bud vase with a few leftover stems—and then filled the remaining space with a bunch of plump black grapes and two bowls of glistening olives. The display was ridiculously simple to create, and it makes a visual statement as well as a taste-driven one to celebrate food in all its sensuality. It's that sensuality, really, that makes every Italian gathering I've attended so memorable. Because when you experience a meal with your eyes, your tastebuds, and your heart, it lives on in your soul forever!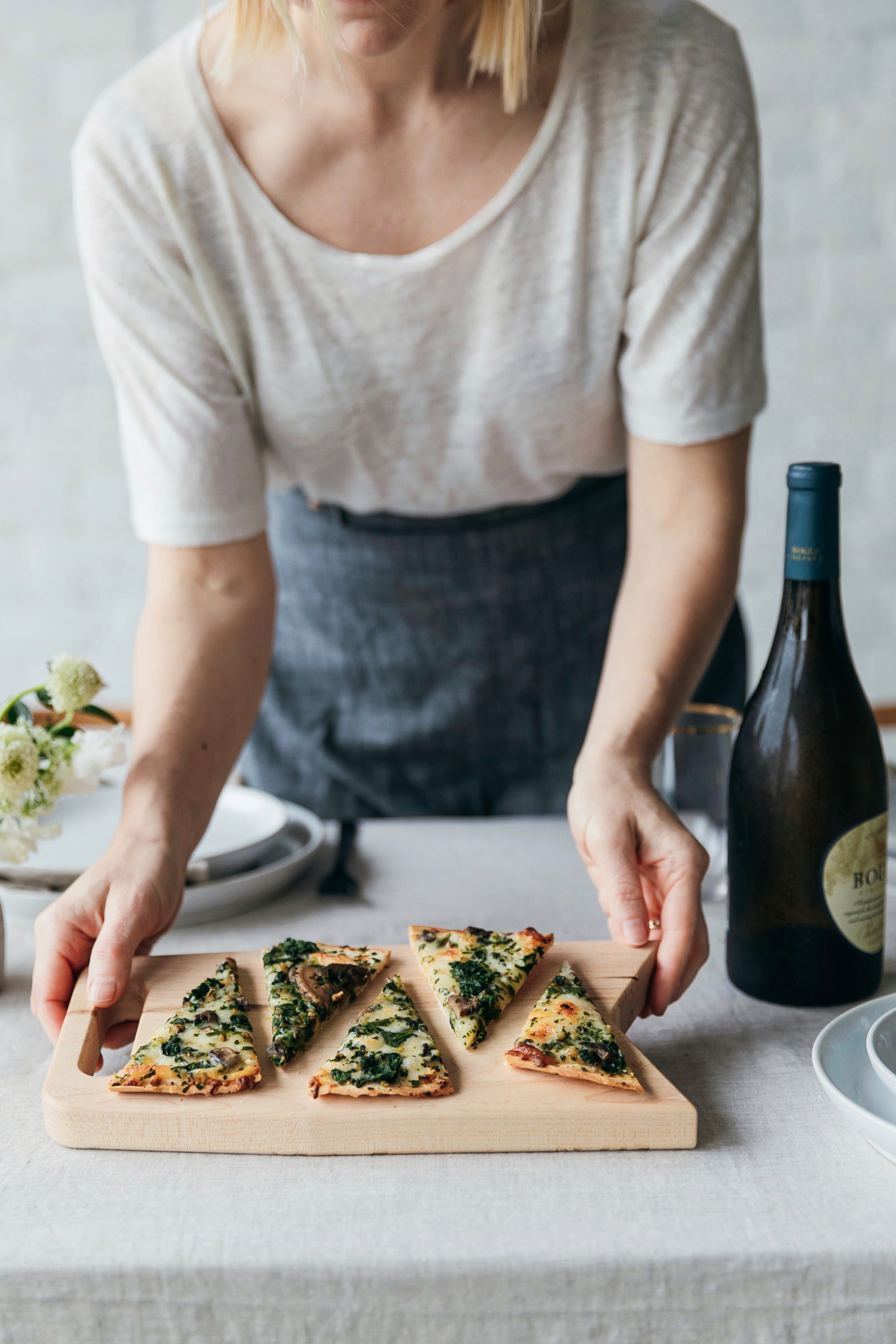 P.S. Speaking of food celebrations, to welcome the newest Freschetta Gluten Free Pizza varieties, Freschetta is giving away a year's worth of free pizza! I've highlighted Freschetta Gluten Free in this post as an appetizer option here, but I'm also a huge fan of Freschetta as a main course too. It really is the pizza that Ivan and I buy when we're in the mood for a delish Friday night indulgence that won't leave us feeling too sluggish for our Saturday morning workout. Head to the giveaway entry page for your chance to win, and check your favorite grocery store's freezer aisle for all four fab varieties!
Photos: Monica Wang Photography. Florals: The Nouveau Romantics. Disclosure: I partnered with Freschetta Gluten Free to concept, produce, style, write, edit, and share this post. All opinions are and always will be my own. Thank you for supporting the brands that enable me to bring you fresh inspiration daily!