You guys, summer got real over the weekend. It was 114 degrees here in LA, our power went out meaning no A/C, and we spent Saturday night at a motel just so we could get some sleep! But even before this first big heat wave hit, I was starting to feel the effect of the hot, dry, dusty, sweaty days on my skin and hair. It took a couple weeks to figure out how to adjust my summer beauty routine so that I stopped suffering breakouts and flyaways, but knock on wood these recent additions to my lineup have things cleared up and calmed down!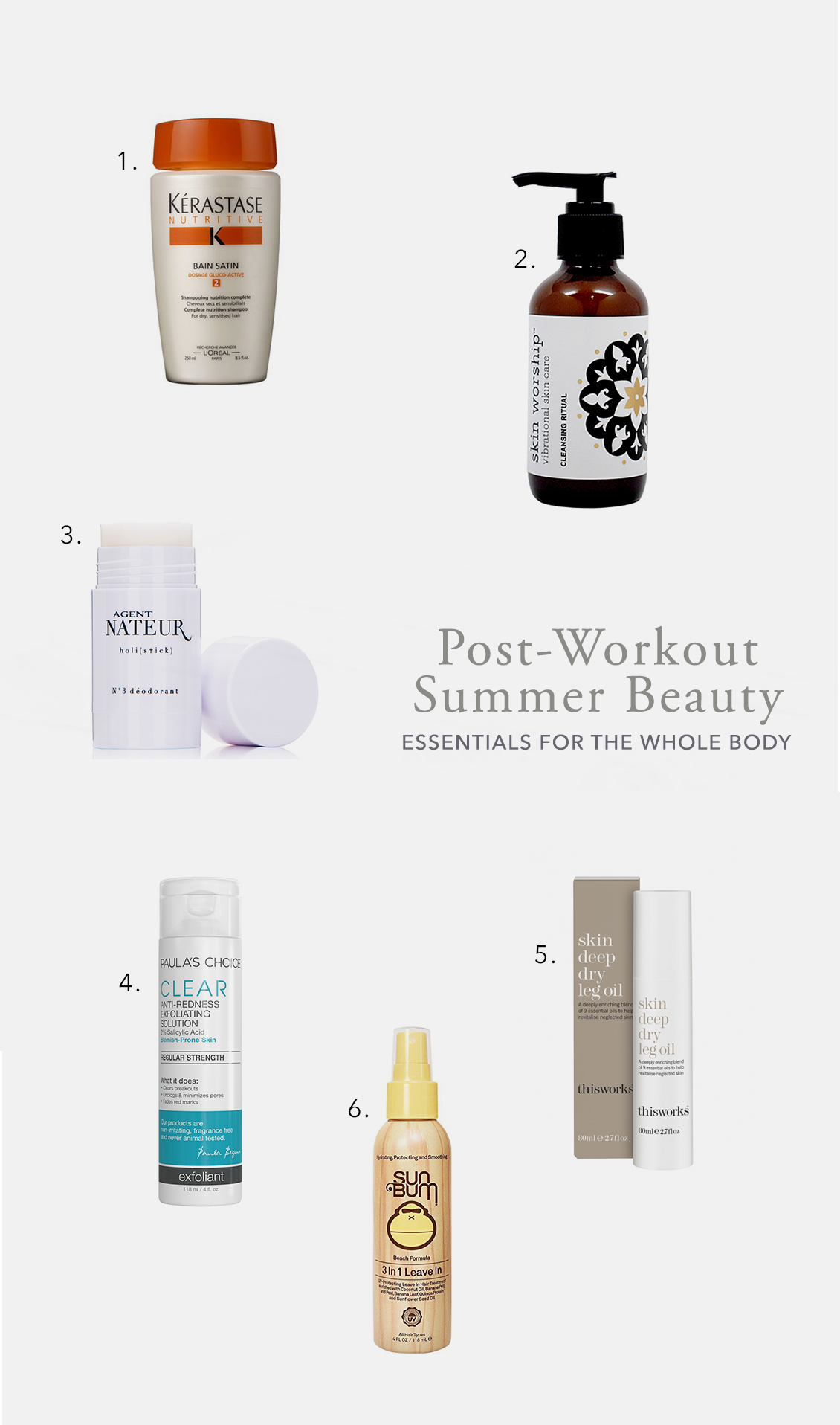 1. Kerastase Bain Satin 2 Shampoo: This is an oldie but a goodie, one that I first started using over a decade ago and that I always come back to when I need that perfect balance of moisturizing without weighing my hair down. My scalp had been getting a bit flaky thanks to the dry heat we have here in LA, but this took care of it right away—while also leaving my strands smooth, shiny, and voluminous!
2. Skin Worship Cleansing Ritual: My fantastic holistic aesthetician uses this line exclusively, and I love my facials with her so much that I wanted to recreate the experience at home! Not only is it organic, vegan, and paraben-free, it has a delicate herbal scent that'll instantly transport you to the spa. Great for removing makeup and sunscreen, I also use it in place of oil when doing facial massage (this lymphatic massage how-to is so helpful for keeping summer puffiness at bay)!
3. Agent Natur Holi(stick) Deodorant: I've yet to find a natural deodorant that is totally sweat-proof, but this one comes closest of all the ones I've tried! A blend of essential oils, beeswax, and coconut oil both sooth chafe-y underarm skin and emit an essence of lavender and eucalyptus when things start to heat up. Plus it contains raw honey, whose antimicrobial properties keep stink at bay! I keep it in my gym bag for post-workout application, when I'm particularly in need of freshening up.
4. Paula's Choice CLEAR Anti-Redness Exfoliating Solution: Speaking of gym bag essentials, the summer weather was conspiring with my SoulCycle schedule to cause breakouts on my normally clear back skin (ugh). A swipe of this after working on my fitness is a quick and effective preventive measure, especially on days when the line for a post-class shower is too long. As well, in spite of its clinical strength formulation, it's one of the few fragrance-free products I've ever encountered that truly has no smell whatsoever!
5.  This Works Skin Deep Dry Leg Oil: Two weeks ago I went hiking with my dad and was left with a lovely sunburn on my calves, extending from the hemline of my 3/4-length leggings downwards. Thankfully I keep this pump in the tub, so I remembered to apply it daily while the burn was healing. It's light, nourishing, and never greasy, and the scent is what I imagine a posh eco-resort in Tulum smells like. (Translation: Subtle, sophisticated, heavenly.) Now, instead of peeling skin, I just have a charming tan halfway down my calves!
6. Sun Bum 3-in-1 Leave-In Hair Conditioning Treatment: If the smell of old-school coconut tanning oil brings all your favorite summer nostalgia memories back, then this detangler is for you! A light mist of this naturally derived leave-in product protects hair before outdoor exposure and also makes comb-outs a breeze. Bonus? Every errant breeze will bring a whiff of the beach your way!
Top Image: Eslee.