I've spent the first workdays of 2019 focused on a few new client designs, but I can't help looking back at my top projects of 2018 and dwelling on a few favorite details! I definitely grew a lot as a designer last year, and the living room makeover I did for Kim of Eat, Sleep, Wear represents some of my best work yet. One thing that took my interiors to a new level was my wholehearted embrace of incorporating custom pieces into each space I design. I used to be quite intimidated by the idea of customization—it has a reputation for being expensive and inaccessible—but the truth is that there are a lot of terrific options for one-of-a-kind creations that last a lifetime. And Kim's custom bench from North Carolina-based Skram Furniture is the perfect example of all the gorgeous treasures out there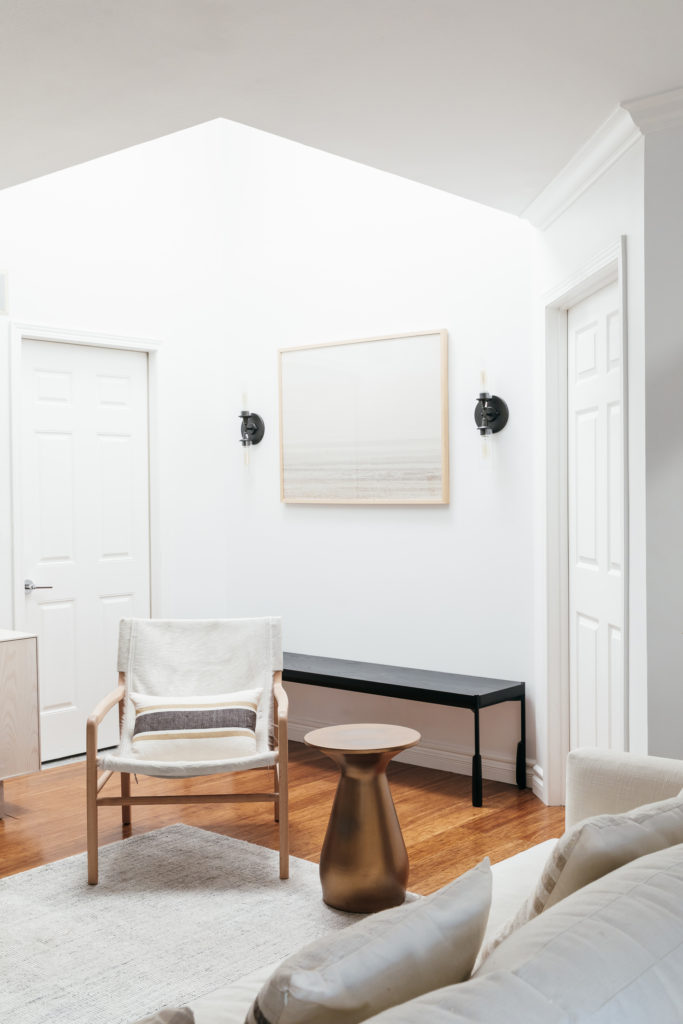 The most common reason designers turn to a custom piece for a project is that no ready-made items exist to fill a need—and that was exactly the case with Kim's entryway bench. We knew from the beginning that we wanted to place a bench in this nook; the door on the left leads to the garage, and Kim needed a place to sit while putting on shoes or a spot to dump shopping bags when she entered the door. However the spatial constraints we were working with were quite narrow—literally!—and I spent ages hunting for a bench that was shallow enough not to block the door yet long enough to fill the area beneath the artwork. Plus, of course, it had to suit the style of the space as well! At last I abandoned my search of all the big box stores and turned to Skram, a brand I've long adored for their innovative silhouettes and their commitment to sustainable production. Their Altai bench miraculously came in just the right size (though we could have commissioned a custom size had we needed to) and we were able to choose from four wood finishes and eight leg finishes to choose a combination that suited the space beautifully!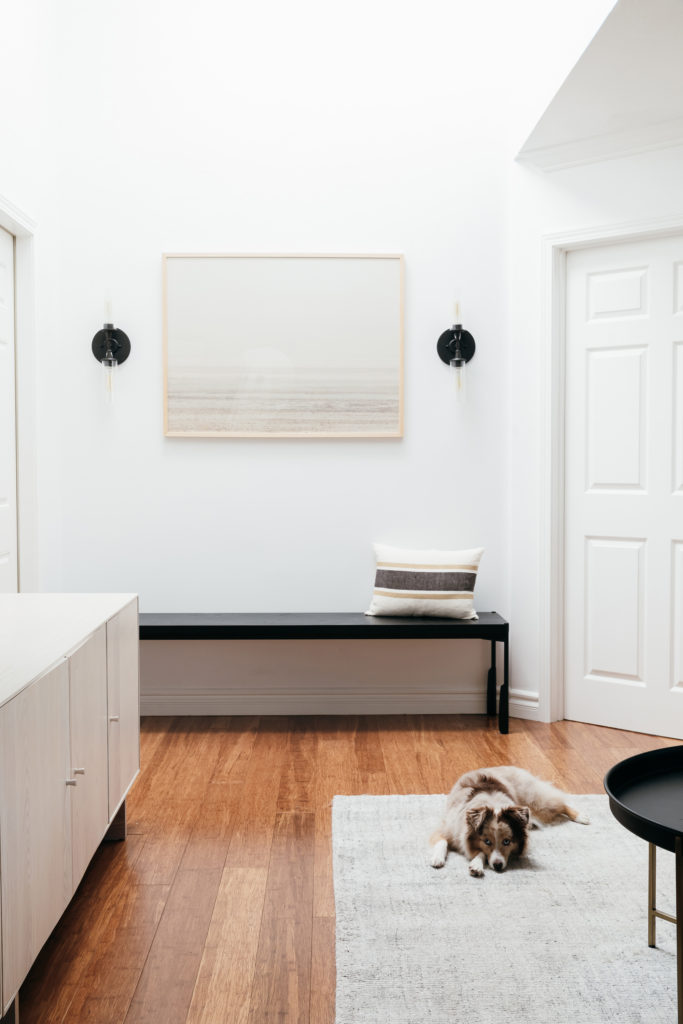 Although necessity was the impetus for choosing a bench from Skram, we ultimately got so much more in the bargain. The craftsmanship on this piece is exquisite, from the intricate grain on the ebonized ash seat to the elegant proportion of the matte metal legs; and knowing that it was handmade by master artisans right here in the US makes both Kim and me feel so good about incorporating it into her home. It's so gratifying to support independent makers in their quest to keep skilled furniture manufacturing alive in this country. Plus, Skram has a huge environmental commitment, using only non-toxic adhesives and industrial strength, low-VOC water-based polyurethane finishes. They even installed a rooftop solar array at their North Carolina facility to power their machinery, offsetting over 30,000 pounds of coal and over 50,000 pounds of CO2. Since Kim just welcomed her first child, it's especially important to her that the furnishings in their home be as safe as possible for son and for the earth that he will inherit. All that—plus a stylish place to sit—from a bench!
Images: Monica Wang.