I'm writing this post from Chicago, where I'm spending the next few days for a housewares trade show. The moment I stepped off the plane I was hit with an icy blast of air reminding me that LA sunshine aside, most of the country is very much still in the grip of winter! It seems like the perfect time to share this recipe for an incredibly delicious and incredibly easy risotto, because nothing cures the winter blues like a warm, creamy bowl of carbs. We served this risotto as the main event at our Sunday Suppers Sobremesa dinner last year and it truly stole the show!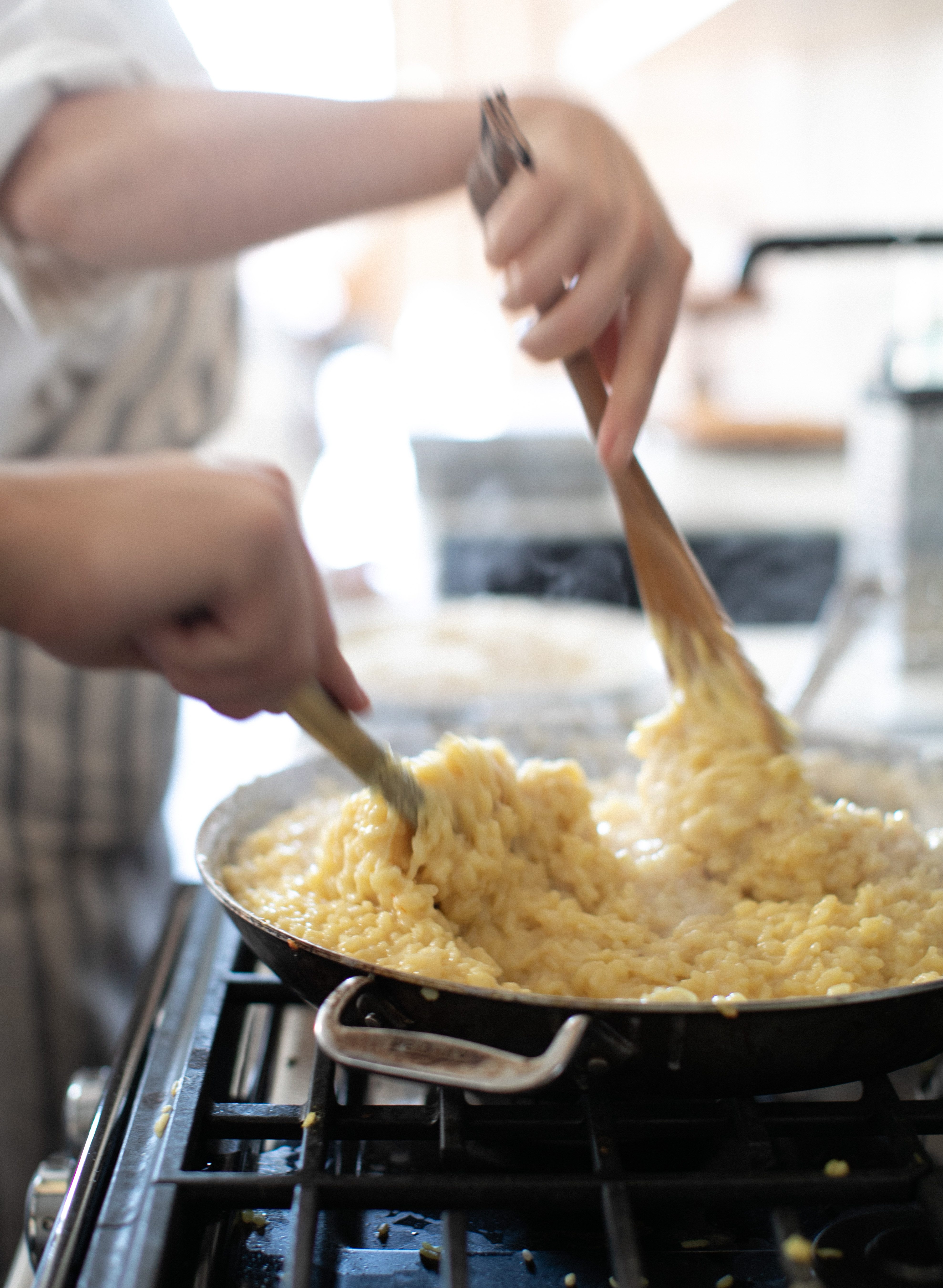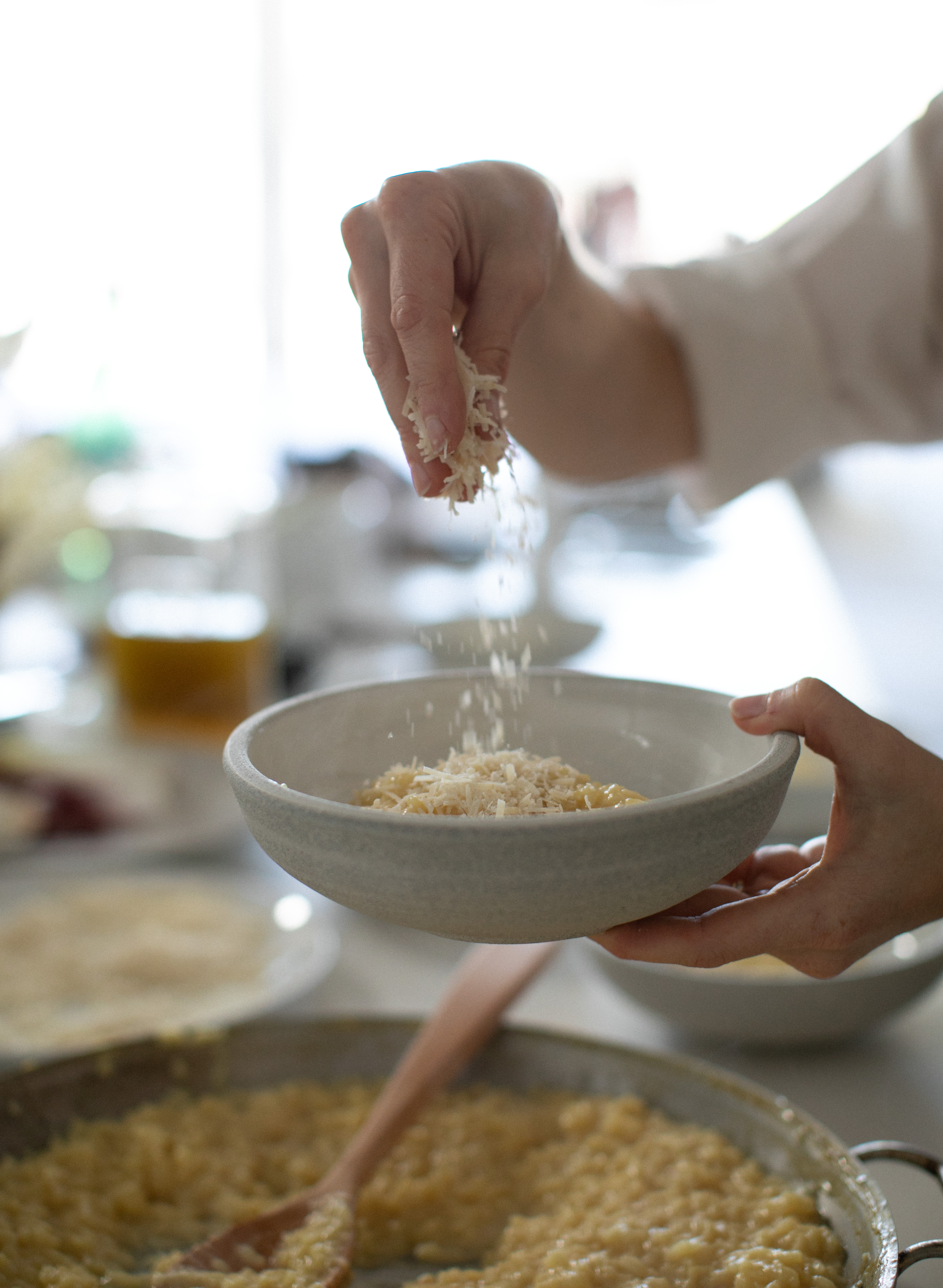 Risotto gets a bad rap for being hard to make, but the truth is that it couldn't be simpler! This one comes together in 25 minutes, and while you do spend those 25 minutes actively engaged in stirring it, it's the perfect excuse to put on some music, pour a glass of wine, and enjoy the sheer pleasure of being 100% present in the kitchen. I also love making risotto as a team. There's a definite camaraderie that comes with stirring together—and of course taste-testing together!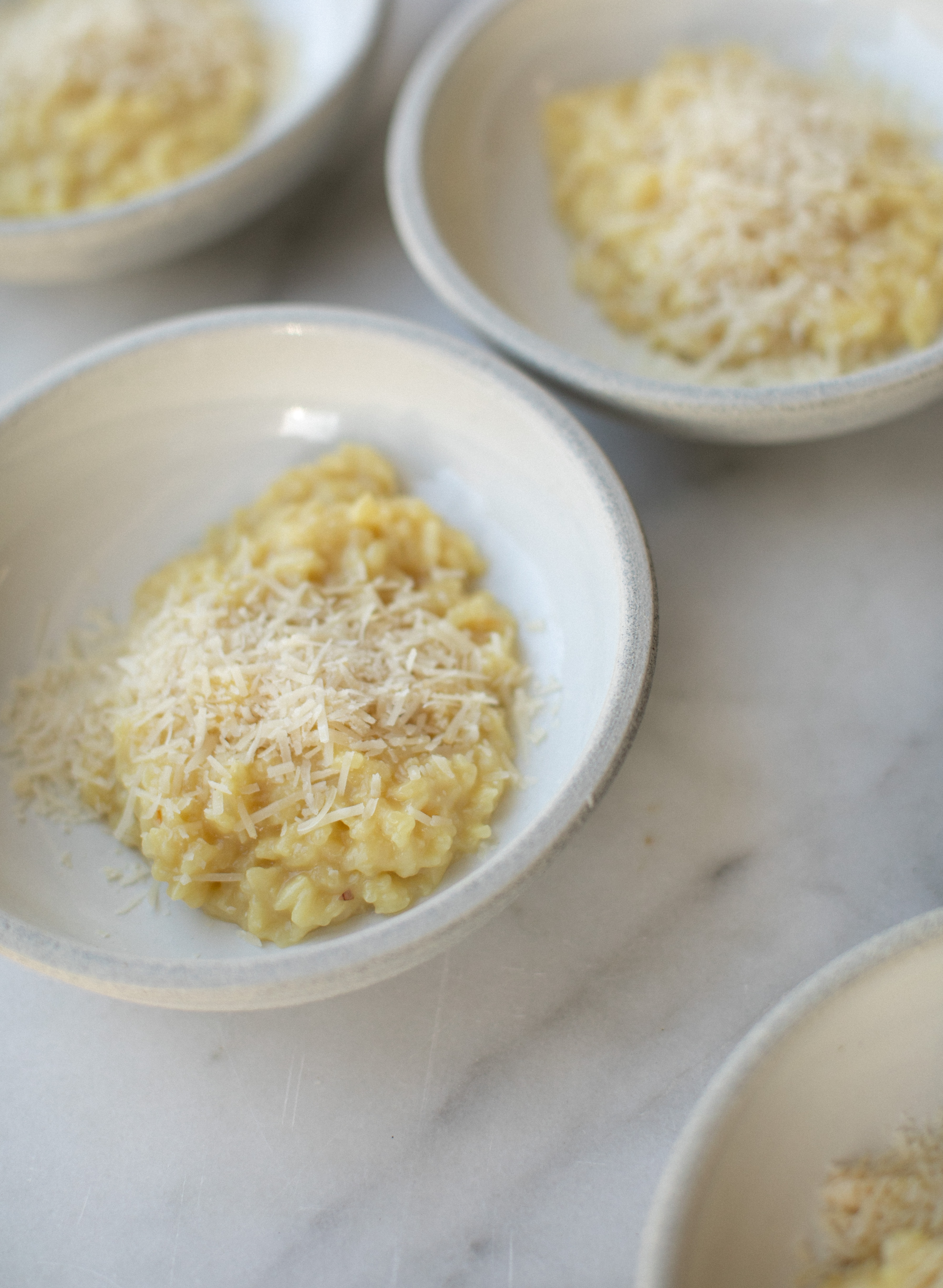 Ultimate Easy Risotto with Shallot and Creme Fraiche
Recipe courtesy of Sunday Suppers; serves 6.
14 cups (112 ounces) chicken stock or vegetable stock
1/3 cup olive oil
4 cup unsalted butter
1 shallot
Sea salt, to taste
3 cups (1140 g) Arborio rice or Castellino rice
1 cup (360 ml) white wine
1¼ cups freshly grated Parmesan cheese, plus more for serving
1/4 cup + 1 tablespoon crème fraîche
In a large saucepan, bring the stock to a boil. Reduce the heat to low and cover to keep warm. In a wide shallow pan, heat the olive oil over medium-low heat. Add the shallot, season with salt, and cook until fragrant, 1 to 2 minutes. Add the rice and cook, stirring, until glossy, about 1 minute. Immediately stir in the wine and simmer over medium heat until the liquid is almost completely absorbed, about 3 minutes. Add the hot stock, 1 cup at a time, and cook, stirring continuously between additions, until most of the stock has been absorbed before adding more.
The rice is done when it is tender and most of the liquid has been absorbed, about 25 minutes total. Stir in the butter and Parmesan, taste and adjust the seasoning as necessary. To finish, turn off the heat, and add crème fraîche.
To serve, divide evenly into 6 bowls and top each serving with a sprinkle of cheese and a drizzle of 1 of olive oil.
Images: Elizabeth Messina.