My whole life, I've bounced around from skincare line to skincare line, never finding The One that I was totally happy with. But my skincare commitment-phobe days are over, because at last I've landed on the only skincare line I'll ever need: Honor MD! The brand is founded by Dr. John Diaz and his wife Ursula—both of whom I met when I started going to Dr. Diaz for my cosmetic skincare needs. The two began formulating Honor MD when Ursula was pregnant and continually found herself disappointed with the options for pregnancy-safe skincare that was also effective. Several years and lots of tireless formulation tweaking later, Honor MD has arrived to transform complexions everywhere!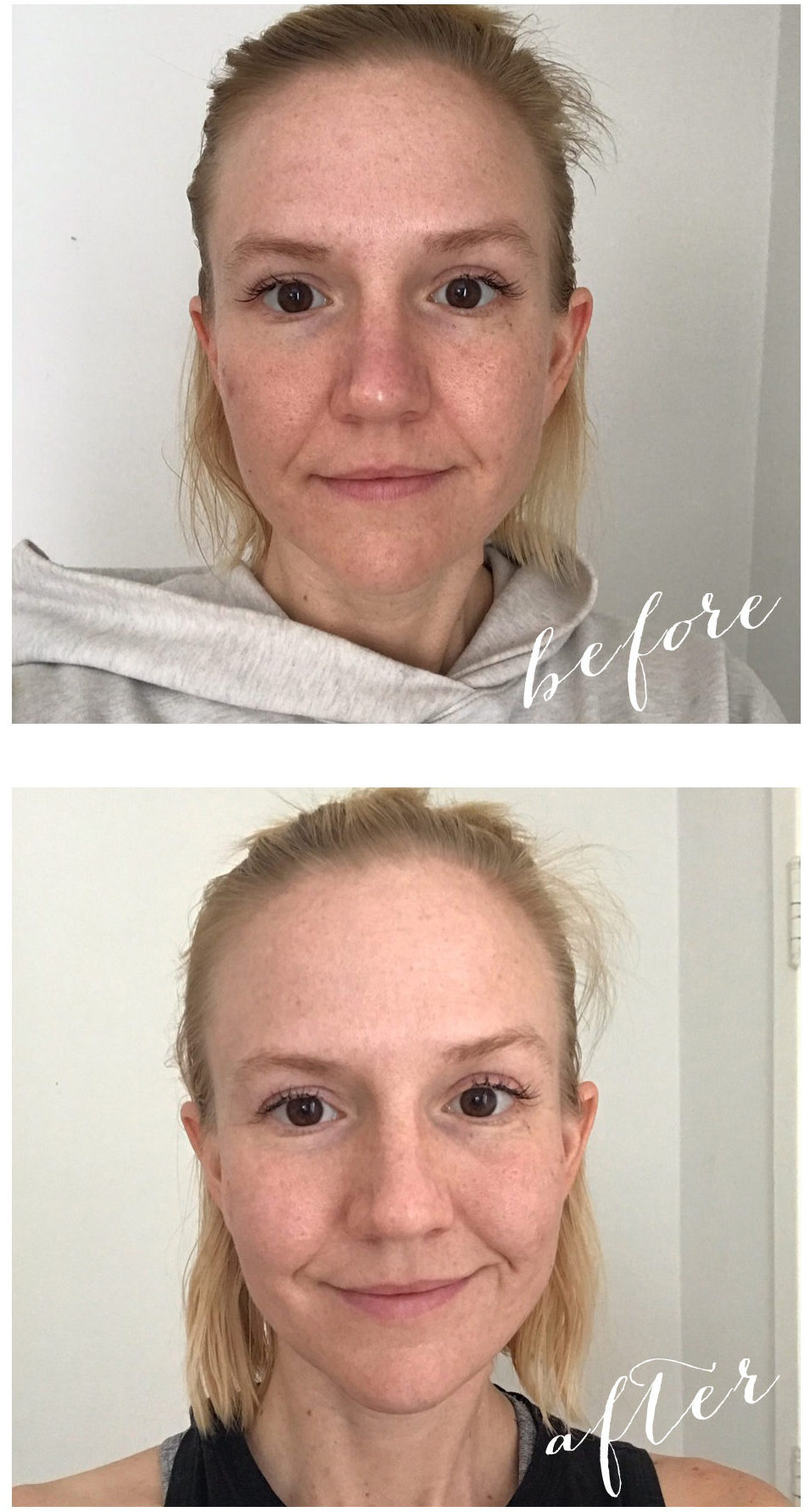 The proof of the line's power really is in these before-and-after photos I took. I used Honor MD exclusively for four months and while I knew I loved what it was doing for my skin—my breakouts cleared up, and I generally seemed brighter—even I couldn't believe my eyes when I placed these images side-by-side. My usual redness was gone, my pores are visibly smaller, and there's a firmness to my face in the "after" photo that's lacking in the "before"! Never before have I scraped the bottom of a bottle to get every ounce of product out, but that's exactly what I did with every Honor MD product when I finished my 4-month supply recently. (You can see how battered my bottles are in the header image of this post!)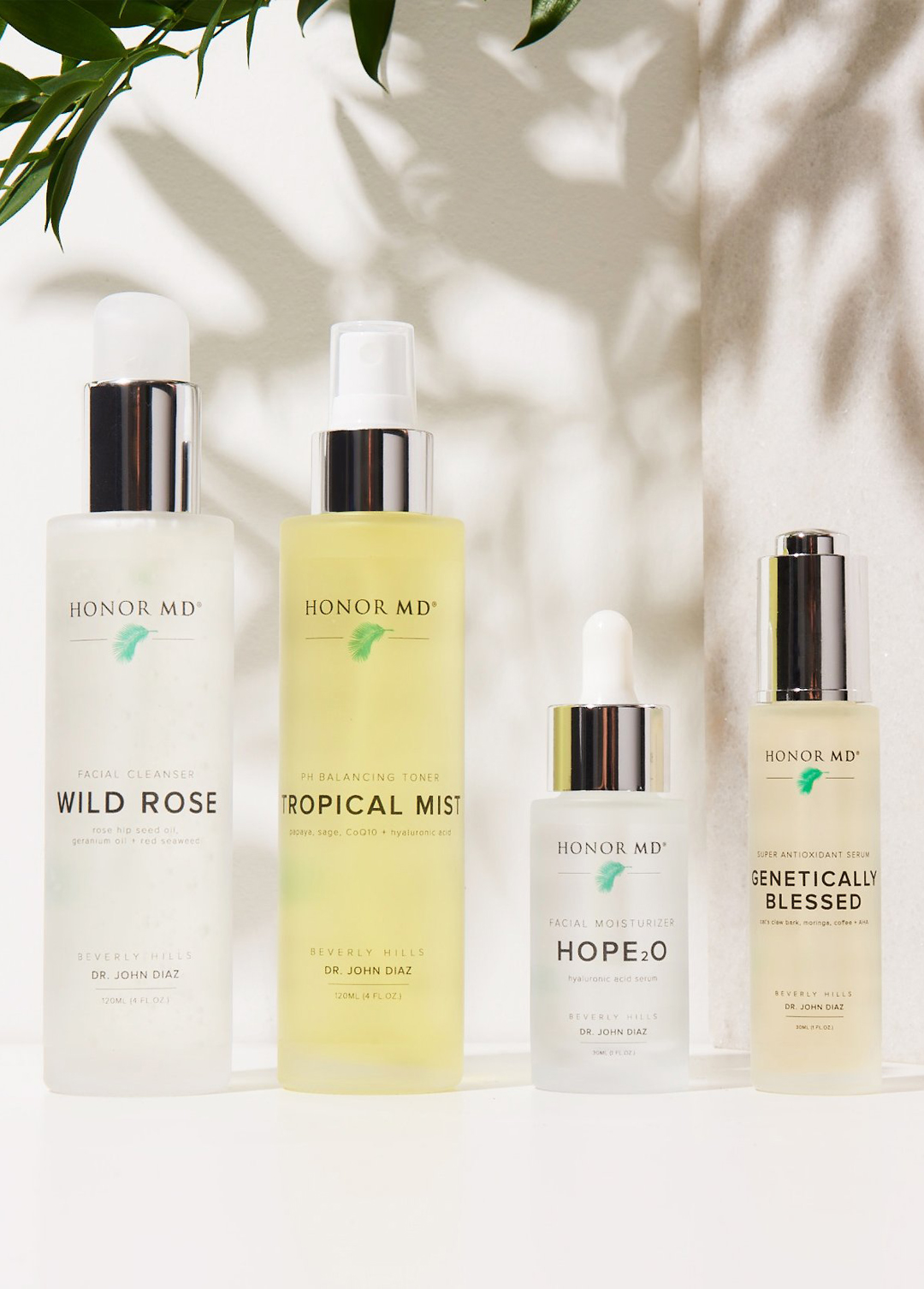 In addition to combining their shared expertise in cosmetic chemistry and medical science, Dr. Diaz and his wife also brought their families' multigenerational knowledge of potent botanicals to the formulations for Honor MD. They've harnessed the power of Mother Nature to create a line that's left my skin looking better than it ever has, but that's also incredibly safe to use through all stages of life. I love that I can keep using Honor MD all through my pregnancy and beyond! Oh, and I love that the line is really simple, too. It consists of only four essential products. Here's what I adore about each one:
1. Wild Rose Cleanser: The ultimate gentle yet thorough cleanser, Honor MD's Wild Rose Cleanser removes impurities and leaves skin feeling refreshed and plumped—never stripped! It has a smooth gel-like texture and lathers to a soft foam. The scent is faintly floral, not at all perfume-y. Standout ingredients include rose hip oil, geranium oil, and red seaweed, making for a formula that's anti-inflammatory and ultra nourishing!
2. Tropical Mist pH Balancing Toner: Think of this toner as a tall, cool, thirst-quenching drink for your skin. Not only do I love it right after I wash my face—it has a soothing, balancing effect that you really can feel when you apply it—but it makes for a great complexion pick-me-up during the day. Botanical extracts provide antioxidant protection as well as promote collagen production, and the very light fragrance is like a trip to a spa in an exotic jungle! I apply this by pumping 2-3 spritzes into my hand, then it patting my face. I don't want to waste a precious drop on a cotton pad!
3. H(ope)2O Moisturizing Serum: This intensely moisturizing hyaluronic acid serum is like liquid gold. I happened to use it for the first time during a weekend trip to Palm Springs, where the dry air usually turns my skin into a parched, peeling mess. I returned from the trip with my skin hydrated and glowing, requiring none of its usual desert damage control! There are lots of hyaluronic acid products on the market now, but the secret to Honor MD's formula is that it contains both low and high molecular weight hyaluronic acid to effectively penetrate the skin. You'll notice the difference immediately!
4. Genetically Blessed Super Antioxidant Serum: As incredible as every Honor MD product is, Genetically Blessed is the true do-it-all superhero of the line. It's anti-aging as well as anti-acne, thanks to phyto-luminescence technology and exotic botanicals that fight both fine lines and breakouts. In fact, its been shown to be as effective as retinol, but is saf to use during pregnancy (which retinol is not). One of the main ingredients, cat's claw bark, has been used by traditional Peruvian culture for centuries as a panacea for all ailments! Genetically Blessed also brightens for a remarkable radiance, plus lightens dark spots and soothes redness—and a little goes a long way. I only just finished the bottle I started in March!