In the two years that I've lived in my little LA bungalow, every area of the house has received an update but the bathroom. It's like the room that time forgot! The biggest reason I haven't touched it is that it's in such bad shape that I get overwhelmed just thinking about where to begin. The tile is flaking off, the grout and caulk are disintegrating, and the fixtures are clearly bargain basement seconds. Plus we rent, so it's not like I'm going to pour tons of money into a full renovation! Yet I'm tired of my dirty little decor secret. So to kickstart a new look, I've been hunting for an easy, inexpensive, and temporary aesthetic fix—and removable bathroom wallpaper checks all the boxes. The patterns at Chasing Paper are especially design savvy and lend themselves to all manner of bathroom refresh daydreams!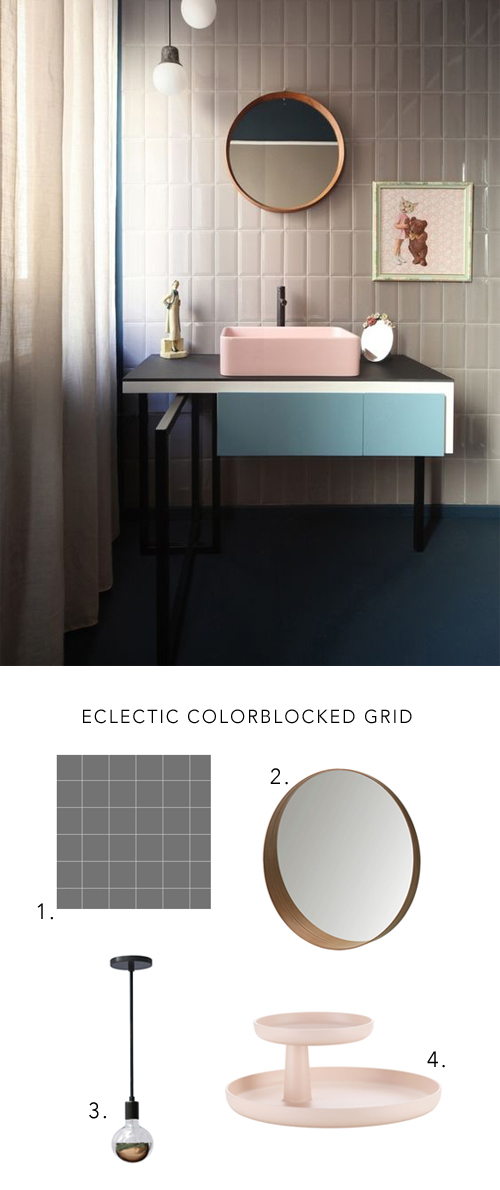 The white-on-grey graphic check of this Gridlock pattern creates the effect of a new tile job, without the accompanying labor! I'd pair it with a sleek round mirror in walnut veneer, and a minimalist pendant light with a touch of metallic flash. A putty pink tray keeps toiletries organized and simultaneously adds some cheeky personality to the mix!

Chasing Paper's Speckle wallpaper sets a whimsical backdrop for some playful global glamour. The crisp royal blue color echoes the whitecapped depths of the Mediterranean, while burnished gold and handwoven linen accessories feel like found treasures from a trader's booth at a Marrakech bazaar. It's an exotic spa retreat every time you wash your hands!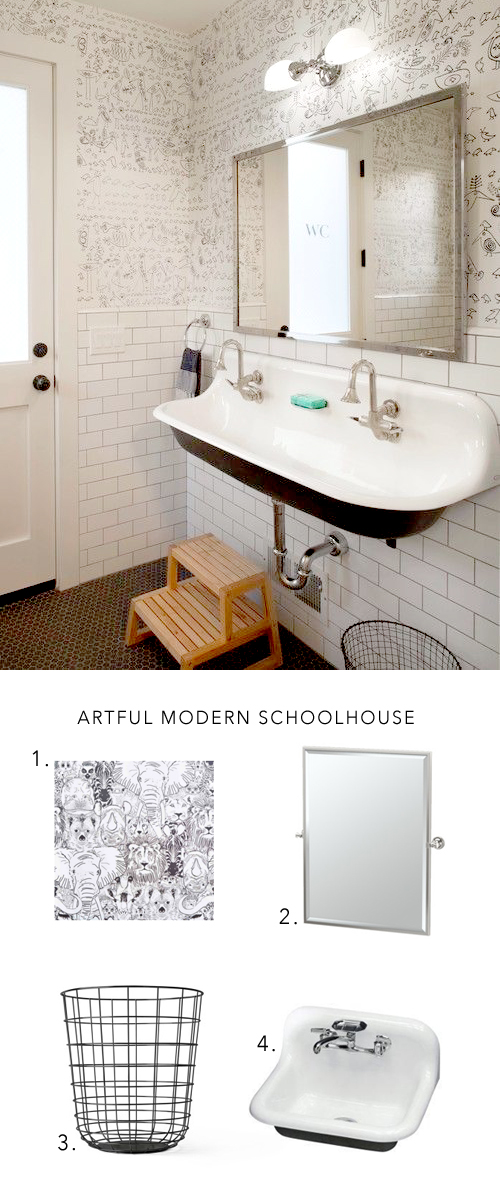 Finally, the hand drawn whimsy of the Wild Thing jungle animal wallpaper (a Chasing Paper exclusive from artist Sarah Watson) lends itself to a sophisticated schoolhouse bath in crisp black and white. Utilitarian decor elements such as a wire wastebasket and a steel-framed mirror let the quirky creatures shine, and a cast iron sink would be the ultimate if you were willing to up the investment ante. But no worries if commitment isn't your thang, because all of Chasing Paper's panels peel off when you move—or simply when you're ready to change things up again. Stay tuned for what I pick for my long overdue bathroom project. It's gonna be good!
Additional Shopping Info: 2. Round Wood Mirror 3. Exposed Bulb Pendant Light 4. Pink Tiered Tray 2. Gold Leaf Mirror 3. Brass Pendant Light 4. Striped Turkish Towel 2. Vintage-Style Bathroom Mirror 3. Wire Wastebasket 4. Cast Iron Utility Sink Images: 1. 2. 3. 4.