Last week when I was in Toronto I had the epic pleasure of wearing a sweater and jeans. After a sweltering summer in LA, this outfit felt like a revelation indeed! The experience has got me very much in the mood for fall, which is why I'm so excited to share this fall flower arrangement that I created by teaming up my pal Liz of The Nouveau Romantics (she's kind of a big deal, like cover of Martha Stewart Weddings big)! Together we used some gorgeous blooms from Flower Muse in a striking yet simple arrangement that would look beautiful on a console table or bookshelf to give your decor an autumnal feel!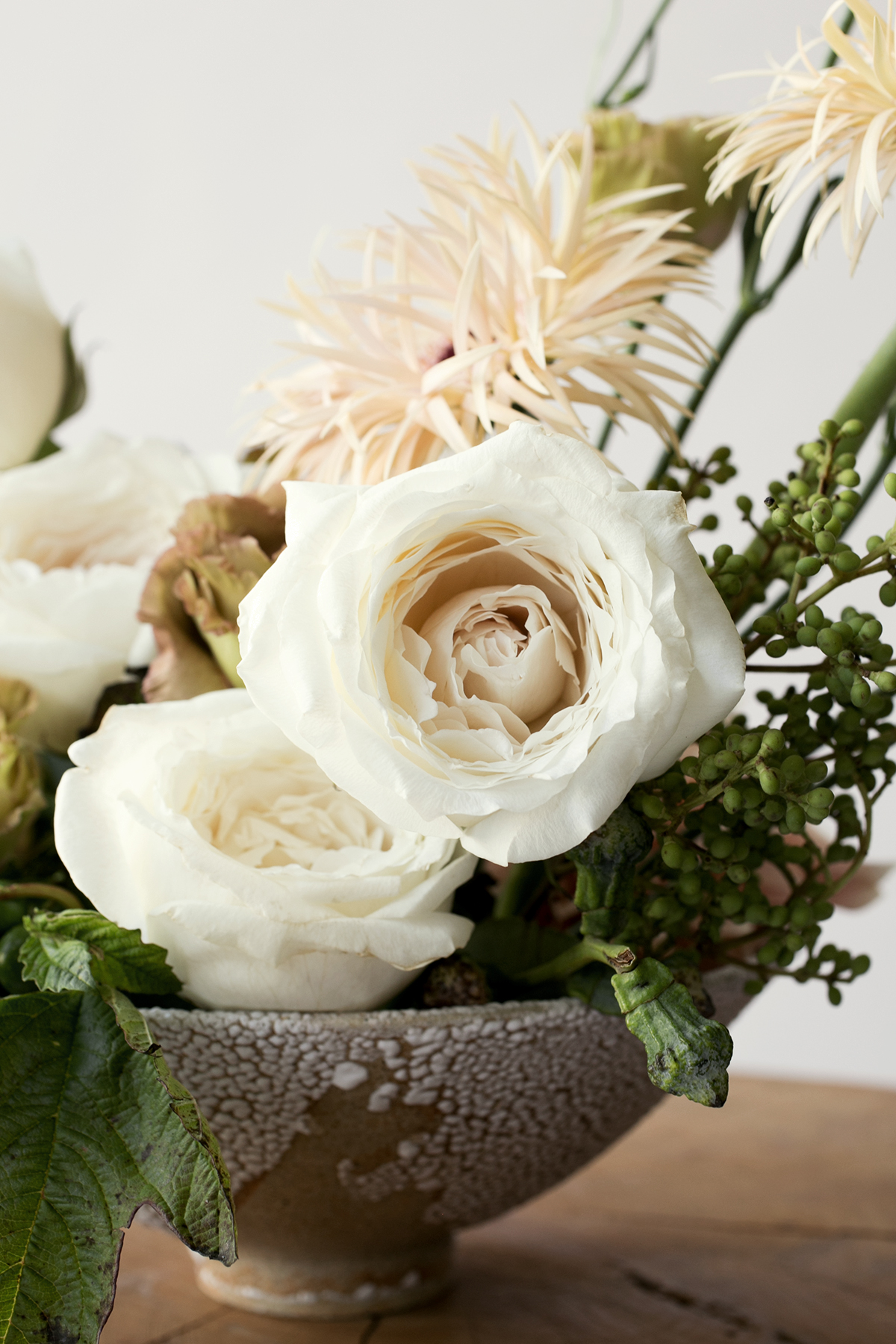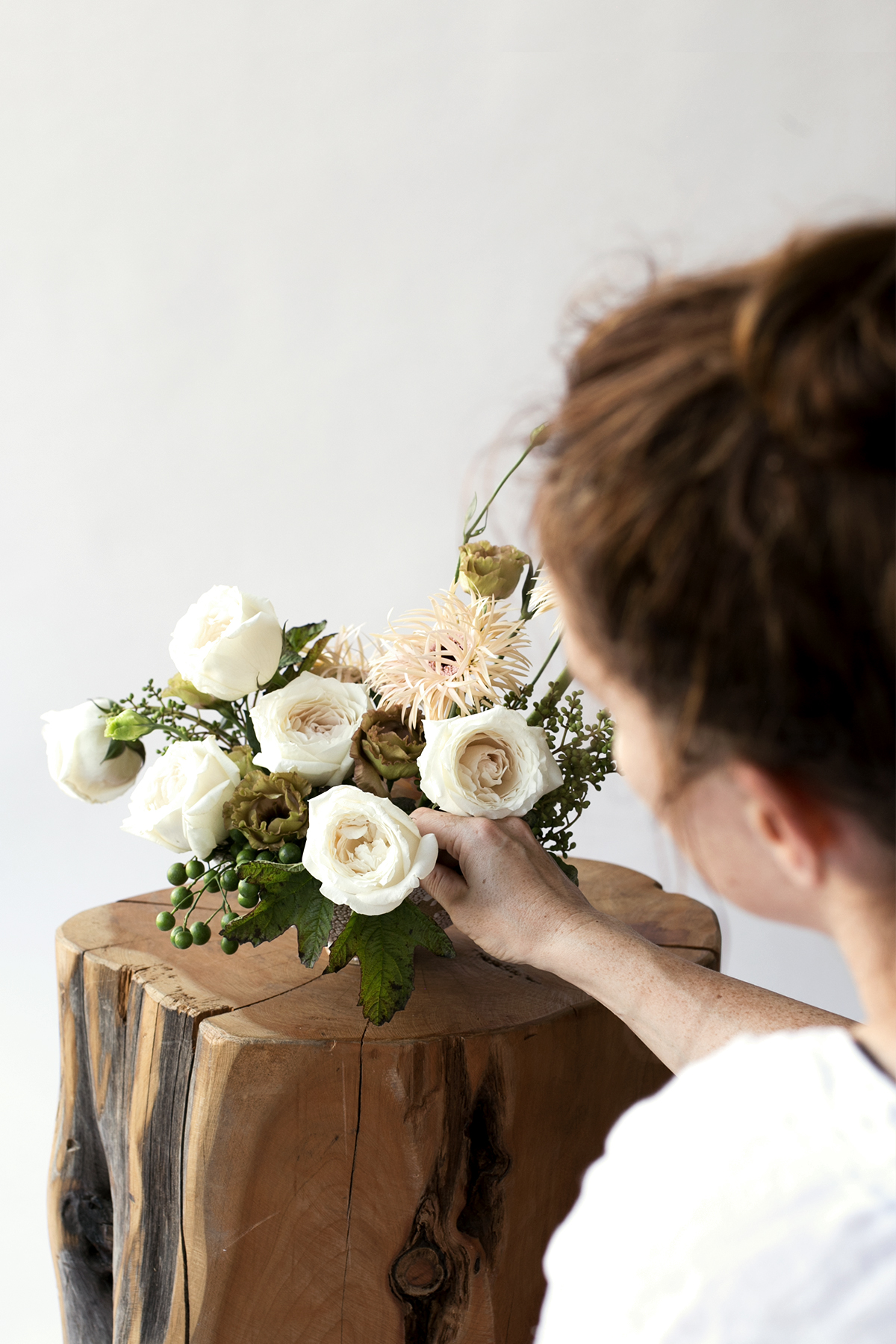 The genius of Flower Muse lies in its farm direct approach to flower distribution. Flowers are a delicate business (duh!) and the precious days lost when they're sitting around in a store are days we don't get to enjoy them! By shipping directly from small, sustainably run farms to us at home, Flower Muse is able to extend the vase life of the flowers that we buy and also to support independent growers—all while keeping end costs down. Plus we armchair florists can get access to blooms that don't often appear at our local grocery!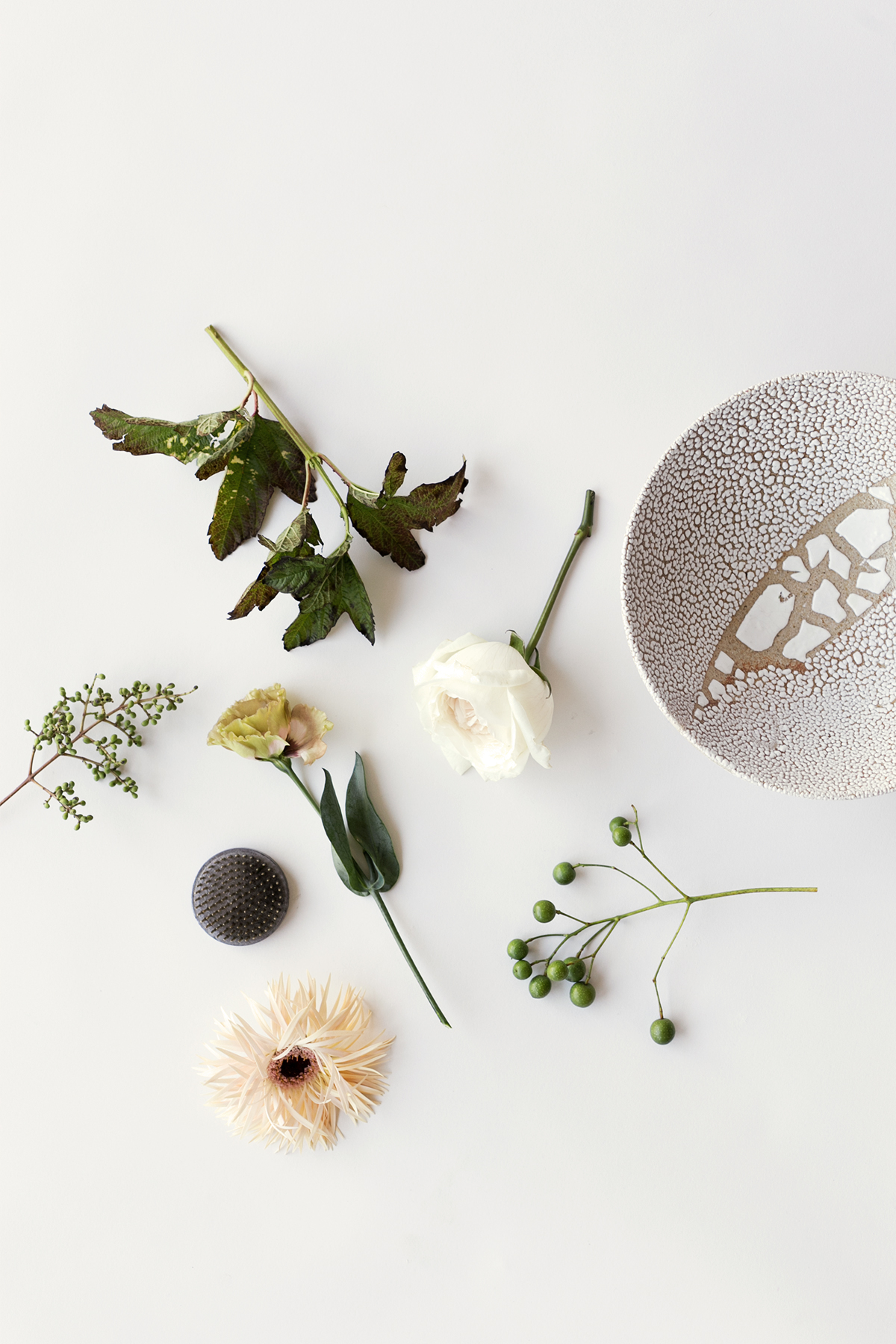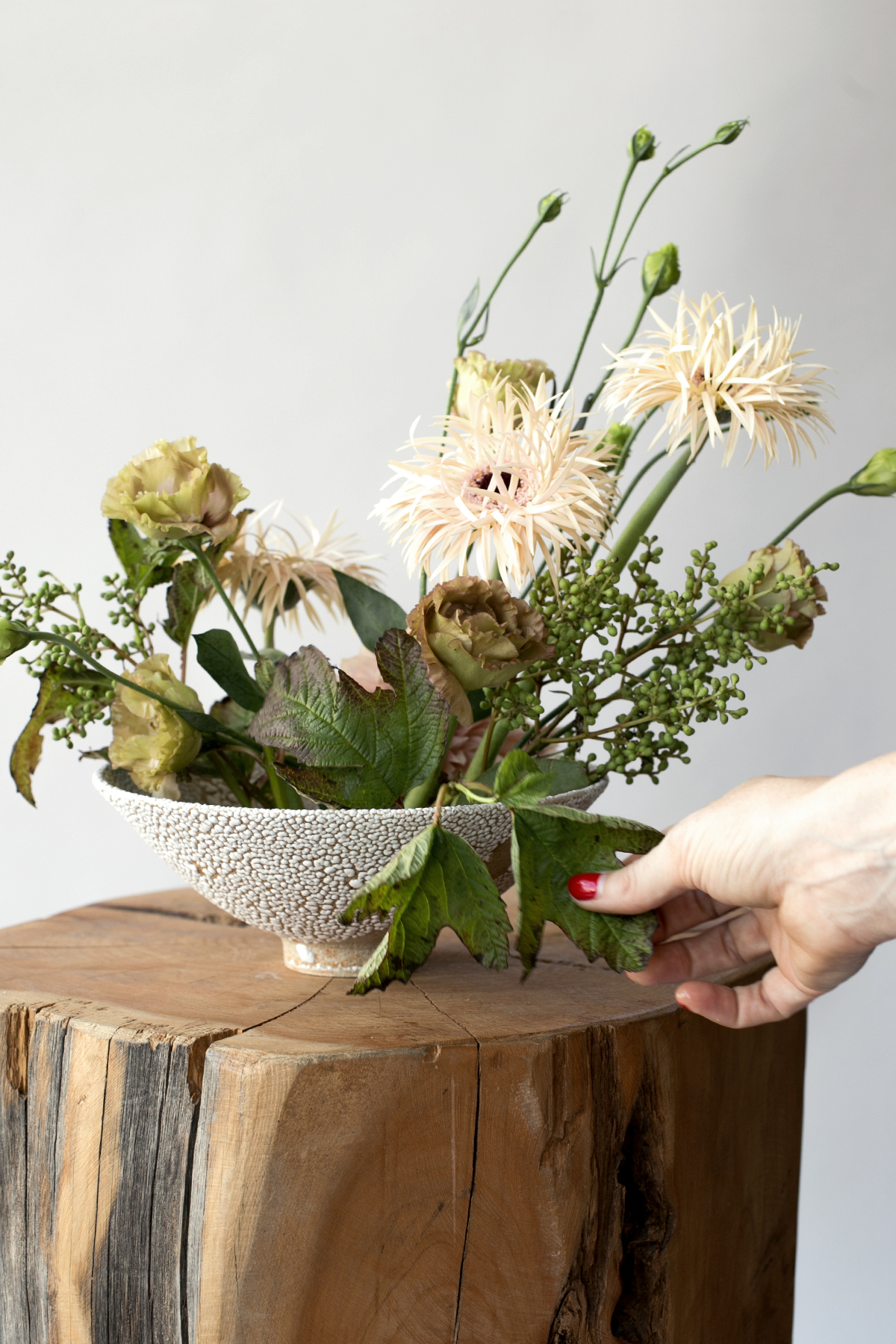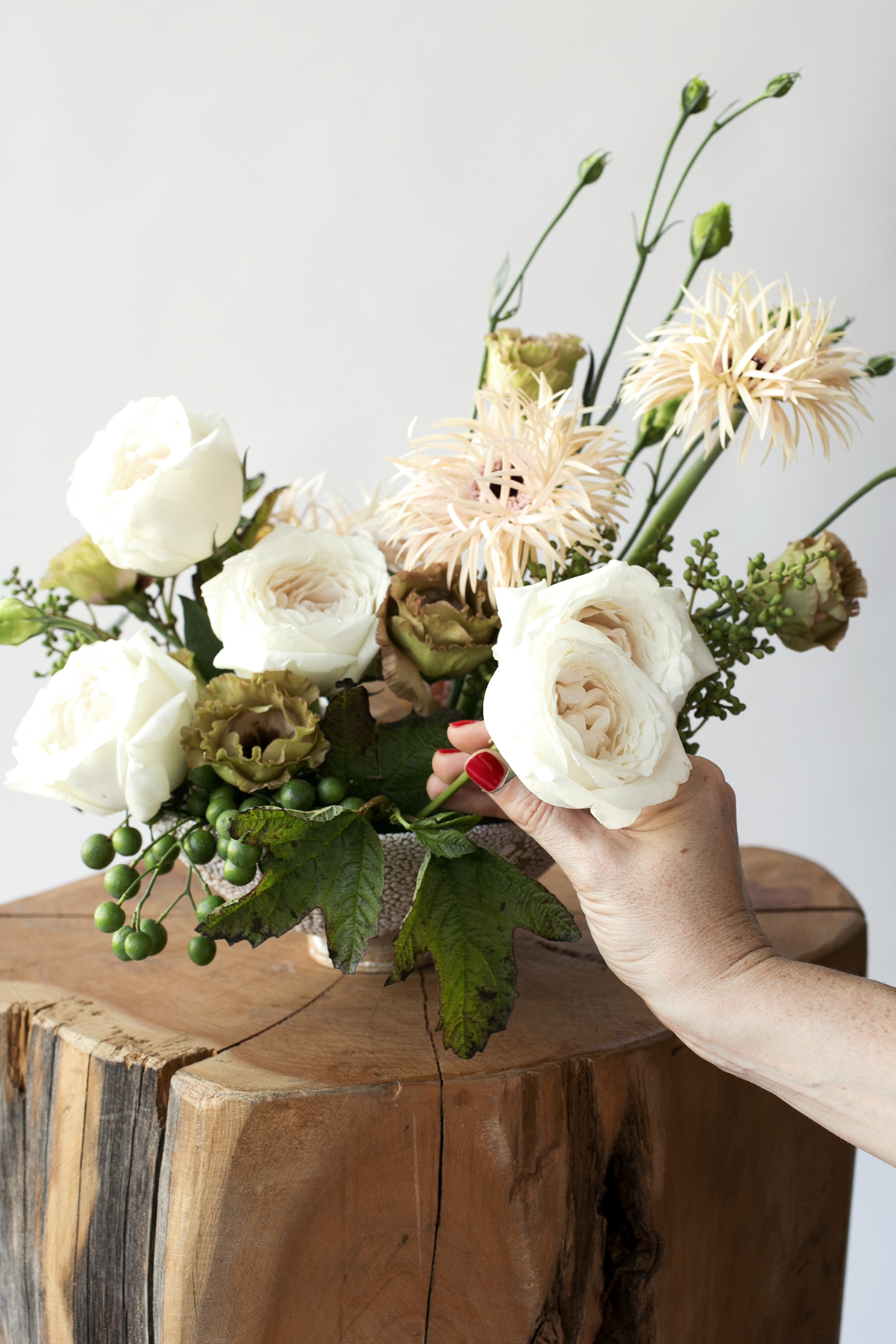 Our inspiration for this arrangement was pretty straightforward: we wanted to showcase those lush, creamy roses in a setting that would complement their romantic elegance but also feel modern too. Liz is the master of straddling the line between simplicity and sophistication, as exemplified by this early fall flower arrangement that looks at once wild and effortless but utterly luxe too. Read on for her how-to to recreate this beauty yourself!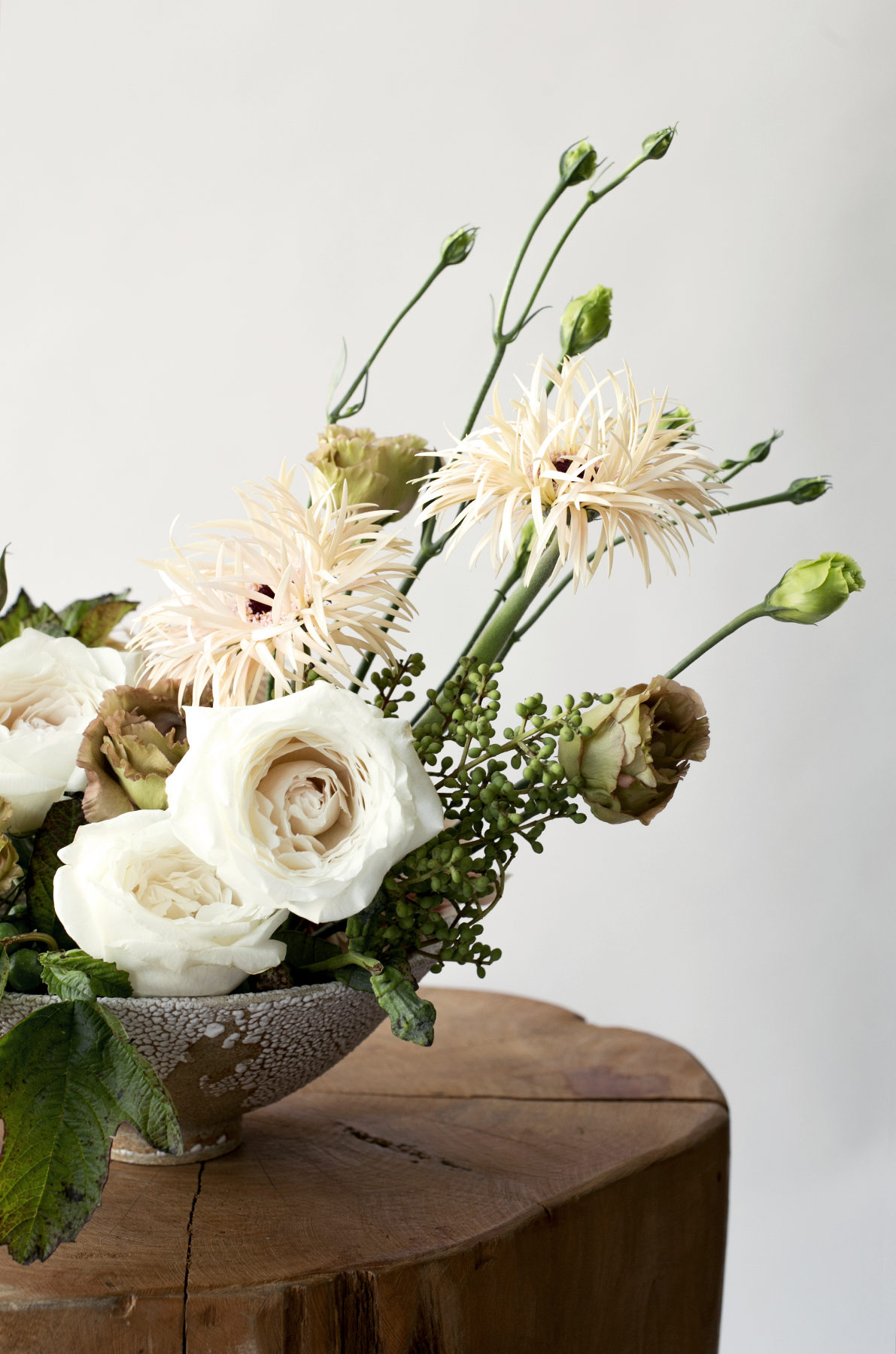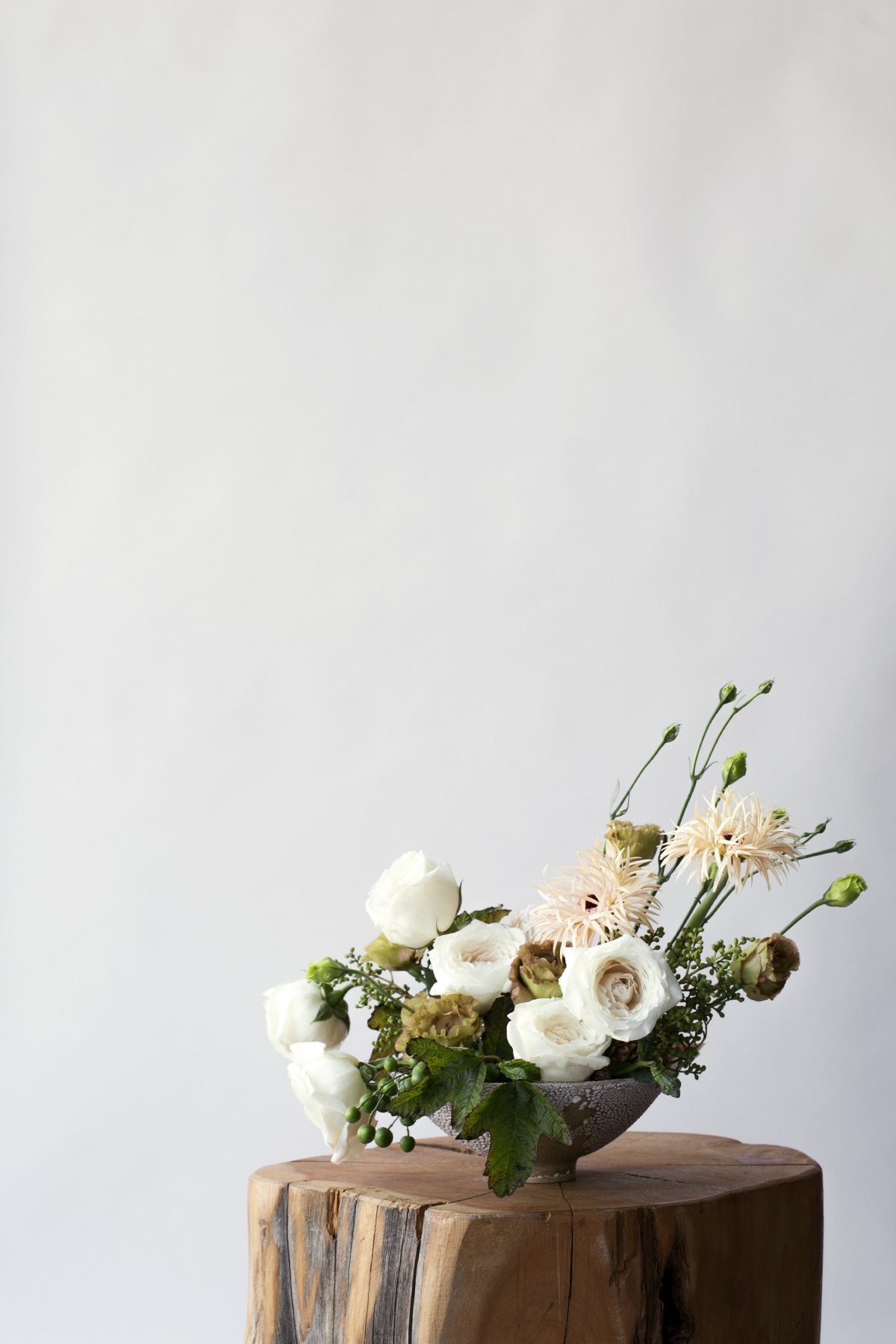 1. Prep your supplies. Liz likes to select a range of flowers and foliage in a cohesive palette. Here she chose ivory garden roses, dusty terracotta Lisianthus, and a feathery variant of Gerbera daisy, as well as eucalyptus berries. Before you begin the arrangement, process all the stems (remove leaves and any bruised petals) and place each close at hand. Choose a low, shallow bowl to use as your vessel. Then, use attach a metal flower frog to the bottom of the bowl with some sticky clay (you can find both at any craft store).
2. Start with the leaves and some of the berries. These will provide the base coverage. Liz tends to build her arrangements as asymmetrical compositions rather than symmetrical ones, hence the weighty cluster of leaves and berries that anchors the bottom left of this arrangement. A large sprig of eucalyptus berries on the right balances the weighty cluster on the left, and a small spring of eucalyptus at the rear left relates to the eucalyptus sprig on the right. (So genius!)
3. Next, add supporting flowers that have what Liz calls "good lines". In this instance, the terracotta Lisianthus and feathery cream Gerbera daisies are ideal, both for the dynamic texture of their blossoms and for the strength of their stems—the latter of which gives the arrangement a bit of height. Uses the taller stems to build upwards and to the right, away from the anchoring presence of the leaves, almost as though a gust of autumn wind is blowing the arrangement away.
4. Then, fill in with the bigger focal (or "face") flowers: the cream garden roses. These generally stay lower and shorter, in contrast to the longer, slimmer stems of Gerbera and Lisianthus, and the foundational background (greens, berries). Here Liz positioned the proudest, most perfect-looking roses facing outwards to the viewer, then draped a couple more off to the left side for a casual, organic look that echoes the asymmetrical shape she created with the supporting flowers.
5. Finally,fill in any holes with additional berries and more lisianthus. Liz used darker flowers in this arrangement as the background and filler, which allows the cream and white of the focal roses to really stand out!
Photos: Anne Sage. Roses courtesy of Flower Muse. Handmade ceramic bowl by Sheldon Ceramics.