This post was created in partnership with Bed Bath & Beyond. As life gets busier and busier—and it does seem to be speeding up exponentially, doesn't it?—the absolute best gift you can give someone is the gift of downtime. But if the loved ones on your holiday shopping list are anything like me, even when they do get some time to themselves, they're so keyed up from their breakneck pace that genuine relaxation doesn't actually happen. There's one place, however, where I can truly turn off: A nice hotel. Something about those crisp sheets and the hot room service coffee signals to my brain that it can let down its guard and lounge well past my normal 6am wakeup call. If someone could give me that gift, I'd be eternally grateful, indeed!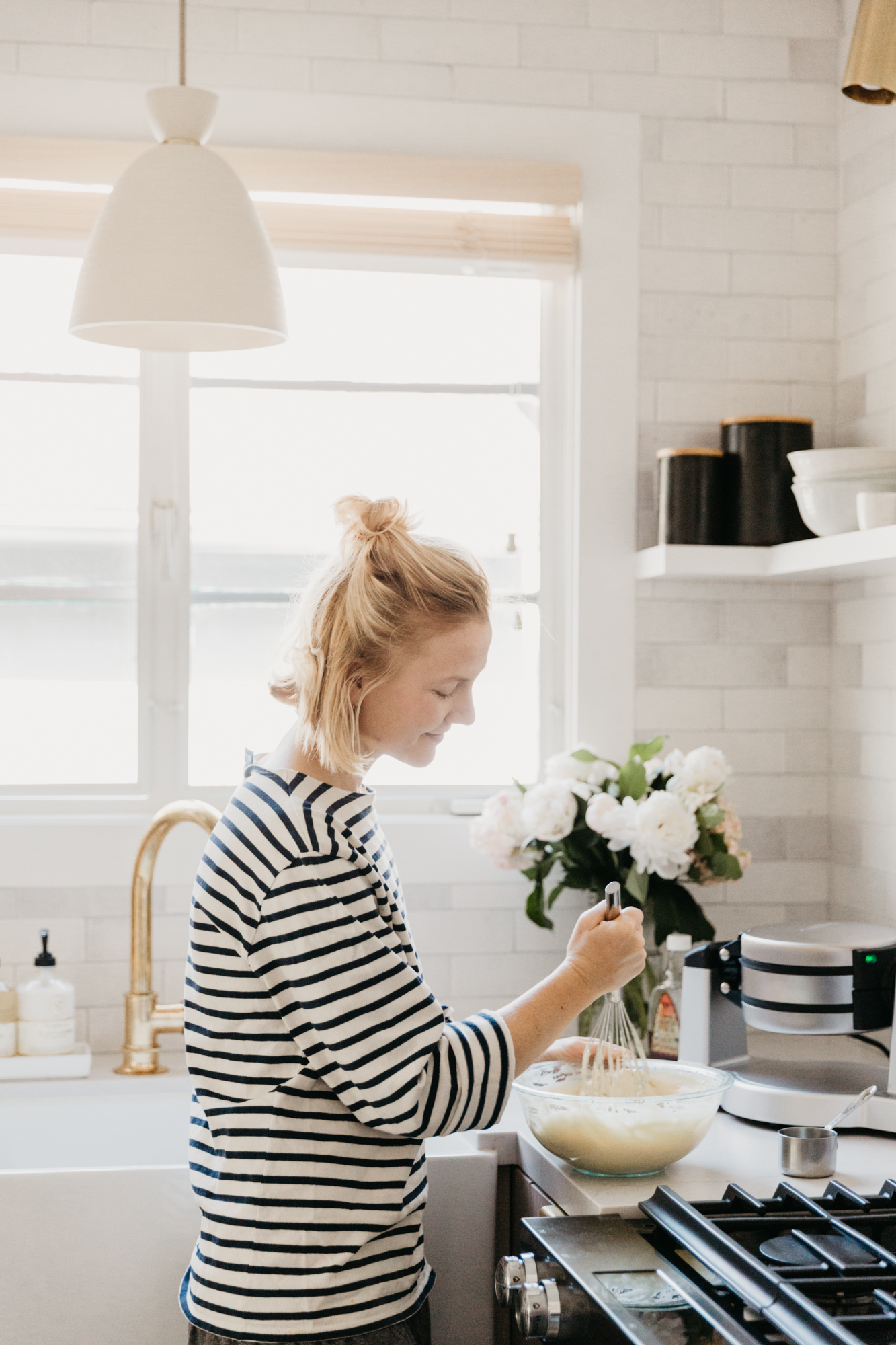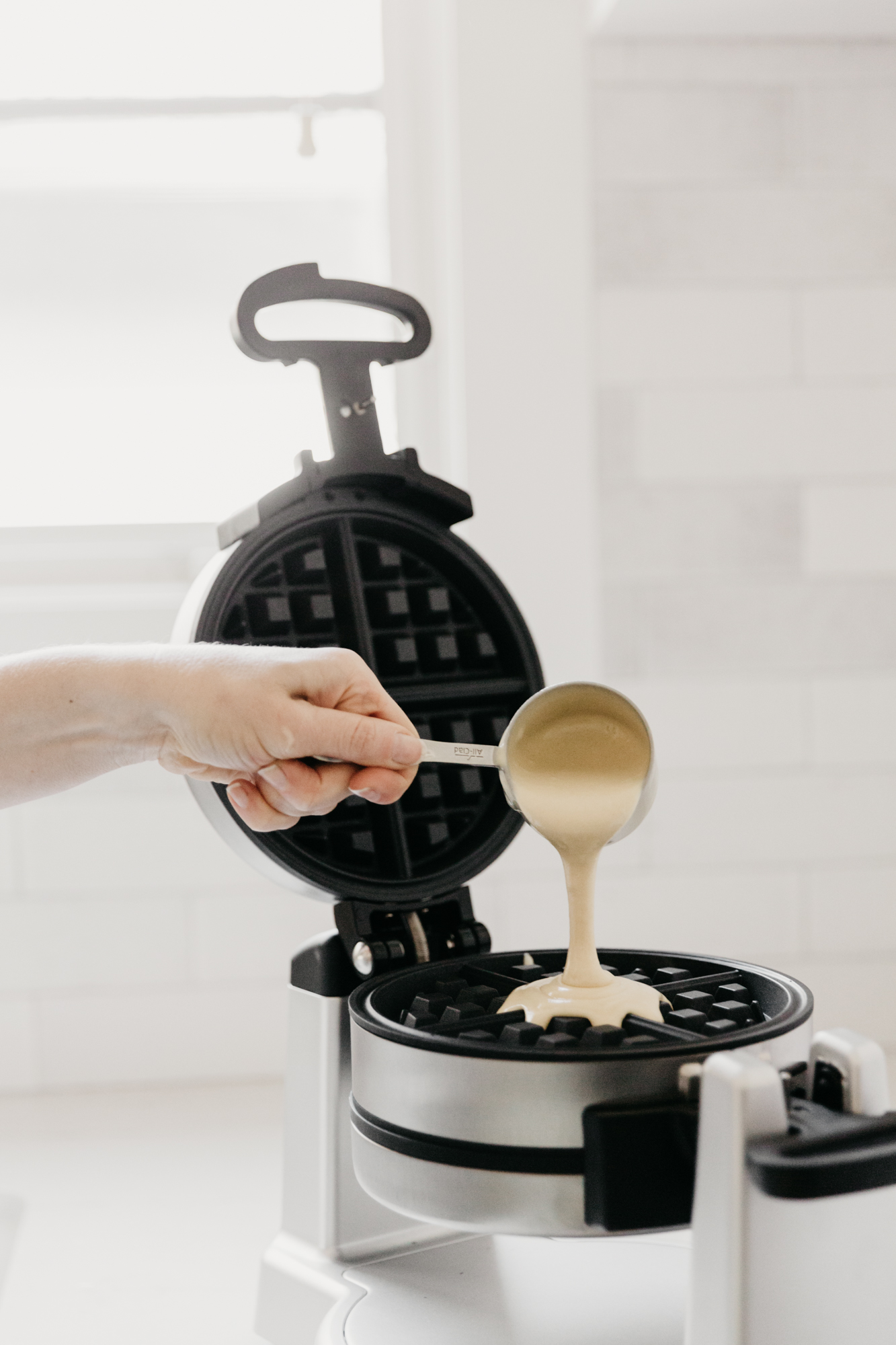 Of course, the paradox of busy people is that even when you do give them the gift of time, they're too over-scheduled to appreciate it. I myself have a backlog of movie tickets and restaurant certificates that I've received but still have never used—the effort required to make leisure plans and actually keep them seems way too daunting! Yet what if you could surprise someone with all the goodies to recreate that luxe and lounge-y hotel experience at home? They'd have everything they needed to make the most of a couple hours on a weekend morning. (Perhaps even make it a habit if they desired?) And you could find it all at Bed Bath & Beyond, so your precious holiday shopping time would be maximized as well. In fact, was able to reserve everything in this post online so that it would be ready and waiting for me to pick up at my nearest store. I was in and out in under 10 minutes, longer than it took me to find a parking spot!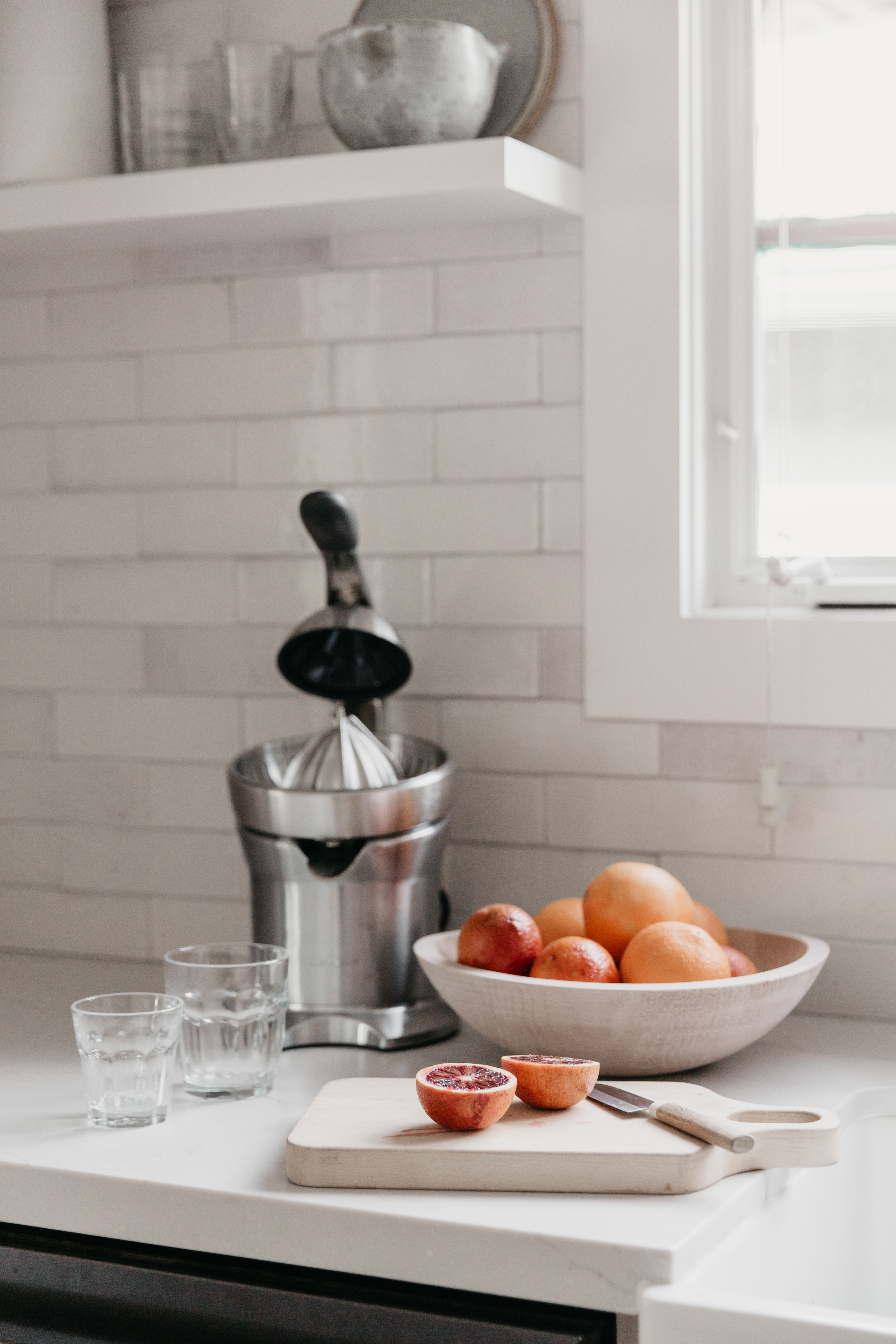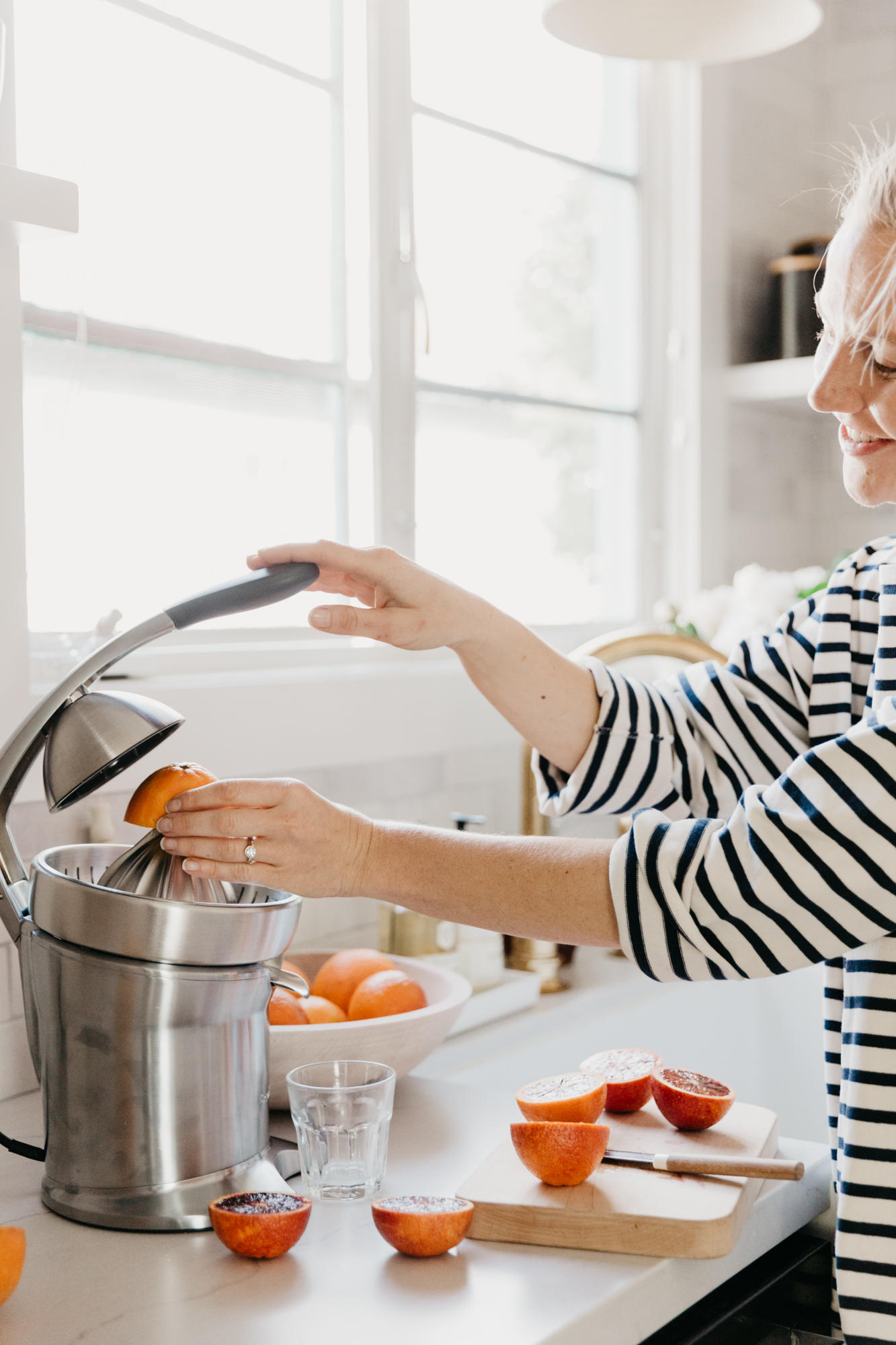 What's more, the vast selection of high-end housewares brands at Bed Bath & Beyond makes quick work of outfitting your favorite busy person's home with top notch tools. A Cuisinart Double Belgian Waffle Maker bakes up two crispy waffles at once, so there's no waiting around for seconds. (Remember, we're on a schedule here! Ha!) And this Breville Citrus Juicer squeezes out every last drop of juice for the person who loves efficiency even at the level of their breakfast prep!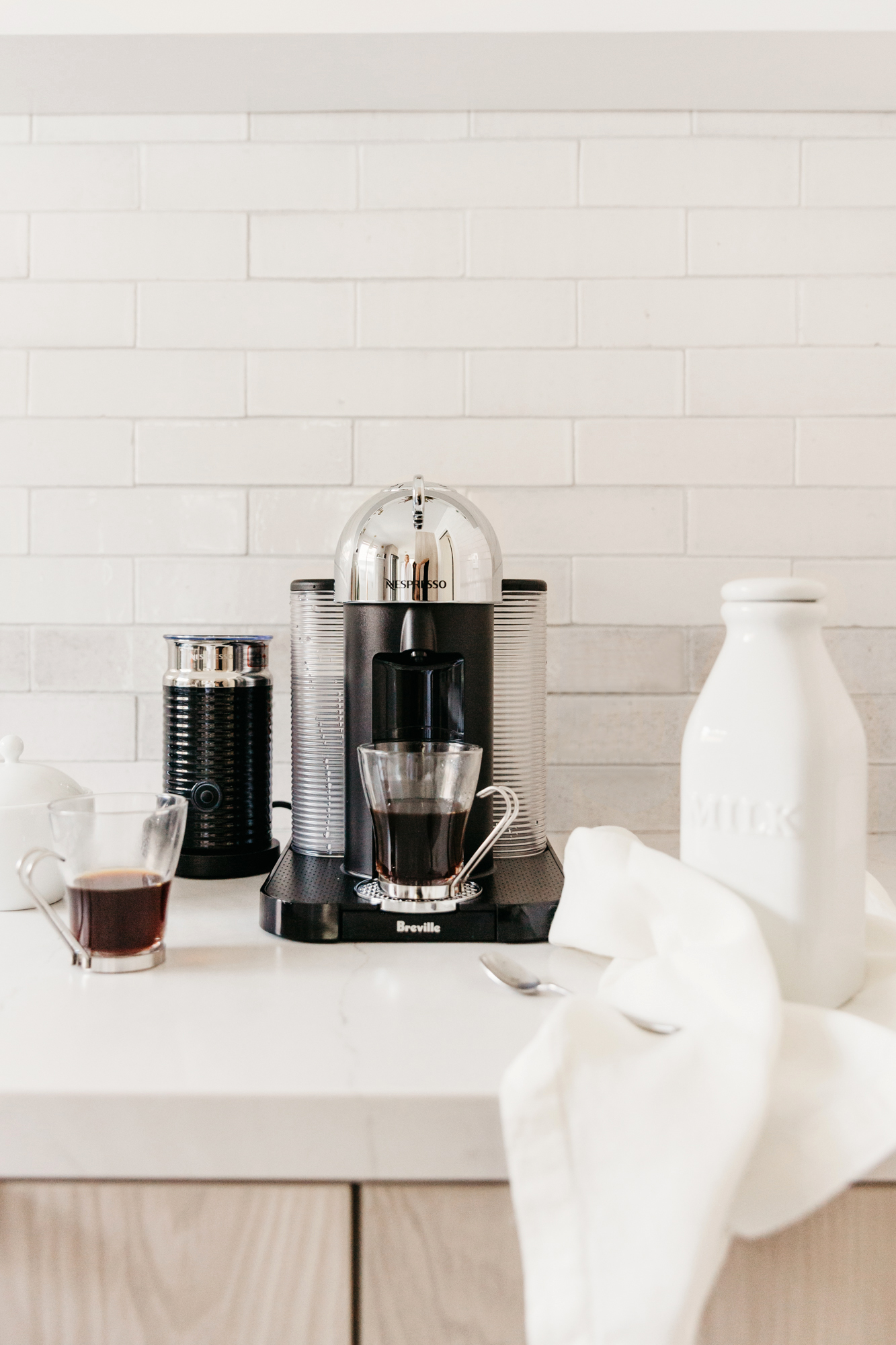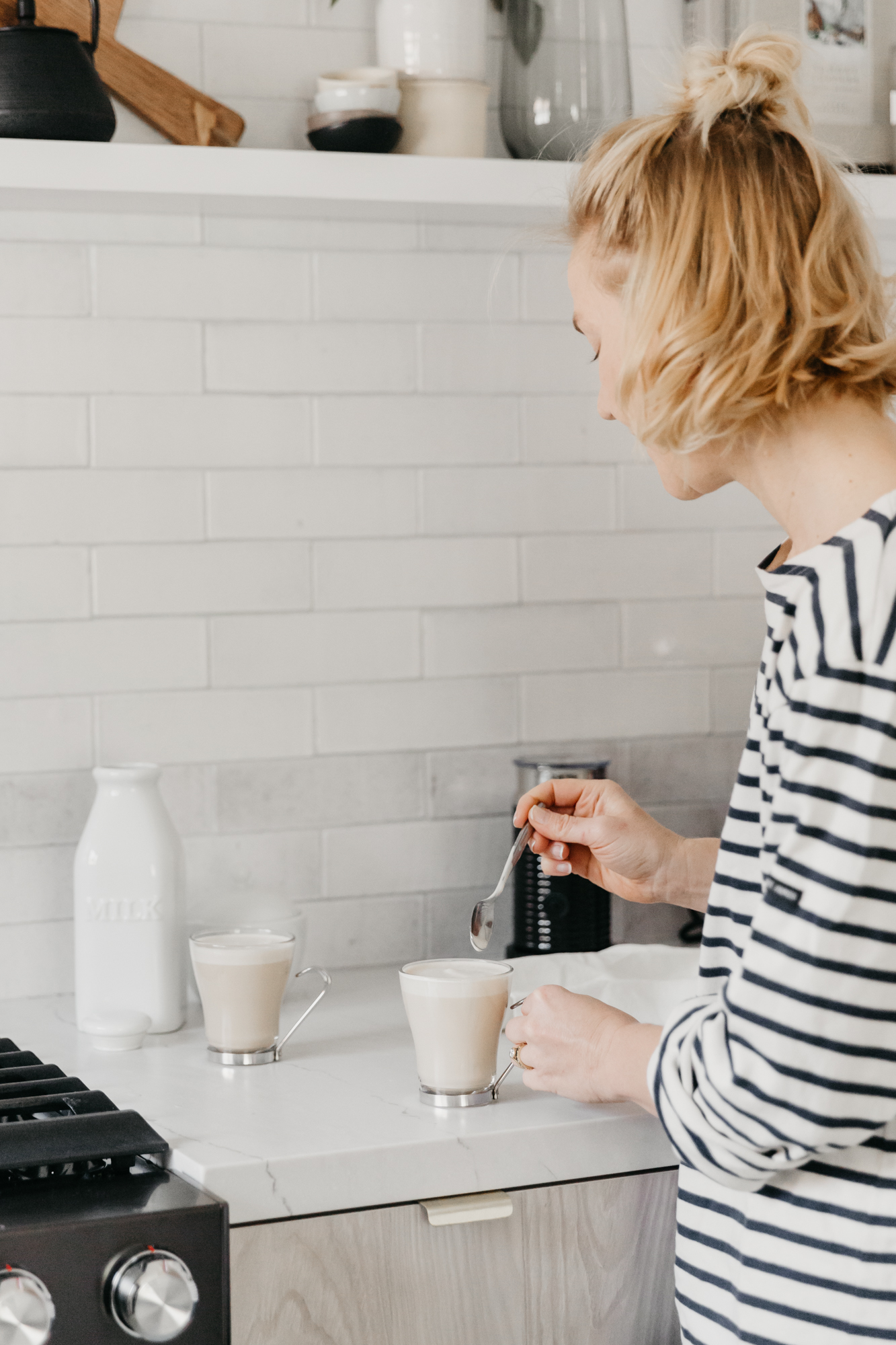 Don't forget that hotel-perfect coffee! I'm a total coffee snob, and even I am always amazed at how delicious Nespresso's brews are! Plus this Nespresso by Breville VertuoLine machine switches between coffee and espresso to please all tastes at once. Best of all, this set also comes with a milk frother for on-demand lattes, cappuccinos, and macchiatos. After all, if your goal is to recreate the room service experience, you need to leave all your options open!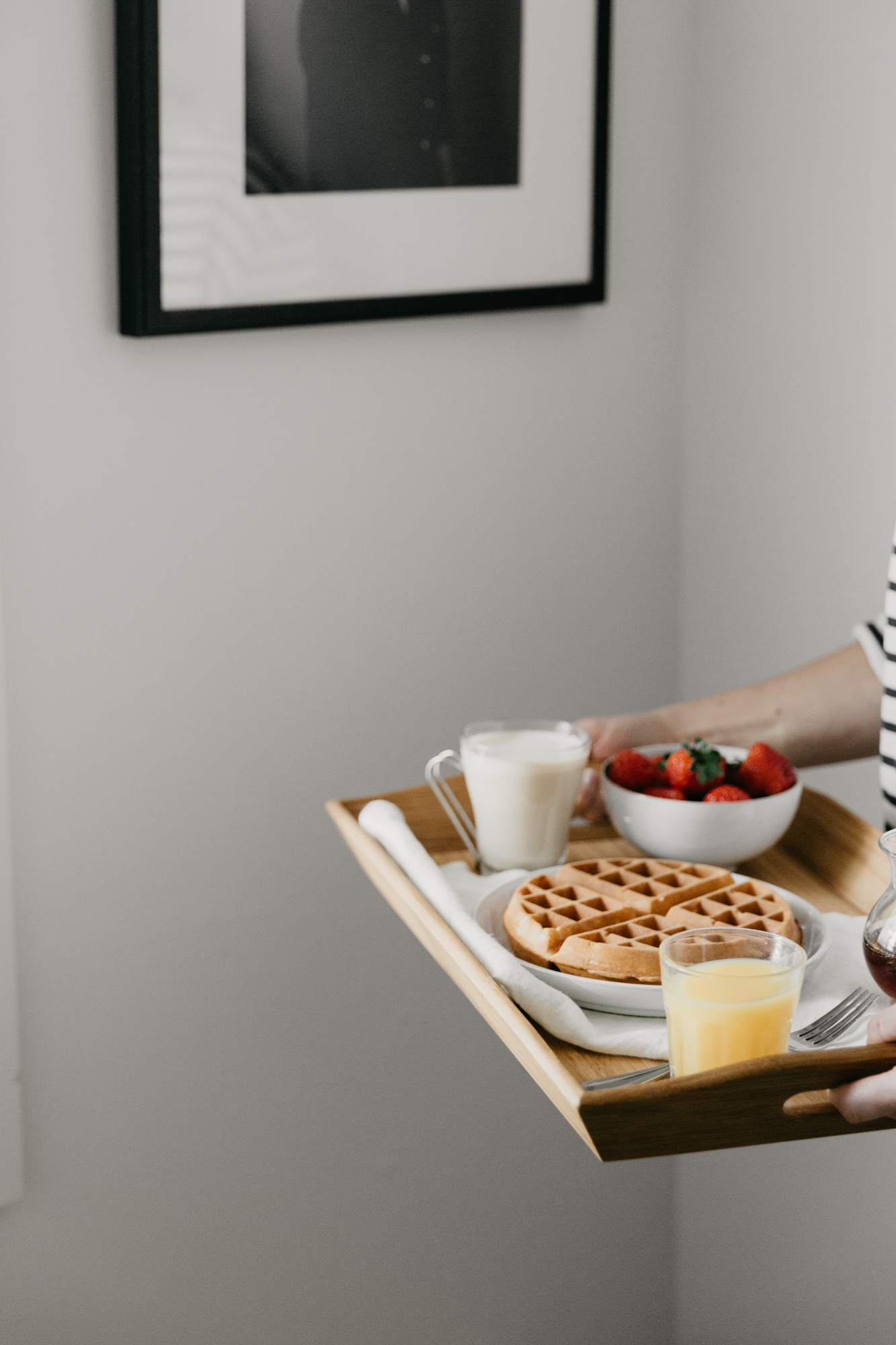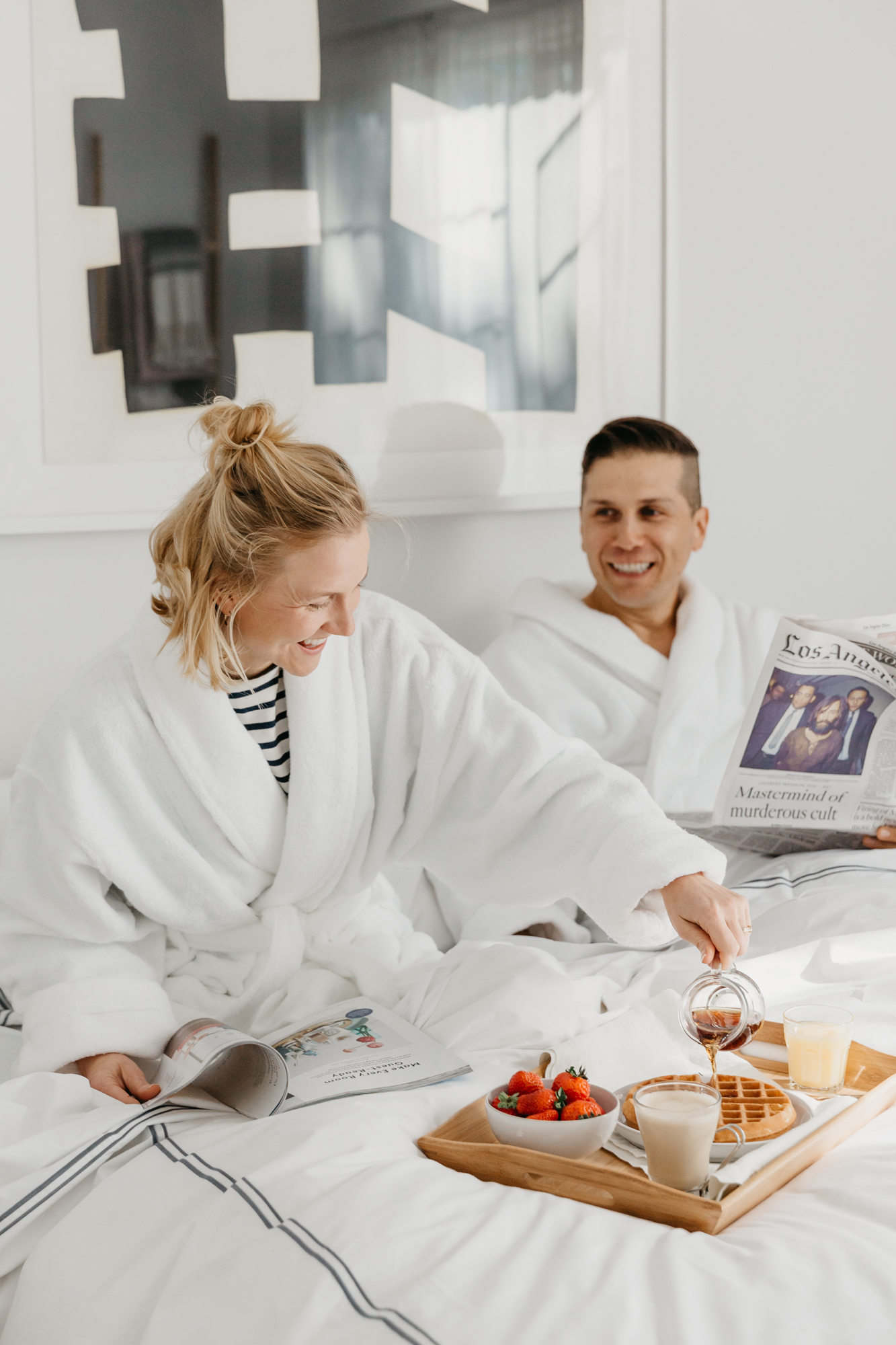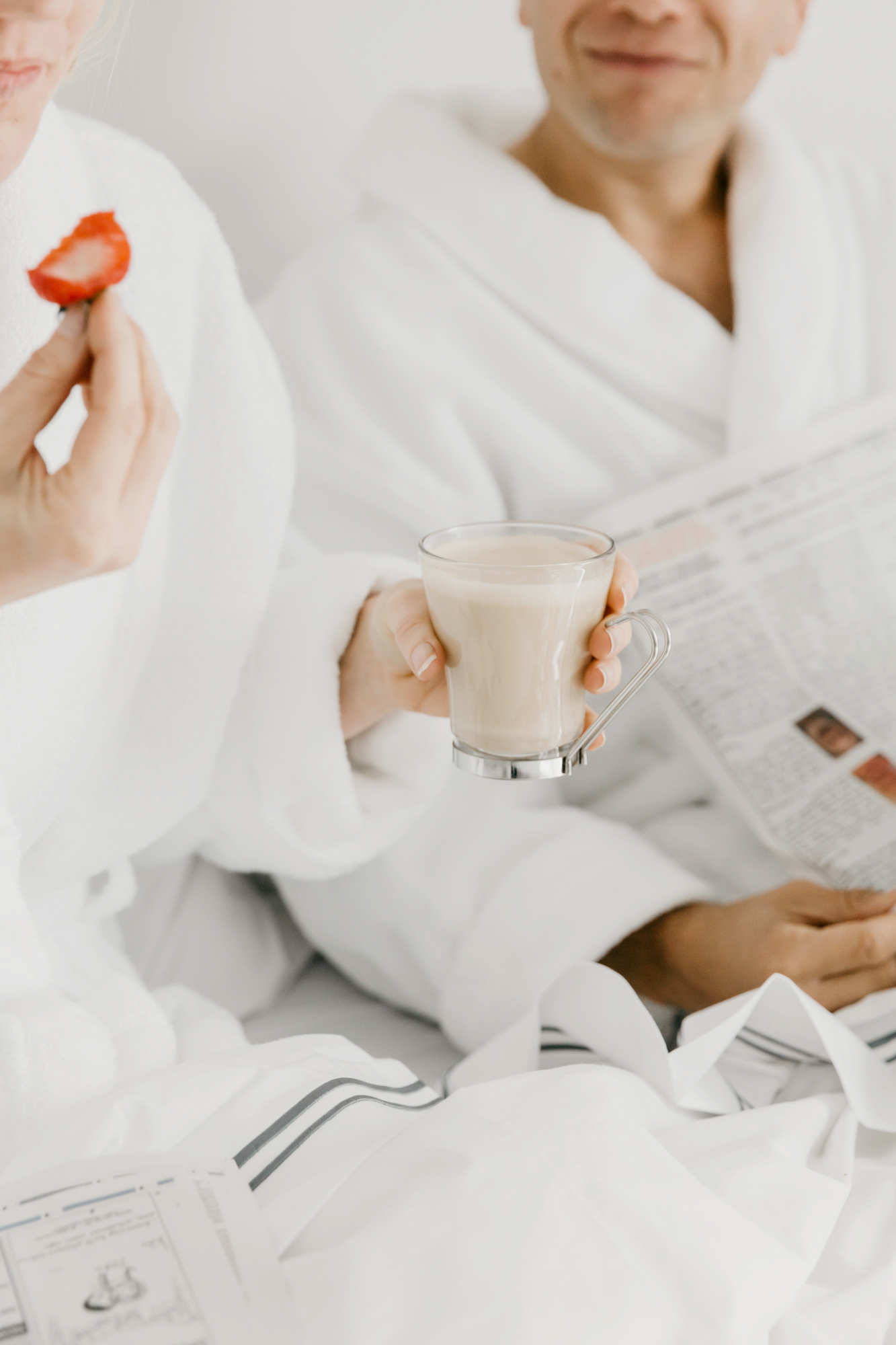 Last but certainly not least, a morning of lounging requires something to lounge in! The first thing I do when I check into a hotel is scope out the fluffy robe situation; if I found one of these soft and snuggling Wamsutta Terry Cloth Robes hanging in the closet, I'd definitely drop everything and change into it right away. For the ultimate indulgence, a sumptuous percale sheet set and duvet cover is the final touch on a breakfast-in-bed gift guide to end all gift guides. Of course, even one or two items from this list would be well-met by your recipient—especially if they were hand-delivered by you. After all, if the gift of time is pretty darn good, then time spent together is the best gift of all!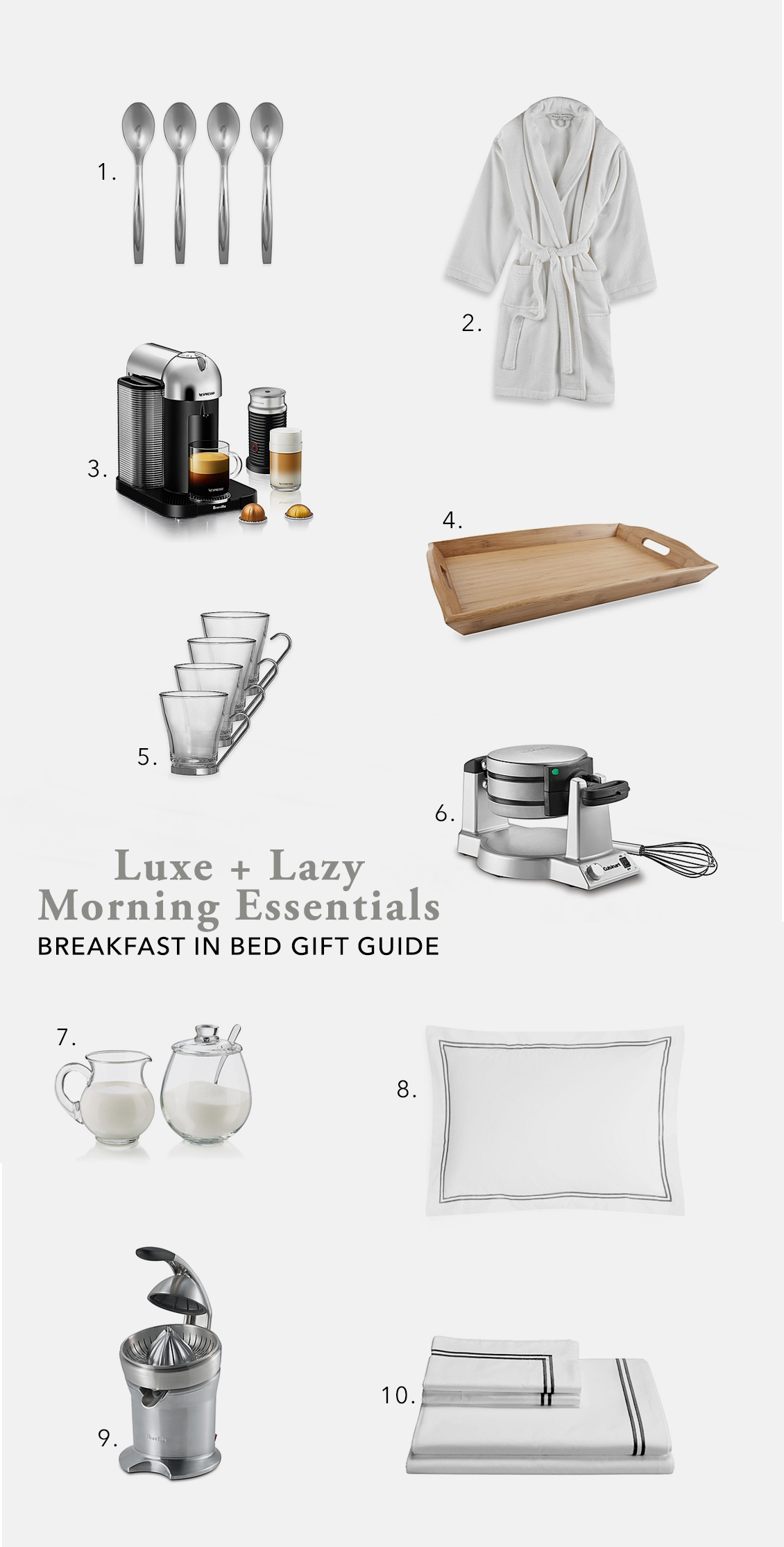 Shopping Guide: 1. Espresso Spoons 2. White Terry Bathrobe 3. Nespresso by Breville Coffee and Espresso Set 4. Wood Serving Tray 5. Glass Cappuccino Cups 6. Cuisinart Double Belgian Waffle Maker 7. Glass Cream and Sugar Set 8. Frette at Home Pillow Sham 9. Breville Die-Cast Citrus Juicer 10. Frette at Home Sheet Set Disclosure: I partnered with Bed Bath & Beyond to concept, style, produce, write, edit, and share this post. All opinions are and always will be my own. Thank you for supporting the brands that enable me to bring you fresh inspiration daily! Photos: Eslee.