As much as interior design is about aesthetics, it's also about laying the groundwork for how we want to feel as we move through our lives. That's why I love decorating a new space so much. It's an opportunity to set the scene for making every day just a little better! For example, I recently revamped our bedroom to support my 2018 goal of more quality downtime, and ever since then, every moment I spend in this cozy spot has brought me so much peace! The project perfectly encapsulates the design-meets-wellness ethos of Aera, a home-scenting brand that has set out to reinvent the way we use fragrance to craft our personal experience. To celebrate the launch of their Simplicity Challenge, a campaign informed by their new Simplicity Collection of home scents and inspired by their belief that a simple and happy home is also the healthiest and most beautiful one, I'm sharing the top three decorating tips that guided me as I created my serene and soothing bedroom retreat!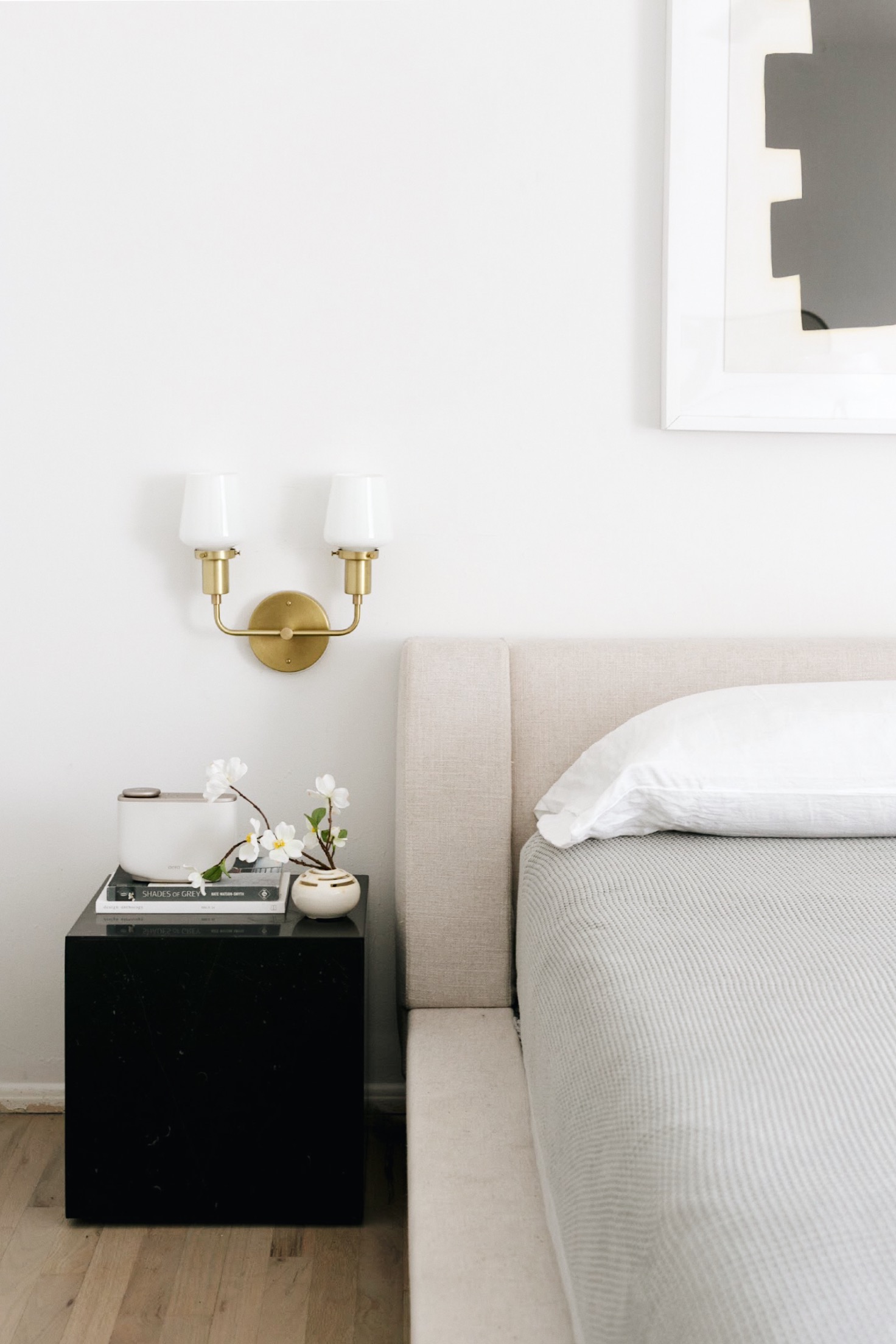 Cut Clutter Before It Starts: Creating a restful space for your soul starts with designing a restful experience for your eyes. For me, that means keeping knickknacks and tchotchokes at a minimum, which isn't always an easy feat when it comes to bedside tables! Nightstands can be absolute magnets for clutter, and in the ones I've had in the past have certainly seen their share of half-full water glasses, dog-eared magazines, and leaky lotion bottles. So this time around, I intentionally chose a sleek, simple, streamlined cube table with a surface that's only 16 x 16 inches square. That's quite petite compared to standard nightstands, and it means that I'm forced to keep the bare minimum on it at any given time. There's no overstuffed drawer or dusty lamp, just a place to display a couple favorite accents, charge my phone, and place my kindle when I go to sleep. It's a chic and sculptural way to nip messiness in the bud!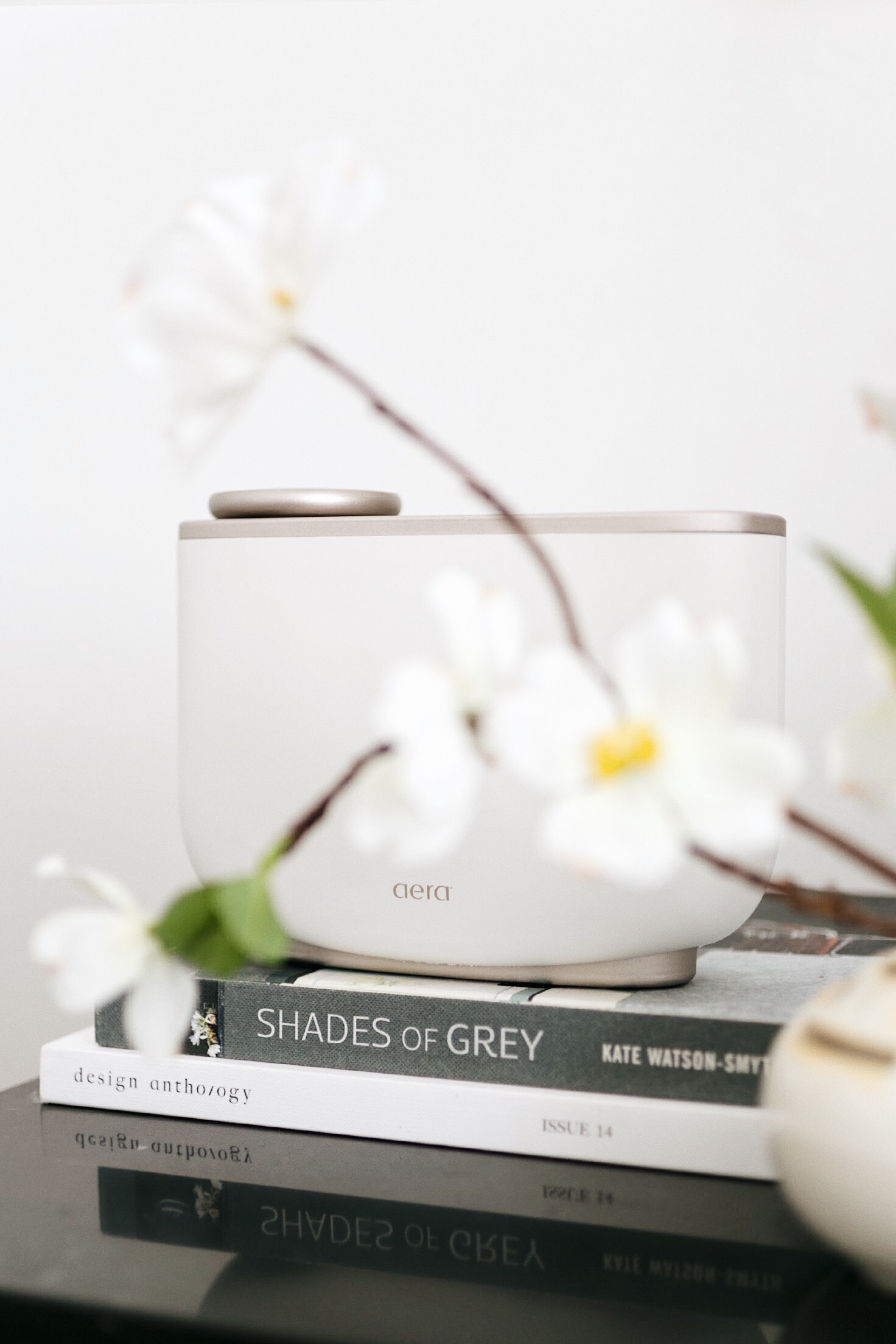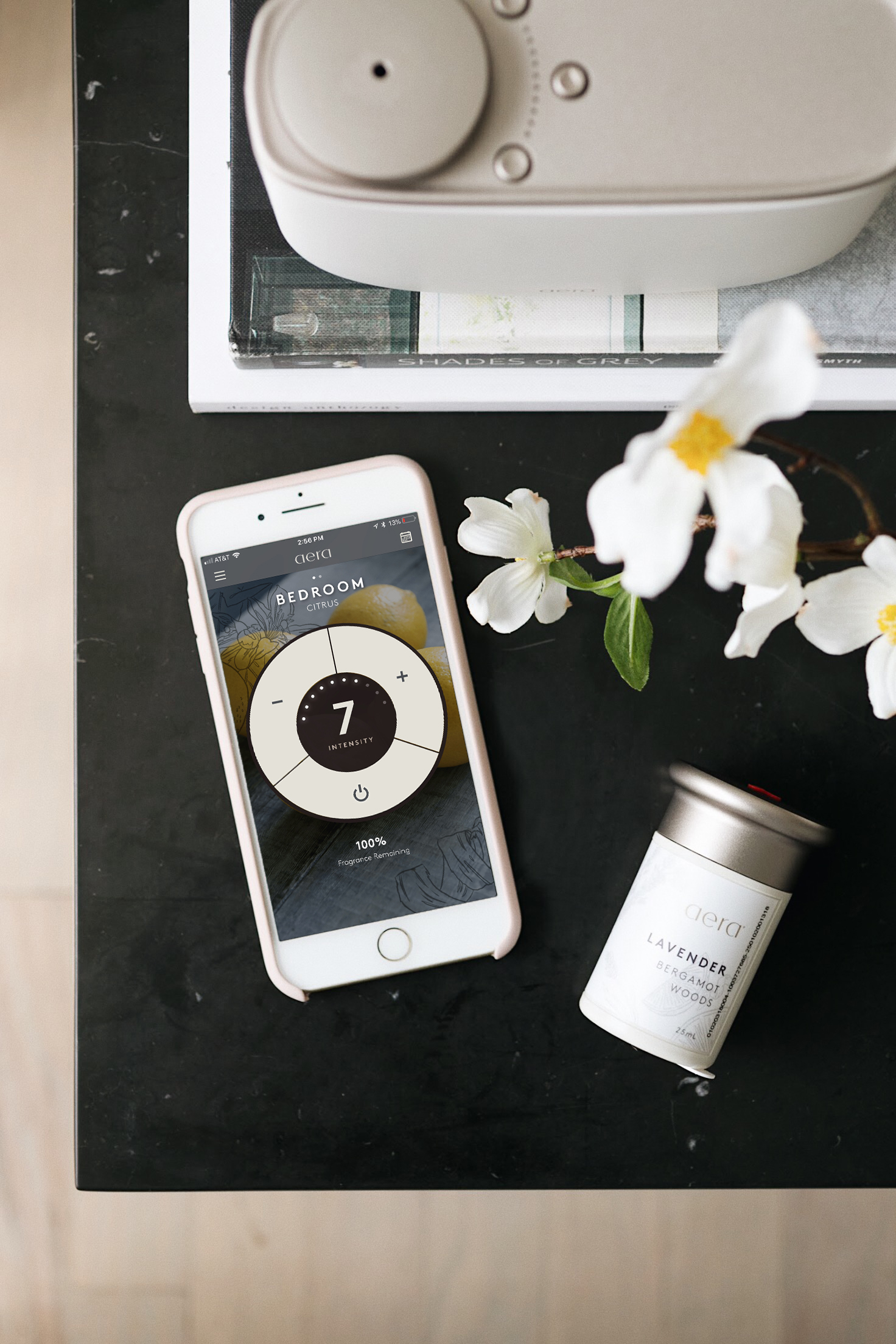 Decorate for All Your Senses: When designing a visually pared-back space, approaching scent as a decor element is an easy and effective way to add a layer of interest. Yet as much as I love candles, incense, and oil diffusers, they can be messy and even dangerous if left unattended, and their scent is hard to control. That's why I've been so impressed with my new Aera diffuser! For starters, its modern, sophisticated shape fits perfectly with my simple, intentional decor. The fragrances are simple and refreshing (never perfume-y!)and the diffuser's settings are fully adjustable. Best of all, there's no heat, propellants, or VOCs, which makes it pet friendly. I especially appreciate that I'm able to control the intensity and consistency of the fragrance anytime, from anywhere, with the AeraforHome app, available for both for iPhone and Android; and my kitty James Bond, who once burned his whiskers on a scented candle, is especially happy that Aera is flameless! At bedtime I use the lavender capsule for its calming botanicals, but if I'm getting dressed to go to a big event I'll swap in the citrus capsule for a pick-me-up. It's such a small thing, but like most small design decisions, it makes a huge difference—one that you can enjoy in your own home too, by using the code CITYSAGE15 for 15% off all Aera products from now until June 30, 2018!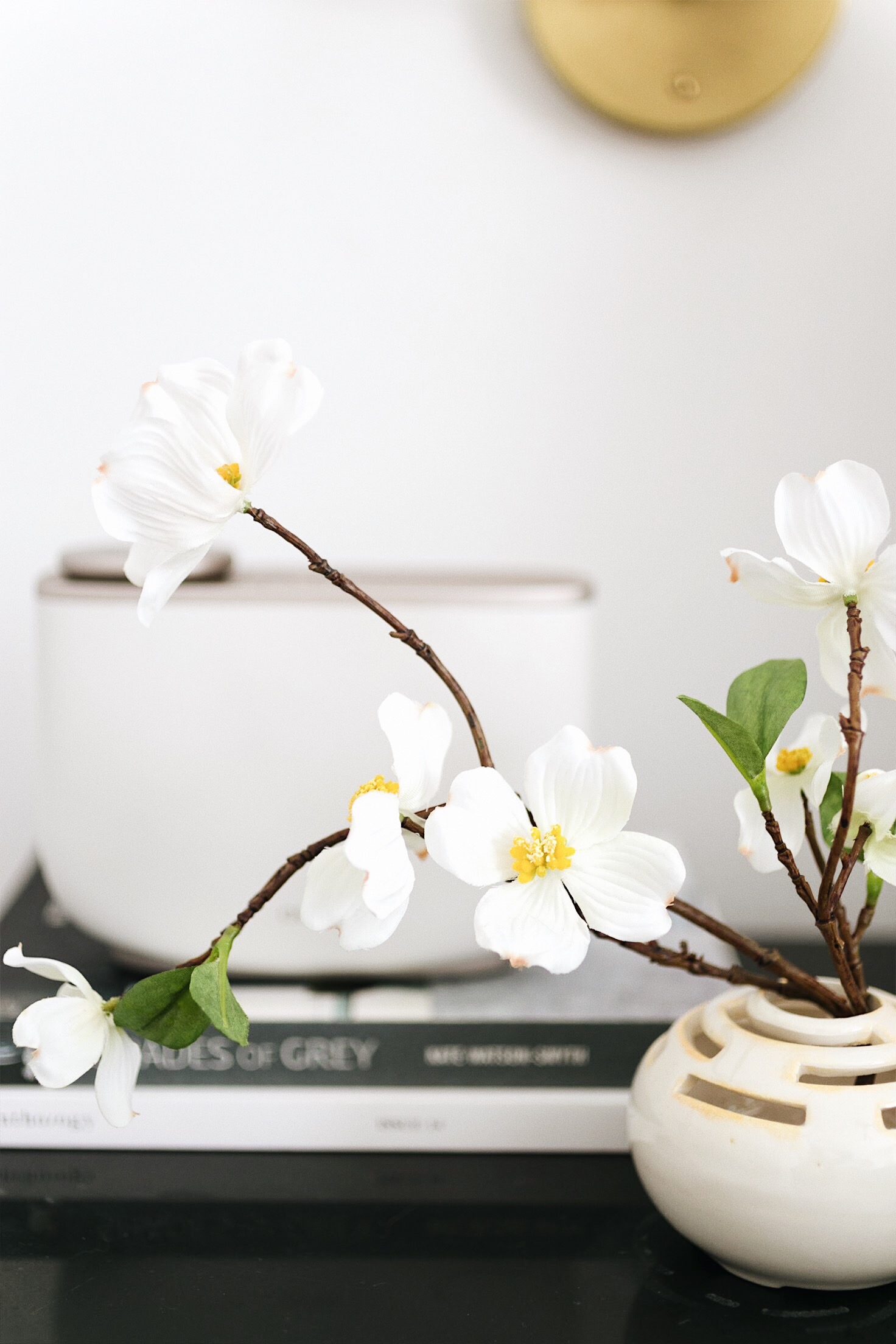 Go Faux: Bringing a touch of nature into your sleeping space is a surefire way to, but buying fresh flowers every few days gets expensive. What's more, when life gets busy, I often forget to swap the old stems out for fresh ones, and the droopy blooms just sit there as their water grows ever more grimy. My solution? I pick up faux blooms at the craft or garden store! Hear me out: Five years ago, if you'd told me that I'd be singing the praises of faux flowers, I'd have laughed you out the door. But the truth is, silk blossoms these days look remarkably convincing, and they allow you to have your favorite flowers by your bedside even when they're not in season! My favorites include flowering cherry branches like the ones here, as well as peonies and camellias, but feel free to go for what you're most drawn to. After all, the end goal of the design process is to customize a space that's 100% about you and your dreams!
P.S. For more ideas on how design can impact your day for the better, join in on Aera's 30-day Simplicity Challenge, which focuses on how to simplify areas of life including home, relationships, career, and health! Aera will be inviting followers to share their progress during the challenge by tagging Aera and using the campaign hashtag #AeraSimplicityChallenge. Head here to learn how to participate and to enter their HUGE giveaway of some incredible simplicity products and services. And to get Aera even sooner, head to their site and use the code CITYSAGE15 for 15% off all Aera products from now until June 30, 2018! Disclosure: I partnered with Aera to concept, style, shoot, write, edit, and share this post. All opinions are and always will by my own. Thank you for supporting the brands that help me bring you fresh inspiration daily!