As I learned this past year, of the best ways to buy and decorate a house is to do it vicariously through your best friend! Last spring, when Caroline told me she'd purchased the desert A-Frame first made famous by Sarah Sherman Samuel, we immediately started dreaming up ideas for all the rooms that Sarah hadn't yet designed. And earlier this week, our work together was revealed in a grand tour feature on Clever. It's always so fun to see your blood, sweat, and tears come to fruition—so to relish in the moment a little longer, I thought I'd share some additional photos and design notes here on the blog! Plus all the links to our resources for this Palm Springs A-Frame design are at the bottom of this post, so be sure to scroll down if you see something you'd like to know more about.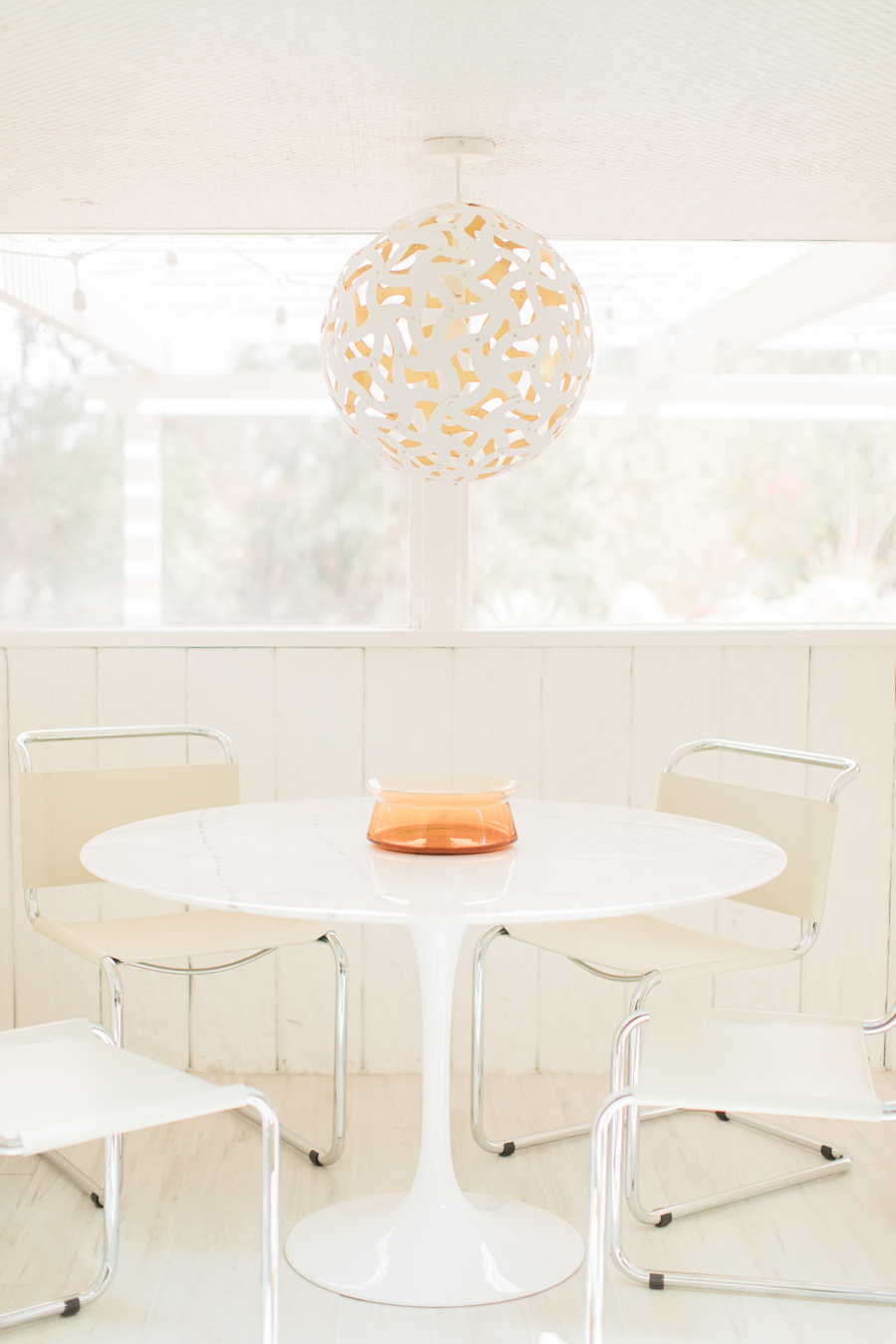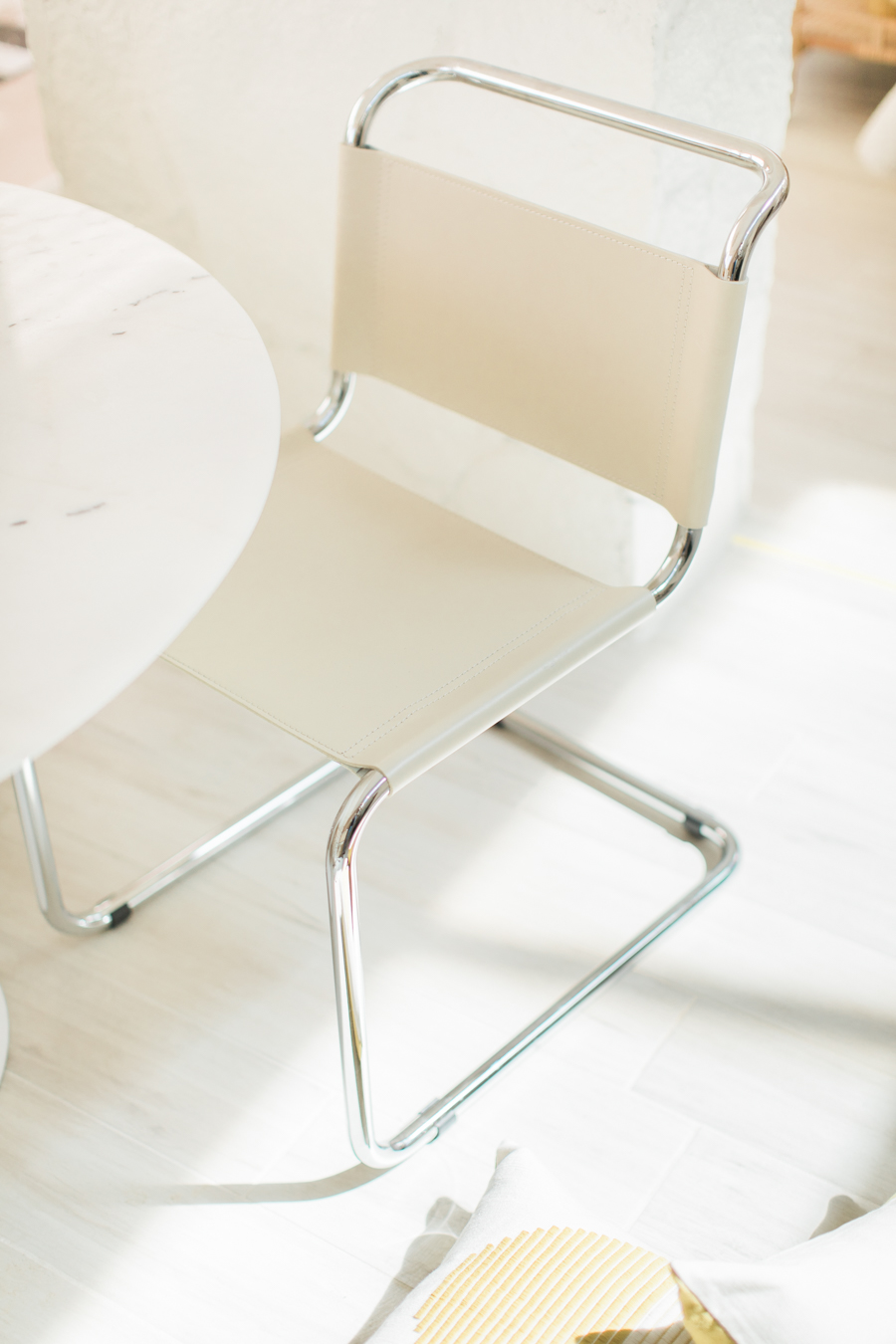 Caroline and I tackled four spaces together in the home, three that I'll cover here and one so special that it deserves it's own post! First up was the dining area. This little nook gets tons of natural light and is framed by painted rock walls, so we decided to play up the bright, white-on-white textural and tonal elements. Sarah left the tulip table behind when she moved out, and the iconic style needed no update. We teamed it up with cantilevered steel and cream leather chairs; I just adore how the curves of the seating complement the lines of the table. The only other touch the room needed was overhead lighting. A ball pendant with an organic construction and gold lining both echoes the shapes of the rocks and adds a touch of metallic glam!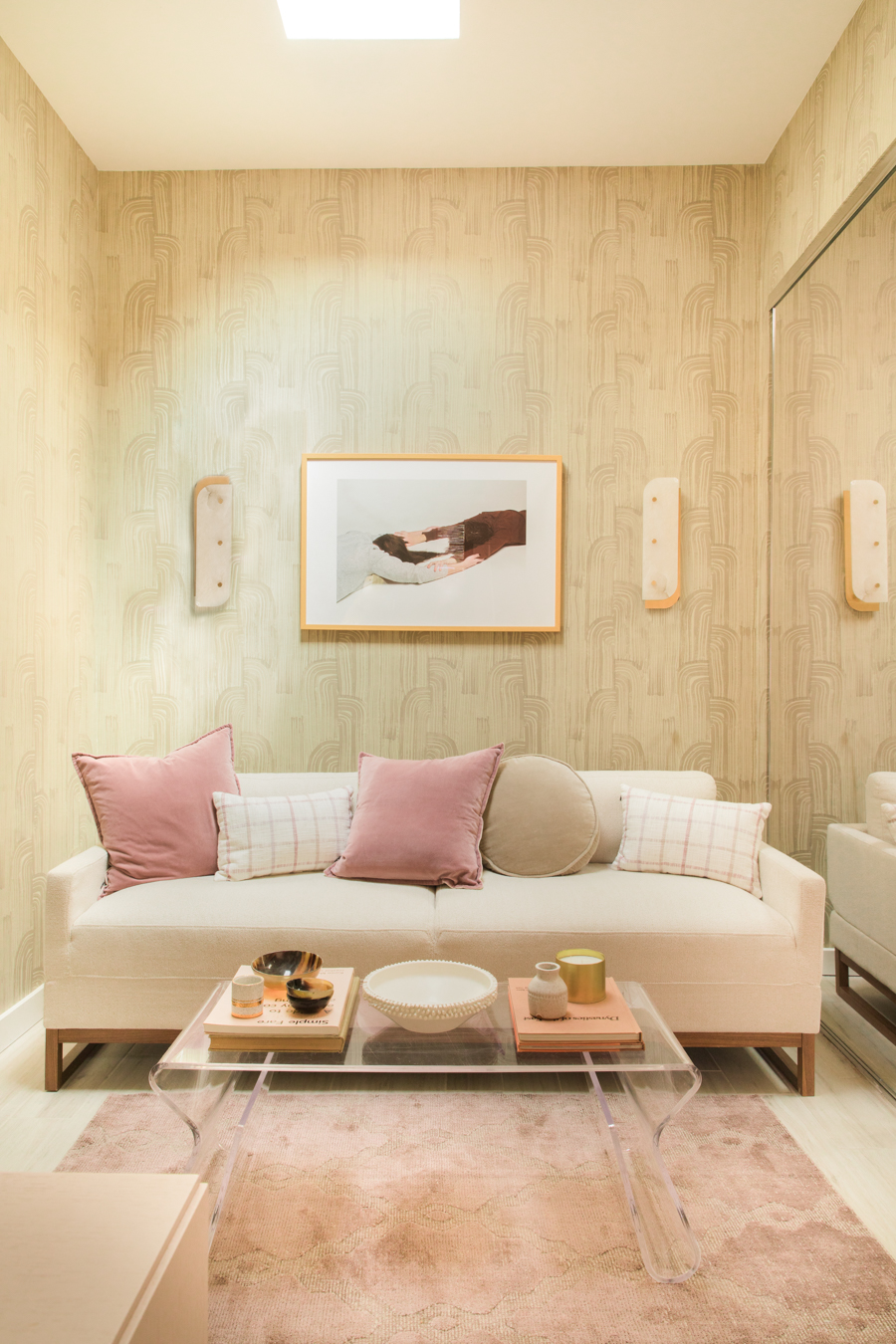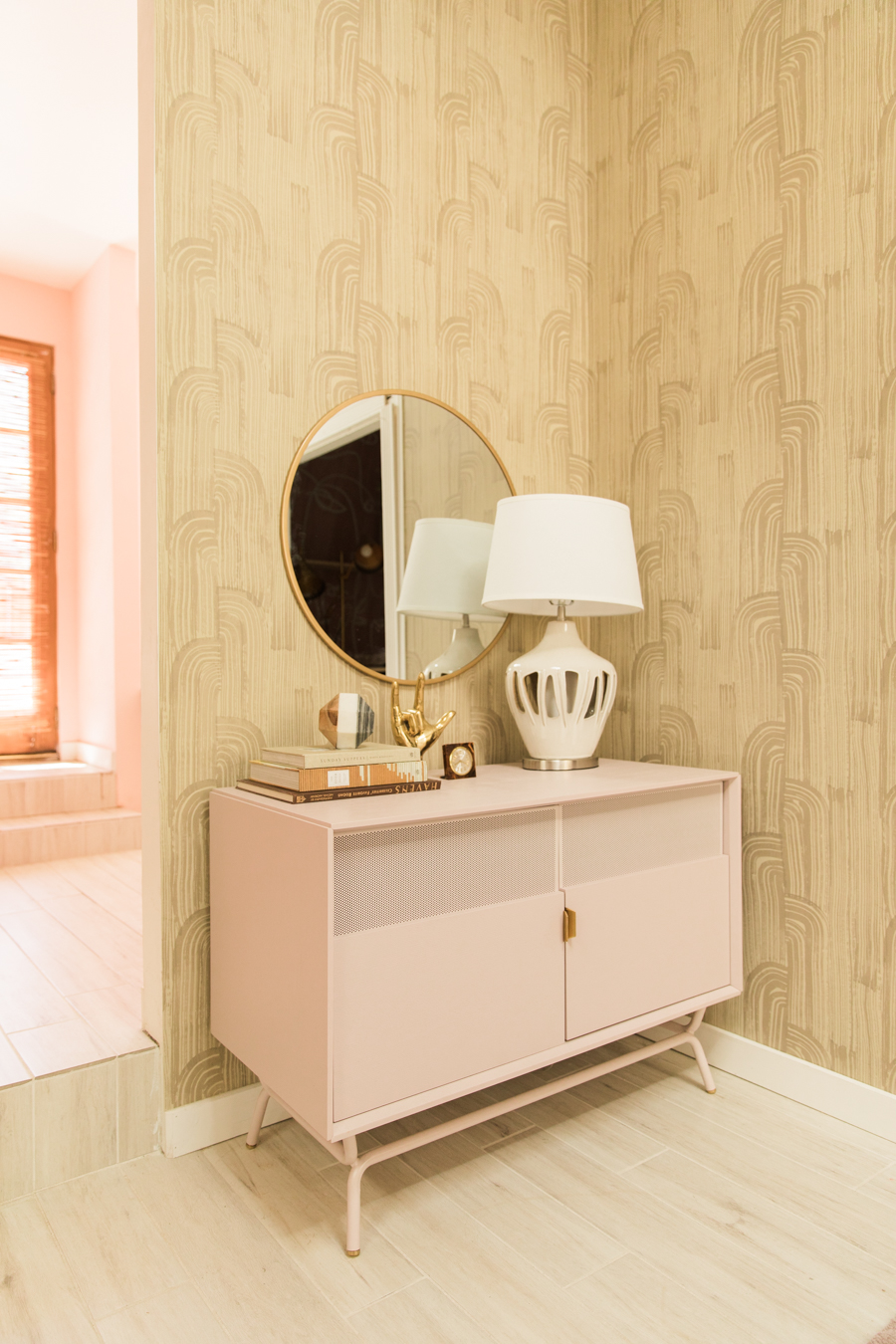 Then there's the space we call "The TV Room". When Caroline and her husband Jayden (as well as her brother Robert) first bought the house, they originally intended to use the property as a vacation rental. This was the room they planned to furnish with TV and a sleeper sofa, since you can charge more for a rental if it offers audiovisual equipment and extra beds.
We searched long and hard for a sleeper sofa that would fit this tiny room—it's really just a passthrough space between the laundry room and one of the bedrooms. We finally did find a sofa small enough with a shape we liked, but we didn't love the brown upholstery it came in. We therefore had it reupholstered in a lighter fabric to brighten up the space. A wild wallpaper turns this compact room into a real showstopper, while brass sconces play up the wavy graphic pattern of the walls. And in the end, Caroline and her family have opted not to rent the house after all, so the cabinet we selected as a media credenza now offsets a round mirror and styled vignette. But it's nice to know they could pop a TV onto that wall if they change their minds!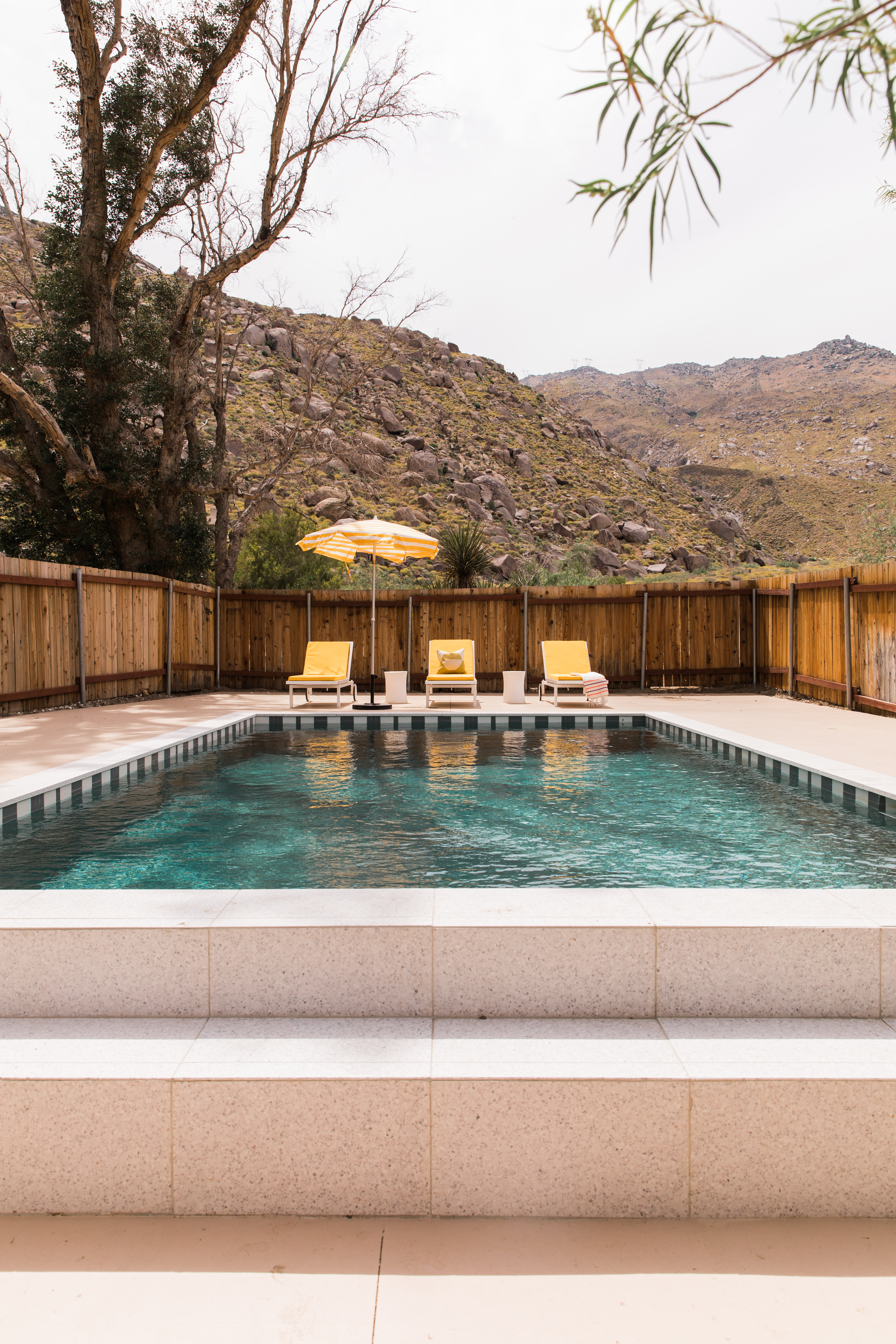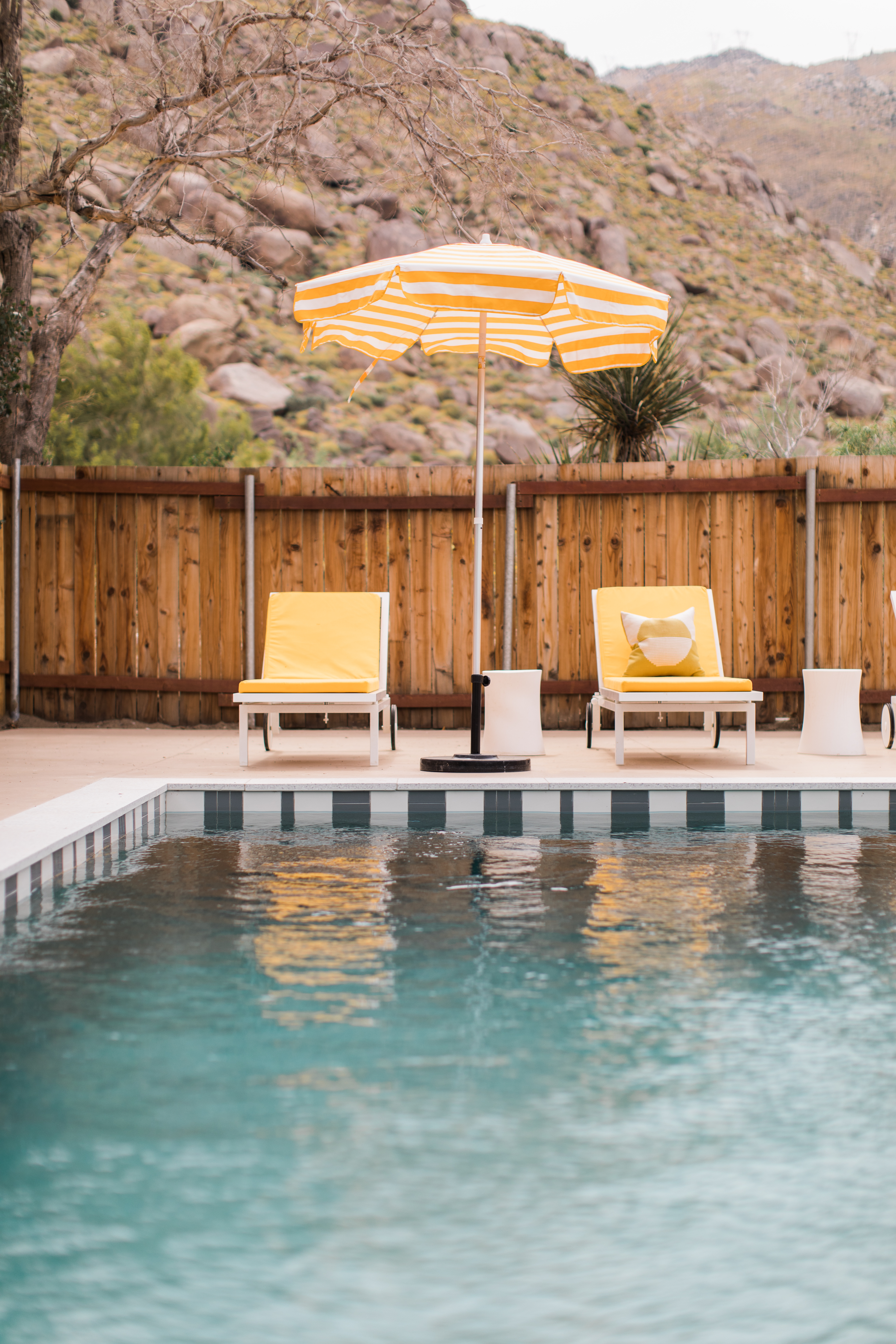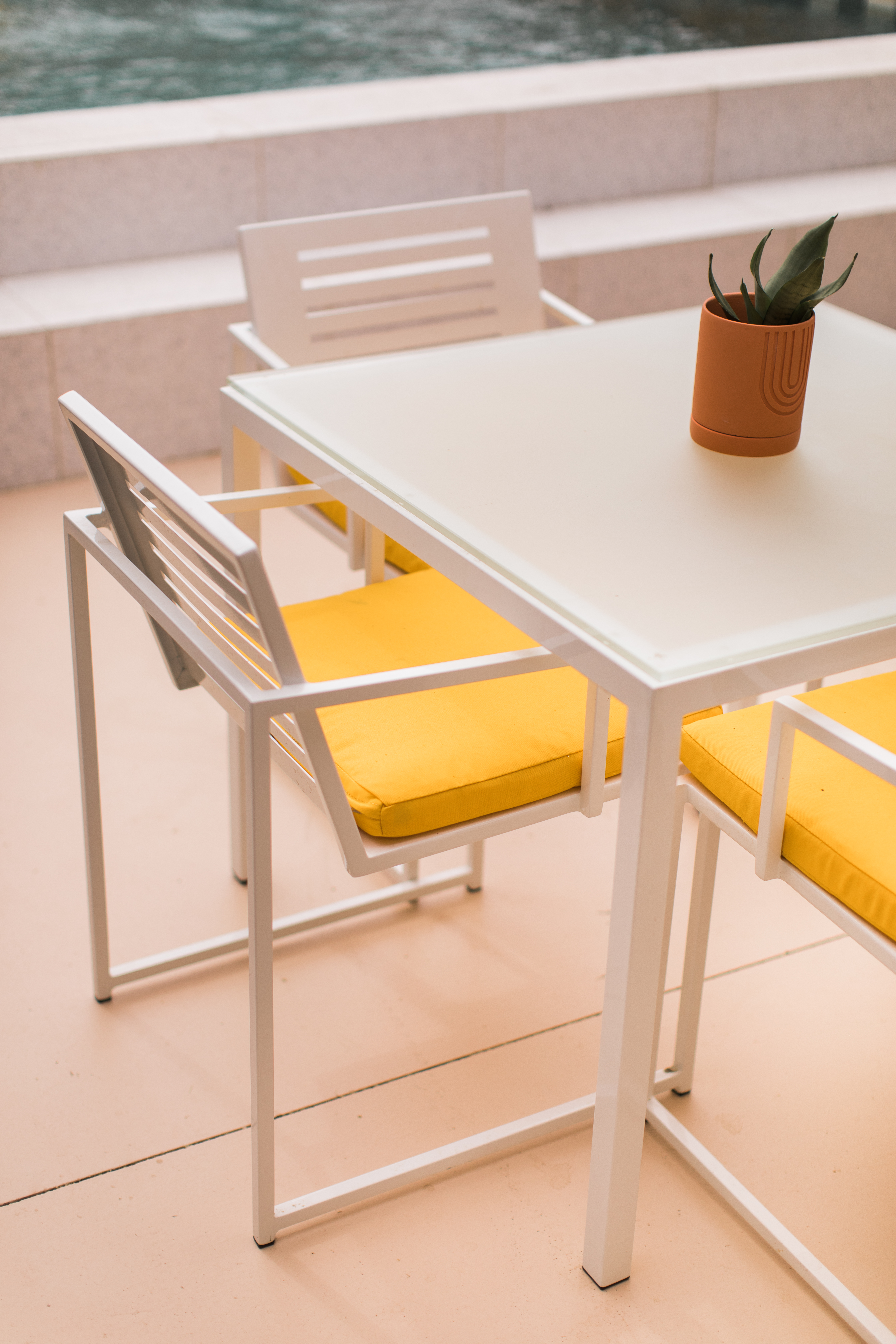 The largest undertaking of this Palm Springs A-Frame design was definitely the pool installation. Caroline was determined to have a pool on the property, and a large dirt patch near the entry gate lent itself perfectly to putting one in. Our goal was to have it blend with the natural surroundings—and as we learned during our research phase, that was easier said than done! So many existing pool design options on the market are uber tacky! We chose materials that were as subdued as possible, adding only a little pattern in the form of a tile border at the waterline. Crisp white metal chaises and a matching dining setup make this spot perfect for lounging and entertaining!
As promised, here are the links to everything we used in this Palm Springs A-Frame design. And stay tuned for a full post on the final space we did. It's a room so jaw-dropping that it might just be our best work ever!
Pool Area: Pool Tile, 6×6 tiles in Tusk from Fireclay + 2×6 in Skipping Stone from Fireclay. Pool Coping: 48×12 ivory terrazzo pavers from Concrete Collaborative. Pool Chaises, Montego Outdoor Chaise with Cushion from Room & Board. Yellow Pillow: Tribe Alive. Pool Side Tables, Sora Stools from Room & Board. Umbrella: Parasol Italian 6' Drape Umbrella from Wayfair. Patio Table + Chairs, Pratt Outdoor Table and the Cruz Chairs with Cushions from Room & Board.
Dining Room: Dining Table, High Fashion Home. Dining Room Chairs, Lange Chairs in Leather from Room & Board. Dining Room Light, Dainolite Tondero Pendant in White/Gold, Size 18×18. Yellow Pillows: Tribe Alive.
TV Room: Wallpaper, Kelly Wearstler for Lee Jofa in Crescent Paper Taupe from Kravet. Sleeper Sofa, Diplomat Convertible Sleeper Sofa by Blu Dot from Wayfair, re-covered in Crypton Home Dalmation fabric in Eggshell. TV Stand: Blu Dot Dang 42" TV Stand in Sweetness from Wayfair. Coffee Table: Butler Specialty Milan Arched Cocktail Table from Hayneedle. Rug: Kalaty Avalon Indoor Area Rug (Size 3.5×5.5). Wall Sconces: Yin & Yang by Hudson Valley Lighting. Framed Art, Girls locking arms by Chris Schoonover from Society6.