Can you believe that Thanksgiving is just around the corner? I, for one, have been counting the days 'til the holiday season's arrival, so I'm thrilled that it's finally here! Of course I've been looking forward to the menu planning, the shopping, the decorating, and all the other merrymaking that November brings. But most of all, it's that holiday feeling I've been craving: The sense of warmth and connectedness that is so palpable this time of year. It's that very spirit that I try to imbue into everything I share during the holidays—from gift guides to holiday tablescape ideas—because really, it's what makes the season most meaningful!
So when Amazon Handmade reached out and asked me to incorporate pieces from their vast selection of Artisan goods into my holiday happenings this year, I immediately envisioned a Thanksgiving table brimming with unique handcrafted pieces to set a stylish yet soulful scene. Nothing captures the heart of the season quite like a handmade find; and by constructing a storefront that enables a smooth browsing, purchasing, and shipping process for both makers and customers, Amazon Handmade empowers independent makers to transform their passions into a living. I couldn't wait to shop the thousands of one-of-a-kind items on Amazon Handmade and craft a chic and welcoming holiday tablescape using these three foolproof tips!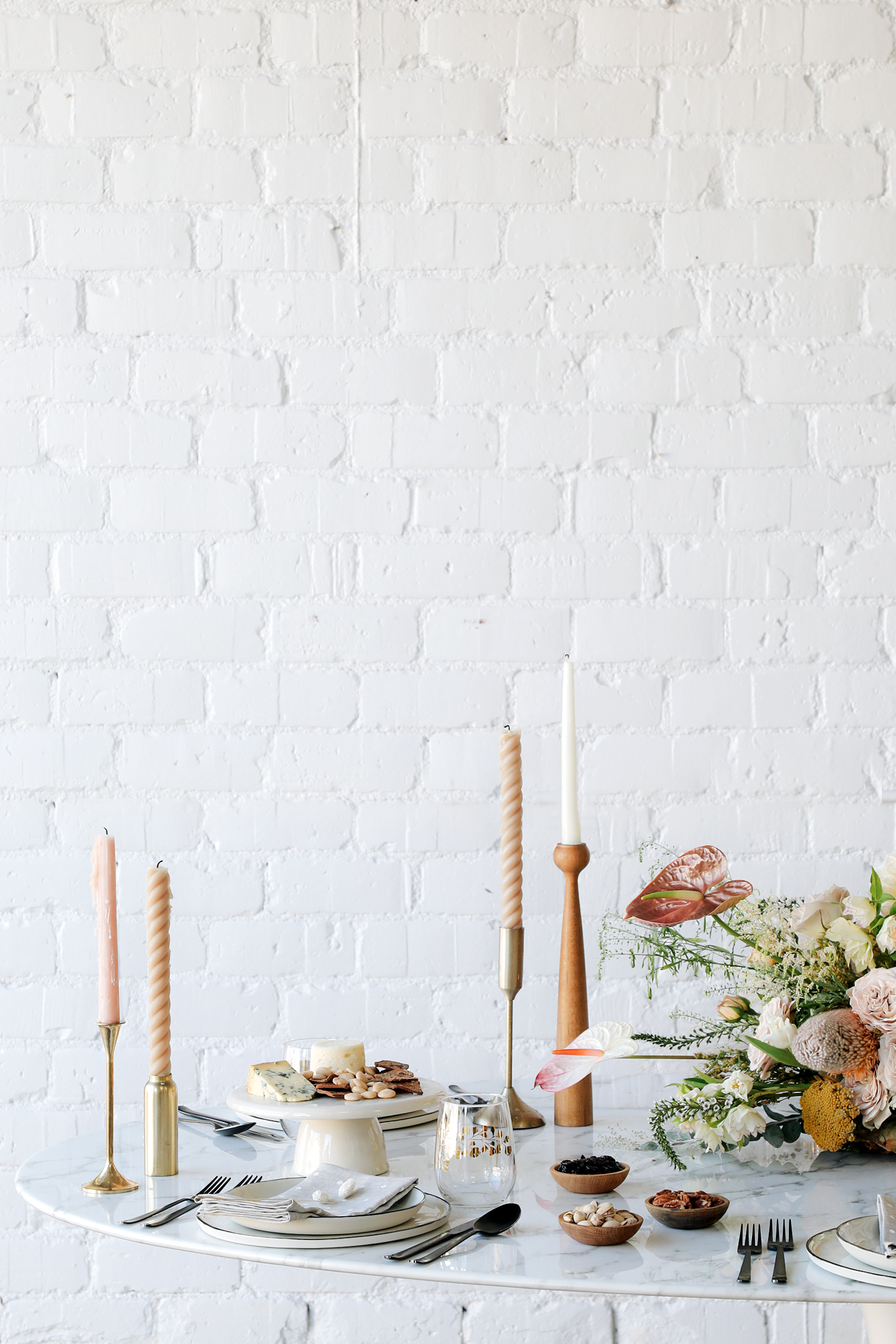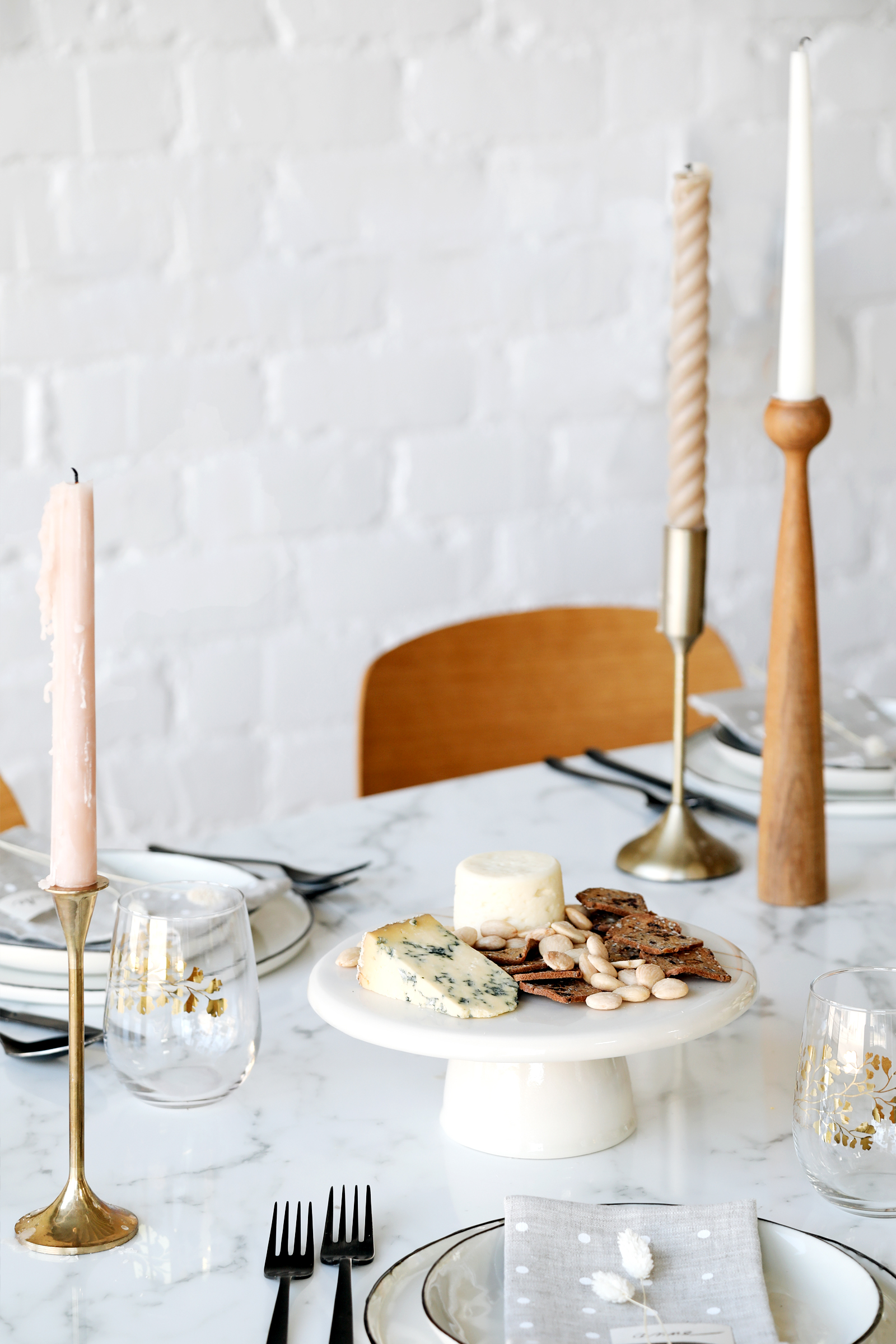 Celebrate Nature's Perfect Imperfections: The glorious thing about artisan goods is that just as each person gathered around your table is an individual, each handmade object has a memorable quality all its own. A table set with plates fresh from a potter's wheel, or bowls straight from a woodworker's lathe, shines with the distinct beauty that only natural materials can offer. That beauty is then enhanced by the skill of the makers for an aesthetic that feels decidedly sophisticated, too.
When gathering pieces for my tabletop, I fell hard for the clean lines and crisp trim on this porcelain dinnerware set when I first spotted it; it's proof that handmade can be utterly chic and modern! The same goes for the porcelain cake stand and tiny trio of wooden bowls. Both serve up a selection of nibbles with serious panache. As for those handprinted linen napkins, I adore their rustic yet elevated personality. Their polka dot print adds a subtle touch of whimsy to each place setting!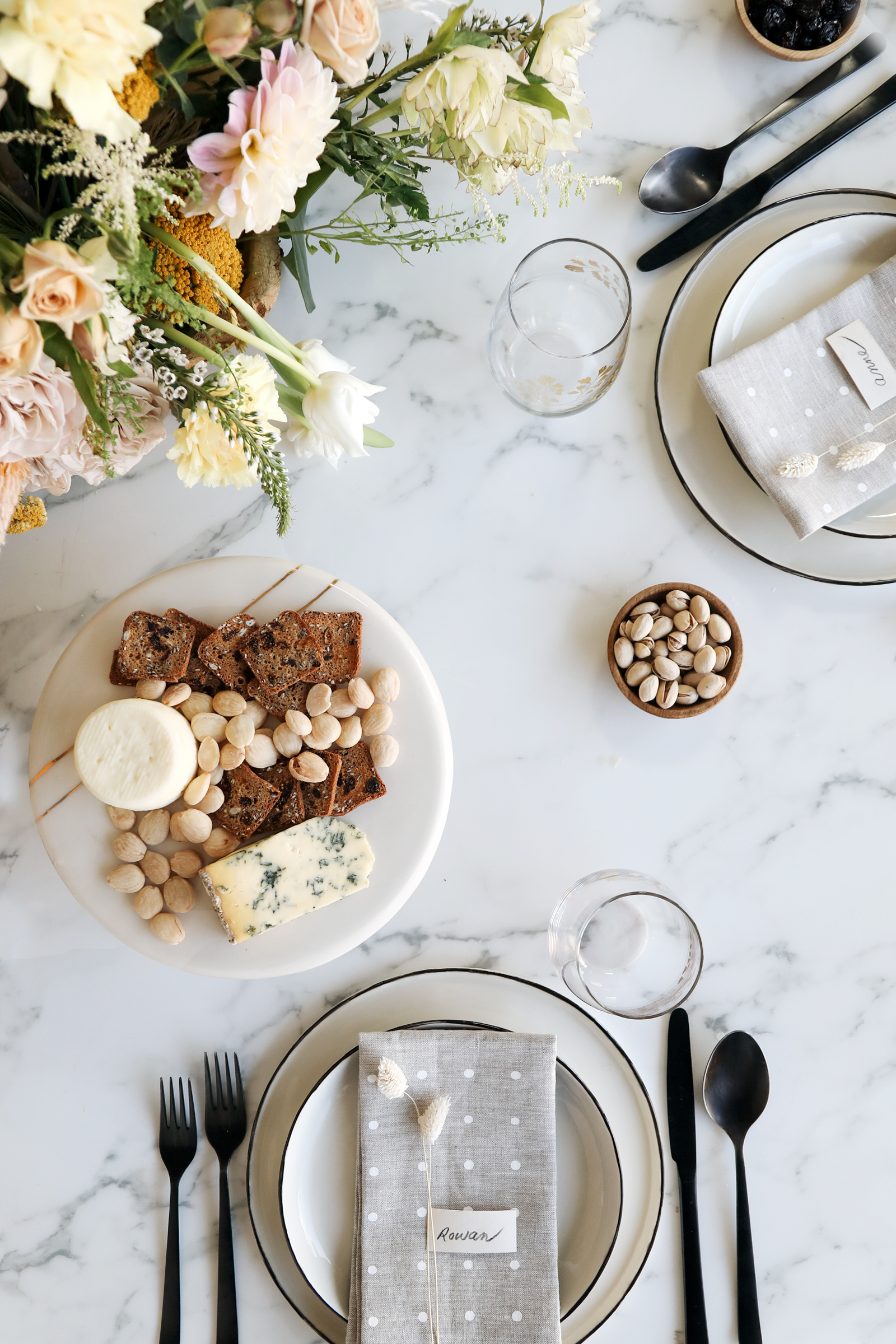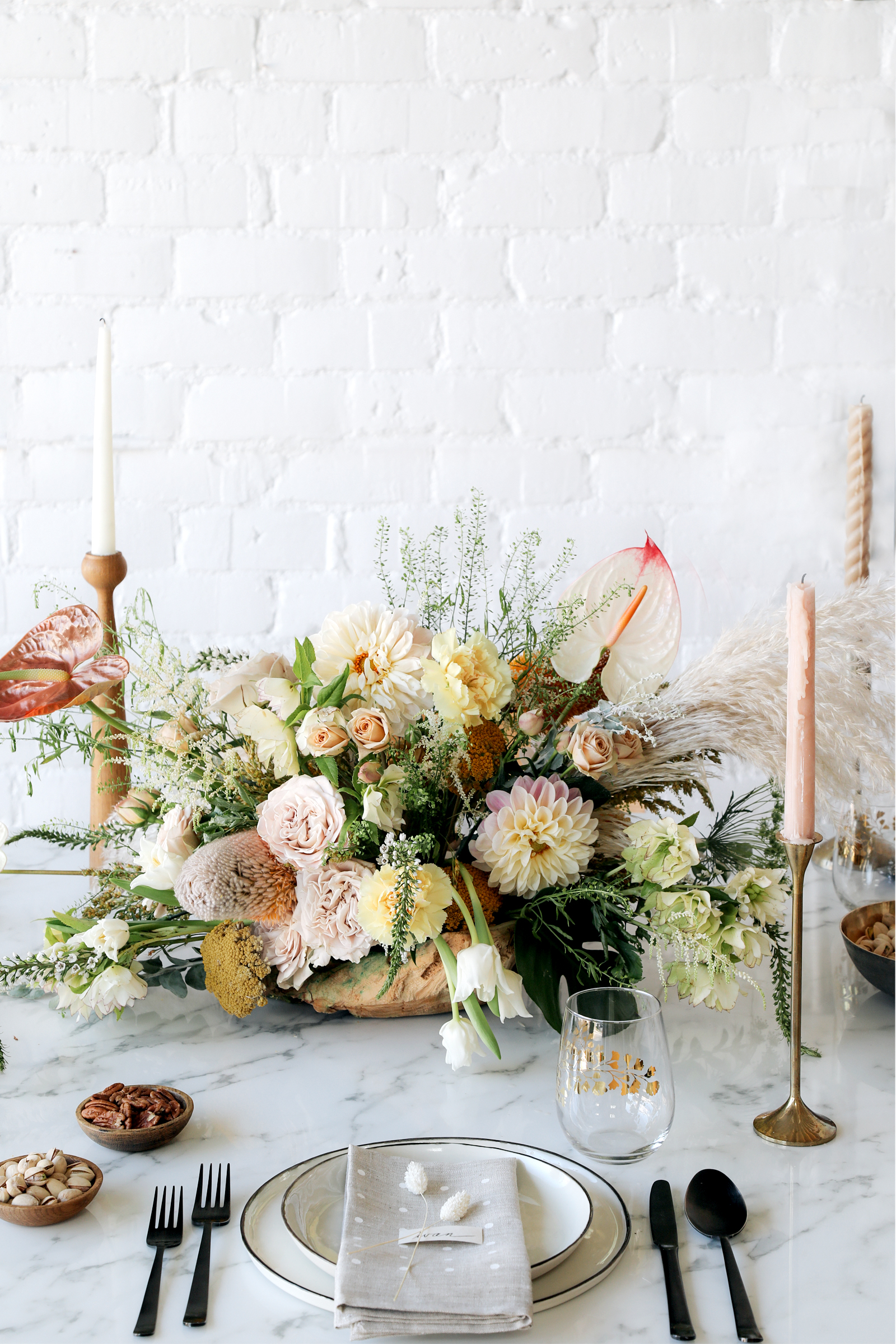 Layer in Life: Adding greenery or flowers to a holiday tablescape is the fastest way to inject an inviting energy! In these images I was fortunate to have a talented friend contribute her floral stylings. However eucalyptus stems from the grocery store—or even colorful foraged leaves from your yard!—make for easy and budget-friendly alternatives to a formal bouquet. Thanksgiving is also the perfect time to experiment with textural, food-focused centerpieces like an arrangement of blushing pomegranates, spiky artichokes, and dripping black grapes in a bowl. Even these stemless glasses, with their hand-applied trim of gold maidenhair ferns, add to the festive yet earthy vibe.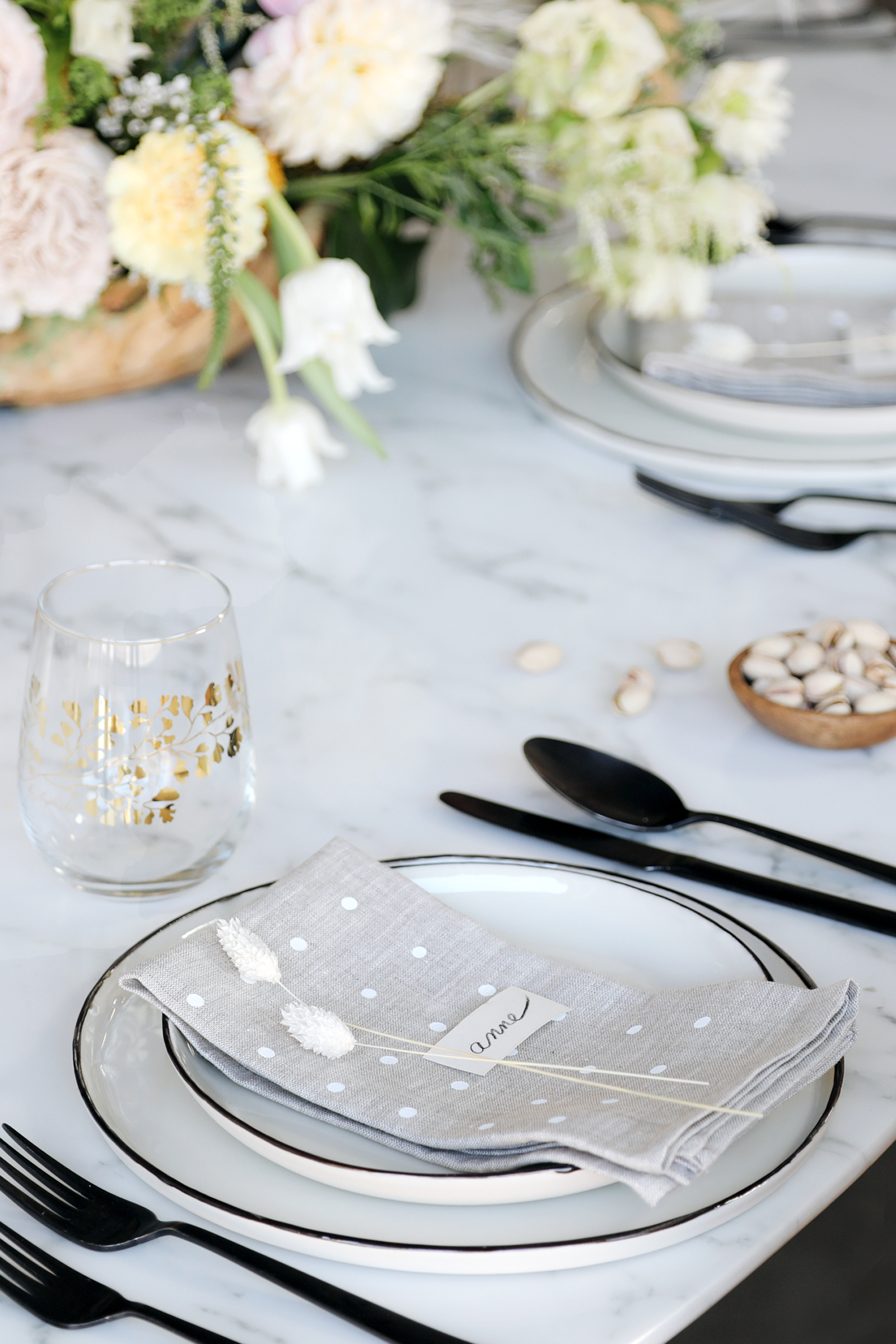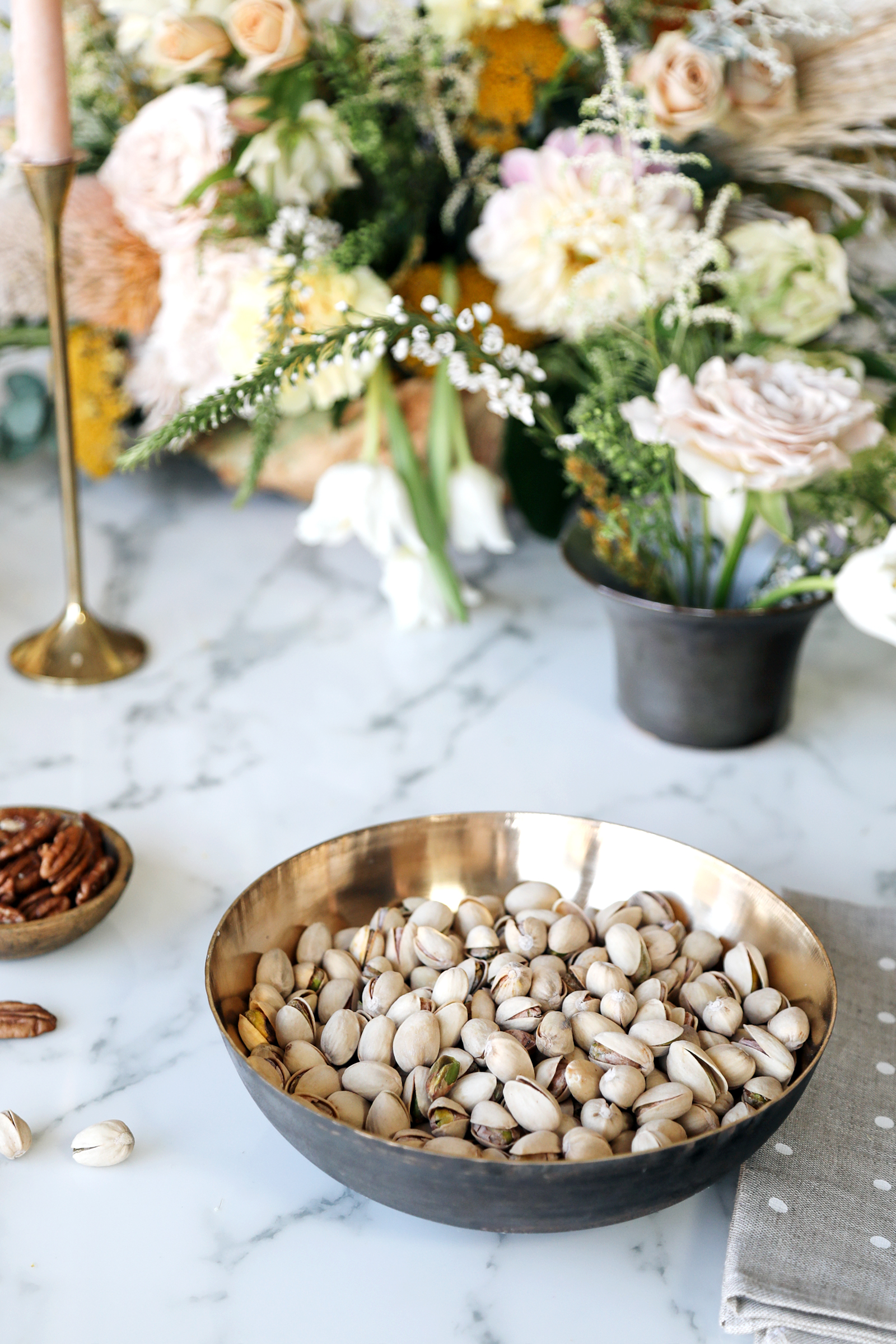 Shop Local and Global: Great joy lies in friends and family coming from all over to celebrate the holidays together. And there's similar delight to be found in designing a holiday tablescape with pieces lovingly crafted both near to home and abroad! Amazon Handmade brings wares from makers in over 80 countries right to our fingertips, making for a rich and dynamic aesthetic with stories to tell. It speaks of beeswax rope candles poured in the Catskills, bud vases fired and glazed by Moonstar Pottery in Oak Park, traditional Ayurvedic brass vessels hailing all the way from India. Incorporating handmade elements into your holiday tablescape is like inviting the world to celebrate with you—and as the saying goes, the more the merrier!


Photos + Styling: Anne Sage. Disclosure: I partnered with Amazon Handmade to concept, produce, style, shoot, write, edit, and share this post. All opinions are and always will be my own. Thank you for supporting the brands that enable me to bring you fresh inspiration daily!