One of the home projects I'm most excited about this year is my husband Ivan's home office makeover! Since we moved into our house two years ago, the poor guy has been working in a shabby spare room with pet-stained carpet and dingy 1980's wallpaper. An upgrade is long overdue—especially since a well designed workspace can increase productivity and job satisfaction. And with so many of us working from home these days, these home office ideas are universally applicable!
How to Design a Stylish and Productive Workspace
I'm currently working on a fresh coat of paint and new wallpaper in the room that so badly needed a revamp. In the meantime, all the new office furniture has arrived from AllModern (they have the fastest shipping!) and I've set it up in our dining room so Ivan has somewhere to work while we renovate his permanent space. As you can see in these photos, each and every piece is a dream. Read on to learn the home office ideas I kept in mind as I selected it all!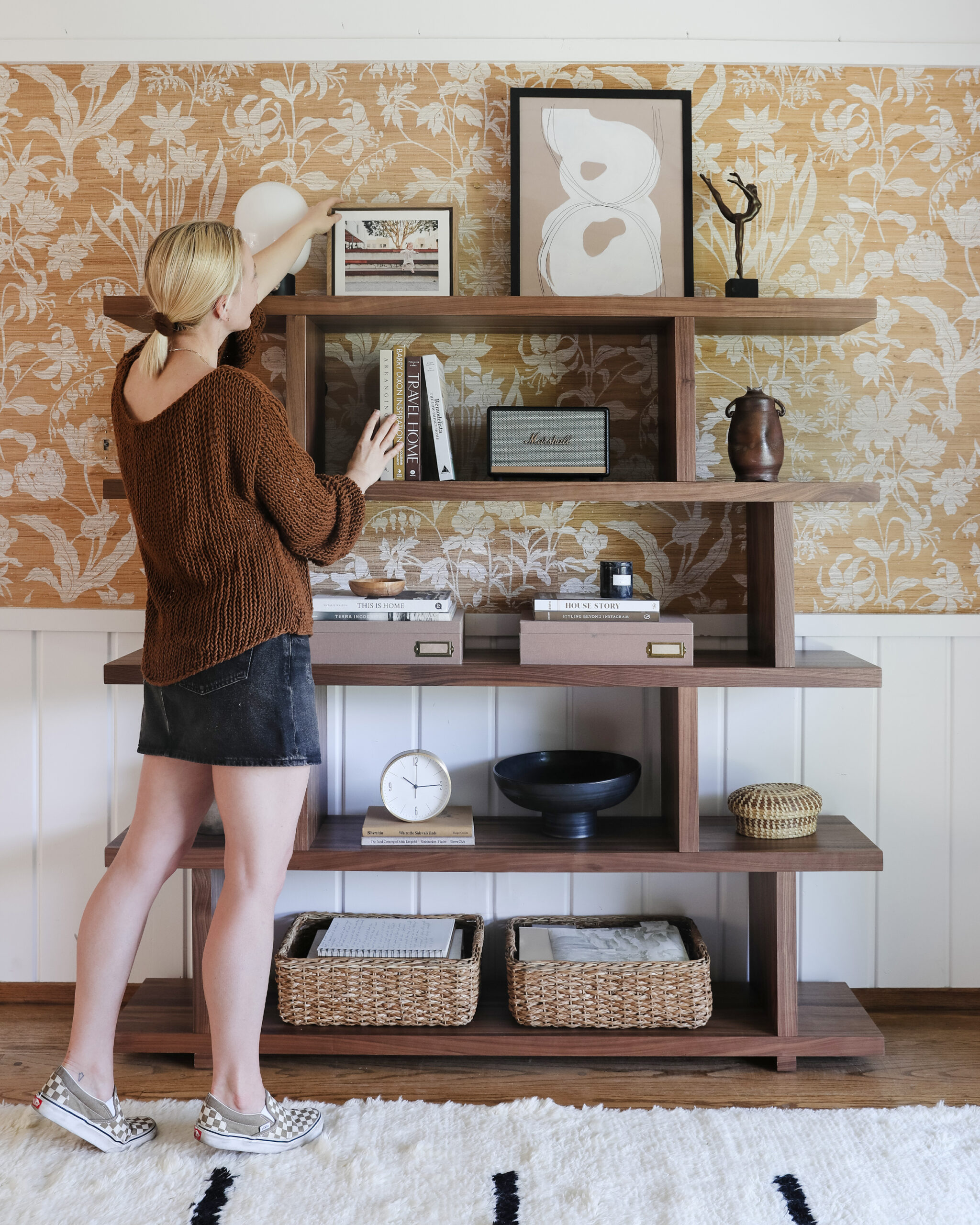 What should be included in a home office?
Some of the items you'll have in your home office will depend on the needs of your day-to-day work routine. But still others are universal! I like to keep my workspace shopping list as minimal as possible to avoid clutter—and to keep costs down. Here's what every home office needs:
Ample Storage: I love a flexible storage solution like this geometric bookshelf! It allows for a custom mix of lidded boxes, open-topped baskets, and plenty of shelf space to meet your storage needs.
Work Surface: A desk or table is of course one of the most essential components in a home office. The ideal depth is between 24-36″ to allow room for a computer and keyboard on top and leg room underneath.
Ergonomic Seating: We spend most of our waking hours at work so a supportive chair is a must! But don't limit your options to task chairs; I found this stunning and oh-so-comfortable upholstered armchair in the dining section at AllModern!
Good Lighting: A good task light not only illuminates your desk for maximum focus, it can help save your eyesight over time. Choose a bulb that feels like natural daylight— somewhere in the 4000K-6500K range—to feel alert as you work.
Personal Touches: Since this is a home office, it should feel like home. Display your favorite treasures for a space that reflects your unique personality!
Of course, knowing what items to look for is just half the battle in designing a home office. I also ran my selections through the filter of "modern organic" style, to ensure a cohesive and inviting look.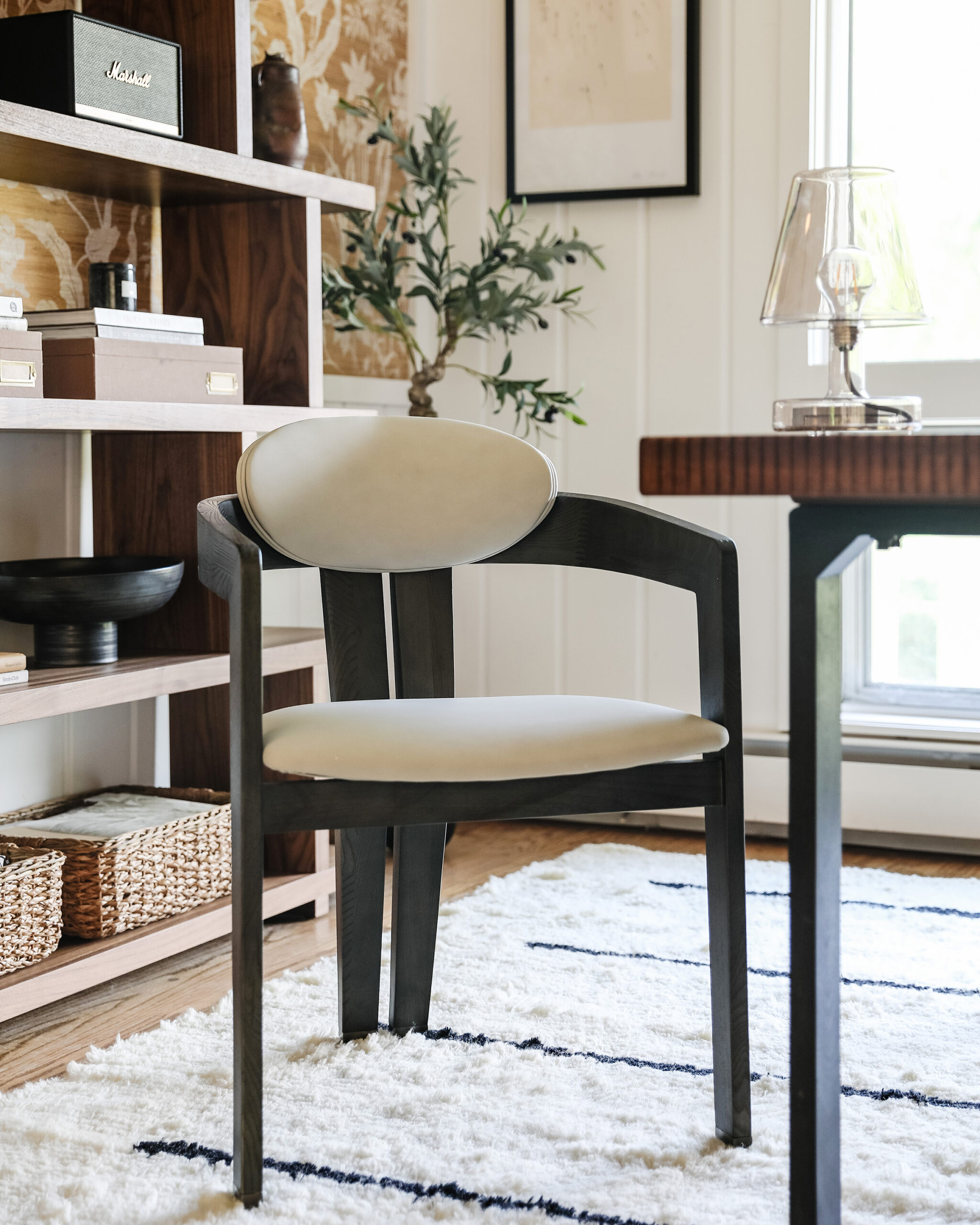 What is modern organic style and how do you incorporate it into a home office?
I absolutely adore the modern organic aesthetic—as anyone who visits my home can attest! For me, modern organic is the perfect blend of sophisticated and relaxed, considered and approachable, on-trend and timeless. Plus it can easily be evolved as your taste or lifestyle changes! Here are the hallmarks of organic modern style, as well as how I implemented them while I narrowed in on home office ideas for Ivan's space:
Clean Lines and Simple Silhouettes: You won't see a lot of fussy adornment in modern organic spaces. Instead, think minimalist shapes like this exquisite walnut desk, with its elegant sled legs and hefty wood top.
Tons of Natural Texture: Look for surfaces that mimic what you might find in nature, such as visible wood grain, woven materials, earthenware ceramics, and stone. Conversely, anything too polished or pristine will feel "off" in a modern organic space. The hand-knotted wool rug beneath Ivan's desk adds such earthy softness to the space!
A Largely Neutral Palette: Of course there are exceptions to every rule, but generally speaking the color palette of a modern organic space features nature-inspired shades of black, brown, white, grey, and muted greens. With so many lovely wood tones trending right now, ranging from deepest ebony to lightest ash, this palette will never be boring!
The room I shot these photos in has a vintage 1960's grasscloth wallpaper that hearkens back to when my grandmother built this house. Ivan's new office will have a similar brushstroke-inspired wallpaper that equally complements the warm, welcoming tone of these pieces. I can't wait to put it all together! Now there's just one final thing to consider…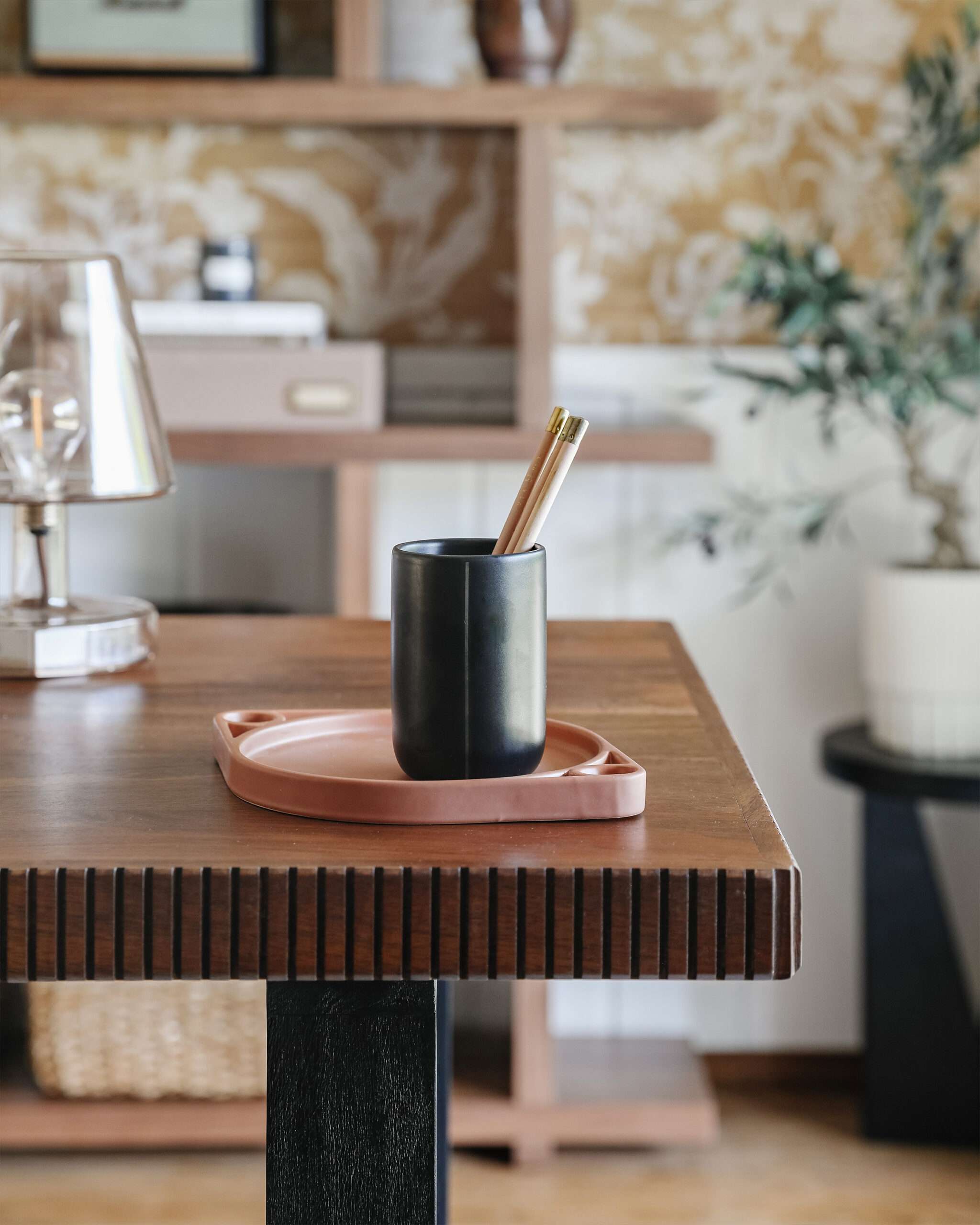 How to Make a Home Office Better So You Can Actually Enjoy Your Time There
Remember how I said that adding personal touches to your home office is a must-do? Let's dive into that a little deeper—because I really do believe that putting your individual flourish on the space is the key to being happy and productive during the long hours at the grindstone. I've seen so many lackluster home offices, and they could easily have been transformed with these touches.
Artwork: Gone are the days of a single framed family portrait in a sad grey cubicle! Rest an abstract art print atop your bookshelf or hang a fine arts photo on the wall to give your workspace an elevated aesthetic worthy of the rest of your house.
Mementoes and Treasures: Save some space on your bookshelf or desktop for special items of meaning. When I styled these photos I included this footed bowl from my beloved ceramics collection (bonus, it can function as stylish inbox for paperwork). And once we move the shelving unit into Ivan's permanent office, he'll definitely store his record player here.
Design Upgrades to Essential Elements: Opt for eye-catching versions of items you're already buying for the office. Instead of a standard desk lamp, look for a sculptural table lamp that has an artistic feel. And feel free to borrow interesting desk accessories from other rooms of the house! The "pencil cup" here is actually a ceramic tumbler we'd been using to hold toothbrushes in our recent bathroom refresh.
Of course you want to keep clutter at bay, so don't go overboard with these touches. A few well-chosen favorites will go a long way towards making the space your own!
Ivan's organic modern workspace is shaping up to be one of the best rooms in our home. Shop AllModern for this exact look below, and head to their site to get even more home office ideas from their wealth of design tips and inspiration!

Disclosure: I partnered with AllModern to concept, style, photograph, write, and share this post. All opinions are and always will be my own. Thank you for supporting the brands that allow me to bring you fresh inspiration!