Who's ready for holiday hosting? I don't know about you, but I can hardly wait for the festive season to begin. In the past few years, we've become the house where everyone gathers to celebrate—and I love the excuse to set a modern holiday table that's warm and welcoming for our guests!
Of course, entertaining for a crowd can be stressful. So I've learned how to create a holiday dining room that comes together quickly and easily, while still looking exquisite. Read on for the steps I follow to design a modern holiday table that your guests will remember well into the new year! Then create the look yourself using my favorite holiday entertaining finds from All Modern.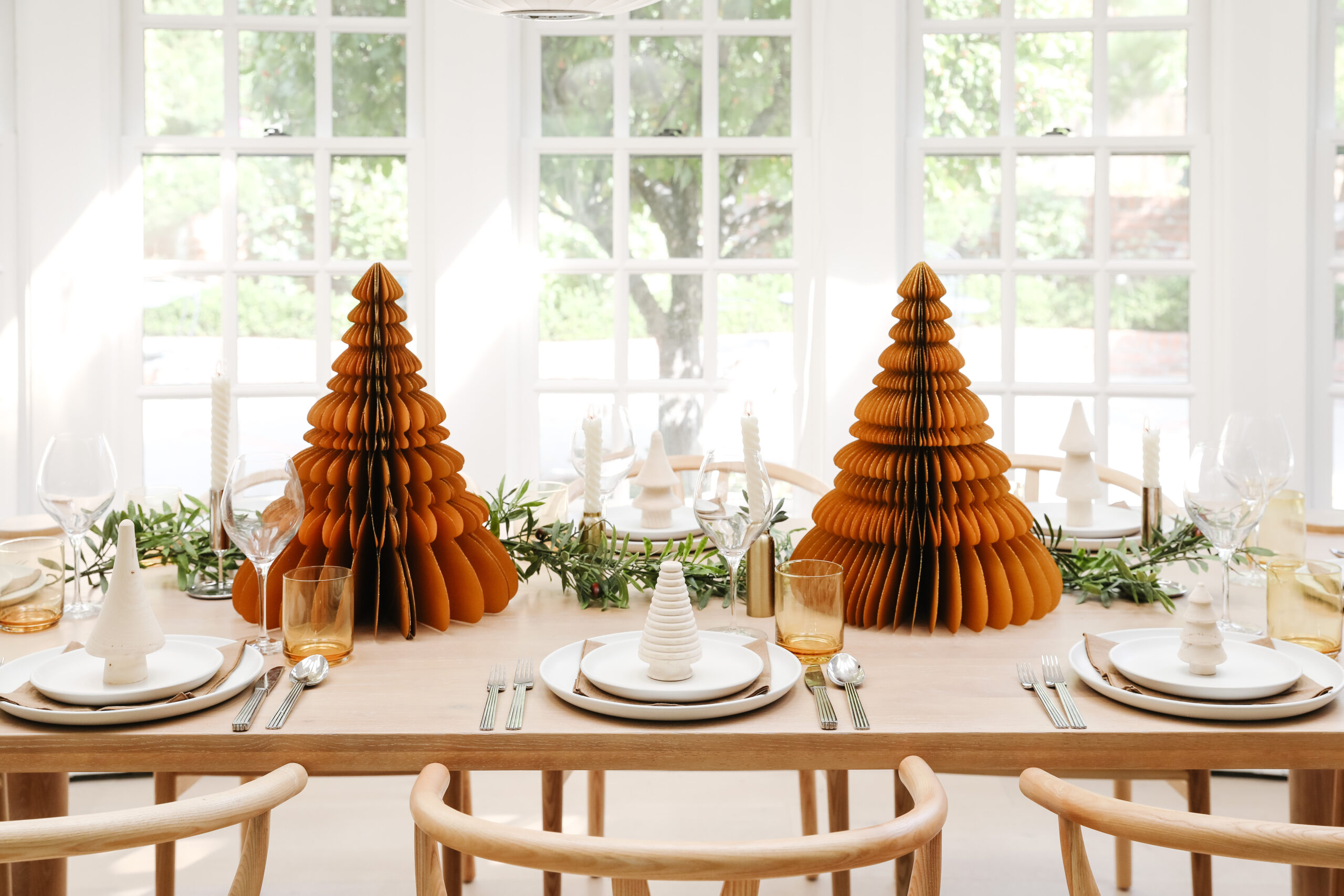 How to Set a Modern Holiday Table
Setting the perfect modern holiday table actually begins well before the season does! Since we entertain a lot, I chose my dining furniture specifically with hosting in mind. I laid a chic yet versatile foundation with a sleek, minimalist oak dining table and classic wishbone chairs. The table seats eight—ten or twelve if you squeeze!—and the chairs are known as being one of the most comfortable modern dining chair styles. The light, natural wood of all the pieces is an ideal backdrop for whatever direction I take my holiday decor.
I then lay the groundwork a little more with stoneware plates in a soft shade of ivory. I've had this set for a while now and there's no occasion it hasn't suited beautifully! Airy crystal stemware and crisp silver flatware round out each place setting. The scene now set with timeless entertaining essentials, we're ready to add our holiday touches!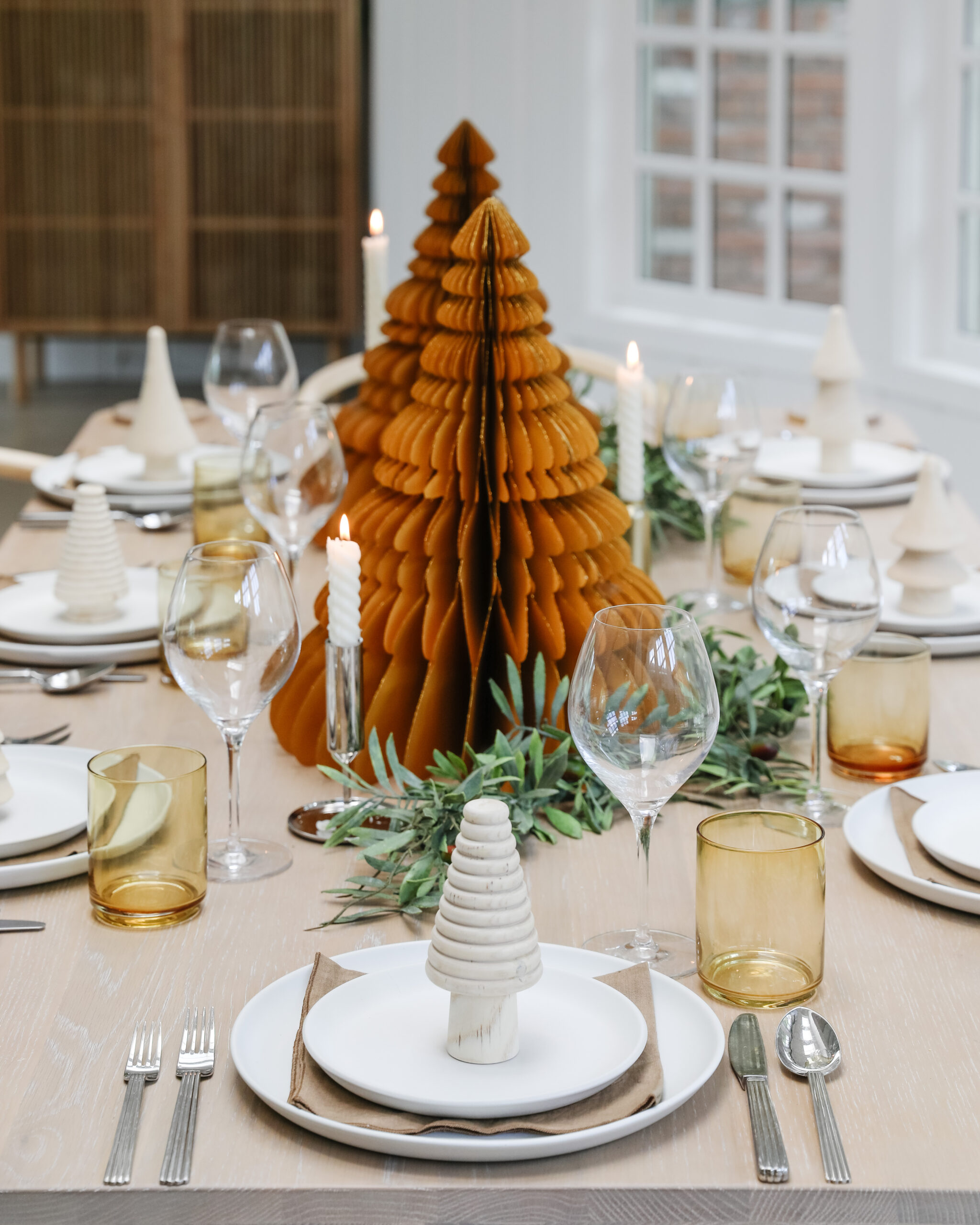 Choose a Modern Holiday Color Palette
When setting a modern holiday table, think beyond red and green and choose a color palette that's festive but also sophisticated. In this case, earthy shades of bronze, copper, and burnt sienna provide contrast while calling to mind crackling fires in the fireplace and twinkling stars in the winter sky.
It doesn't take much to flesh out a color palette; a few thoughtfully chosen pieces will do the trick!  At each place setting, a linen napkin in a toasty shade of brown and an amber glass for water warm things up. Add a wood tree atop each salad plate and the vignette is complete!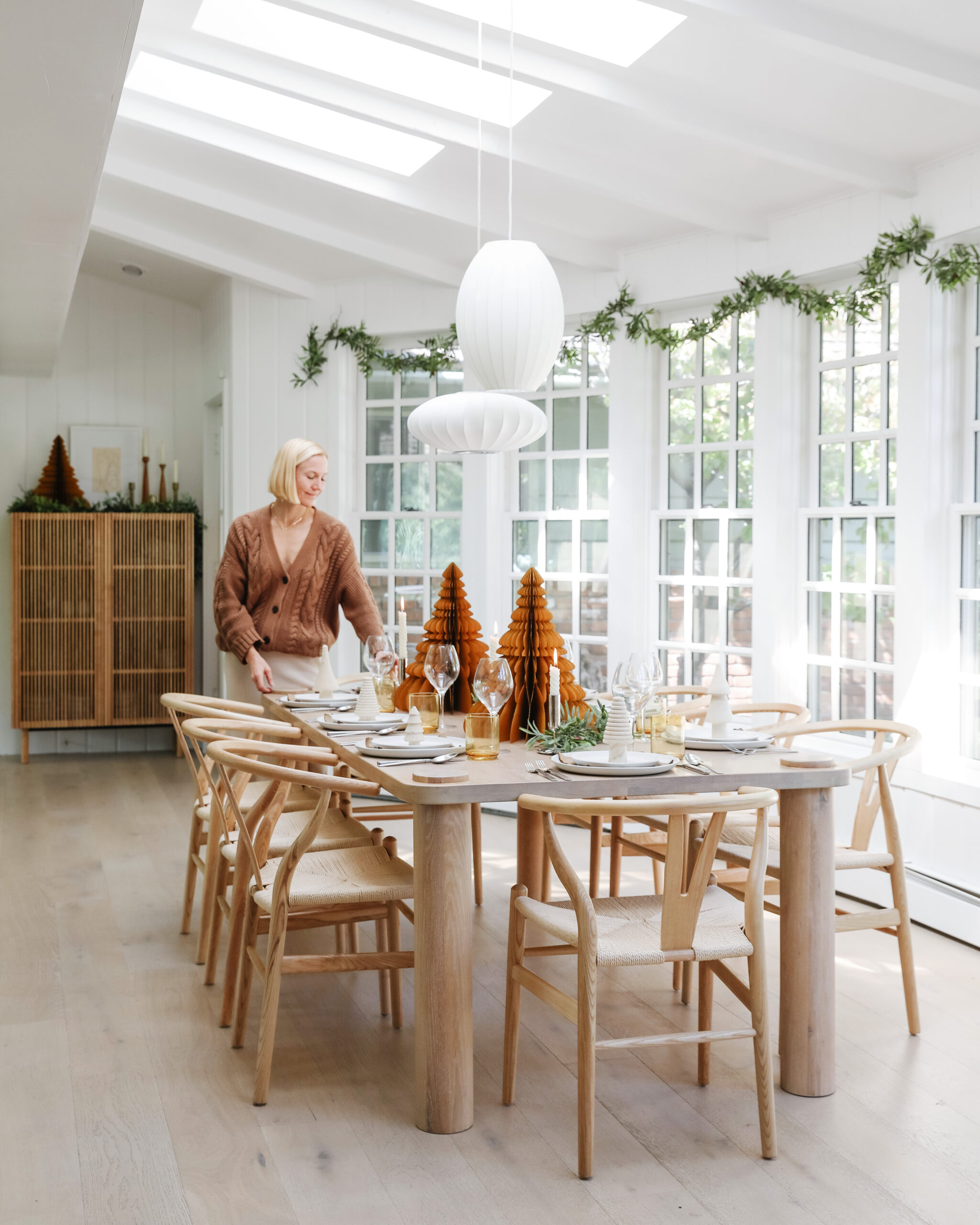 Select Playful Yet Elegant Holiday Decor Accents
When it comes to filling out the rest of your modern holiday table, pared-down is the name of the game. Incorporate too many elements and your table will feel cluttered when guests sit down to enjoy a meal! To strike the right balance, focus on a handful of unexpected yet tasteful holiday decor accents for a sensibility that's both lighthearted and refined.
For my table, a duo of sculptural paper honeycomb trees not only complements my color palette but is an easy and cost-effective alternative to a large flower centerpiece. A faux olive garland down the center of the table is a fresh alternative to the usual evergreen trimmings (and can be used at other times of the year too). Finally, this serving board and cheese knives feature a playful shape and artisan-inspired wood grain to round out the spirited-meets-sophisticated mood.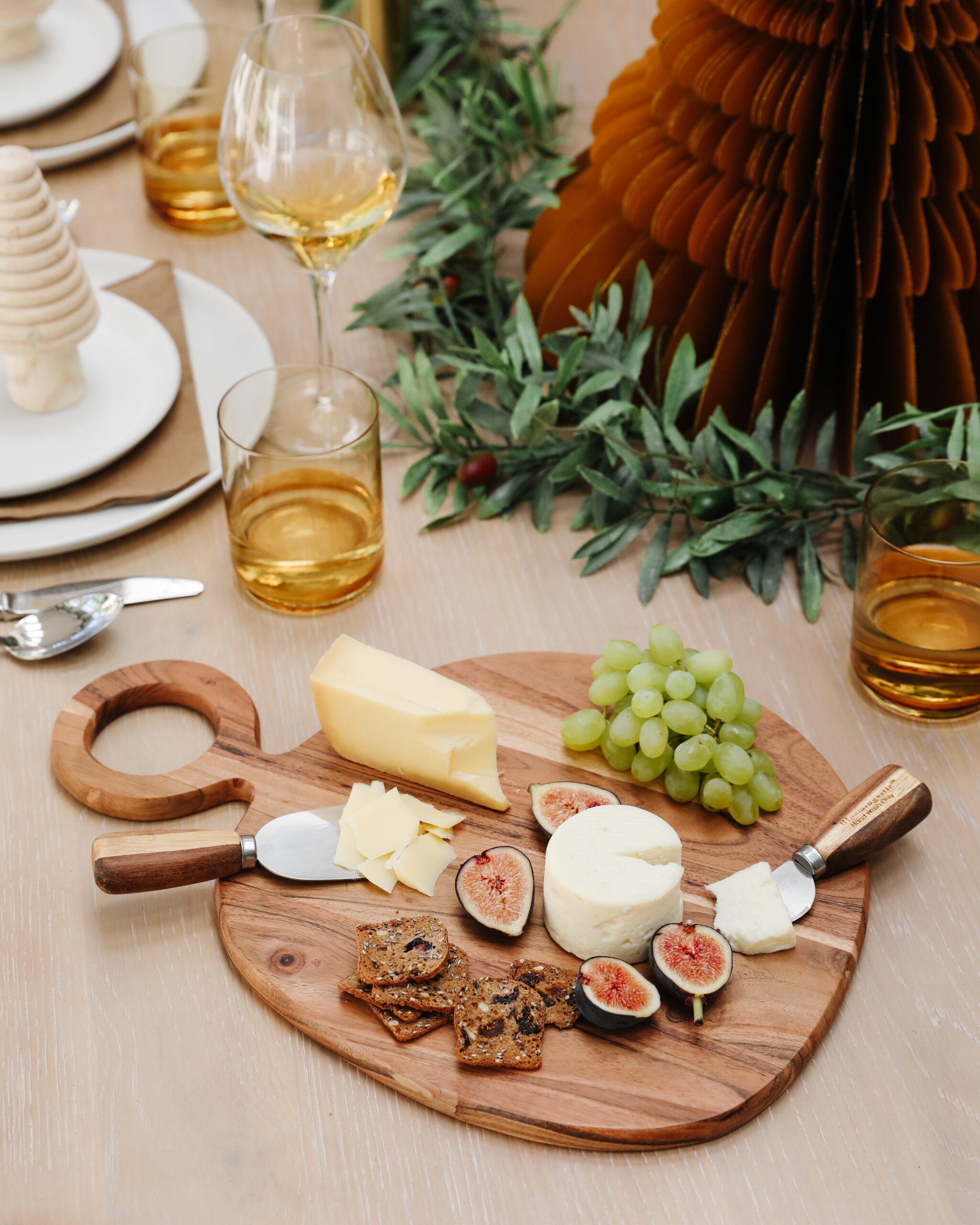 Style a Cohesive Holiday Dining Room
Once you've set the table, continue your holiday decor around the rest of the dining room to foster a sense of abundance and cohesiveness. Surfaces such as the top a console or dining cabinet lend themselves nicely to being adorned with the same items as in your tablescape.
Below you can see how tied together the room looks with our dishwares cabinet getting its own paper honeycomb tree and strand of faux olive garland. (I also swagged the garland above all the windows to really drive the theme home!) I then moved a piece of abstract art from our living room as a counterpoint to the holiday-themed pieces. Finally, a mixed quintet of candle holders balance the visual weight of the paper tree as well as adding a cozy glow.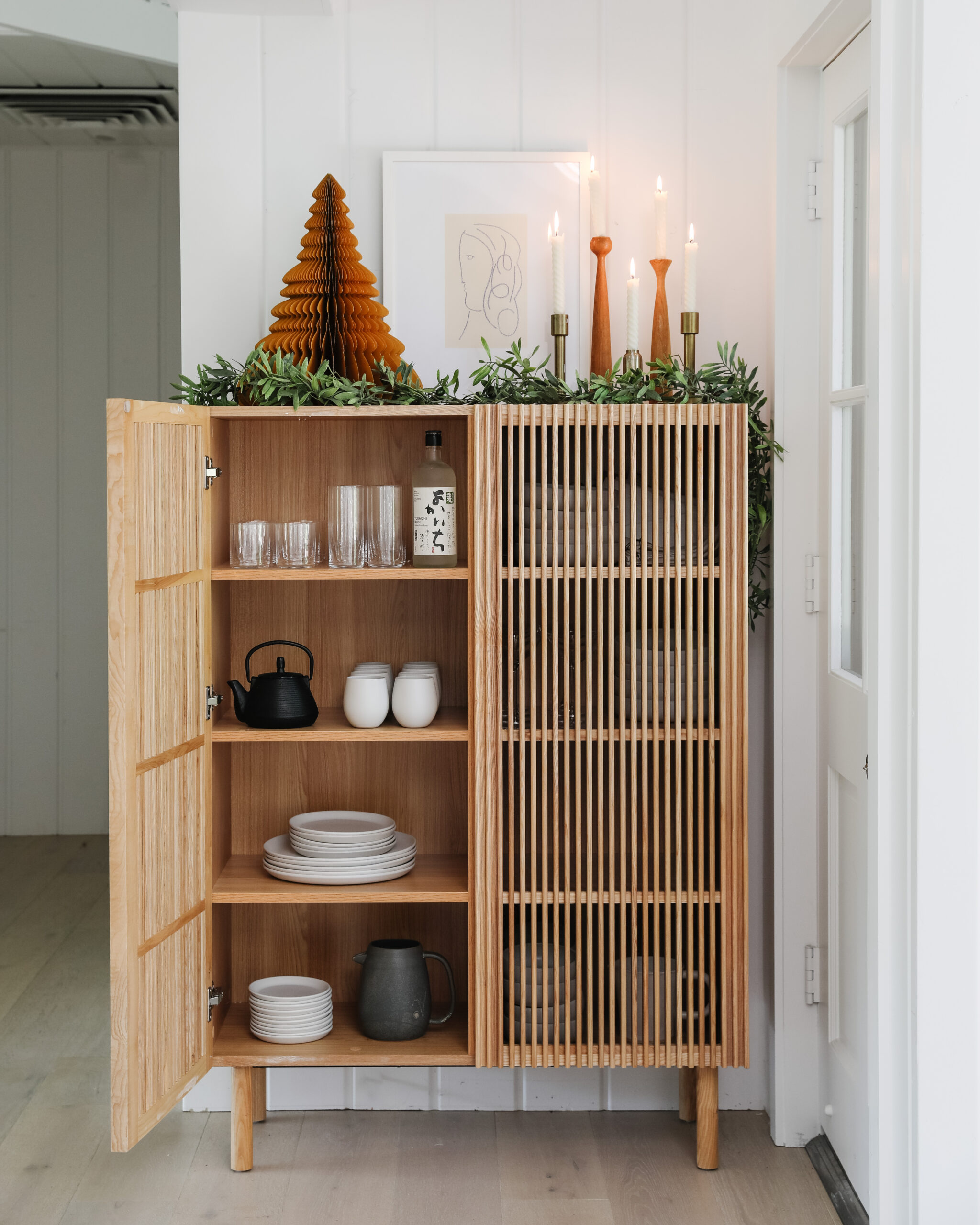 The best thing about these steps for creating a modern holiday table is that you can customize to make them your own. Choose a color palette that suits your style, incorporate accents from your existing collection while adding in a few new ones, and give your guests something to talk about long after the last glass has been raised!
(LTK shop the post widget goes here)
Disclosure: I partnered with AllModern to concept, style, photograph, write, and share this post. All opinions are and always will be my own. Thank you for supporting the brands that allow me to bring you fresh inspiration!