Pizza is a powerful food. People will do anything to get it. Remember the ability of a pizza party to galvanize your 3rd grade class into completing whatever task was assigned? It's also universally loved. I'm confident that I've never met someone who doesn't like pizza.(Confident because I'd definitely remember that meeting, and I'd probably question that individual's humanity too.) Really, it's not an overstatement to say that pizza is the great social equalizer.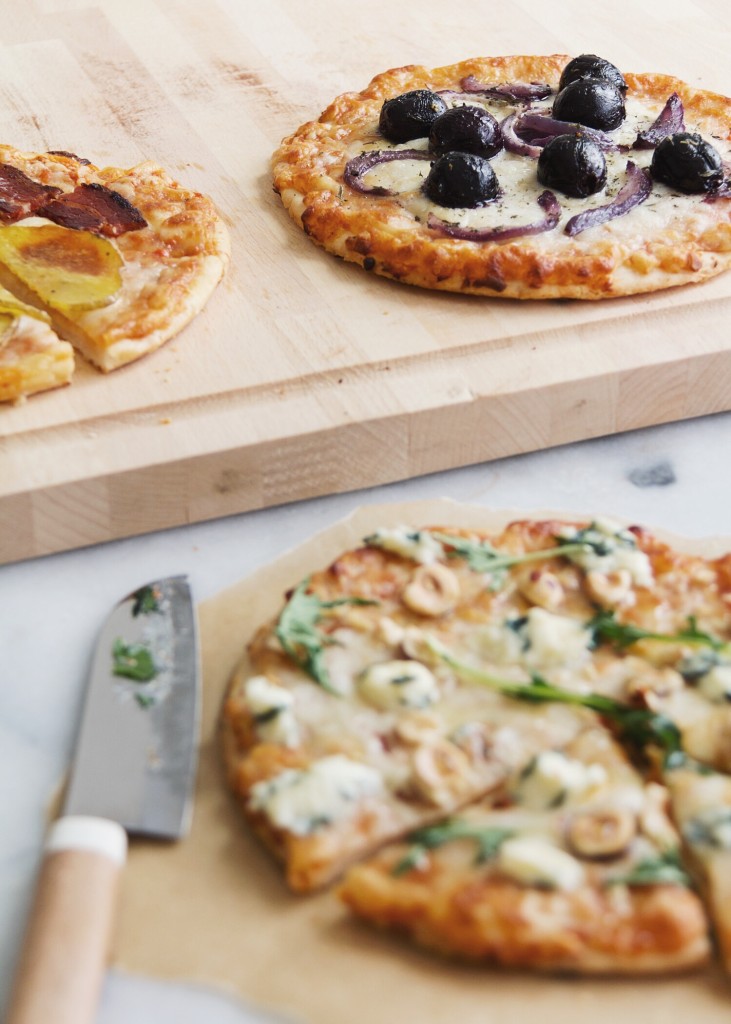 Yet as much as pizza brings us together, it can also drive us apart. Arguments over crust style and toppings can cause a deep rift amongst even the closest of friends. Throw in dietary restrictions and you've got a bonafide food feud on your hands! I myself like pizza with a crust that's neither too thick nor too thin, that's chewy in the middle and crisp on the edge, and that won't send my gluten sensitive system into riot. And I'm sorry to say that the gluten free pizza options—even at pricy local restaurants—have left my inner pizza monster seriously disappointed.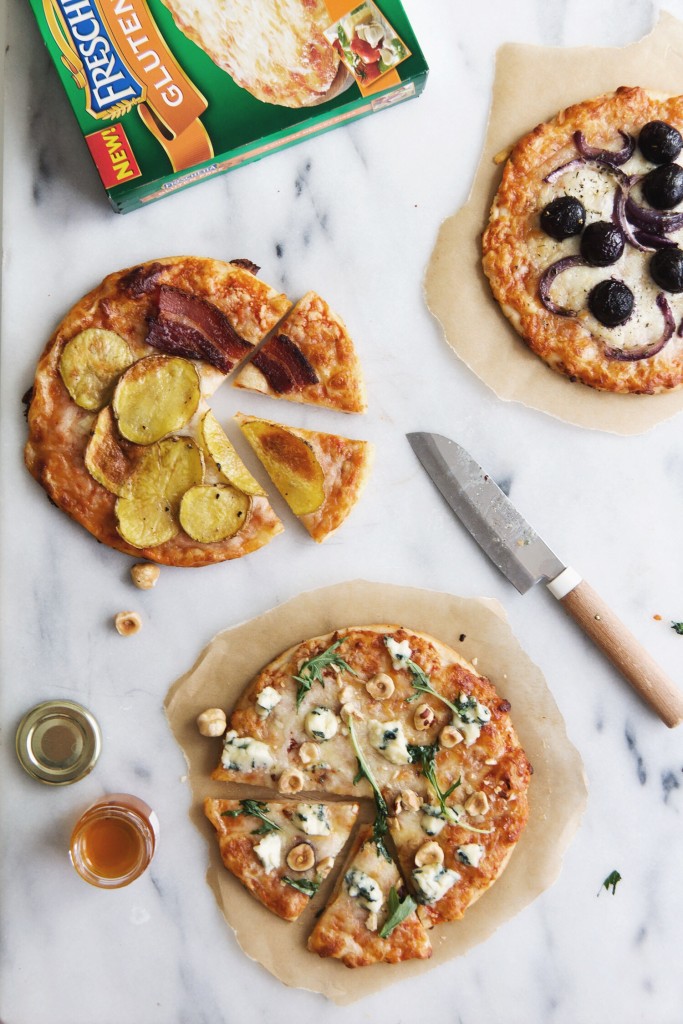 But then Freschetta Gluten Free entered the scene. You guys. This isn't a gluten free pizza. It's a pizza that just happens to be gluten free. The crust is sturdy with a satisfying chew, and the gooey, melty flavor takes you right back to those 3rd grade class parties. What's more, the single serve personal pizzas are the ideal size for a meal; they're ready in 10 minutes to quell those insatiable cravings; and they lend themselves beautifully to customizing with your own toppings. My picky gentleman companion didn't even notice a difference between Freschetta Gluten Free and regular pizza as he scarfed his down. We now keep them on-hand at all times for pizza emergencies!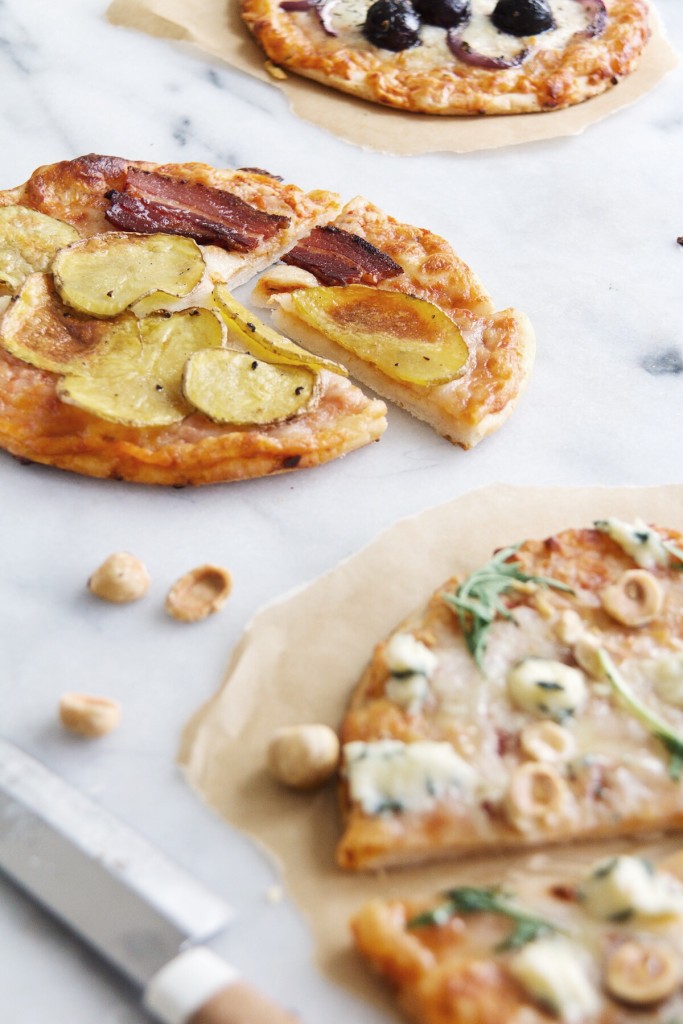 Because I love unusual toppings as much as I do iconic pepperoni or cheese, I came up with a few different variations to inspire creative self-expression through the art of pizza. My new favorite thing to do with grapes is roast them, and as it turns out their mellow sweetness combines with red onion and herbs to complement pizza beautifully. The potato version is informed by a traditional Italian pizza I had when I was in Europe last summer, when the waiter brought me a pizza piled with spuds so crispy and hot I thought they were homemade potato chips. (I added bacon here because why not.) And finally, bleu cheese with honey and hazelnuts is a classic cheese platter combo that only gets better when it's delivered to your mouth via pizza! Try my ideas or invent your own. When it comes to pizza, there's truly no wrong answer!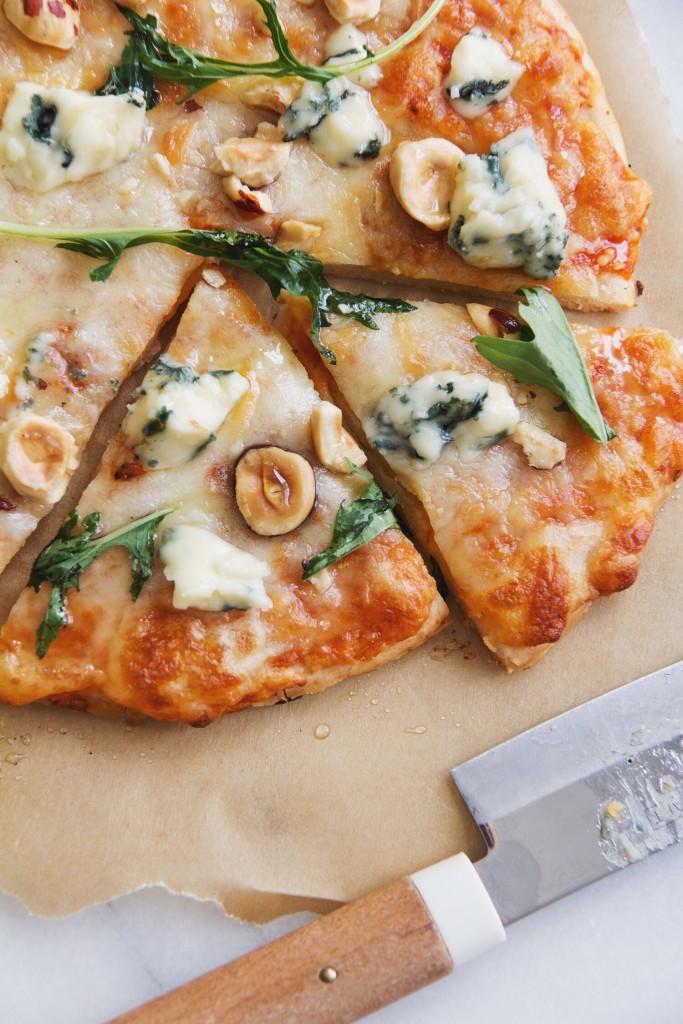 Easy Gluten Free Pizza Recipe with Gourmet Topping Variations
(serves 4)
– 4 Freschetta Gluten Free Single Serve 4 Cheese Pizzas
For topping combinations, quantity variable depending on how many pizzas will have each combo
– yukon gold potatoes
– thick-sliced bacon, pan-fried until crispy
– black grapes
– red onion, slivered
– herbes de provence
– bleu cheese
– roasted hazelnuts
– arugula
– honey
For the potato and bacon variation, slice 1-2 potatoes paper thin and toss in olive oil and a shake of salt to coat. Spread in a single layer on a baking sheet lined with parchment paper and roast at 425 degrees until lightly browned, about 20 minutes. For the grape and onion variation, toss about 20 grapes and 1/2 sliced onion in olive oil, salt, and 1/2 teaspoon herbes de provence. Spread in a single layer on a baking sheet lined with parchment paper and roast at 425 degrees until onion is beginning to caramelize and grapes are swollen, about 20 minutes. For bleu cheese variation, have bleu cheese, hazelnuts, arugula and honey handy. To prepare your pizzas, bake according to package directions and then add toppings to your liking. The residual heat from the pizzas will make the toppings gooey and meld them with the pizza cheese. Cut into slices and share or hoard one all to yourself!
Disclosure: This post was created in collaboration with Freschetta Gluten Free, which is certified by the Celiac Support Association so you can #TrustTheCrust. I received compensation in exchange for developing, styling, shooting, and sharing this content, but all opinions are my own. Thank you for supporting the brands that enable me to continue bringing you fresh inspiration daily!