I have spent my life on a noble quest for that most elusive and alluring of entities: the perfect bite. My search lies dormant for much of the year only to be renewed with assiduity at Thanksgiving and Christmas. The concept is so simple—with all my favorite foods on one plate, surely it shouldn't be difficult to craft a single bite that elevates them all to a mind-blowing sum even greater than their separate, mouthwatering parts—yet the nuances make success a complex endeavor indeed. How much mellow turkey to balance out the tangy cranberry? What quantity of earthy stuffing to soak up just the right measure of gravy without making the whole forkful soggy? Is it best to stab with the fork's tines in order to secure rollaway peas, or scoop with its surface for maximum load? These questions have boggled me for decades.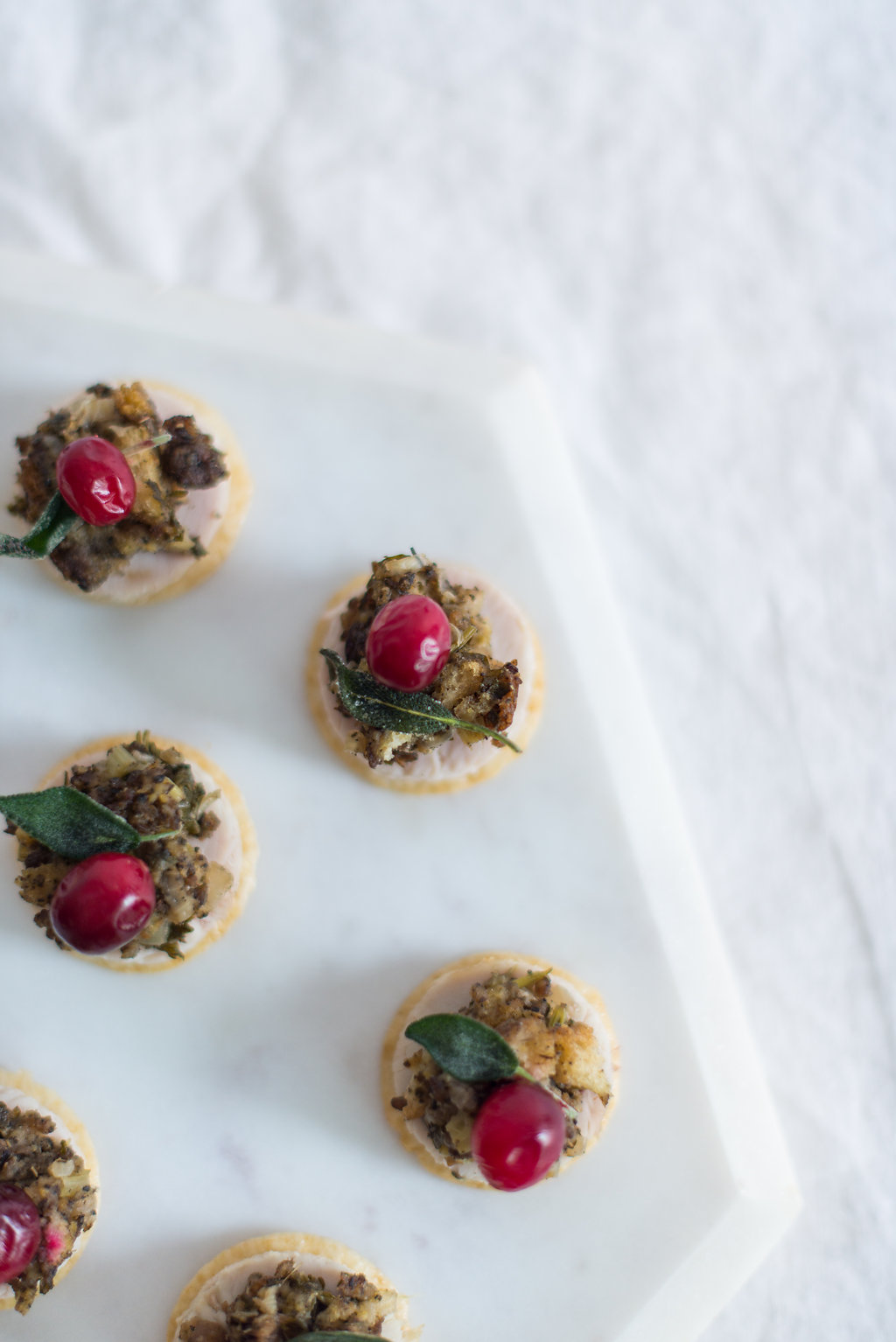 While I may not have solved this great mystery once and for all, I humble myself to say that I have come pretty darn close. It comes in the form of these easy Thanksgiving appetizers that I dreamed up for last week's Friendsgiving ideas shoot. Behold, in one tidy, compact bite, all the best flavors are present! A smidgeon of turkey, a morsel of stuffing, a juicy, cheerful cranberry, and a crispy, salty sage leaf all combine to deliver ultimate Thanksgiving satisfaction to your tastebuds. What's more, this recipe can do double duty either as hors d'oeuvres at a holiday cocktail party when you don't want to cook a whole meal, or as a brilliant way to use Thanksgiving leftovers. Just send out an open invitation for a drop-in the weekend after the big T-Day feast and offer these pretty little treats alongside a sliver of pie!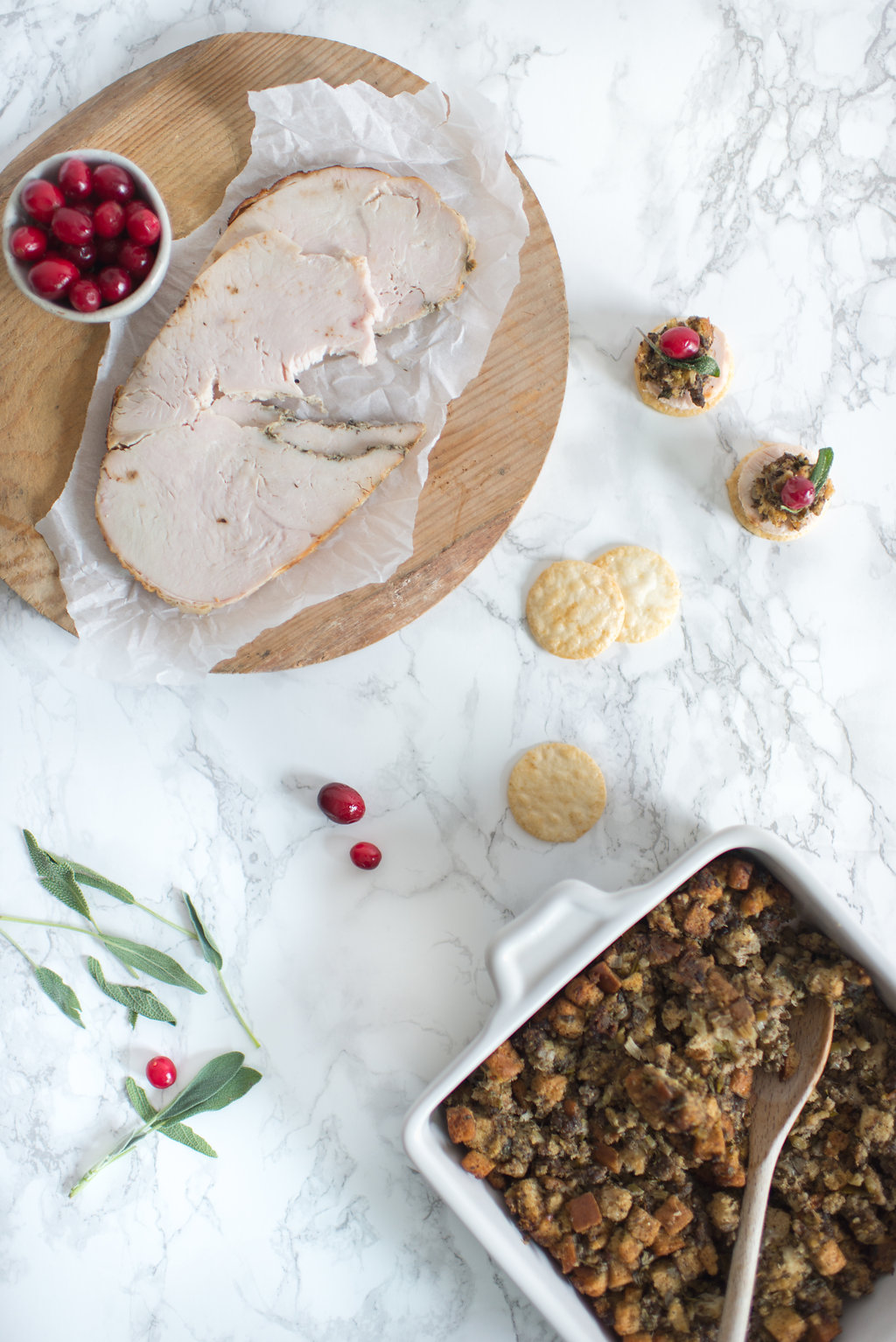 The recipe for these Perfect Bites is pretty fluid and depends on your idea of the perfect bite! Generally speaking, you'll be building mini stacks from your favorite stuffing, several 1/4″ thick slices of roasted turkey (I got mine at the butcher), plenty of thawed frozen cranberries, and some fried sage leaves. A polenta cracker or an herbed cracker make a great base. But feel free to get creative! Really explore the space! If you're a big cranberry sauce buff you could add a smear of the jellied stuff to the cracker before adding turkey and stuffing. Perhaps use a biscuit cutter to shape rounds of cornbread instead of using crackers! Or, hey, who's to say you couldn't build the tower higher with the addition of mashed potatoes? The sky is the limit, and I hope my quest for the perfect bite never really ends—because searching for it is so darn delicious!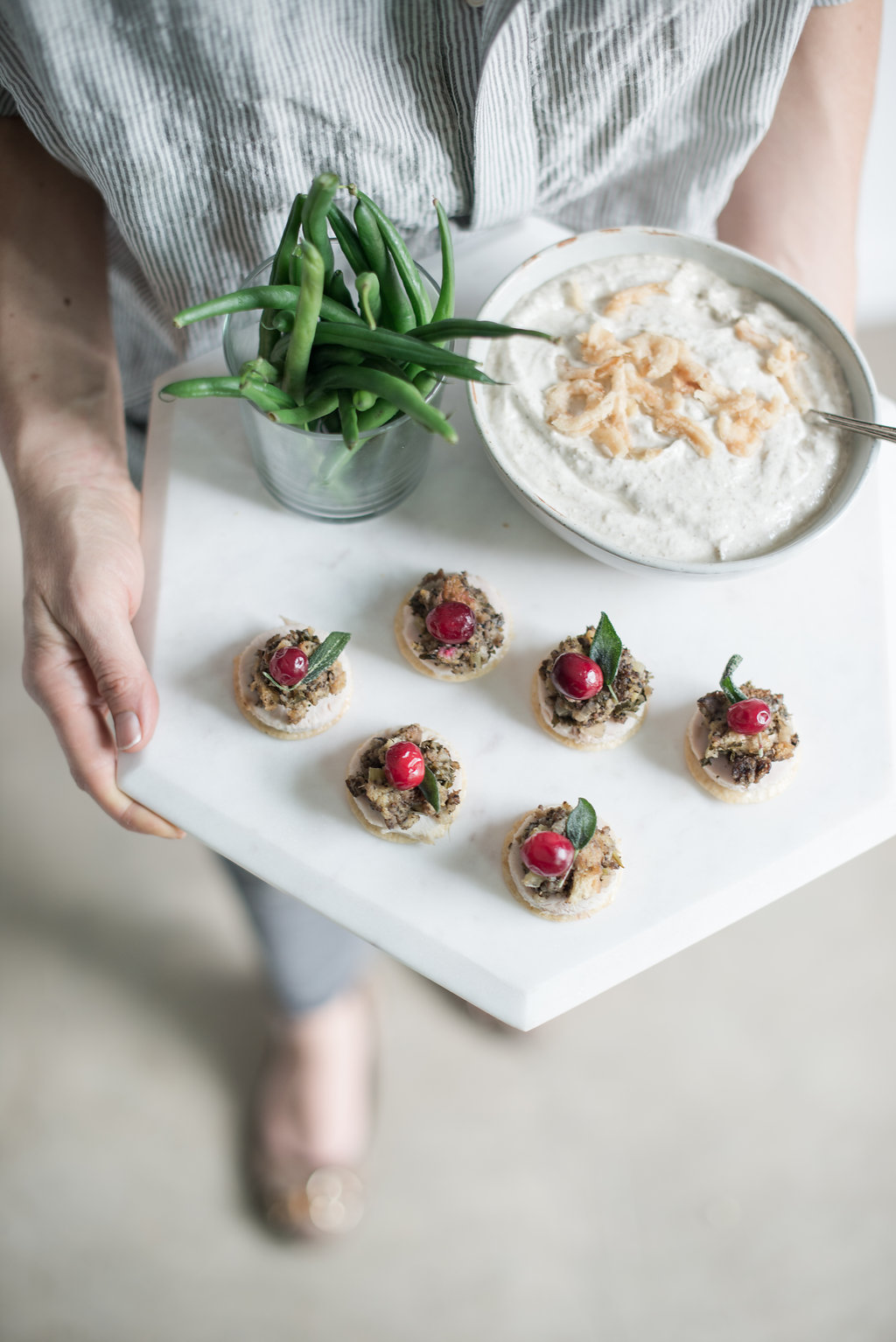 P.S. Be sure to check out last week's Friendsgiving ideas for more Thanksgiving appetizer recipes and table setting inspiration! Images: Carley Rudd Photography.