Guys! Thanksgiving is almost here! I always look forward to this holiday, but I'm more anticipatory this year than ever. Tonight I'll be hopping a plane to Reno where much of my family lives. It's our first Thanksgiving since my grandmother's passing, and while it will be tough without her, I'm incredibly grateful that I get to be there with my aunts, uncles, and cousins as we gather 'round my grandpa and shower him with love. I'll also be spending time with my maternal grandmother. These moments with my loved ones are so poignantly precious in the wake of the sadness that stopped on our doorstep this year.
One of my family's most important traditions, holidays or otherwise, is the 5pm cocktail hour. Everything stops for a pre-dinner drink and a chance to catch up. Some of my most cherished memories are of my grandpa and grandma sipping their usuals at sunset: a G&T for him, and a rum and Diet Caffeine Free Coke for her. These days, things have gotten a little fancier in the mixology department—and my cousins and I are old enough to partake!—so I'm going to be stirring up this fizzy whiskey treat for everyone. It comes to us from the clever bar cart of By Kara Elise, and it's the perfect holiday cocktail for Thanksgiving and all your festive get-togethers. Not only does it taste like a visit to the apple orchard, with its sweet apple and smoky whiskey blend, but its colors and layers make for a memorable presentation indeed. My grandma would have approved for sure!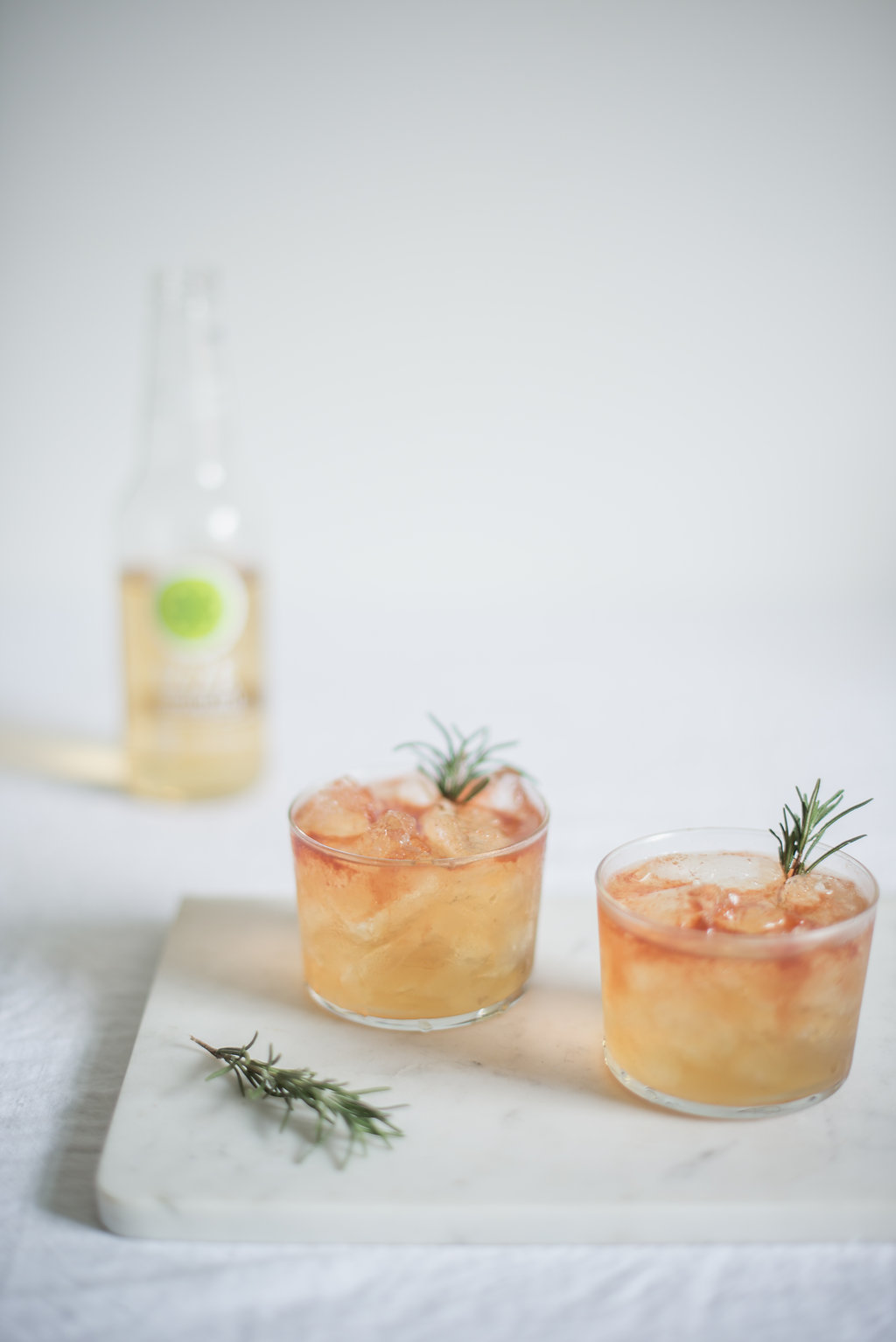 The Whiskey Rose Cocktail
1.5 oz rye whiskey
1/2 oz rosemary simple syrup
1/2 oz lemon juice
Sparkling apple soda such as IZZE Sparkling Apple
bitters
Sprig of rosemary and slice of apple for garnish
First make the Rosemary Simple Syrup. Add one cup of sugar and one cup of water to a saucepan and bring to a boil. Once sugar is dissolved, remove from the heat and add 3 sprigs of fresh rosemary. Once its cooled, strain the simple syrup and place in a lid tight container. Keep any extra refrigerated. For the Whiskey Rose, in a cocktail glass, stir together whiskey, simple syrup, and lemon juice. Add a scoop of ice. Top with sparkling apple soda, then dash with bitters. Garnish with your rosemary and your apple slice. Cheers!