Happy Monday, all! Firstly, please let me apologize for last week's light posting. Let's just say that a cat with a broken foot and a dog with an appetite for ibuprofen do not leave much time for anything else! Thankfully things around the house have settled down a smidge, leaving me a little more brain space to handle life's truly important questions. Like, for example, how to style sneakers for winter! I've got mad respect for gals who can pull off a pair of sporty shoes with more polished attire. The contrast is fun and chic, and of course cushy footwear makes for much comfier days than heels or hard-soled flats. Yet every time I try to wear my sneaks with anything other than workout wear, I feel like a tacky tourist at Euro Disney circa 1992.
In an attempt to break it down and increase my odds of style success, I analyzed zillions of Pinterest pics featuring sneakers worn with sophisticated winter wear. Fortunately there's no shortage of inspiration out there—because this trend is white hot! Quite literally speaking, for the secret to the sauce seems to lie in keeping the sneaks, as well as the rest of the outfit, as clean and simple as possible. Those neon pink and acid green runners you picked up at Nordstrom Rack? They're best reserved for actual sweat sessions, not for pairing with your best high-waisted kick flare jeans. (Trust me. I've tried the latter. It's no bueno.)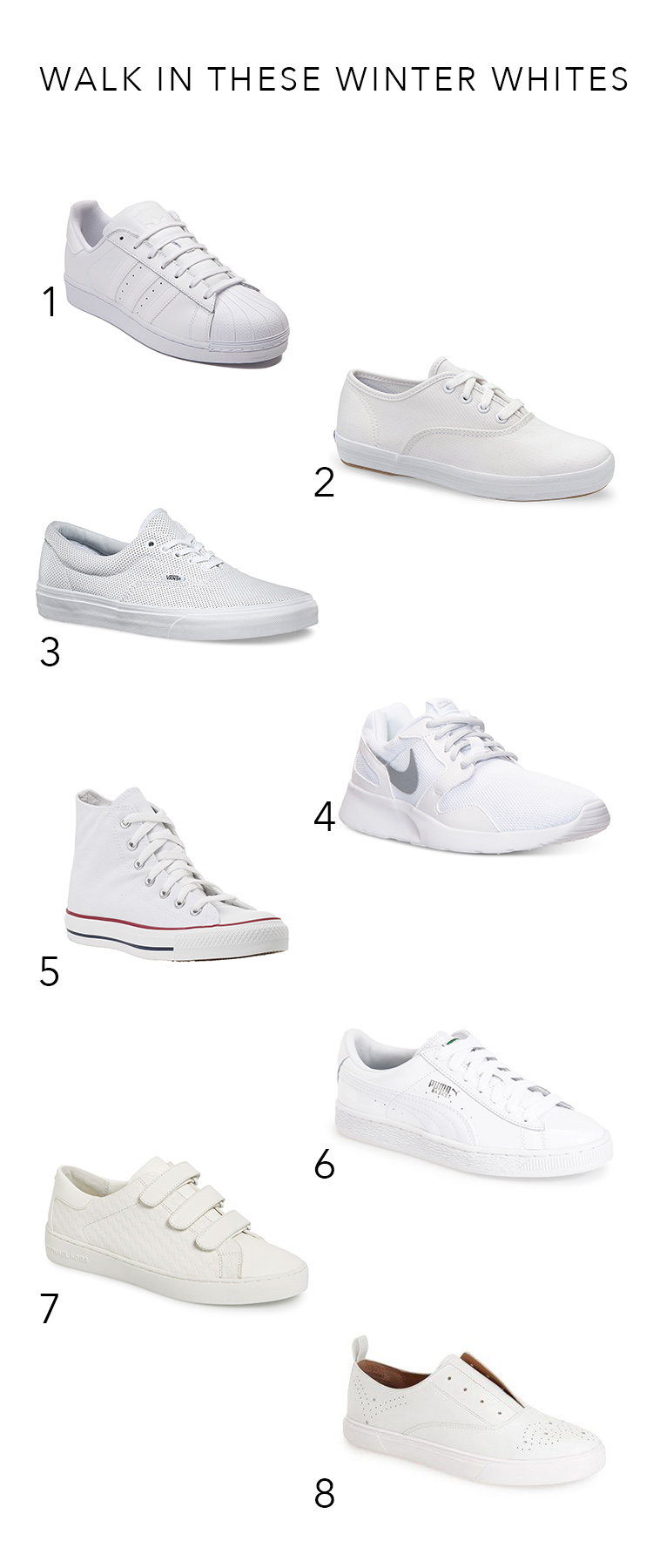 When shopping for white sneakers to sport with an elevated outfit, look for subtle details that signal to the world that these kicks are more fashion than function. Perforations, tonal details, and minimal branding add visual interest without busying the aesthetic. And while you're at it, invest in a few Tide-to-Go pens for the inevitable scuffs and streaks. Pop one in your purse and they'll keep you stepping spiffy through these last few weeks of winter and beyond!
Shopping Guide: 1. Adidas 'Superstar' Sneaker 2. White Keds 3. Perforated Leather Vans 4. Nike 'Juvenile' Sneaker  5. Converse High Tops 6. Puma 'Basket' Sneaker  7. Micheal Kors 'Craig' Sneaker 8. Halogen 'Terran' Slip-On Sneaker Sneaker Images: 1. 2. 3. 4.