Do you have any decor pet peeves? Though I have plenty, as you can imagine, one of the biggest is a crowded kitchen. As an avid home chef I abhor having to elbow my way amongst the knickknacks every time I want to prep a meal. I've also got painful childhood memories of reaching into the family fruit bowl to discover a moldy science experiment beneath the top layer of apples. It's not trigger point that my sweetie and I share—when I first began to make his longtime bachelor pad into a place of our our own, I had to scour rings of countertop grime left by loitering olive oil bottles—so chez moi I'm definitely the Chief of Clutter Police.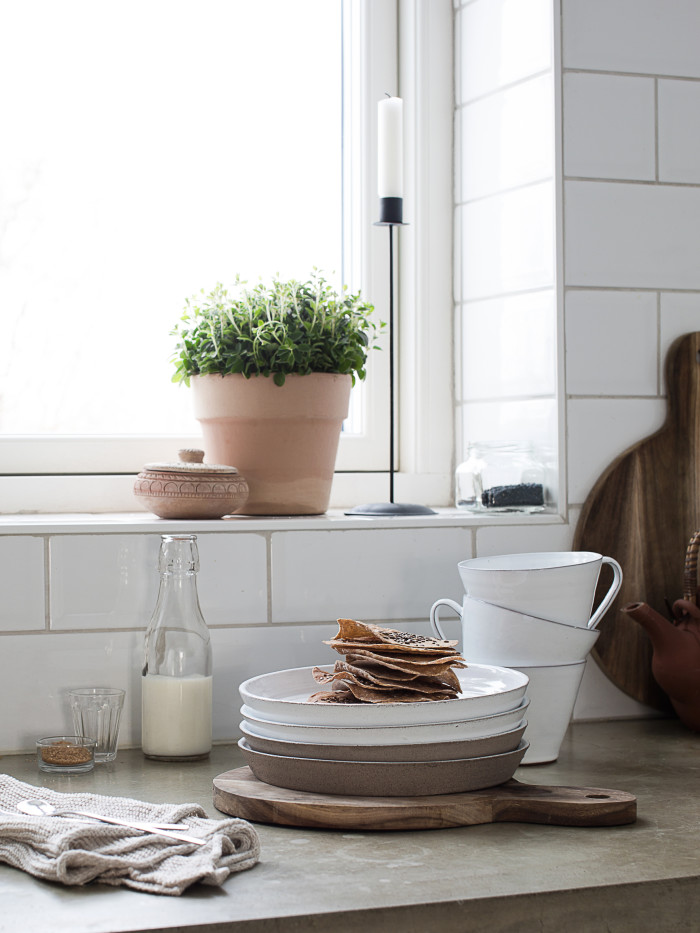 But I'm a complicated lady in that I don't like my kitchen to be totally bare, either. Whenever I clear the counters completely to wipe them down, I immediately crave a little something to break up the vast expanse of laminate. Plus let's be honest, while a naked kitchen is a visual snooze-fest, a simply and thoughtfully styled kitchen is Instagram gold. Kitchen decor, like all things, is about balance. The question is how to keep the eye interested but still leave enough space to make a smoothie!

The answer lies in restrained kitchen tools that offer utilitarian beauty—whether you plan actually to utilize them or not! A sculptural wire serving bowl or a sexy silhouetted coffee pot are striking enough to make an impact on their own, no extra accessories needed. If you must keep bottles and spices out, corral them in a marble tray with a minimalist footprint. Just be sure to clean under those accessories now and again, or the next thing you know I'll show up at your house with my Clutter Police badge and a scouring pad!
Shopping Guide: 1. Copper Towel Holder 2. Glass Carafe 3. Wood Pepper Grinder 4. Linen Kitchen Towels 5. Marble Tray 6. Mortar and Pestle 7. Copper Wire Fruit Bowl 8. Ceramic Coffee Pot Images: 1. 2. 3.