Remember the episode of Friends with the Pottery Barn apothecary table? I was eighteen when that episode aired, and as a budding decor junkie I was captivated. What was this wondrous place where I could find everything my teenage heart desired for a bedroom design makeover as impossibly cool as Rachel's apartment? I immediately signed up for Pottery Barn's catalogs and anxiously awaited each one with the same breathy anticipation that I watched the mailbox for my issues of Martha Stewart Living. Soon after, the company opened a store in my hometown; and when my classmates were spending their free time at the movies, I was at Pottery Barn testing oversized armchairs and dreaming of the day when I'd have a home of my own to furnish. Since then, my attentions have wandered to the many housewares options out there, but the brand has always held a special nostalgia for me—and it's always remained my go-to for foundational basics like classic white dinnerware and gauzy linen curtains!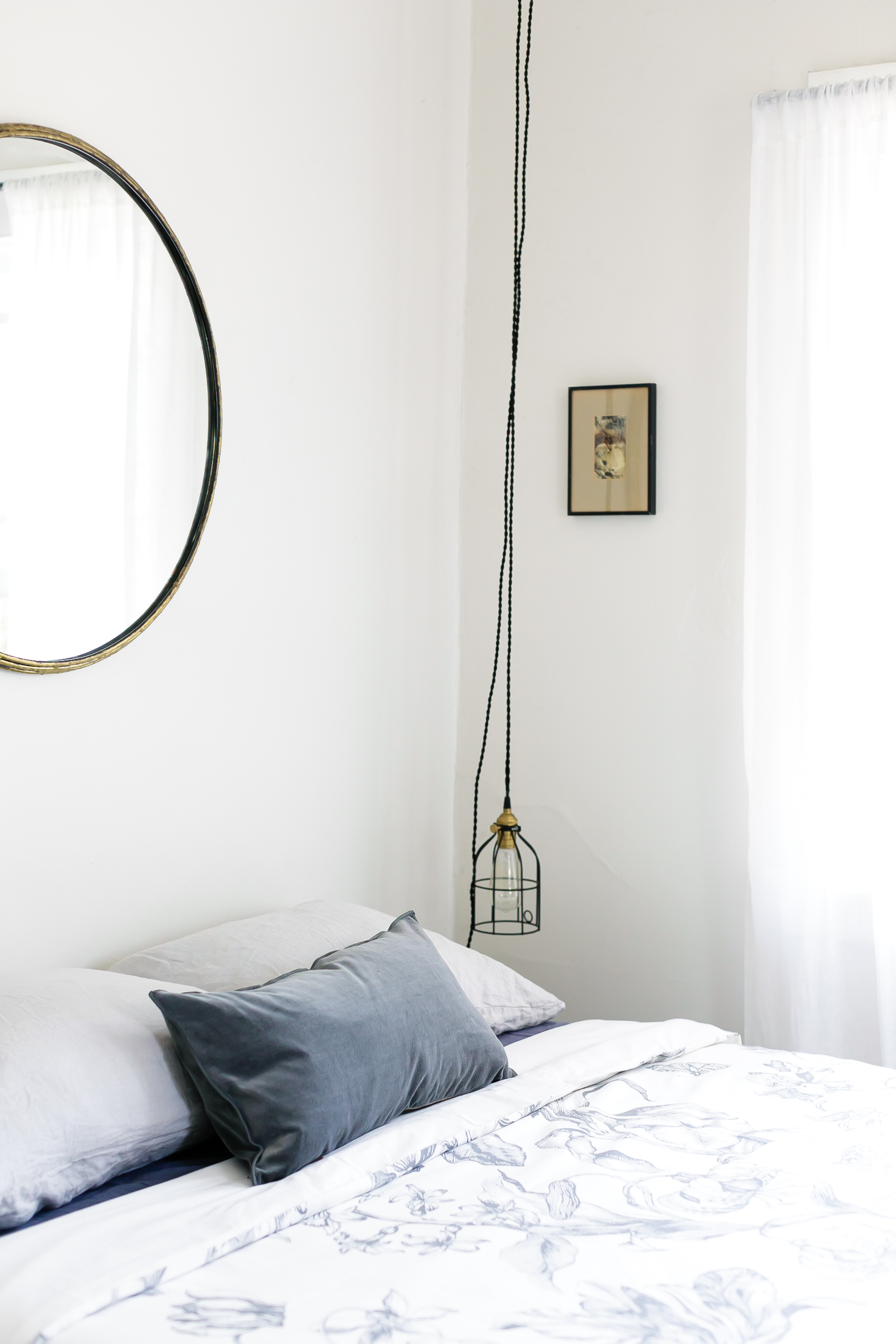 So when Pottery Barn dropped me a line to share with me the news that they're launching a new store concept that's debuting right here in Southern California, that nostalgia tugged hard and strong! I haven't been loving the way my bedroom has come together—it's felt more like a haphazard collection of pieces than a clear design statement—so the Pottery Barn team and I worked together to make some small but impactful changes that have transformed the space into a warm and soothing retreat. It was the perfect opportunity to get really intentional about the decor in the room, starting with a reading corner that I carved out with iconic pieces like a swing arm brass floor lamp and stump table. The reclaimed wood and matte metal foster warmth, while the strong silhouettes of both satisfy my modern minimalist inclinations.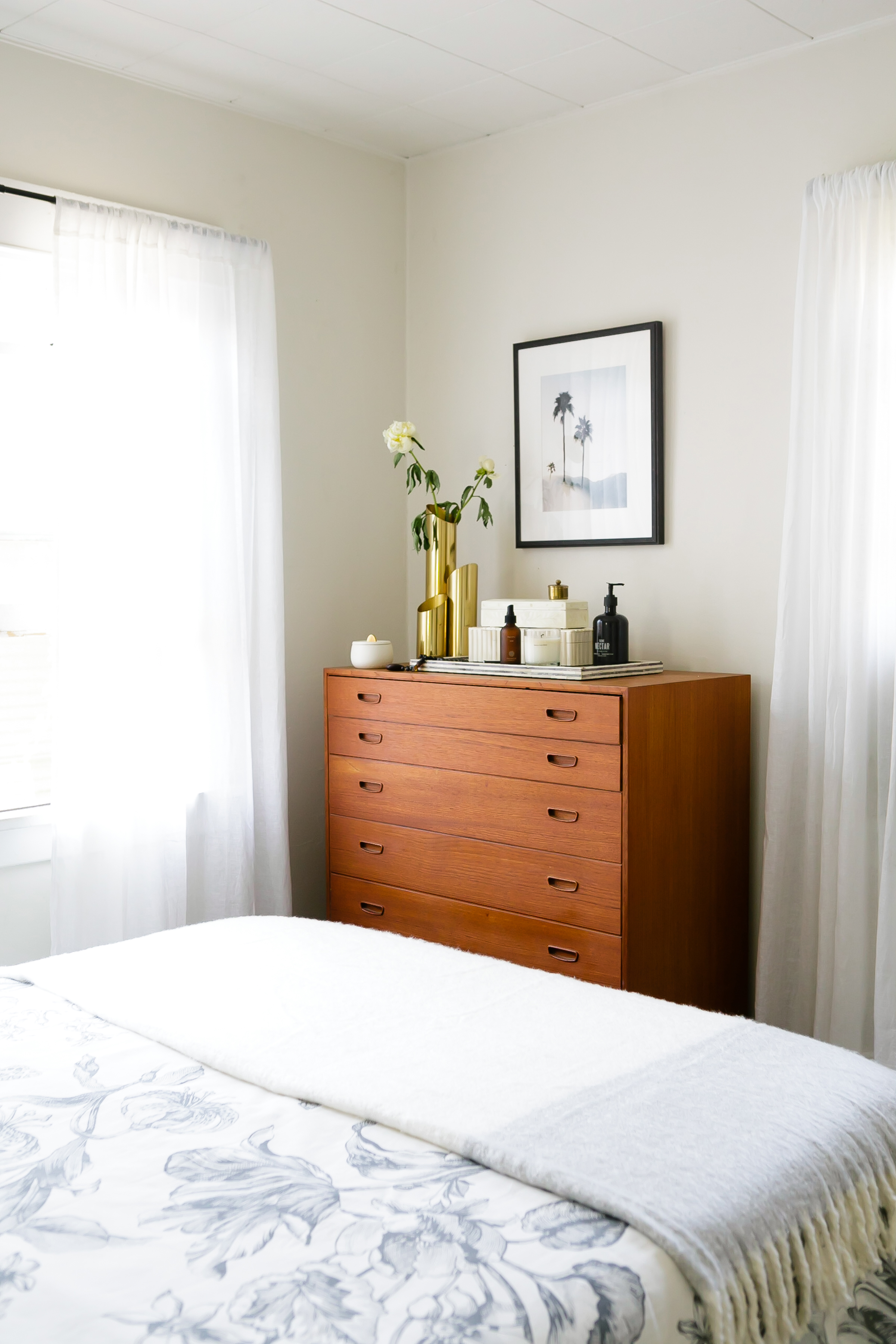 When it was time to dress the bed, my primary goal was to layer plenty of texture for depth that begged to be snuggled under, but also to maintain a degree of simplicity that felt like a cleansing breath at the end of a long day. To strike that balance, I eschewed mountains of fluffy linens and pillows and instead chose the trifecta of a quietly patterned floral duvet cover, a sophisticated slate blue velvet pillow, and a knit fringed throw blanket. It's been a long time since I had printed bedding—it's so much easier to keep things simple with solids!—but the grey-on-white palette makes this floral pattern a versatile neutral with a slightly feminine bent.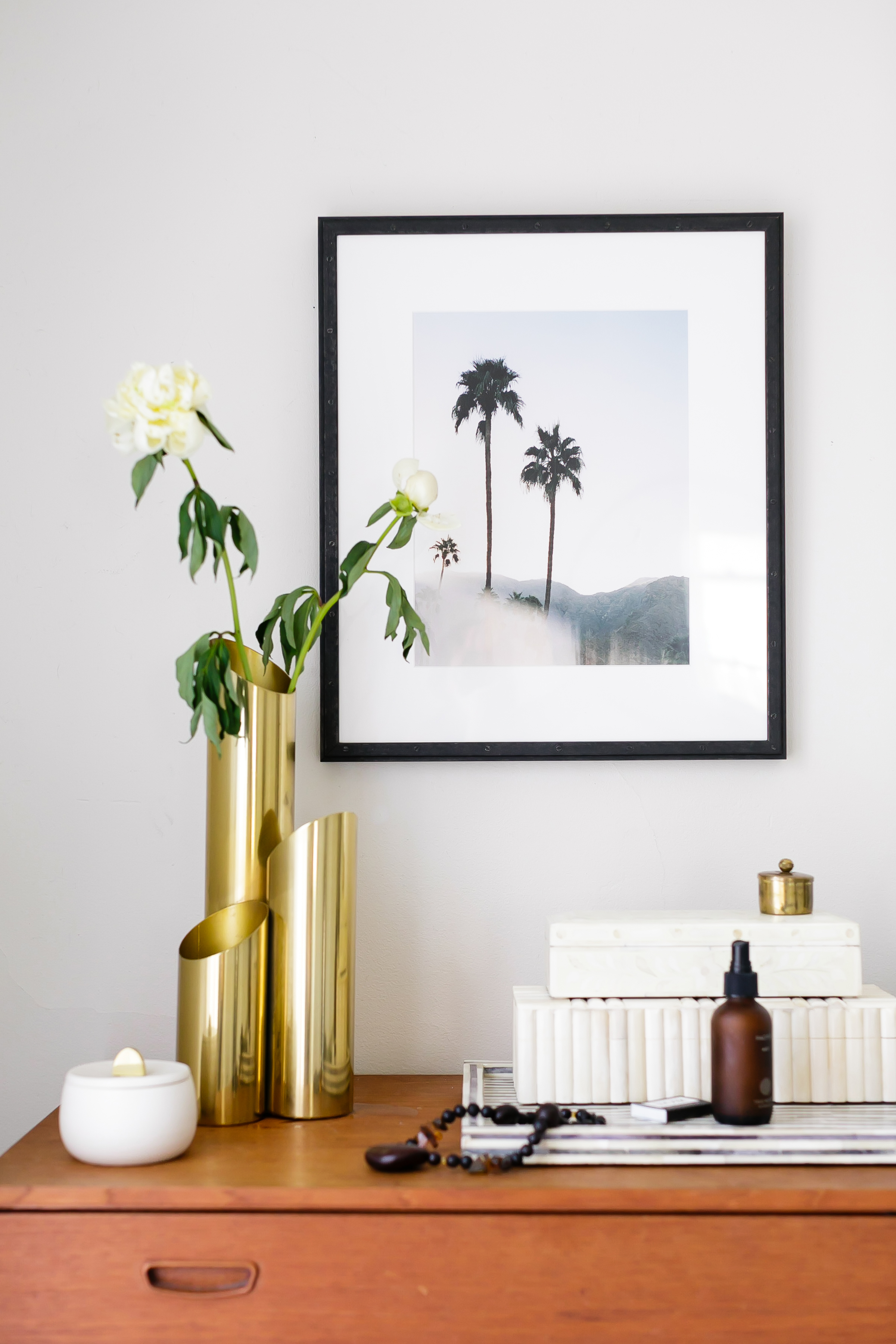 Last but not least came the finishing touches! In keeping with the structured warmth I'd established in my cozy reading corner, I topped the dresser with architecturally-inspired items that also have a slight global feel. This sculptural brass vase looks just as striking with a few flower stems as it does totally empty, and the bone inlay tray and boxes keep jewelry and other accessories tidy (cleanliness is key for a calm bedroom!) while also adding an organic presence. This latest evolution of my bedroom is quite possibly my favorite yet, and though it may look very different from what my 18-year-old self would have dreamed up, it's absolutely perfect for my life now!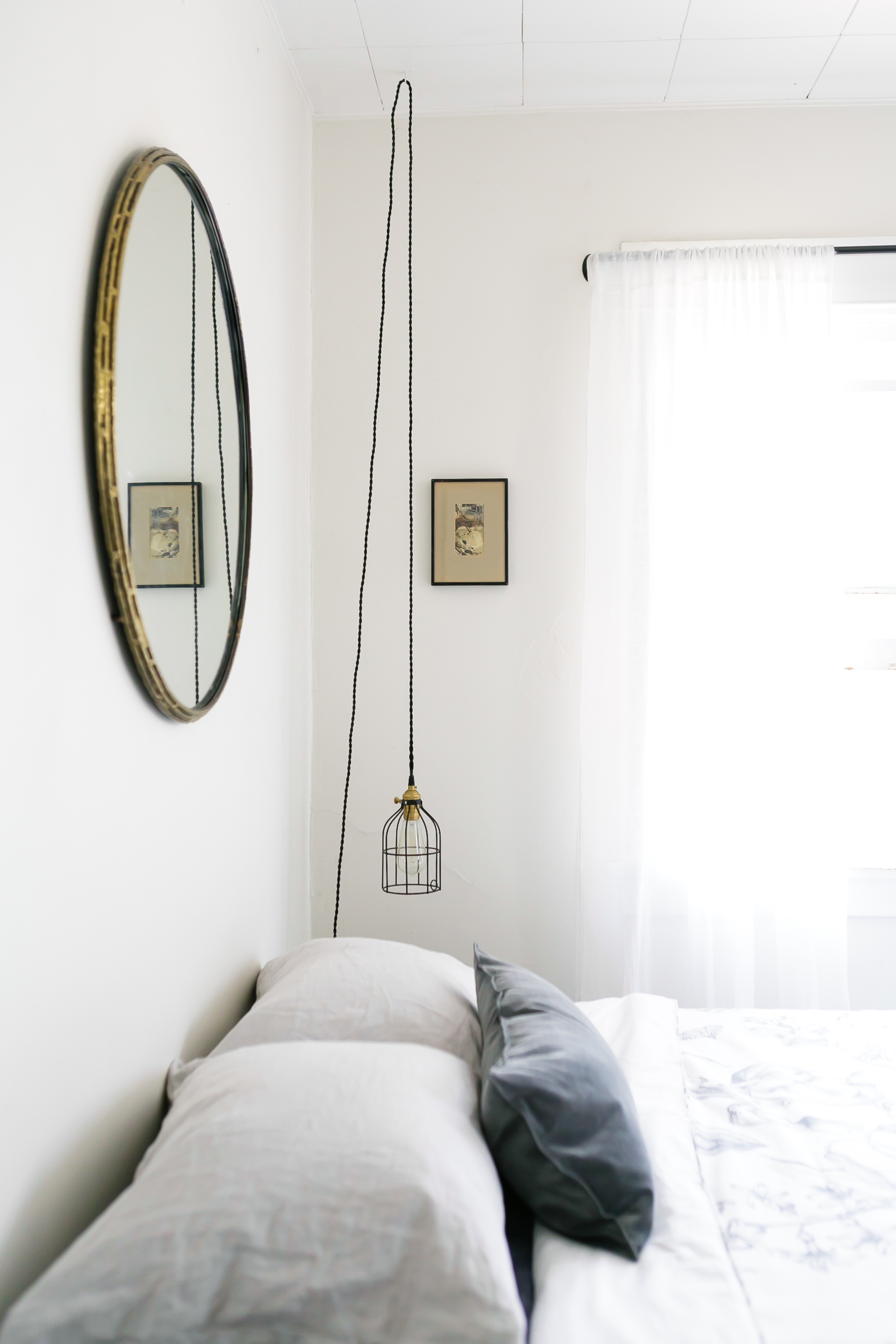 Oh, and remember that new Pottery Barn store concept I mentioned? The big unveiling is happening next week at South Coast Plaza and I'm excited to be playing the role of hostess! If you're in the area, please come out and say hi! I'll be sharing styling tips, and we'll sip champagne, enjoy some small bites, and even build hand-tied bouquets with BloomThat! Get all the event details here, and have a restful weekend, friends!
Images by by the amazing Monica Wang Photography! Disclosure: This post was created in partnership with Pottery Barn. All opinions are and always will be my own. Thank you for supporting the brands that allow me to bring you fresh inspiration on the daily!