Italians are very serious about lunch. Well, admittedly Italians are very serious about every meal, but they're especially passionate about a long, lingering midday repast for which all other activity screeches to a halt. Their approach to this meal is wholly different from the one we take here in the US, where a sandwich at our desks or a smoothie in our cars masquerades as a proper lunch (if indeed one is eaten at all!) Yet when I was in Italy earlier this summer, I experienced firsthand how effectively a pause for some noontime nourishment restored me so I could power through the rest of the day. I learned to anticipate with relish the incredibly lush yet simple salad spreads created by the proprietor of the Borgata Catone B&B where I was staying. Emmanuel would line the length of the table with overflowing platters of artisan greens, juicy tomatoes, bright summer squash, rich charcuterie and cheese—and my favorite, thin and smokey slices of grilled eggplant that I'd have eaten by the truckload if there hadn't been other people at the table.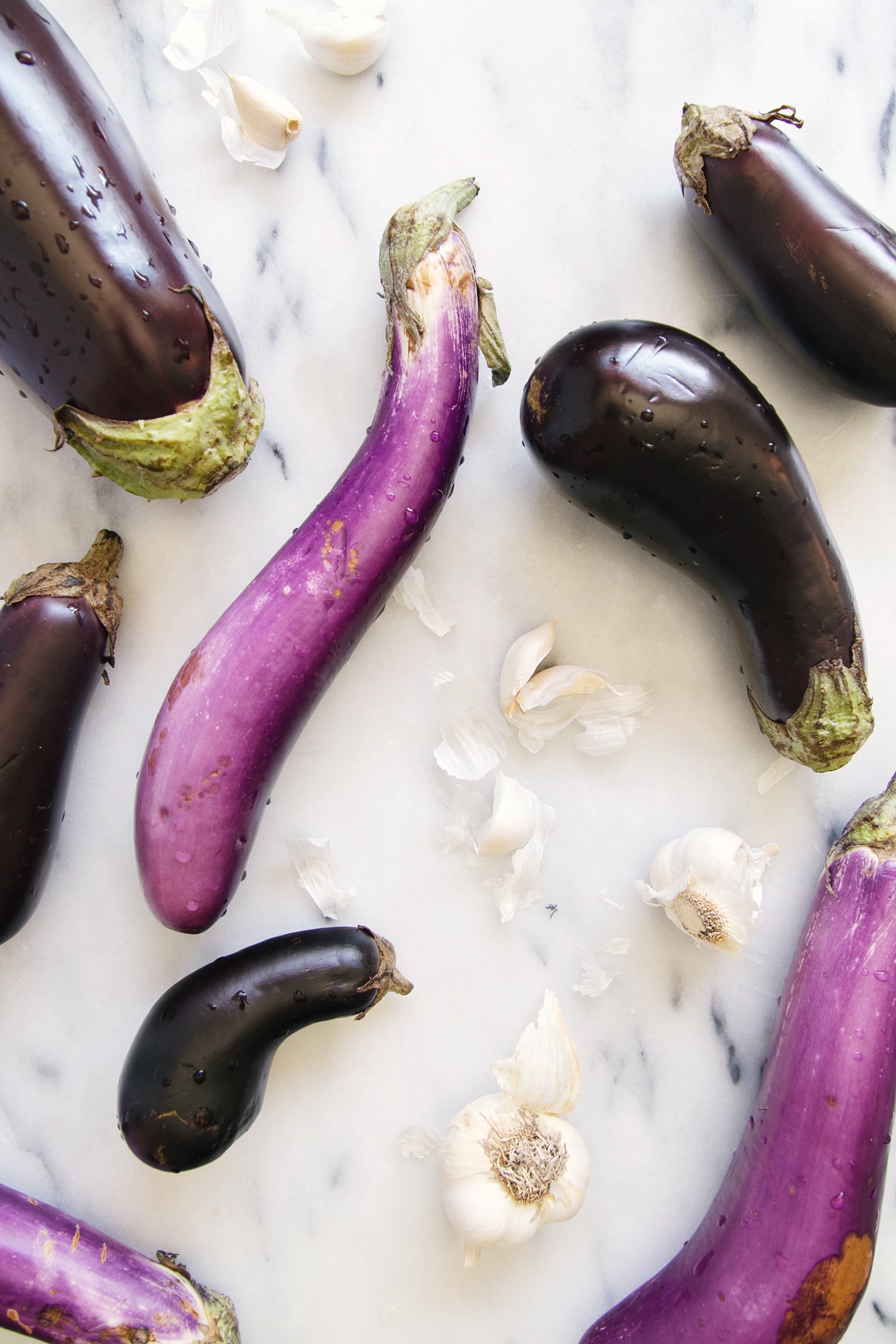 I'm so rarely at a loss for words, but Emmanuel's eggplant recipe defies verbal description. Perhaps I'm drawn in by the simplicity of his method, which eliminates any lingering bitterness and allows the veggie's best flavors to shine; maybe it's because this oil-free technique defies my previous perception of eggplant as a mushy, greasy mass; and it could be that this preparation is so quick, easy, and versatile, that my imagination now runs wild with all the opportunities to incorporate it into my menu planning. Whatever the reason, I asked Emmanuel to show me the how-to, then spent the next 20 minutes hovering over his shoulder as he walked me through the process. Since returning home I've made this eggplant recipe at least once per week, and I keep finding new ways to enjoy it!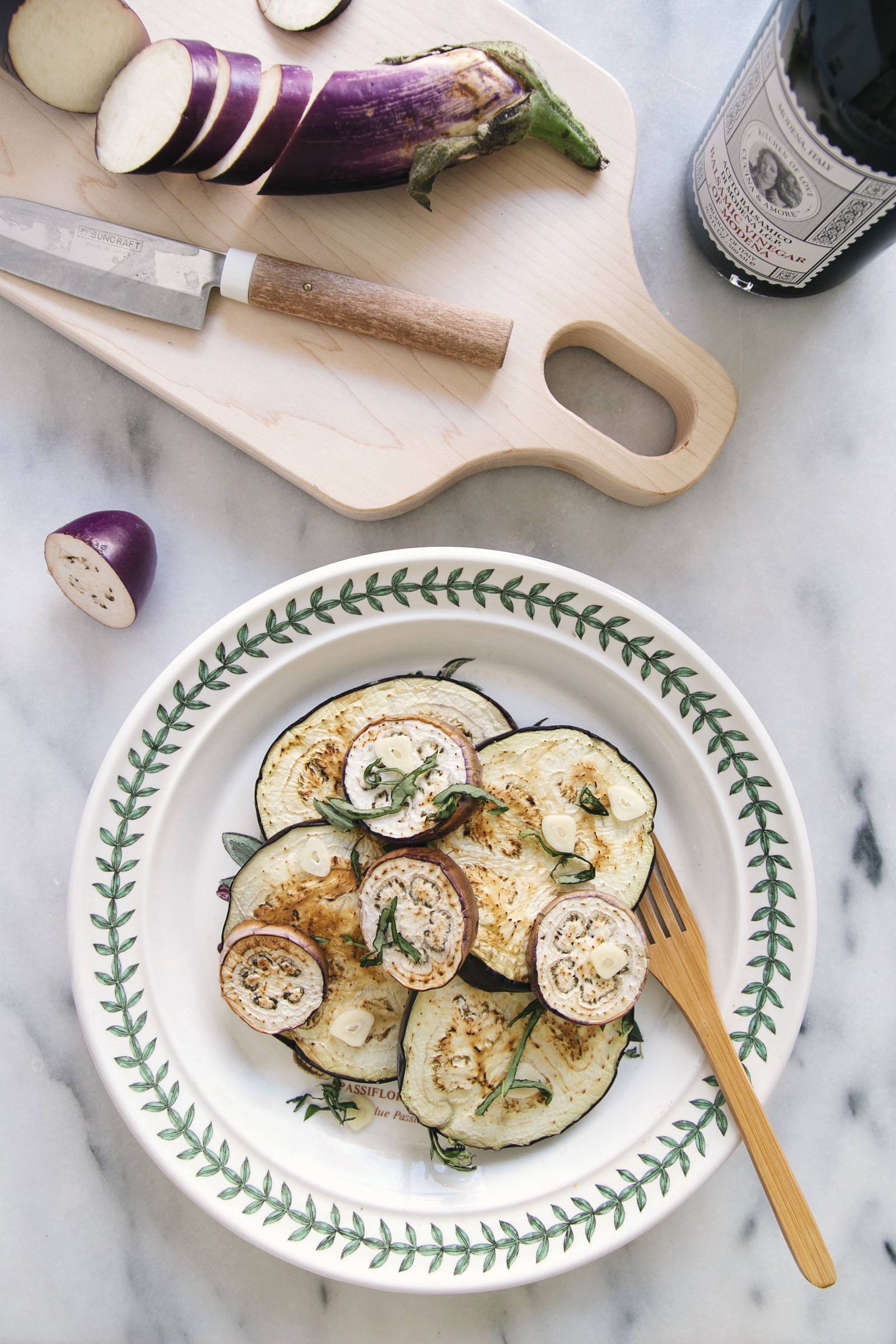 For his signature salad lunches, Emmanuel would serve this dish at room temperature, drizzled with olive oil and sprinkled with shaved garlic and basil. I've also found it makes a great hot side with your choice of protein, perhaps sprinkled with balsamic vinegar or even a little pesto (perhaps the authentic pesto recipe I shared last week?). I've even used it as a main dish, presented in a stack layered with beef marinara and grated parmesan. You could even make extra and store it in the fridge for bread-less sandwiches or wraps! The possibilities are endless and they extend well beyond lunch—but you could certainly do worse than to stop what you're doing at noon and tuck in to a plate of this!
Easy Italian Grilled Eggplant
Recipe courtesy of Borgata Cantone B&B 
1-2 large, firm standard eggplants (though if you have access to other varieties, play with those!)
Sea salt
Line a baking sheet with a paper towel and liberally sprinkle the surface with salt. Slice the eggplant into rounds approximately XX in thickness. Lay them flat in a single layer on your salted paper towel, then sprinkle the tops with salt as well. Create additional paper towel/eggplant/salt layers as needed, depending on the quantity of eggplant you are preparing. Let sit for 15-20 minutes. The salt will draw excess moisture from the eggplant so it doesn't get soggy, and the paper towel will soak up the moisture as it is drawn out.
Preheat a large skillet or cast iron pan over medium heat. If you have an electric griddle, it works well for this too; preheat to 350 if using. DO NOT OIL YOUR PAN! Remove eggplant slices from baking sheet and brush off any excess salt, then place slices in a single layer on preheated surface. Grill for approximately 4-5 minutes or until the facedown side is lightly browned. Flip and repeat on opposite side. Serve hot or remove to a baking rack and allow to cool. Serve with a light drizzle of olive oil, shaved garlic, and basil ribbons, or get creative and see where the eggplant takes you!