One of our favorite parts of doing Two Girls, One Kit is having an excuse to explore all the amazing independent fashion labels out there! The web has enabled so many designers to get their names and products out to consumers in a way that simply wasn't possible before the Internet (and especially Instagram) made it so much easier to access small brands from around the globe. Los Angeles is a particular hotspot for indie apparel labels right now, and the story behind this week's is especially intriguing!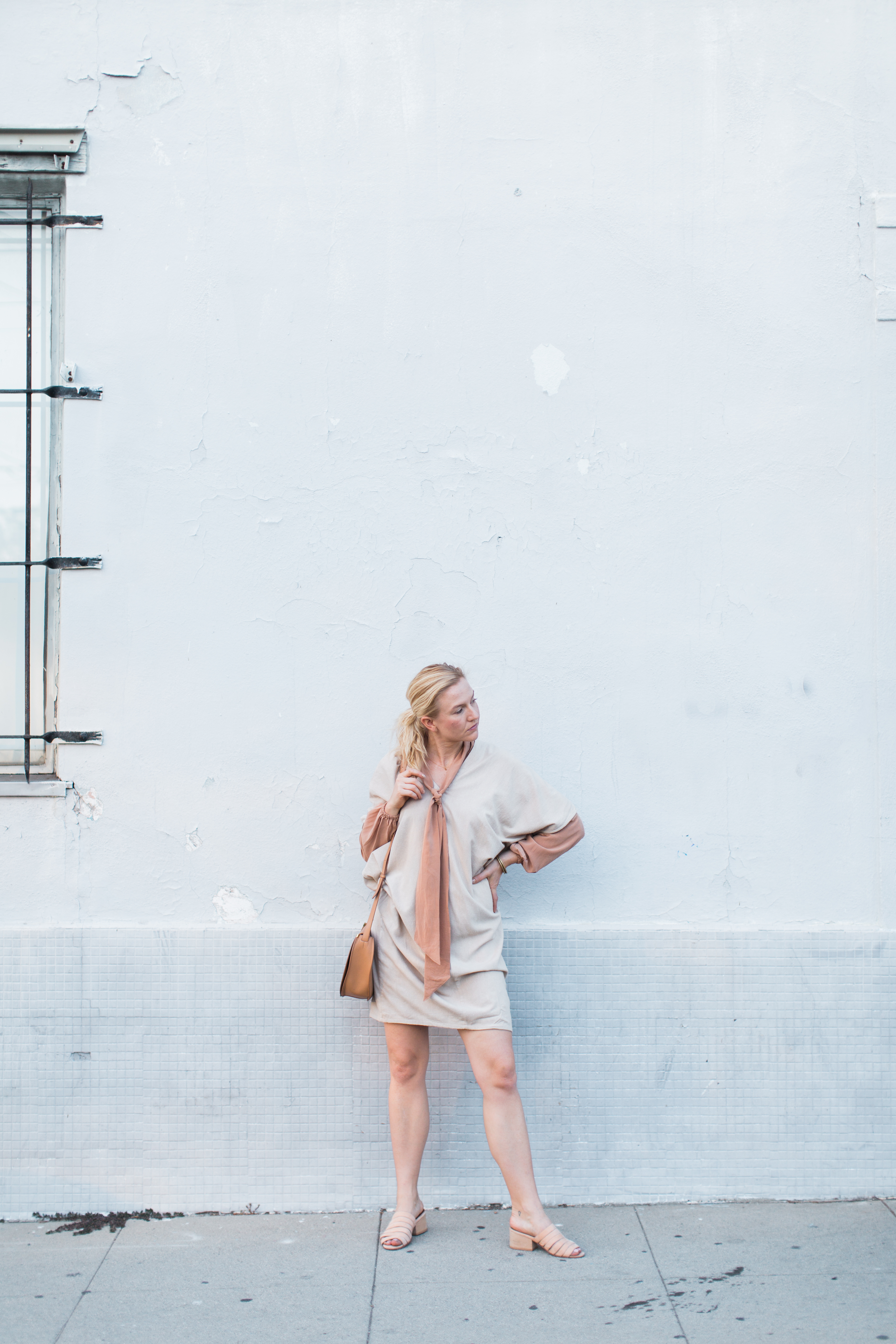 Meet Osei-Duro, which is based both here in LA as well as in Ghana. The brand combines fashion-forward silhouettes and styling with traditional textile production methods to support sustainable apparel industries in both of its home communities. Handmade wovens, batiks, indigos and more are used to construct garments that slide right into the modern wardrobe. Caroline and I fell hard for the spring collection and chose to style a fun silk tie-neck blouse in a shade called 'Onion Skin'—so named because the color literally comes the skins of onions! Each piece is one-of-a-kind thanks to the variability inherent to all-natural dyes.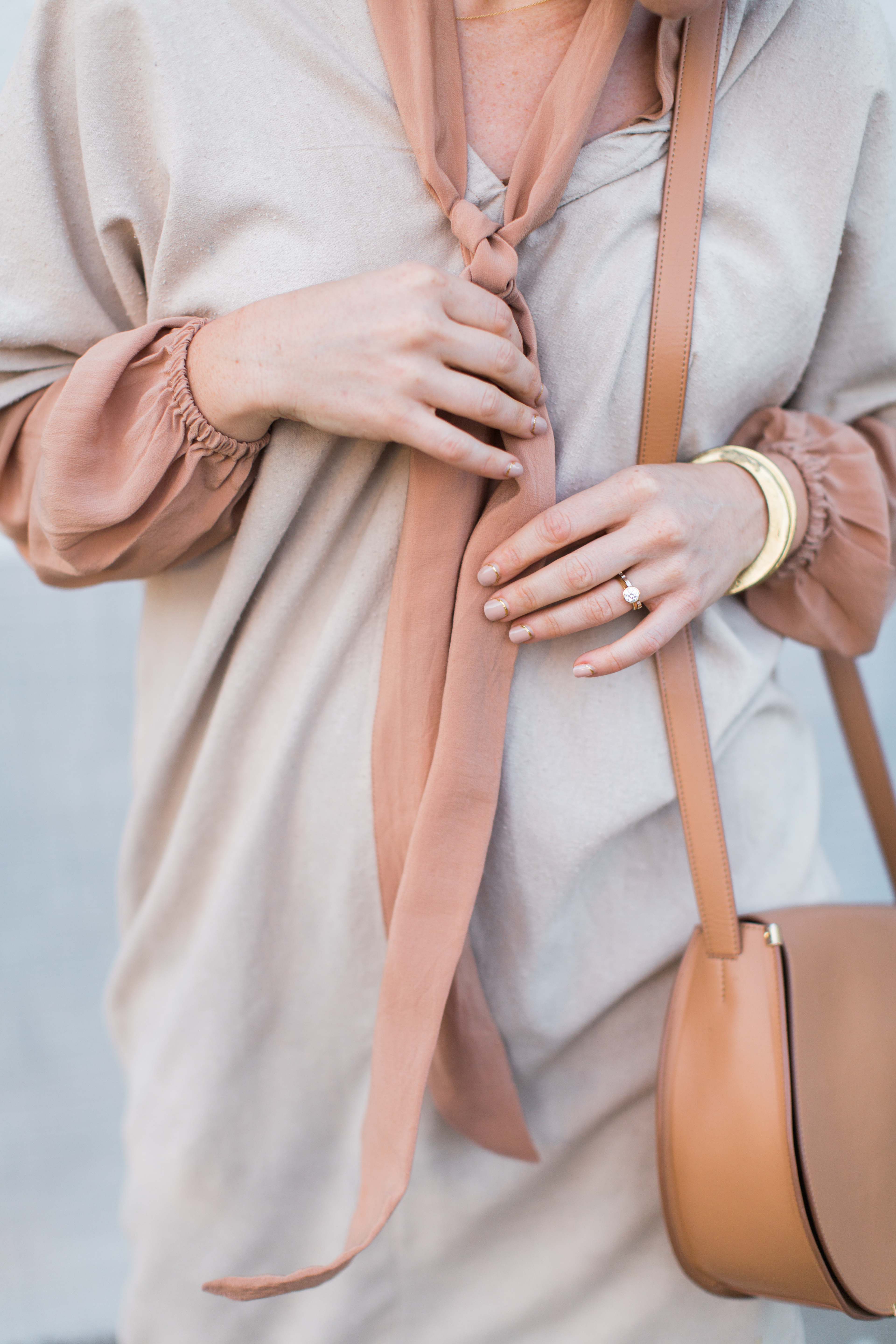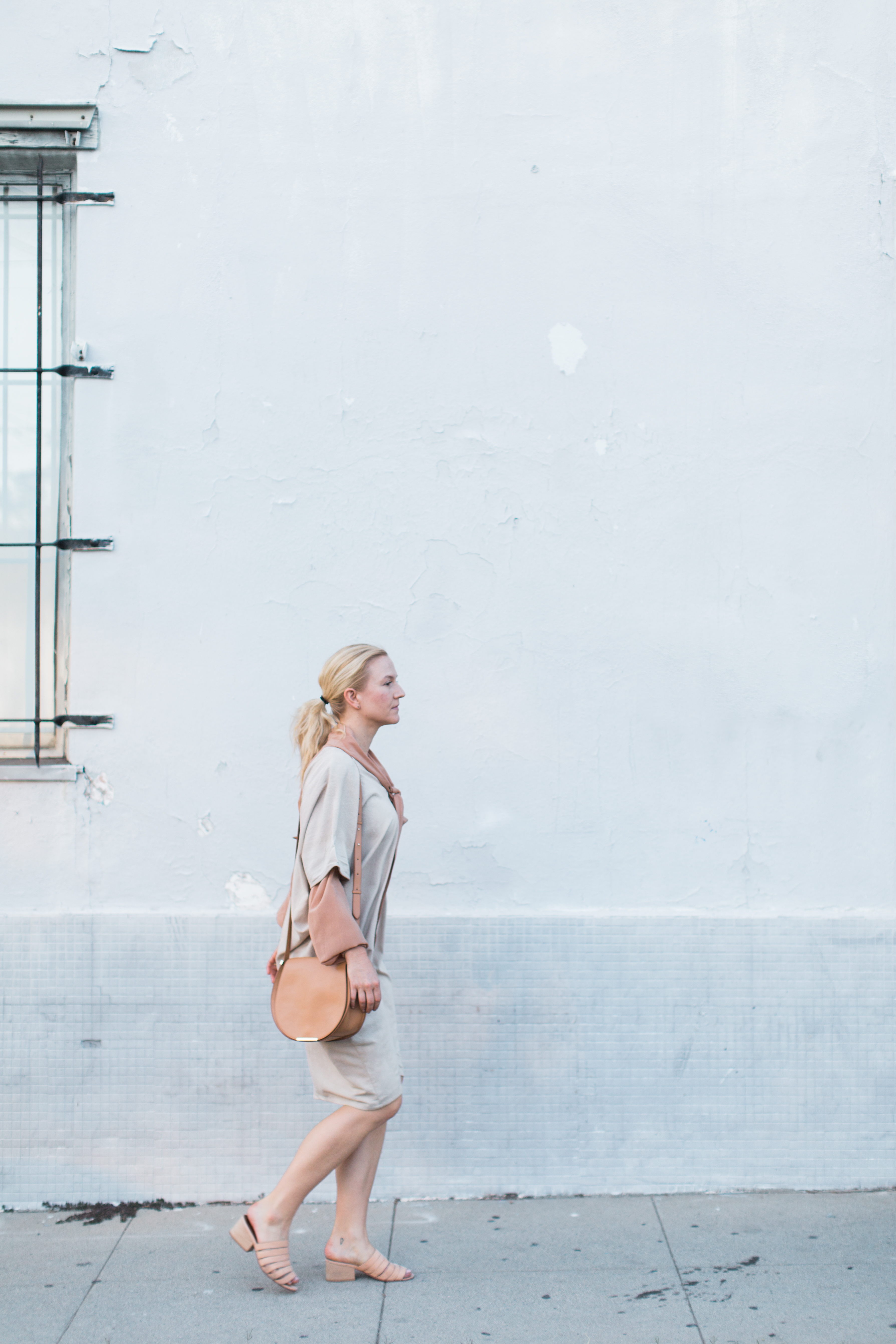 You know how I love my oversized outfits, especially in a monochrome palette, so I elected to offset the girly factor of the bow blouse by layering it under a raw silk caftan in a complementary hue. I simplified even more simple by tying it in a knot rather than a full-on bow. Neutral suede mules and a tanned leather saddle bag complete the effect for a vibe that feels very late-70's ceramics teacher (my latest alter ego)!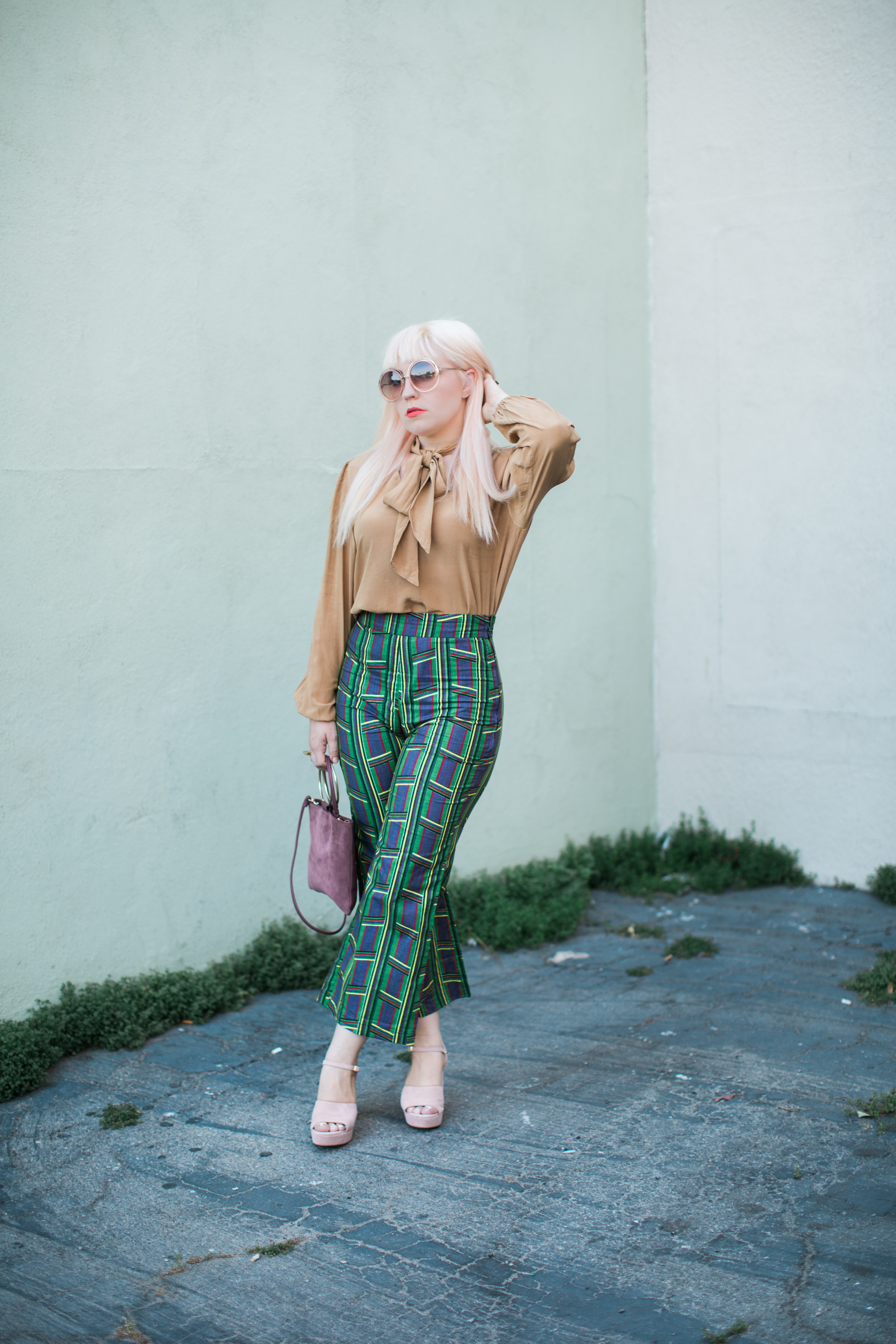 Caroline killed it as usual with a bolder pairing (every week she raises the bar even higher)! These high-waisted plaid trousers are so very cool, with their kick-flared shape and wild color combo. The print is called Jughead, which delights me to no end, and I can't get over how fabulous Caroline looks with her blush suede accessories and big round sunnies providing the finishing touches. As always, we're two sides of the same very chic coin!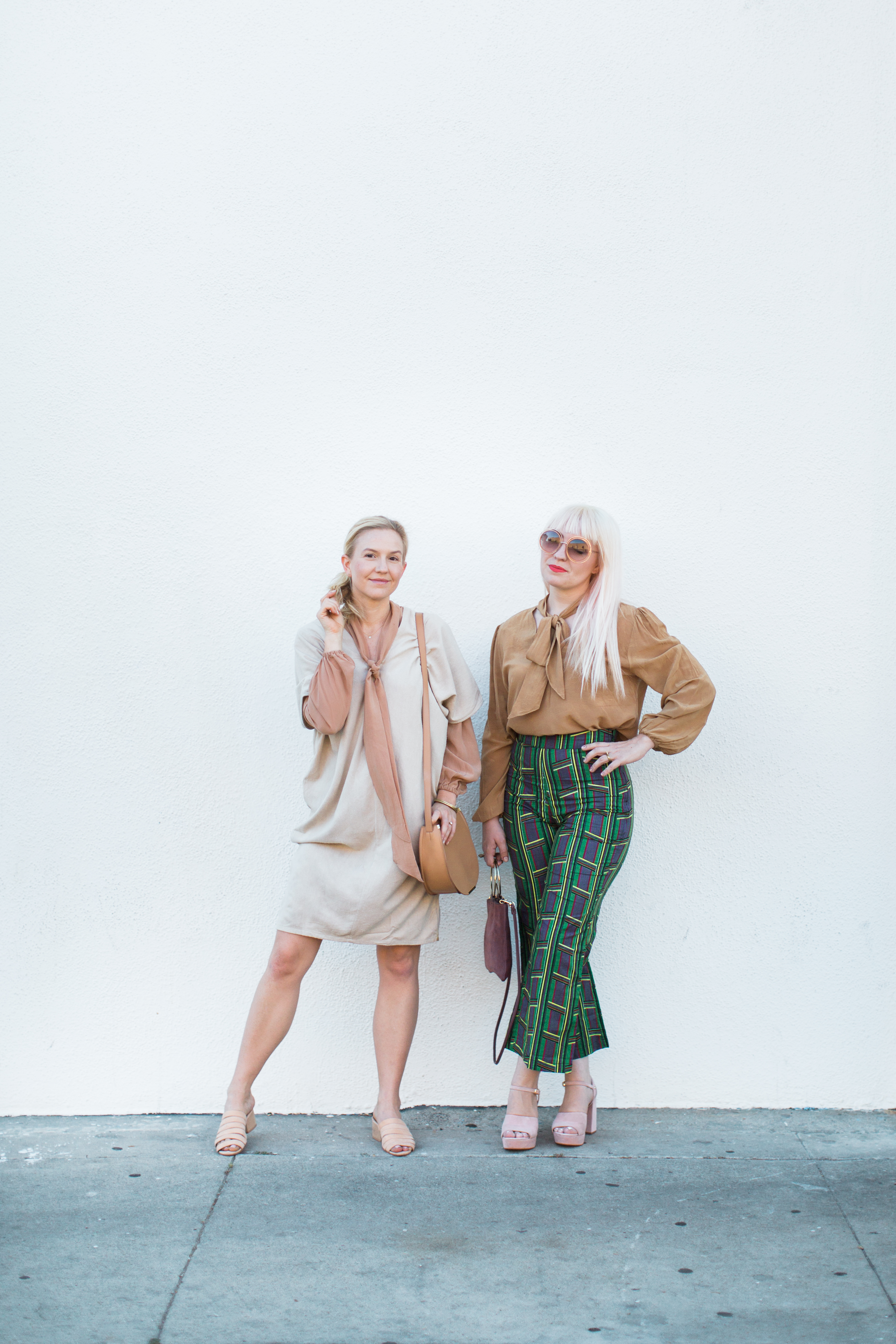 P.S. Be sure to head to Caroline's blog for more of the juicy details on her outfit! hotos: Jayden Lee for Echo + Earl Photography