It's Light Lab makeover week here on the blog! Between Tuesday's lounge update and today's post, it's only natural that a space conceived two years ago would by now be ready for a refresh, inside and the out. After all, whether it's your home or your workspace, staying engaged and inspired depends largely on whether or not your surroundings reflect your values and vision. And for us at Light Lab, creative expression is everything! Not only is staying ahead of the curve part of our driving passion, it's integral to the business strategy that draws prospective clients our way. So when Ace Hardware invited me to transform a space with their Clark+Kensington Paint and Primer in One, I jumped at the chance to update the mural on our roll-up garage doors!
From the very beginning of Light Lab, we knew we wanted our doors to make a major statement. First impressions are everything, after all, and the two 12 x 15 foot roll-up garage doors welcome guests to the studio with their playful presence. Like many of the design features at Light Lab, our doors have become a signature of sorts: kids on their way to the dance school that neighbors us always stop their moms for a photo, and we've caught more than a few fashion bloggers shooting outfits in front of them. We even include them in the directions we give to first time visitors: "When you see the colorful mural, you're in the right place!" But over the last year, after seeing them day after day, we've started to crave something different. And there's no easier way to satisfy the craving for a new look than with a fresh coat of paint!
There was only one person to call when the time came to create a design and get to work: Steph Rager of A Dapper Line. Steph is an extraordinarily talented muralist who concepted and executed the previous iteration of our doors—and since our taste has evolved since she last picked up her brush for us, she was excited to see our latest inspiration and translate it into reality. We're lately fascinated with unusual palette combinations like avocado and mustard, cadet blue and flesh pink. We also can't get enough bold, in-your-face shapes. Steph took one look at the images we'd pulled from this season's runways and editorials, and within a few hours she presented us with a new design that explores color and form for an abstract installation that positively hums with energy. Then, once we had a design direction, the only thing left to do was roll up our sleeves and make it happen!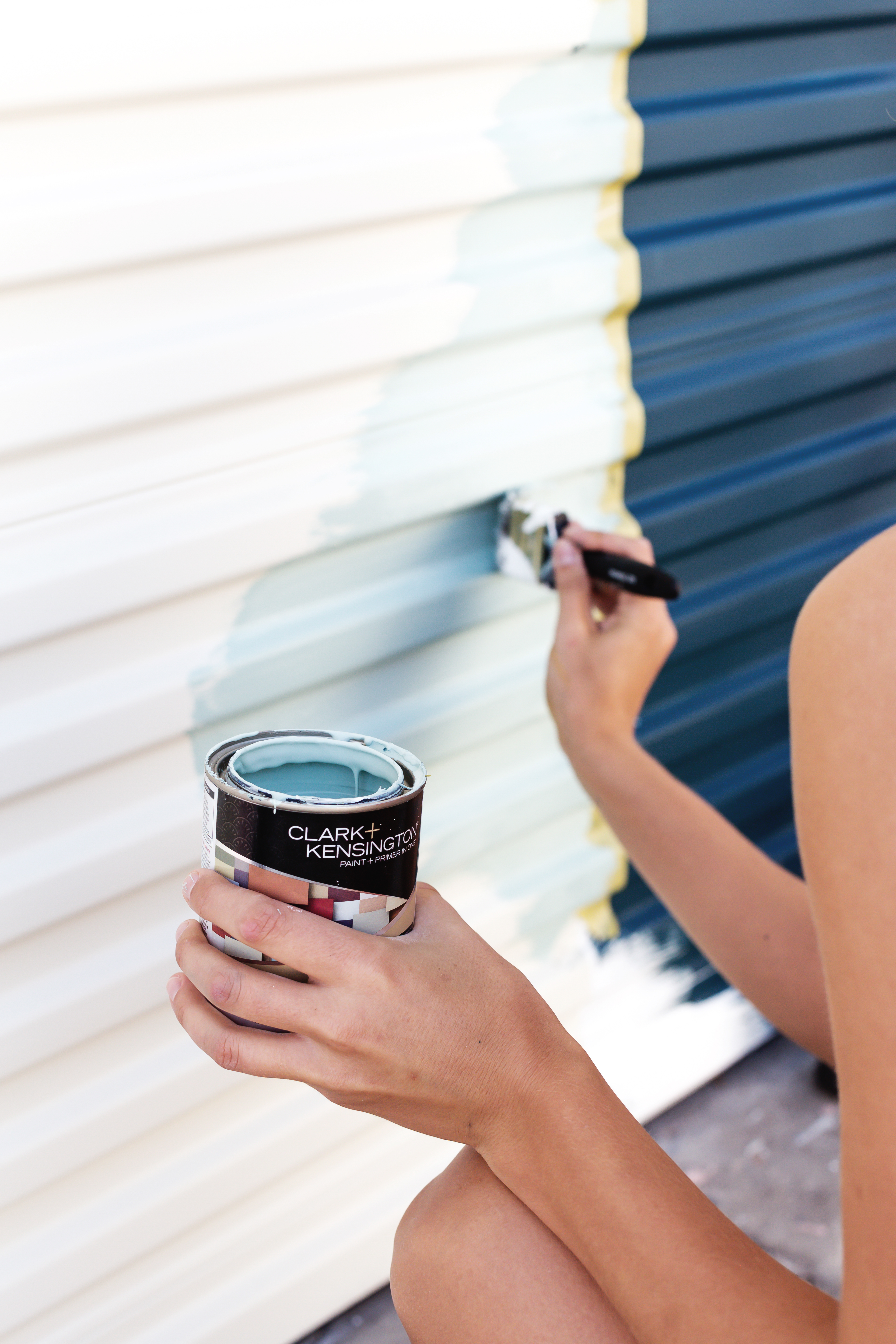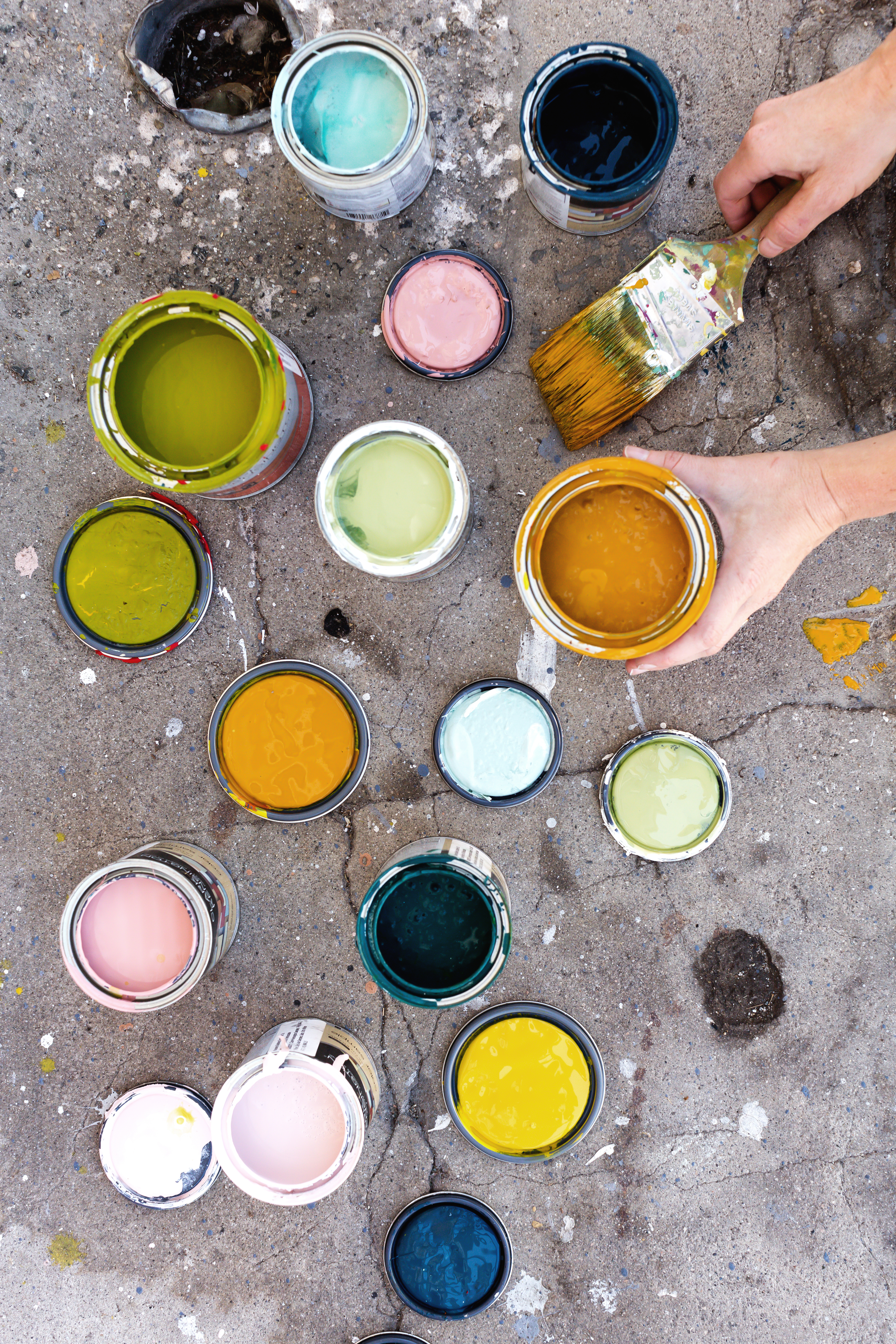 In order for our graphic shapes to really pop, Steph recommended we paint over the existing mural with wide bands of white and ecru. Thankfully, Clark+Kensington Paint and Primer in One makes easier work of tricky tasks like covering a previous paint job, and their 350-400 sq. ft/gal coverage means you can get a lot done with minimal elbow grease!As for those vibrant hues, we had a very specific color vision in mind–and Clark+Kensington rose to the challenge! When we visited our local Ace, we found out that the paint line can be color matched to ANY color, even your favorite look from the 2017 Dries Van Noten collection! We had no trouble at all finding exactly the palette we had in mind from amongst their hundreds of swatches. Best of all? Ace Hardware is a network of cooperatively owned hardware stores, with each one owned by a local, independent proprietor. There's no big box anonymity, no roaming the mile-wide aisles in search of someone to assist you, just friendly home improvement experts standing at the ready to answer questions, mix your paint, and send you on your way in record time—with a smile! Finally, Ace's new Extra Mile Promise offering also made sure that we got everything we needed during our trip to Ace, which helps a ton when you're taking on such a large project.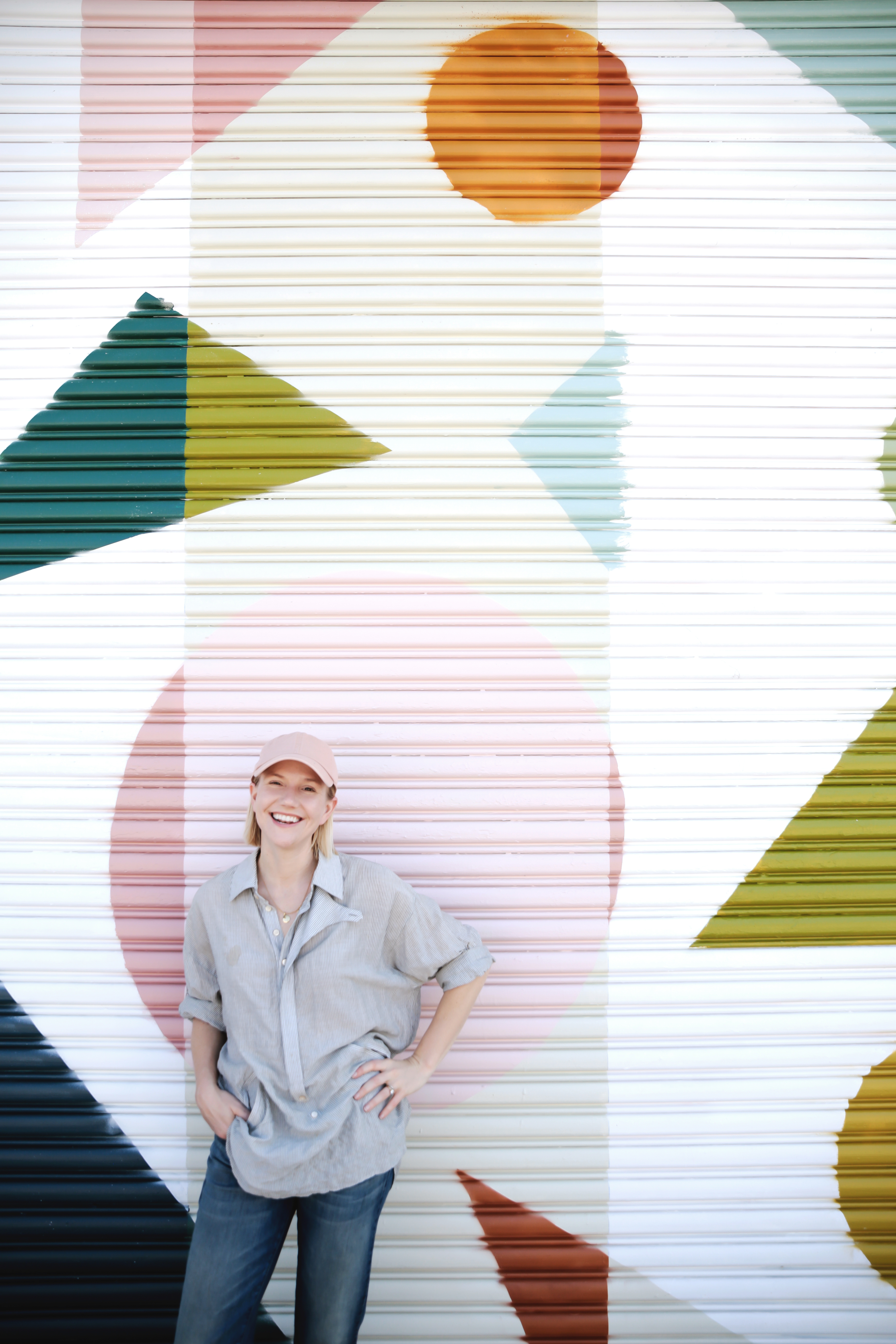 I'd be lying if I said I did any of the manual labor on this project. Steph is such a pro that my offer to be her wingwoman was met with a raised eyebrow and a chuckle that said, "Aw, bless your heart." Indeed, given how efficient and exacting she is, I'd definitely have just slowed her down! Instead I had the task of making sure we captured all the photos and video of the project, and the honor of watching our design emerge from Steph's skilled hands. The Clark+Kensington Paint and Primer in One went on smooth with a vibrant finish, and its 1-2 hour drying time meant that Steph could keep her work flowing. What's more, I take solace knowing that Clark+Kensington's ultra durable finish won't crack, flake or peel as we roll the doors up and down on countless occasions in the coming years. Because even though I adore Steph and love updating my space, I certainly don't want to repaint the door any time soon. And with a design this gorgeous, I won't need to!
Photos: Monica Wang Photography. Video: Echo + Earl. Disclosure: I partnered with Ace Hardware to concept, produce, write, edit, and share this post. All opinions are and always will be my own. Thank you for supporting the brands that enable me to bring you fresh inspiration daily!