Well, we're down to the wire. Christmas is only five days away! As usual in this stage of the holiday game, I find myself about 50% complete in my gift acquisition goals. And unless you're some kind of shopping superhero, I'd imagine you're batting about the same? Because honestly, it seems like no matter how well we plan, there will always be a demand for last-minute gift ideas. So here's some decor-inspired buys, perfect for everything from an emergency hostess gift on the way to a party to a late entrant homebody on your list!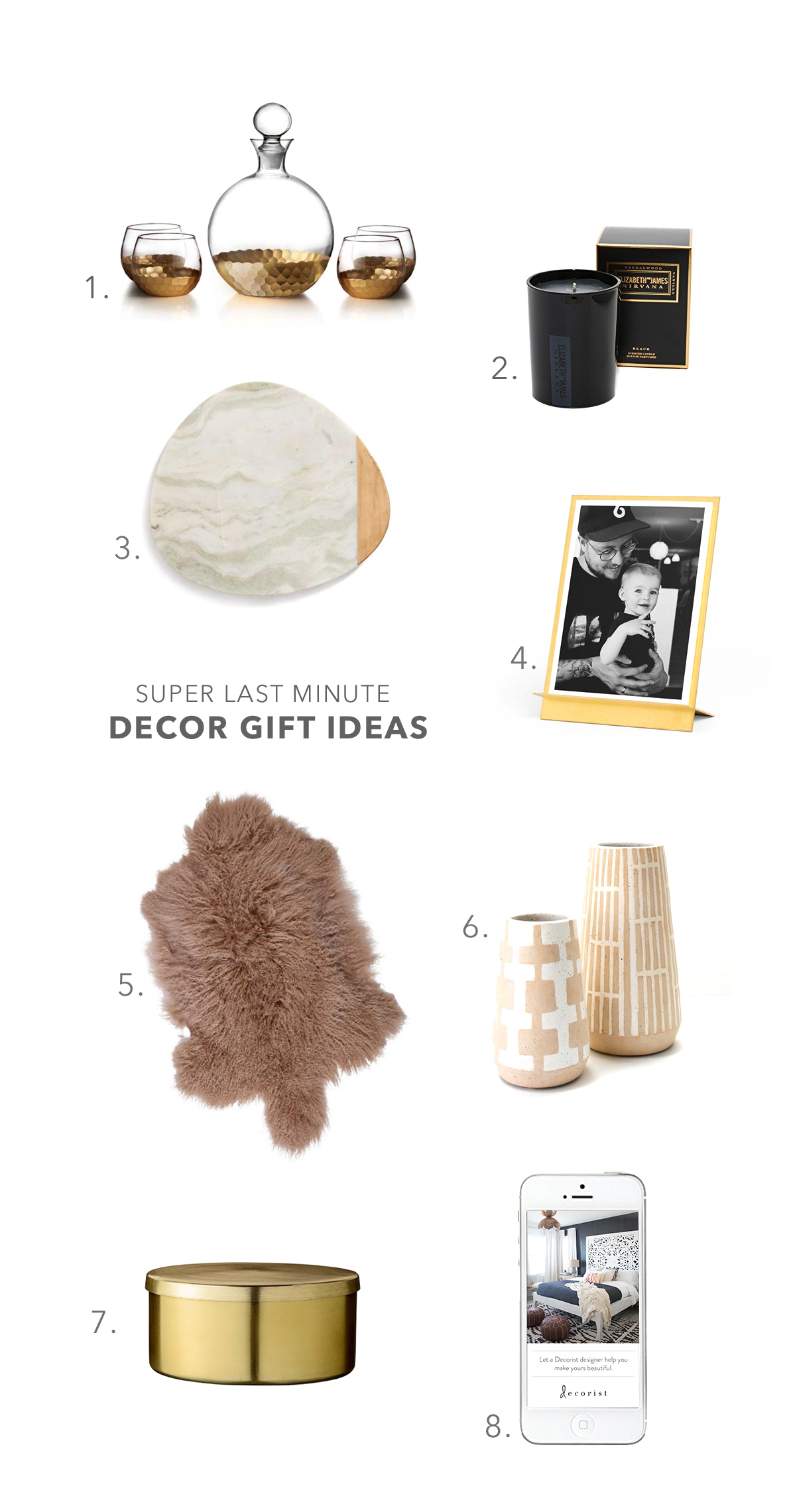 I've linked to the specific items, most of them from stores with lots of IRL locations, but have left the suggestions generic enough that you could find similar items at any store, since the order deadlines for Christmas delivery on most sites has passed:
1. Decanter + Glasses Set: Glassware adds a welcome textural addition to shelf and console displays. For bonus points, include a bottle of good liquor to decant…and offer to help test it out!
2. Minimalist Scented Candle: You can't go wrong with a smooth, sleek candle in a spicy, wintry scent. Plus the container can serve as a vase, desk accessory, or objet d'art after the wax has burned away.
3. Marble Serving Board: Obviously these boards are great in the kitchen, but I also place one on my dresser to corral a vignette with a framed photo and small sculptural item.
4. Brass Photo Easel: This is my go-to last-minute gift! Keep photo paper handy for printing at home (or order prints online for pickup at your nearest drugstore), then place them in a simple, tasteful frame for a personalized present that feels special yet takes no time at all.
5. Mongolian Sheepskin Throw: Give the gift of hygge with a surprisingly versatile sheepskin, a nice twist on the standard throw blanket. I toss mine over the back of the couch, at the foot of the bed, or anywhere else I want a touch of cozy warmth.
6. Modern Ceramic Vases: A pox on those tacky florist arrangements in ugly vases! Pick up an attractive ceramic vase that they'll want to keep after the bouquet has bit the dust. To keep costs, down pop some eucalyptus or evergreen branches into it and call it a day!
7. E-Decorating Package: If you're truly in a pinch, companies like Decorist offer surprisingly affordable e-decorating packages! Purchase a room makeover online and pop the gift certificate into a nice card, then watch your recipient squeal at the thought of a whole new home on your dime!
8. Brass Display Box: I'm always coming up short on items that add vertical interest when I'm styling, so I'm a firm believer that you can never have enough stylish stacking boxes! Fill them with chocolates for an extra sweet surprise.