Anyone who avoids ingredients like grains, refined sugar, and dairy is pretty familiar with a standard refrain: "Mmm, it's good…for something that's grain free!" Or, "Yeah! It's not bad…for sugar free!" In other words, living with dietary restrictions is sometimes like living in a world of caveats and conditions. In my case, I've not been diagnosed with any specific conditions that require me to cut certain foods from my plate, but I do know that when I stick to an unprocessed, whole foods eating plan, I feel my best—and conversely, when I splurge on traditional takes on my fave indulgences, I pay for it the next day with indigestion, low energy, brain fog, and a generally lousy mood. Yet at the same time, I'm not interested in eating inferior versions of my fave treats, so over the years I've come to accept that sweets and baked goods are more or less off my menu.
But oh, oh how that might change now that the just-released Sweet Laurel Bakery cookbook has arrived in my hot little hands. Sweet Laurel is a grain-free, dairy-free, and refined sugar-free bakery here in LA. Their entire menu is comprised of organic, whole-foods ingredients, and they're something of a legend here in town. Because they're located quite far from my house, I've never made the trek to taste their famous wares, but I've certainly heard friends rant and rave about their cakes, cookies, pies, and more. So I had high hopes when I set out to make this healthy blueberry muffin recipe (paleo and grain free)!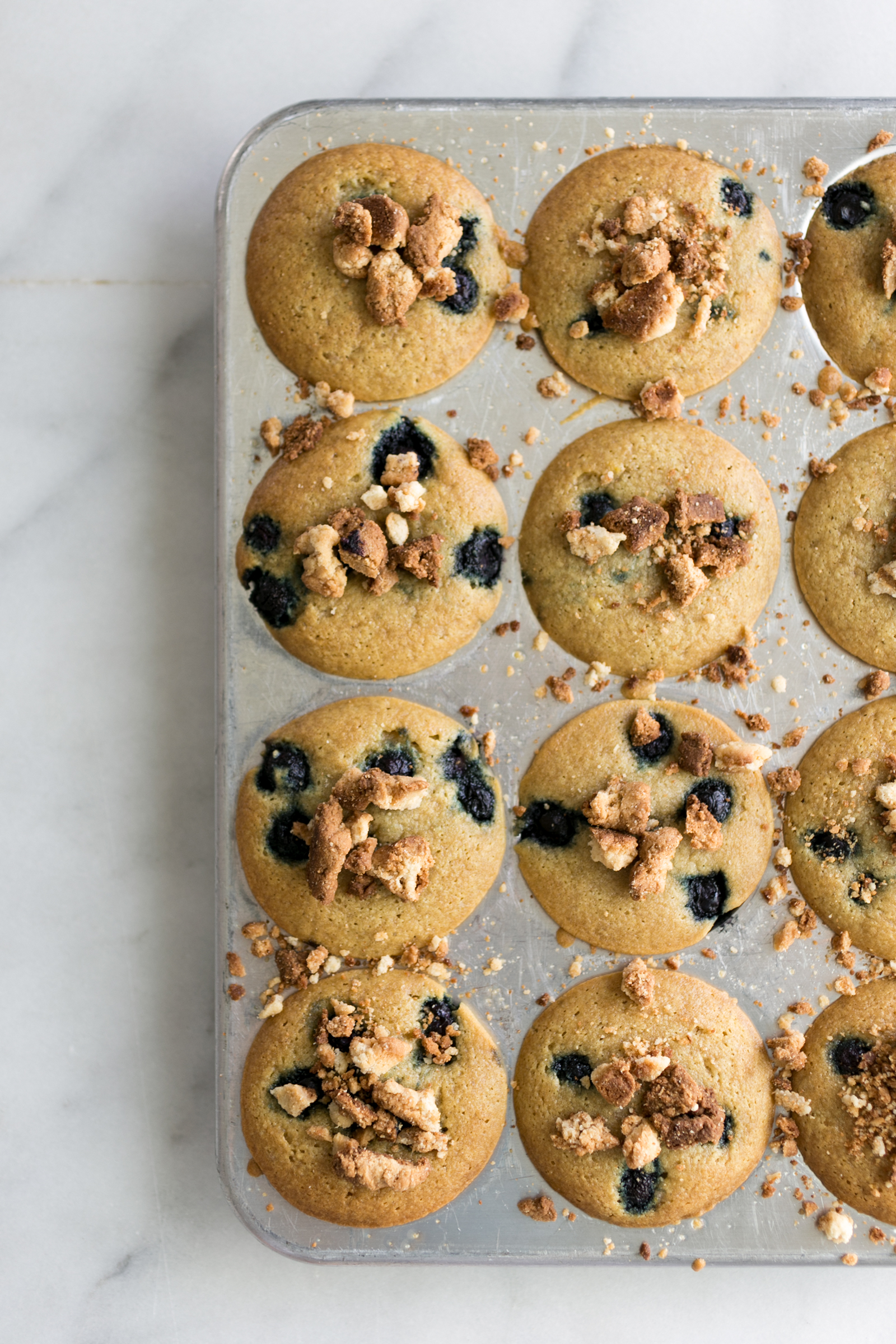 Let me tell you: These blueberry muffins aren't just "good…for grain-free". They're unconditionally the most fantastic blueberry muffins I've ever baked. So many grain-free baking recipes I've tried produce dense, hockey puck results, but these are light, fluffy, moist, and sweet, with a tender crumb and warm, buttery flavor. Unlike a lot of baking recipes for special diets, they don't contain any hard-to-find ingredients; everything I used to make them, I purchased at Trader Joe's. And unlike conventional blueberry muffins, I didn't feel weighed-down or sluggish after I enjoyed mine. In fact, thanks to the healthy fats and fiber from ingredients like almond flour and coconut oil, I powered through the day like I was on jet fuel. I cannot wait to work my way through the other recipes in this book, and I can't wait to impress brunch guests with an encore of these muffins. Delicious, sacrifice-free baking is here at last!
Blueberry Streusel Muffins by Sweet Laurel: Recipes for Whole Food, Grain-Free Desserts
makes 8-12 muffins, depending on the size of your pan
For the Streusel
1/2 c almond flour
1 tbsp coconut oil, melted
1 tbsp maple syrup
For the Muffins
2 1/2 c almond flour
3/4 tsp baking soda
1/4 tsp Himalayan pink salt
4 large eggs, room temperature
1/3 c coconut oil, melted
2/3 c maple syrup
1 1/2 tsp grated lemon zest, packed
1 tbsp fresh lemon juice
2 tbsp vanilla extract (Sweet Laurel sells a paleo vanilla extract!)
4 oz blueberries (I used frozen with a good result, but next time I'll use fresh for even better flavor.)
1. Preheat the oven to 350 degrees F. Line a baking sheet with parchment paper. Line your muffin tin with paper liners.
2. Make the Streusel: In a small bowl, whisk together the flour, oil, and maple syrup until the mixture comes together. Crumble onto the baking sheet and bake for 20 minutes or just until the streusel begins to crisp up. (Remember that all ovens are different, so watch it carefully as it will brown quickly once it starts to go! I found mine needed only 12 minutes and I rescued it just before it started to burn.)
3. Make the Muffins: In a small bowl, whisk together the flour, baking soda, and salt. In a separate bowl, combine the eggs, coconut oil, maple syrup, lemon zest and juice, and vanilla. A little at a time, add the dry ingredients to the wet, stirring until a smooth batter forms.
4. Divide the batter evenly among the lined muffin cups, filling each 3/4 of the way. Top each muffin with a few blueberries and lightly swirl them into the batter with a spoon. Sprinkle the streusel topping over the muffins.
5. Bake for about 25 minutes, until the streusel is golden brown. Remove the muffins from the tin, set on a rack, and alloow to cool completely. Store for up to 5 days in a sealed container, or for up to 2 months in the freezer. Defrost before reheating in a low oven. Defrost before reheating in a low oven.