Without a doubt, one of the most important elements in our kitchen makeover has been the upgrade in our laundry setup. The existing washer and dryer were the biggest impetus for starting the renovation process as quickly as possible after moving in; and they also represented the most significant problem solving we had to do during the design phase of the project. I mean, the fact that our washer and dryer were in the kitchen in the first place was an issue! While it's relatively common to find laundry machines in the kitchen in other countries, you can see from the 'before' photo below that we weren't dealing with appliance that fit neatly into our living space. Rather, a big ol' America washer and dryer were consuming valuable work and storage space, and also projecting well beyond the counter depth so that traffic flow in the room was seriously impeded. Yet because the house is only 900 square feet, there's no where for a dedicated laundry room. Our choice was either find a way to incorporate a washer and dryer into the new kitchen design or learn to love the laundromat—not much of a choice at all, really!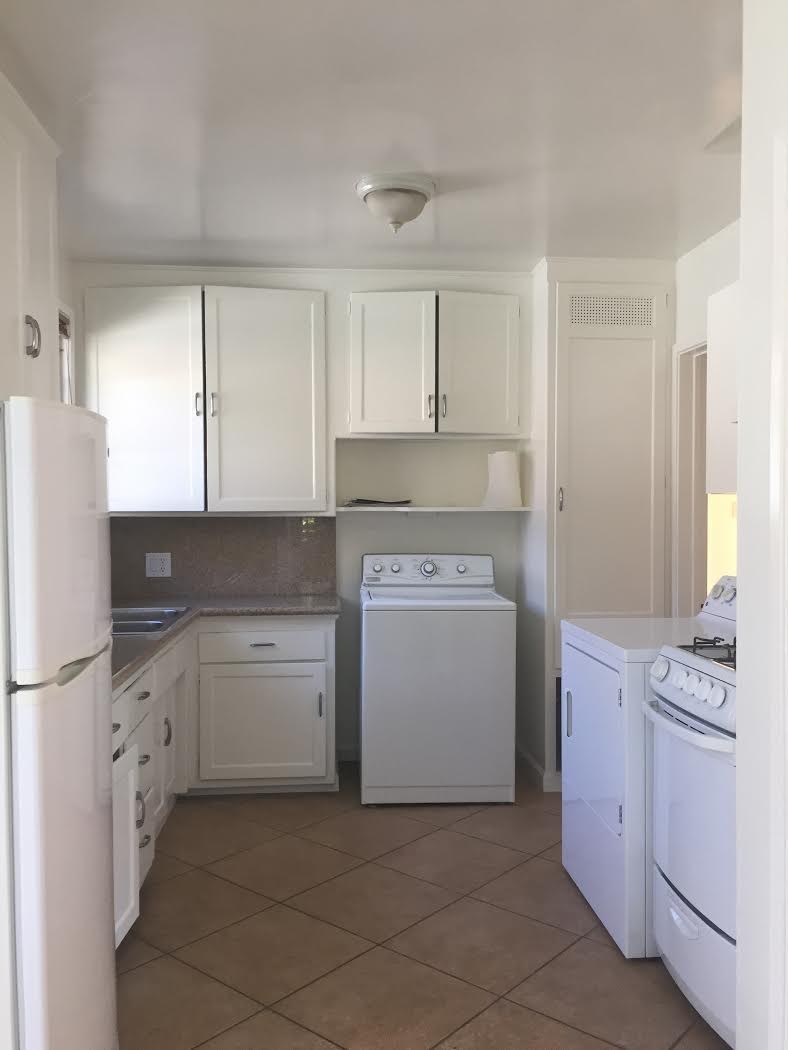 All I can say is thank heavens for the brilliant minds at Studio McGee—and for the Whirlpool® Compact Front Load Washer and Compact Ventless Heat Pump Dryer! During the concepting phase, our design team devised a clever plan to tuck our laundry units into a sleek pantry cabinet, a solution that ensured we could do our laundry with ease while also achieving the streamlined aesthetic we were seeking. When it then came time to source our appliances, we were a little worried about finding a suitable washer and dryer through an American manufacturer, but Whirlpool's most space-efficient dryer models easily fit into the designated cabinet. A ventless exhaust system allowed us to install the dryer exactly where we wanted it, without having to run additional ductwork. And in spite of their compact footprint, both units have generous interior space so we can still fit what we need in our space.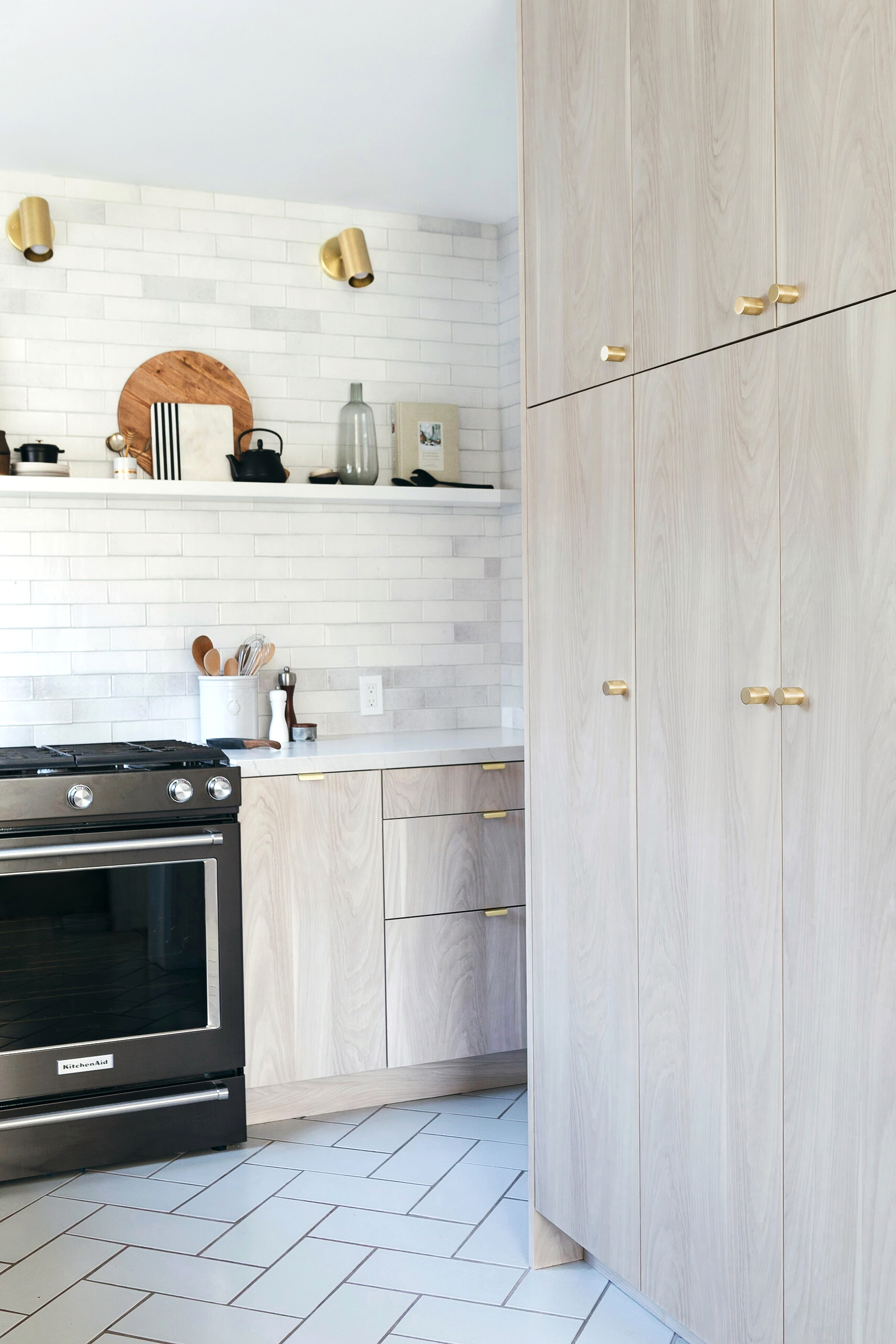 In addition to satisfying our design vision and meeting our spatial needs, both appliances offer functional features that make doing laundry a breeze. The washer has 10 easily programmable cycles, from a time-saving option that expedites lightly soiled loads, to a heavy soil setting with a specialized cleaning action that optimizes stain removal and rinses away extra dirt. The dryer, meanwhile, deftly handles everything from wool to bedding and beyond. In order to save money and resources, the washer has special sensors that determine load size so you're not using more water than necessary, while the dryer's ventless heat pump design recycles air and captures moisture for next level energy efficiency. Oh, and for those of us who suffer from laundry amnesia (that's what I call my persistent habit of forgetting to remove clothes from the washer and dryer when the cycles are done!) both appliances have functions that periodically tumble finished loads to help prevent mildewing or wrinkling.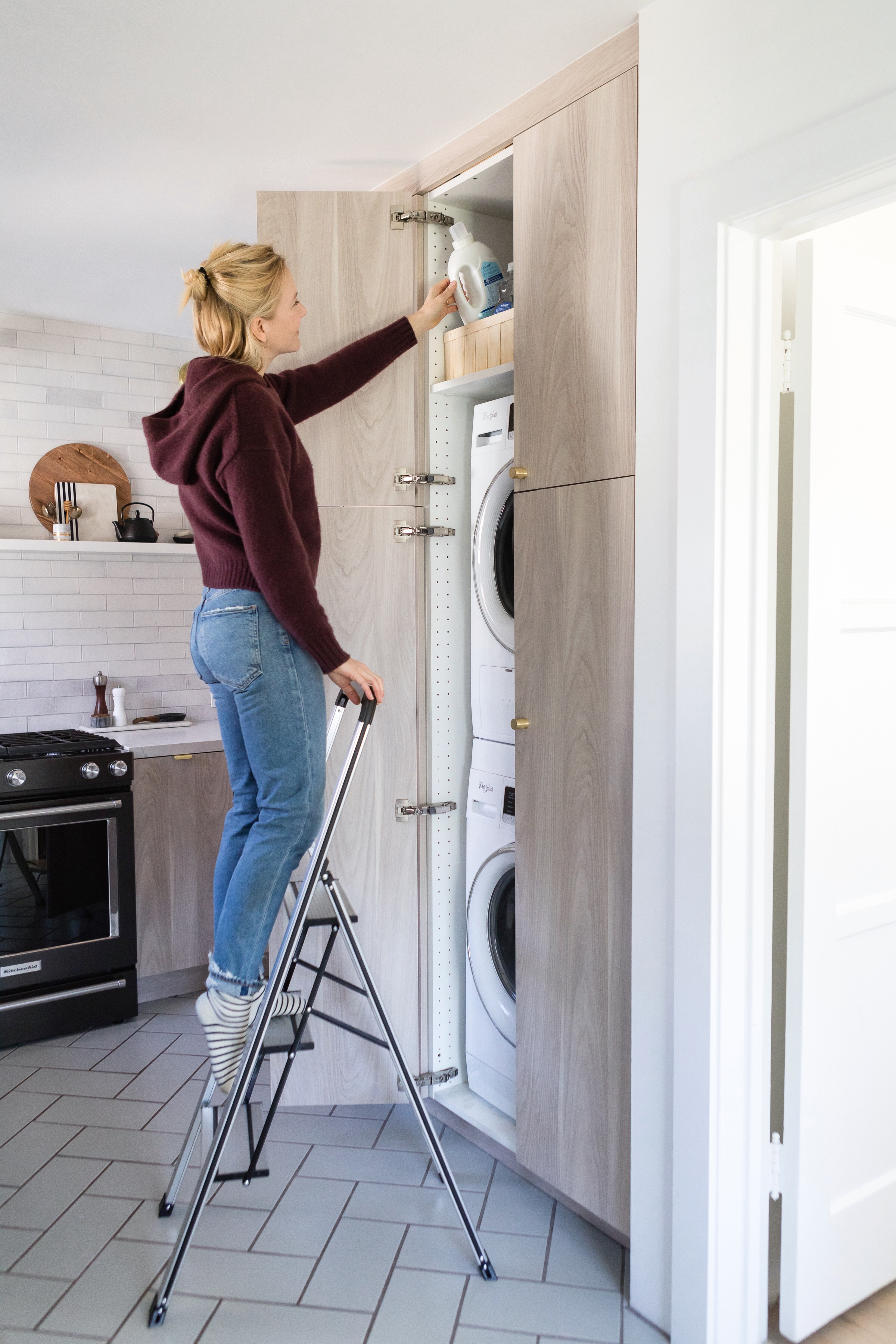 For the install, we used the Whirlpool 24″ Stack Kit to secure the dryer atop the washer. A shelf above both units is the perfect place to store supplies like detergent, and a sliver of space between the stacked units is just right for tucking away slim items like our broom and step ladder. The appliances are so quiet that I can't hear them at all when they're running. Visitors to the house have no idea that our laundry appliances are in the kitchen—until I open the cabinet doors and brag about them for as long as people will listen. I mean, with a setup this cool, it's impossible to keep my enthusiasm under wraps!
Images: Monica Wang Photography.