Today I placed an order for 52 wallpaper swatches, which is definitely a record for me! The reason? Caroline and I just took on a new client project, a super fun powder room renovation that is going to look fantastic when it's complete! I'll share some overall inspiration for the design soon, but I wanted to share a peek at some of the wallpaper we've shortlisted because after spending the last couple days pinning our fave options, I've got patterns on the brain!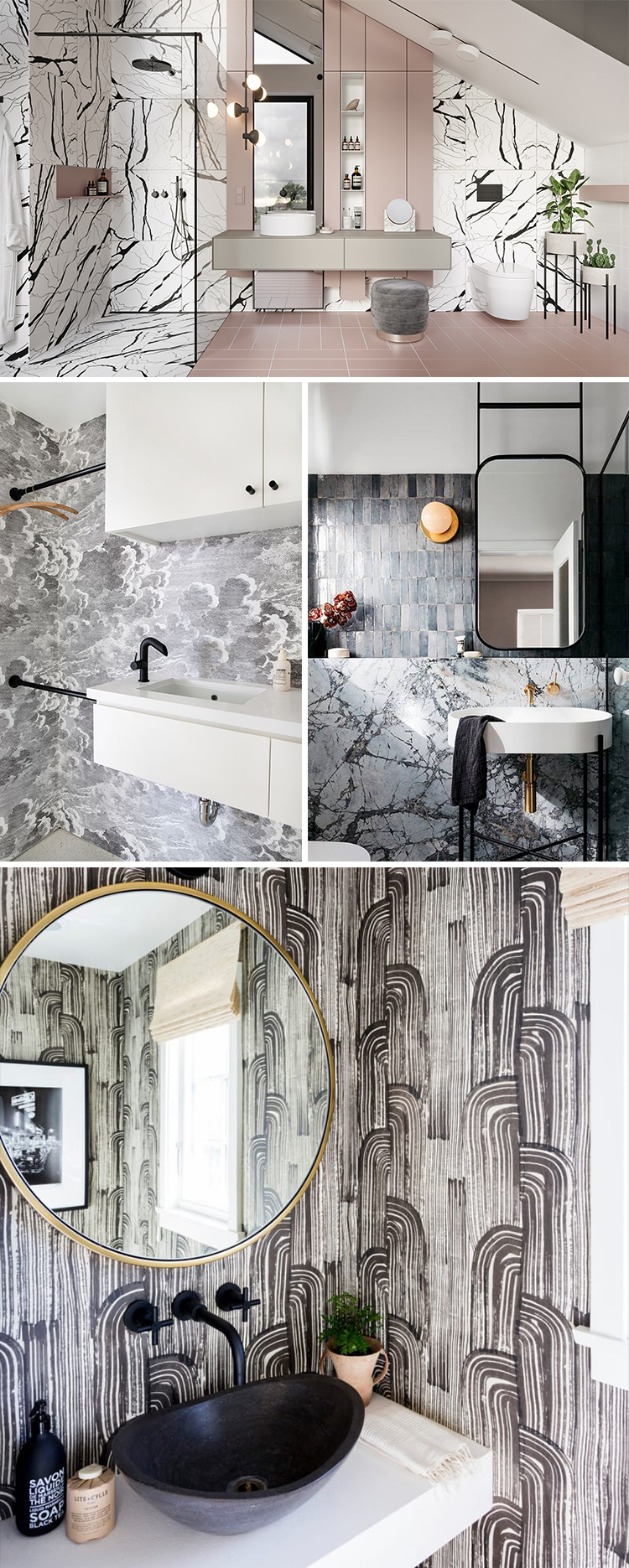 Powder rooms are a classically popular opportunity to incorporate wallpaper into them home, since it feels less risky to make a bold statement in a small space that doesn't get used as often. (As well, wallpaper can be expensive, so it's much easier on the budget to cover the walls of a tiny powder room than a big bedroom!) In our case, we'll also be using the wallpaper as a textural statement. The client's home is largely neutrals; and while she's down to experiment with color, we want the powder room to feel consistent with the rest of her space. So we'll create dynamic interest by layering fab patterns in stone, tile, and wallpaper, but we'll keep the palette subdued.
These are just 12 of the 52 wallpapers that I ordered, but you can pretty easily get a sense for our direction from this roundup! There's lots of soft greys, taupes, and ecrus, and a mix of abstract graphics and whimsical illustrations. We're also waiting on surface samples for the vanity to arrive, so I'm not sure if we'll go for a larger scale wallpaper or a smaller one; that will depend on the stone we choose for the countertop. Pretty soon my dining room table is going to be covered with swatches and I can't wait to experiment with different pattern combinations. This is going to be a blast, so be sure to follow along on Insta stories where I'll share some of our top picks!
1. Cole & Son Parsley Wallpaper 2. Cole & Son Mosaic Wallpaper 3. Lee Jofa Hunt Slonem Hutch Wallpaper 4. Farrow & Ball Ocelot Wallpaper 5. Cole & Son Fornasetti Nuvolette Wallpaper 6. Galerie Nordic Elegance Exotic Palms Wallpaper 7. Jean Paul Gaultier Voyages Croquis Wallpaper 8. 9. 10. Prestigious Origin Samburu Wallpaper 11. Farrow & Ball 12. Prestigious View Rise Wallpaper