It's been such fun sharing the big reveal of our home office makeover this week! If I do say so myself, the finished space truly is eye-catching. From the wall of all-white books to the many layers of soothing organic textures, everything comes together to create a truly cohesive and memorable whole. I've been receiving so many questions about the details and the process by which I brought this room to life! So in hopes of being a resource for others looking to tackle a similar project, I've got several posts honing in on each element. First up? The very foundation of the space: Our California Closets built-in bookshelves and desk!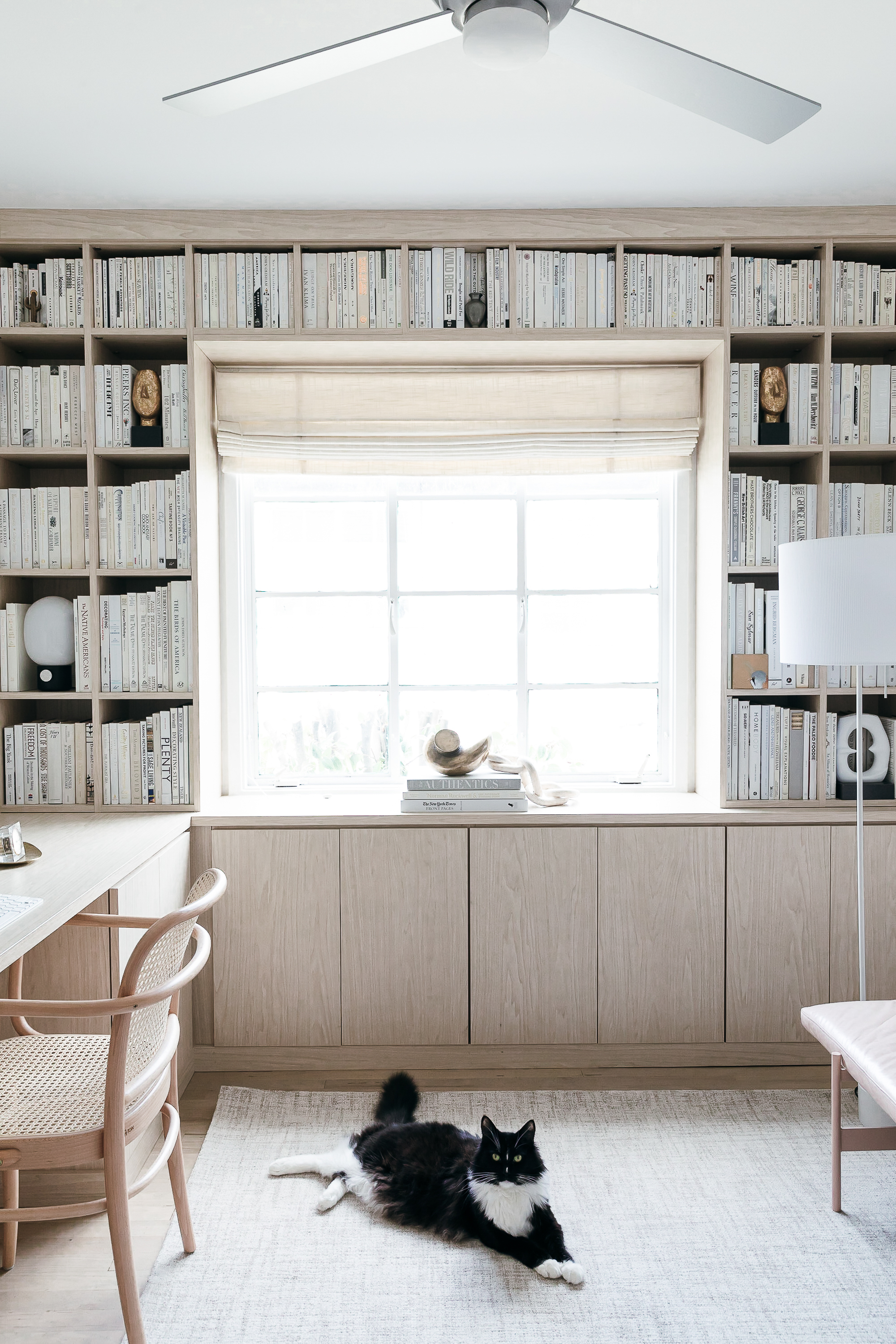 This entire project started with the goal of giving Ivan an office where he'd be excited to spend his days. He works remotely for a large corporation, so he definitely needs a dedicated workspace in our home. We'd been using our second bedroom as his office, but it was in a sorry state with a wobbly table as his desk and secondhand shelves piled high with overflow from the rest of the house.
Based on some pins I'd been saving as home office inspiration, I had a vision of serene, streamlined shelves that created both workspace and storage in this 9'x11′ room. I also wanted to add some personality to our architecturally bland 1954 bungalow. Some custom built-ins seemed like the perfect solution!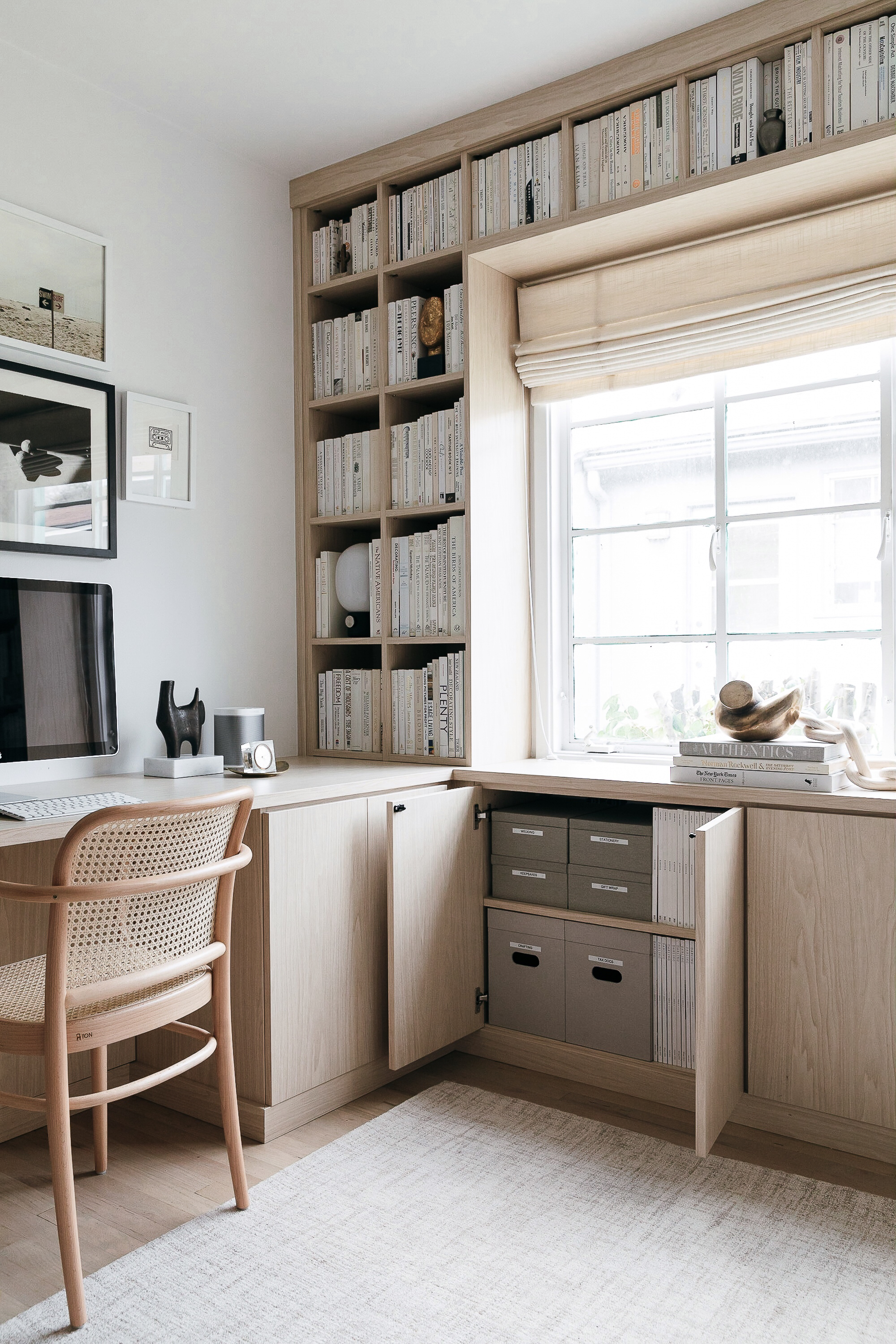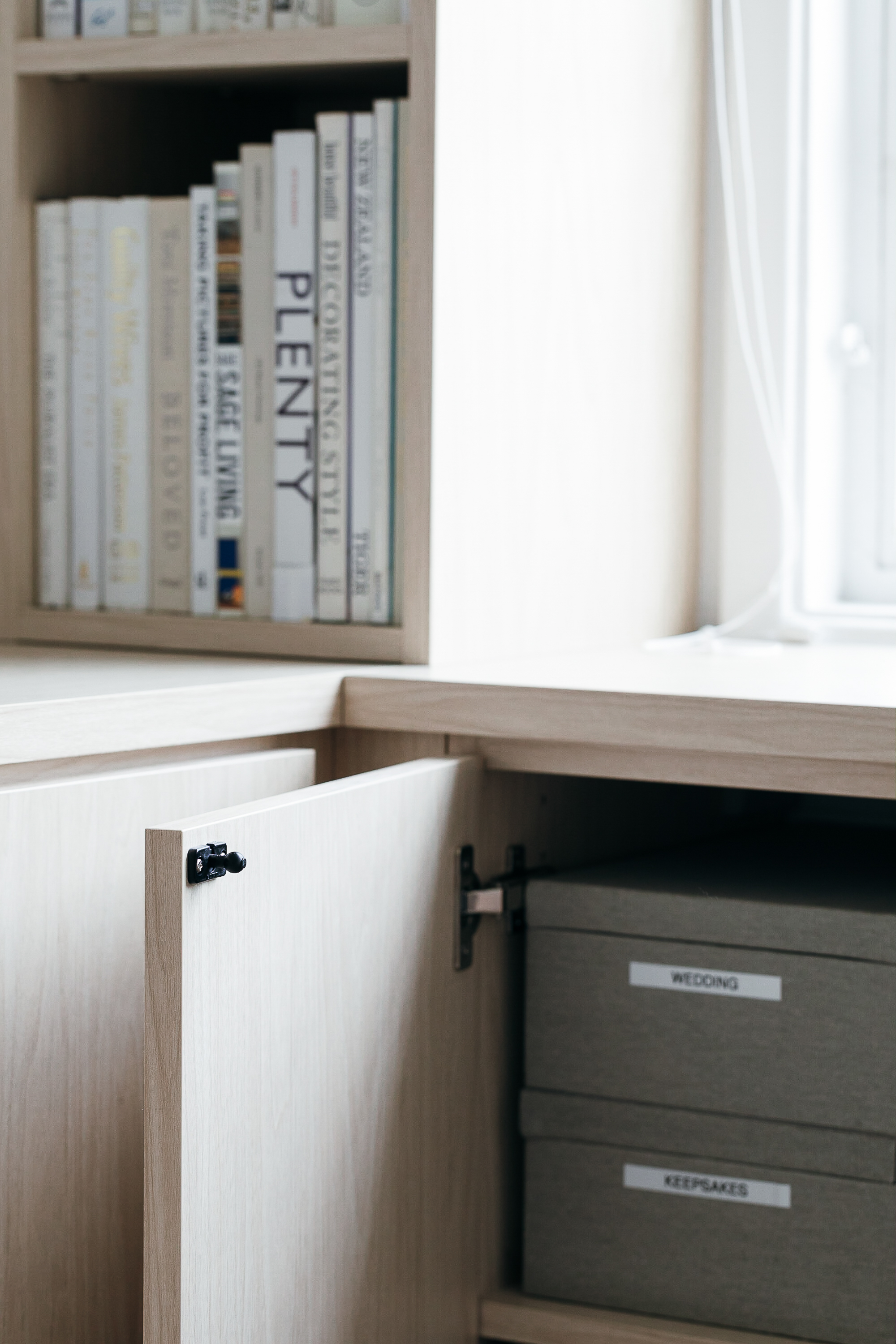 I had a pretty clear idea from the beginning of the form that I wanted the built-ins to take. The room has the benefit of one large window that I wanted to highlight with a bookshelf surround, and both Ivan and I loved the idea of a bank of cabinets for storing everything from office supplies to his turntable and sneaker collection.
I sketched some quick concept drawings and asked for quotes from a few carpenters, and was immediately disheartened when the numbers were coming in at upwards of $15,000! There was no way we wanted to invest that much in the space given that we live in a rental. Plus, I hated the idea of managing the install myself. I've got enough on my plate without wrangling tradesmen, thank you very much!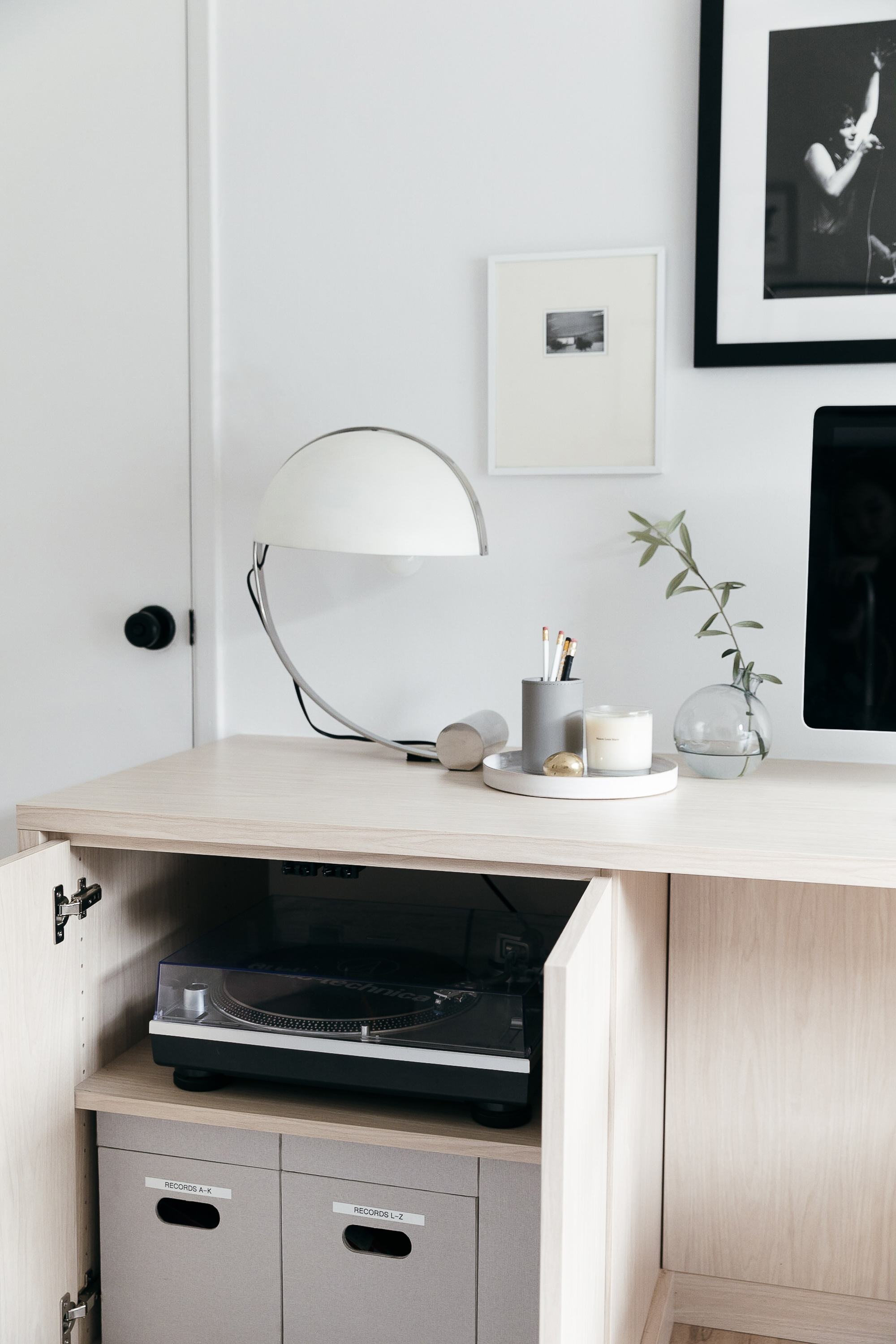 That's when it occurred to me to check into California Closets as an option for the project. I've had friends do closets and pantries with them, and I'd seen the brand do some pretty handsome media room installs as well. A custom home office didn't seem like a far leap from those types of spaces; after all, shelves and cabinets are shelves and cabinets!
So I scheduled one of California Closets' free design consultations and was immediately put in touch with a local design consultant named Darlene. When I showed her my drawings, she was not only confident that she could help me bring it to life, but the price she gave me was a fraction of the quotes I'd received from carpenters. It was a no-brainer to move forward with California Closets!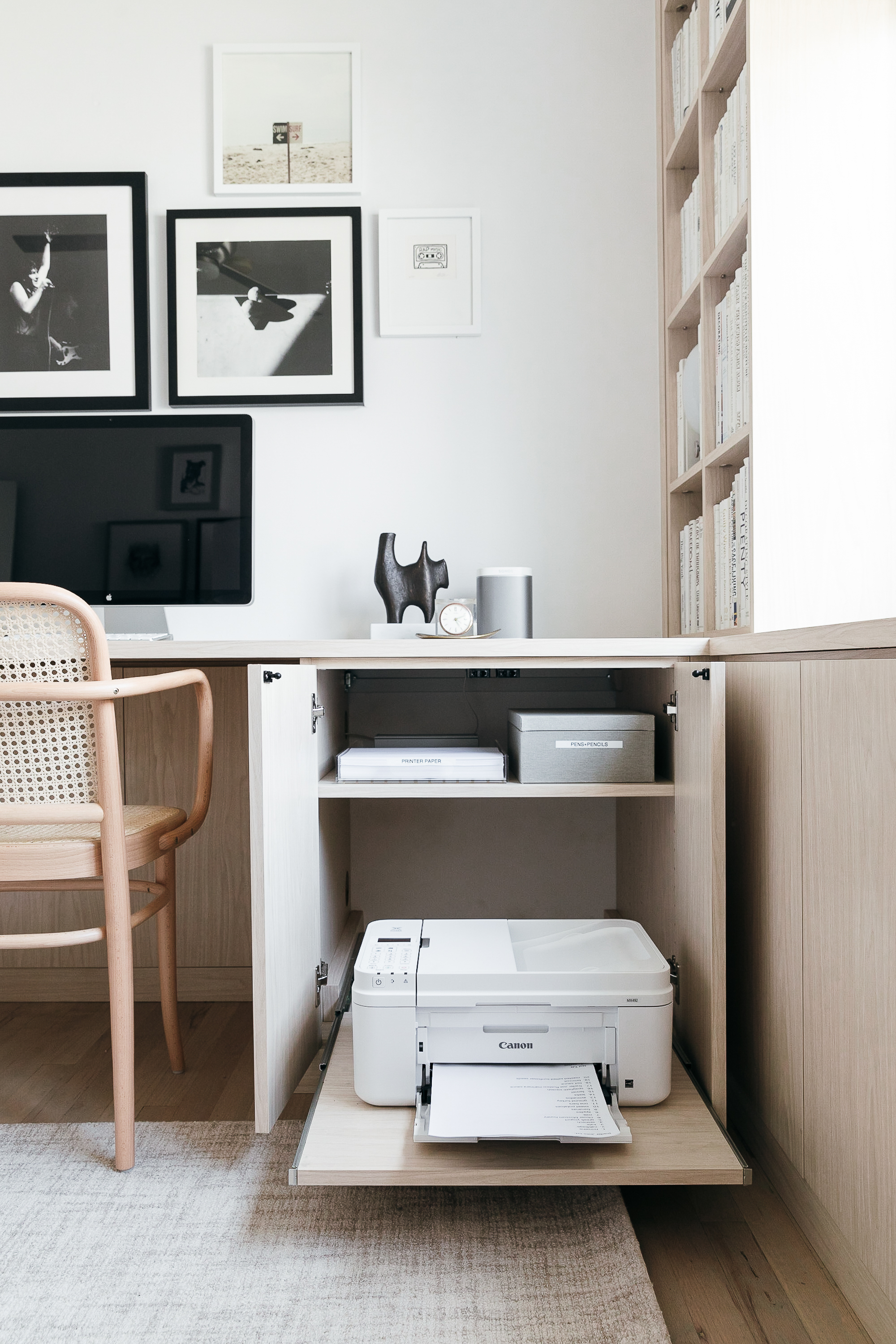 Darlene's next step was to take exact measurements of the room so that she could create 3-D renderings of the plan for us to review. We also chatted finishes and ultimately went with the Natural finish from the Albero Collection. We also explored all the details: how we wanted the shelves to be mounted, how we wanted the doors to open, what style of moldings and toe kicks we preferred, what office accessories we thought would most suit how we intend to use the space.
Darlene's expertise was invaluable at this stage of the process. There were so many little questions that I'd never even thought to ask myself, and she was able to walk us through every decision to ensure that the finished result fulfilled our exact vision. And when she showed us our 3-D renderings, it was so easy (and thrilling!) to picture exactly how the final install would look!
In terms of functional solutions, we elected to go with a slide-out drawer for easy access to the printer. As well, underneath the monitor station, there's a shallow cabinet to hide the ugly nest cords. Grommeted cutouts in the desk's surface allow us to run cables for the computer, desk lamp, and sound system. It's efficient design at its best!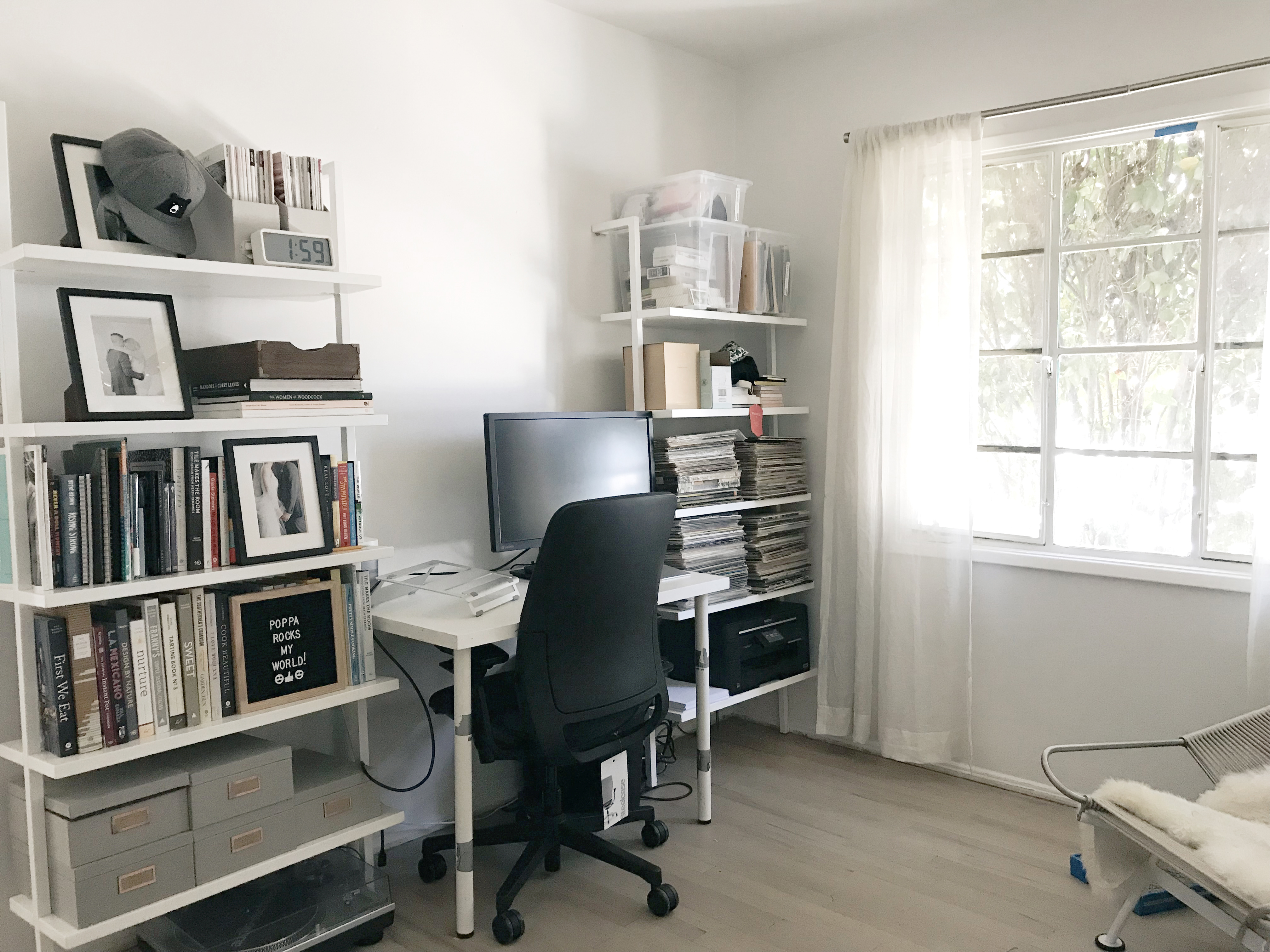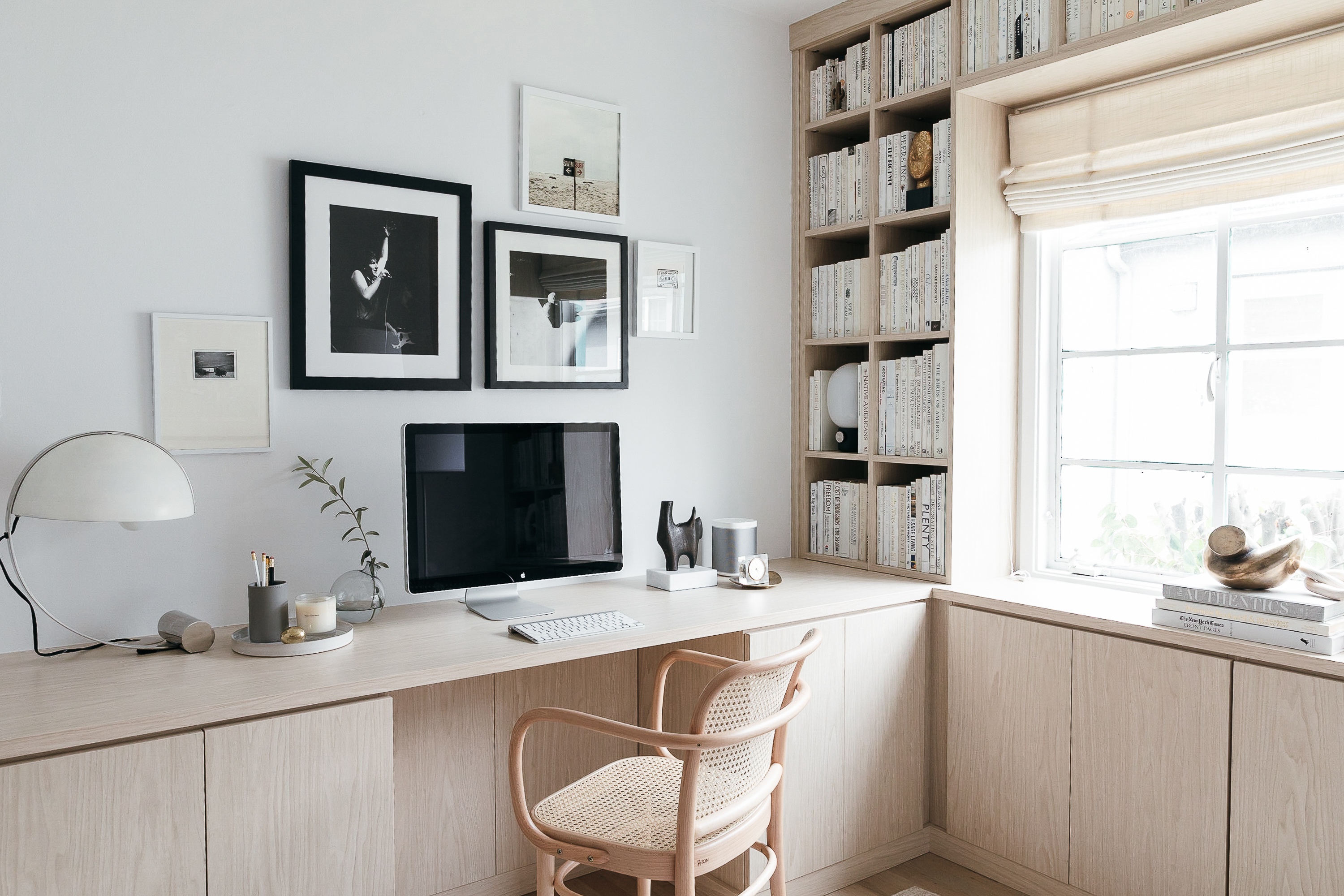 After a couple rounds of tweaking the 3-D renderings based on our feedback, Darlene scheduled the install. The entire system was installed in just a few hours and Darlene was on-site to manage the whole thing. I even booked a client job and was out of the house that whole day, knowing that everything was in Darlene's more-than-capable hands.
I cannot tell you how satisfying to come home at the end of a long day on set to see our beautiful new home office. It was such a contrast to the agony of living in and managing our kitchen renovation last year. Granted, a kitchen is much more extensive than a shelving install. But had I gone with carpenter, Ivan could easily have been displaced from his workspace for three or four days—and I'd have needed to stay home for each of those days to oversee the whole thing. California Closets spared us both!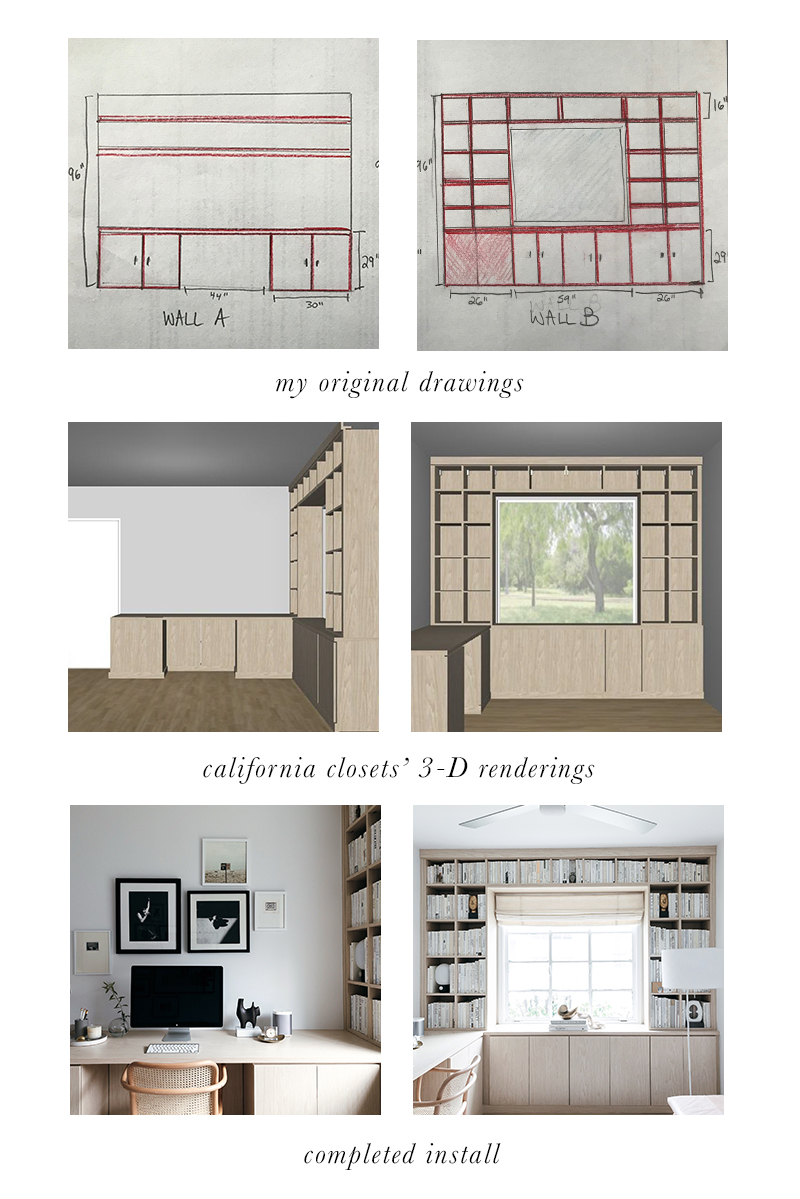 Now that the space is complete, it's like it's always been this way! Truly, I had forgotten how sad and shabby the room looked until I dug up the above before photo to include in this post. Our California Closets built-in bookshelves and desk are now one of my favorite features in our home, and everyone who visits can't get over how elegant and ingenious they are. The entire process was a dream from start to finish. And I love working with Darlene and the brand so much, I've since done a second install similar to ours in a clients' home office!