Recently, I joined forces with a husband and wife who had two very different ideas for their kitchen renovation. She wanted boho, and he wanted modern—not an easy pairing! However, they both loved the look of a matte black kitchen cabinet, a bold statement yet neutral enough to work for boho and modern design styles.
Modern, black kitchen cabinets are definitely on trend right now, a major departure from the all-white kitchens we've seen for so long. But black can be intimidating to work with, especially on a large scale. So if you're swooning over black cabinets but need some design direction, use these 4 tips to achieve the dark kitchen cabinet look.
Compromise is never easy, especially when it comes to the design of your home. But with a little give and take, you can create a layered space with more depth and interest than you could have imagined on your own.
How to Achieve Modern, Organic Design with Matte Black Kitchen Cabinets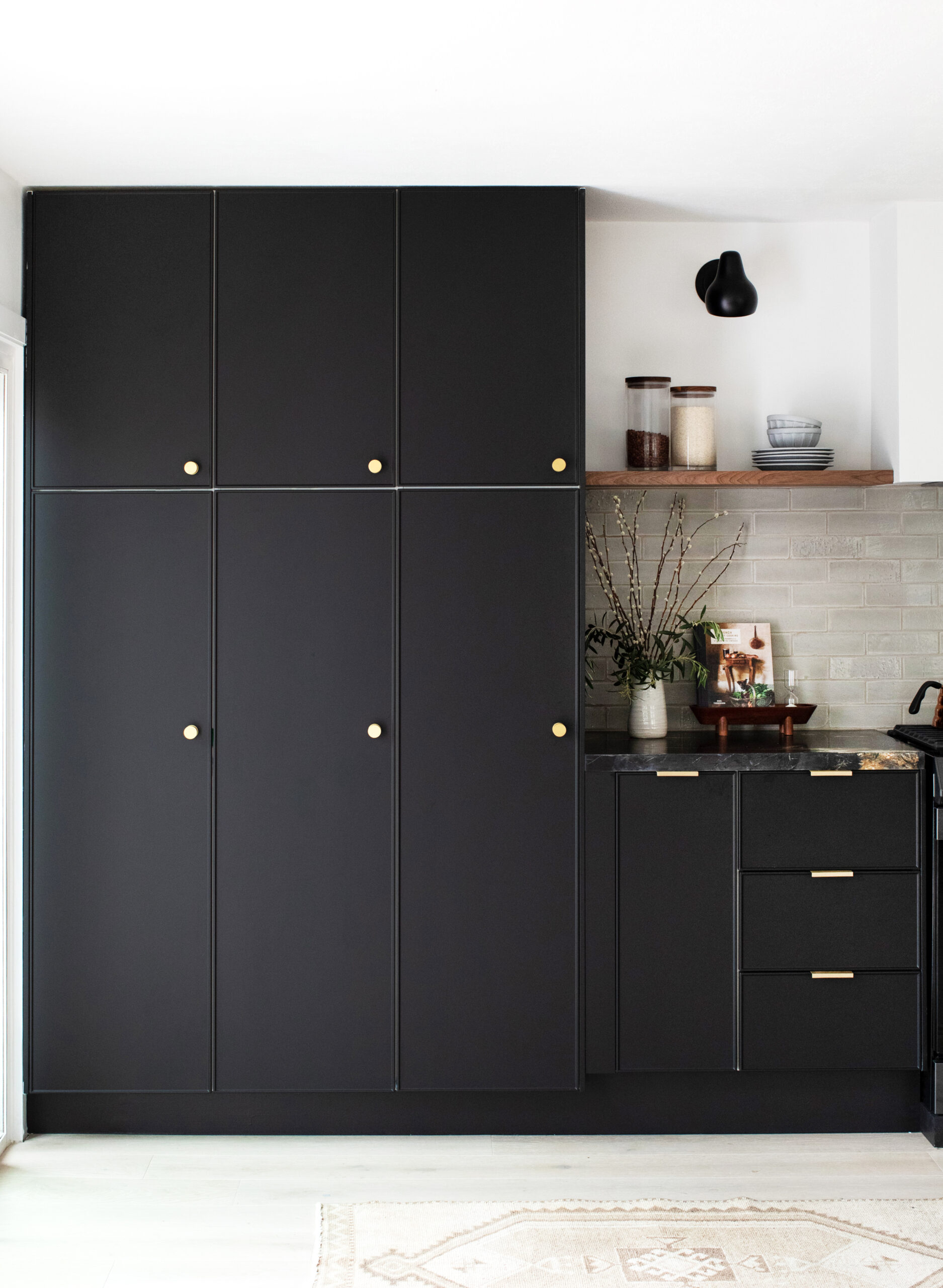 Incorporate different textures.
True black cabinetry has no color variation. So to prevent your kitchen from looking too flat, mix in different textures that add dimension.
For example, look at the slim, raised pencil edge surrounding each cabinet door. This subtle detail gives the matte black kitchen cabinets depth and keeps the eye moving around the room.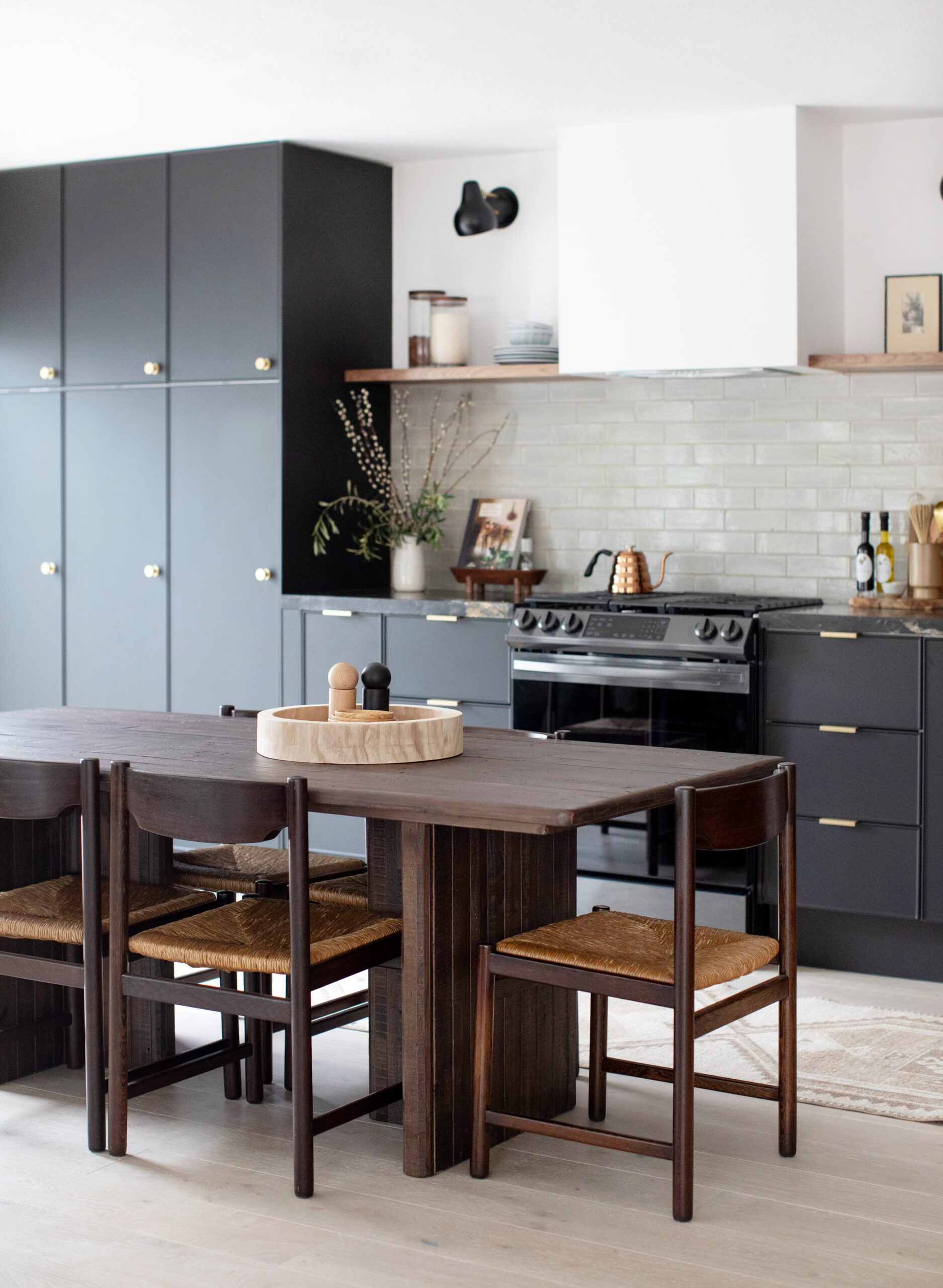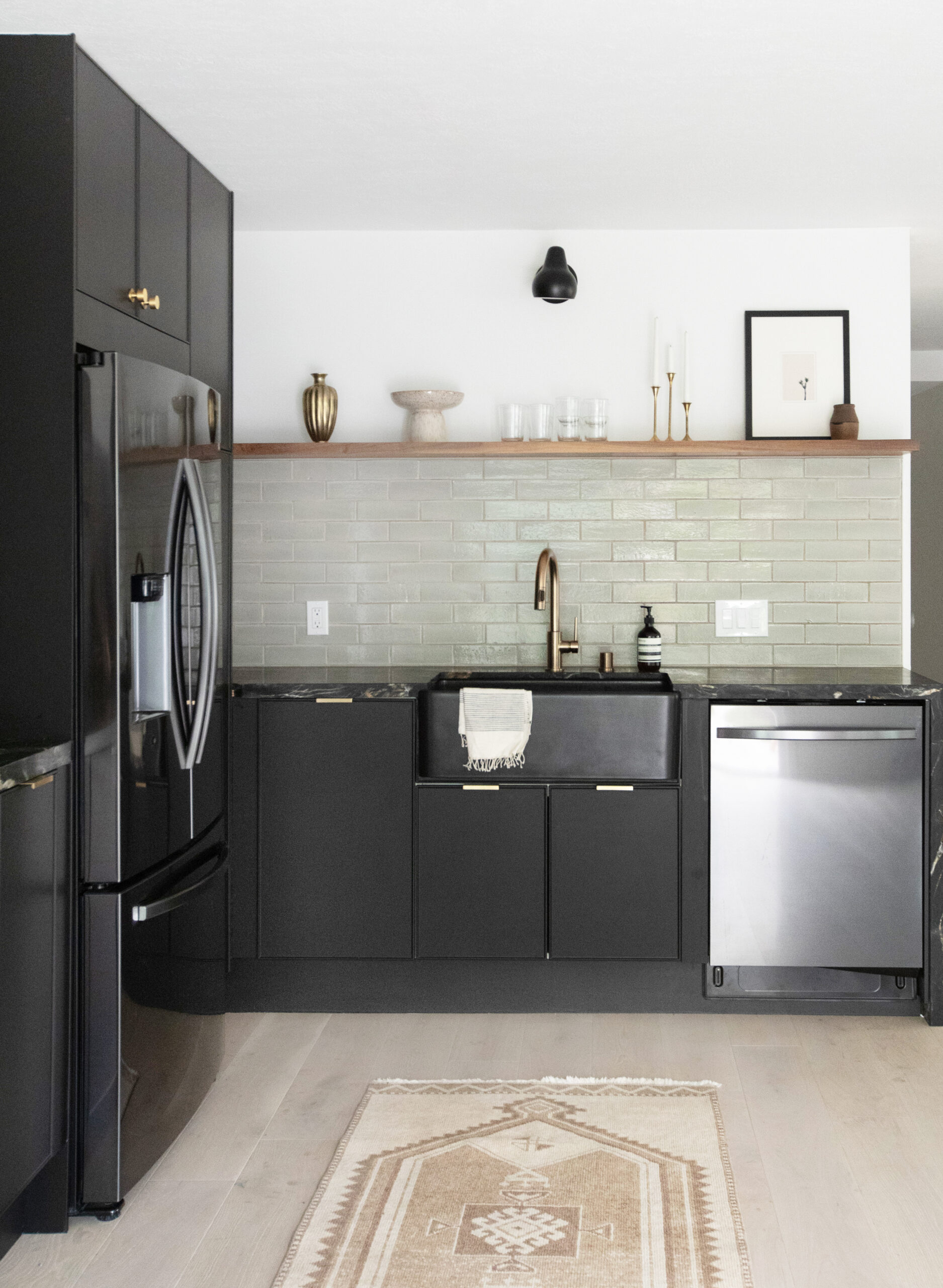 Balance design elements.
The goal of this project was to combine modern and boho design. Since black cabinets with simple lines are inherently contemporary, we needed to add some warmth and layers back to the kitchen to capture the boho aesthetic. 
We balanced out the modern, matte cabinetry with earthy, organic components, like these muted European oak floors and honed wood table chairs. A fun vintage rug from Bente Vintage completes the boho look.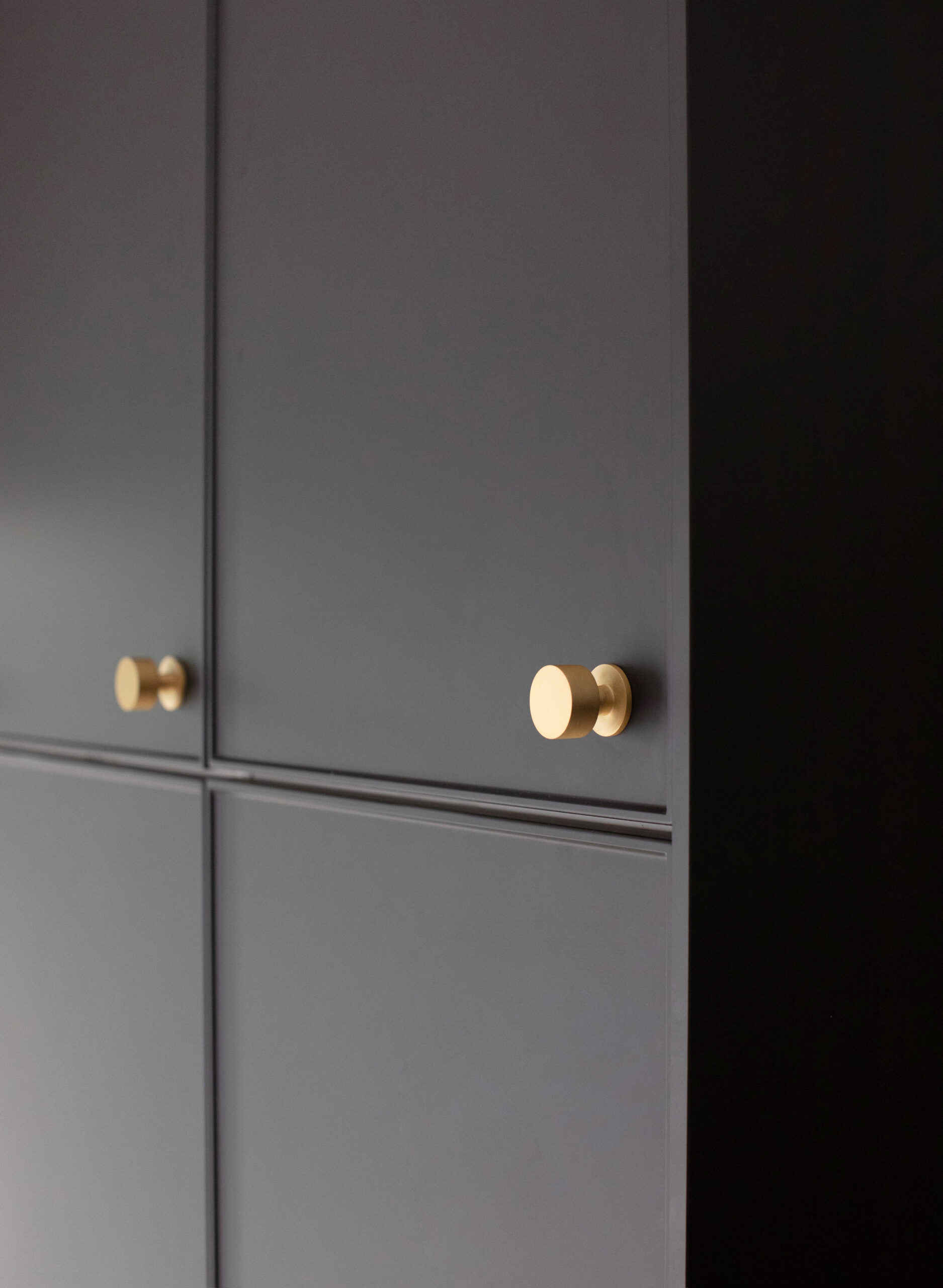 Add life with contrast.
Contrast is a fundamental principle of interior design. Using opposing colors, finishes, and materials helps to create a space that looks dynamic and fresh. 
Here, the smooth cabinetry contrasts the undulating, multi-hued tile backsplash. And the rounded edges of the brushed metallic disc-shaped knob pulls complement the straight, sharp lines of the cabinets and countertop.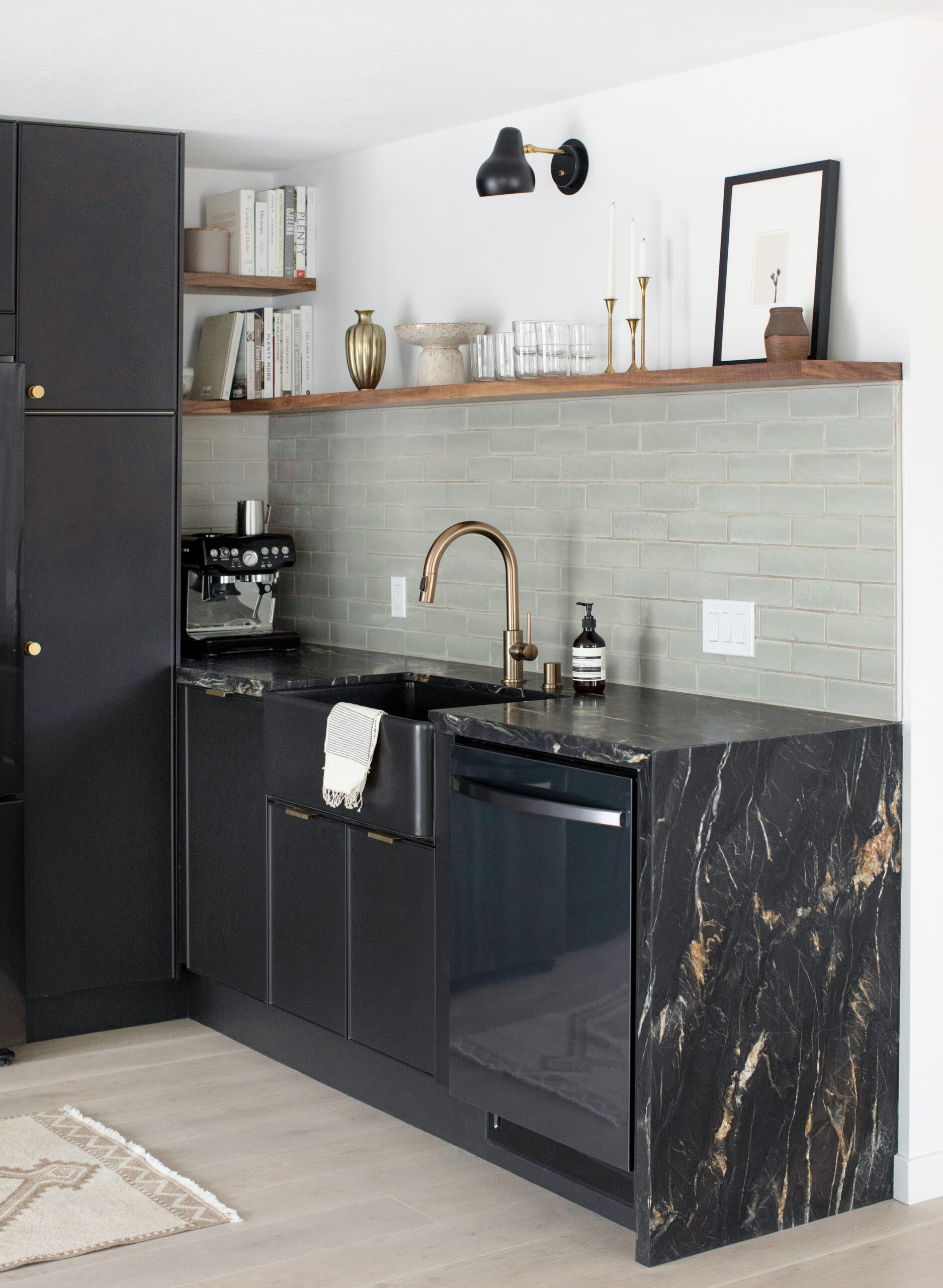 If you really want to make an impact in your kitchen, add a black countertop with white veins to bring movement and life into the space, like this stunning granite countertop.
Repeat colors, tones, and shapes
.
Create a cohesive space by strategically adding in a few more black pieces so your matte black kitchen cabinet look doesn't feel like a total non sequitur in the room. In this design, the sconces, appliances, and decor all carry the black theme throughout the kitchen. 
In addition to repeating color, we also duplicated shapes. See how the edge pulls on the drawers mimic the pencil-edge trim of the cabinetry? The hardware emphasizes the clean lines and streamlines the whole space.
Get the Matte Black Kitchen Cabinet Look
Sleek, luxe cabinetry doesn't have to break the bank. These BOXI by Semihandmade cabinet doors and drawer fronts come pre-assembled and ready to install. We used the brand in our own kitchen and love how they turned out!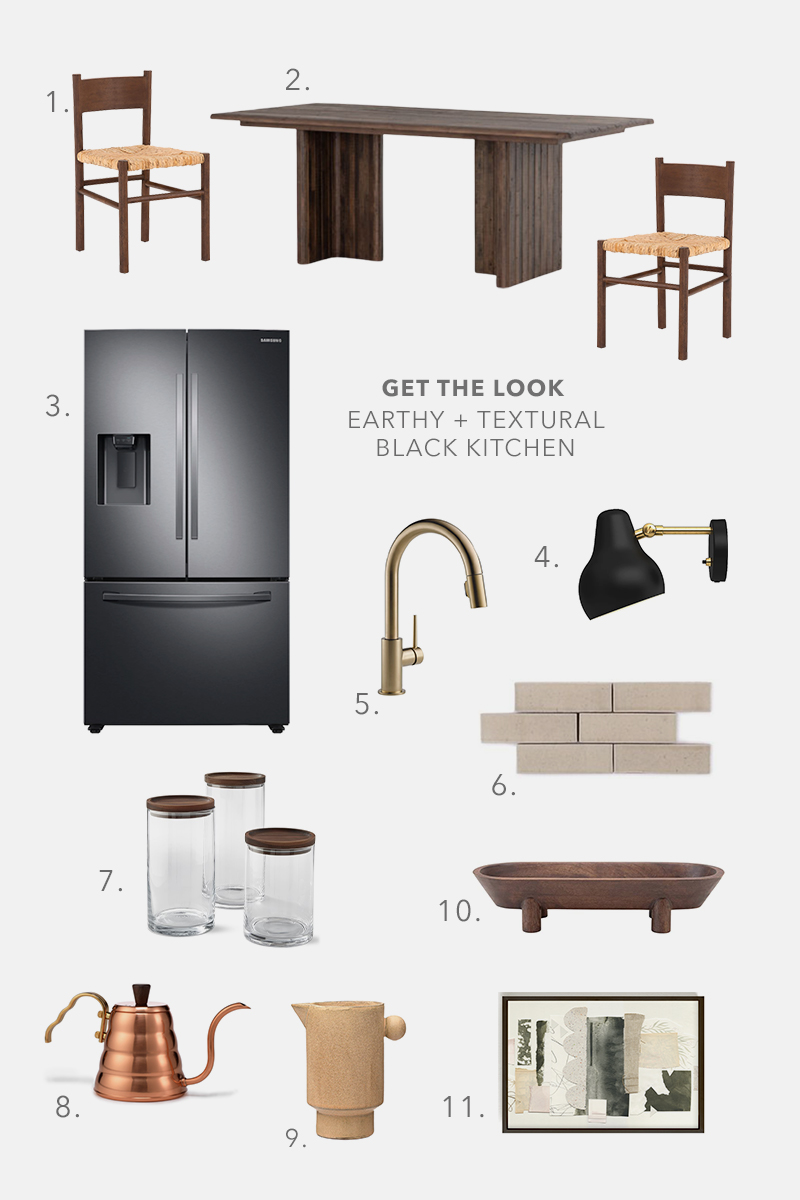 Chairs

(color: Russet Brown) 2.

Dining table

3.

Fridge

4.

Sconces

5.

Faucet

6.

Tile

7.

Canisters

8.

Copper Kettle

9.

Vase

(used as a utensil crock) 10.

Footed wood tray

11.

Abstract artwork
Images: Elizabeth Messina
Don't be intimidated to make a bold move with your kitchen. Whether you're thinking of painting your kitchen cabinets black or purchasing new matte black cabinets, keep these tips in mind for a cohesive kitchen design!
Have you thought about installing black cabinetry in your kitchen? Let me know in the comments!