With summer just around the corner—and the year nearly half over!—it's the perfect time to tackle those decor projects you've had on your plate for a while. For me, that meant recently decorating awkward space in this nook next to our fireplace. 
This little spot has been nagging at me since we moved in last fall. Nothing I tried there seemed quite right. I think we all have those spots in our home, don't we? Those corners and crannies that don't lend themselves to an immediate design solution and require a little extra time and creativity to sort out.
Given how long I've been noodling on this area, I can't tell you how good it feels to have created an arrangement that feels both aesthetically and functionally pleasing! I finally brought it together using pieces from AllModern's gorgeous Summer Assortment as my foundation for the space. Their fast and free shipping got my furniture to me with plenty of time to enjoy it all summer long!
Choosing Pieces for Decorating an Awkward Space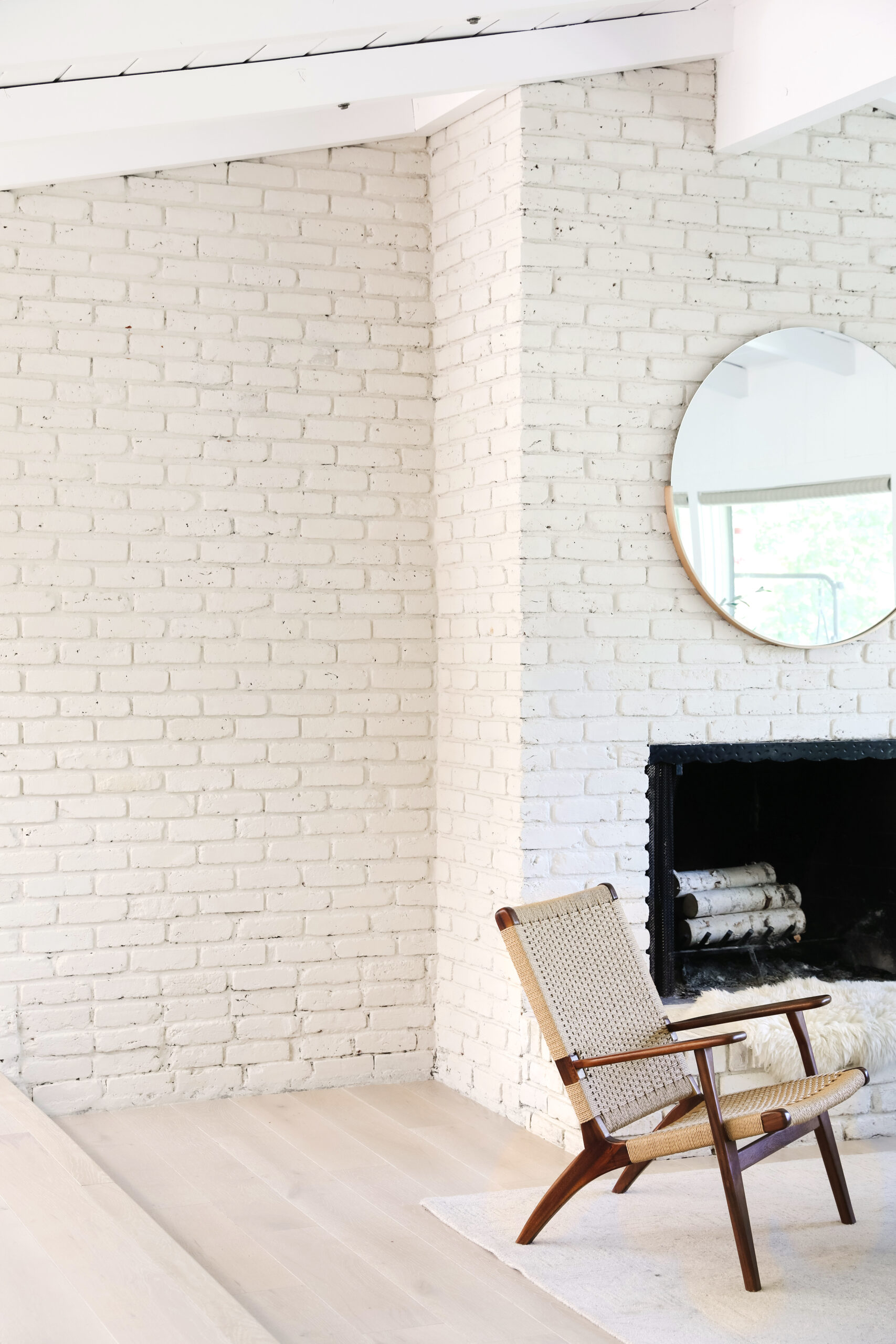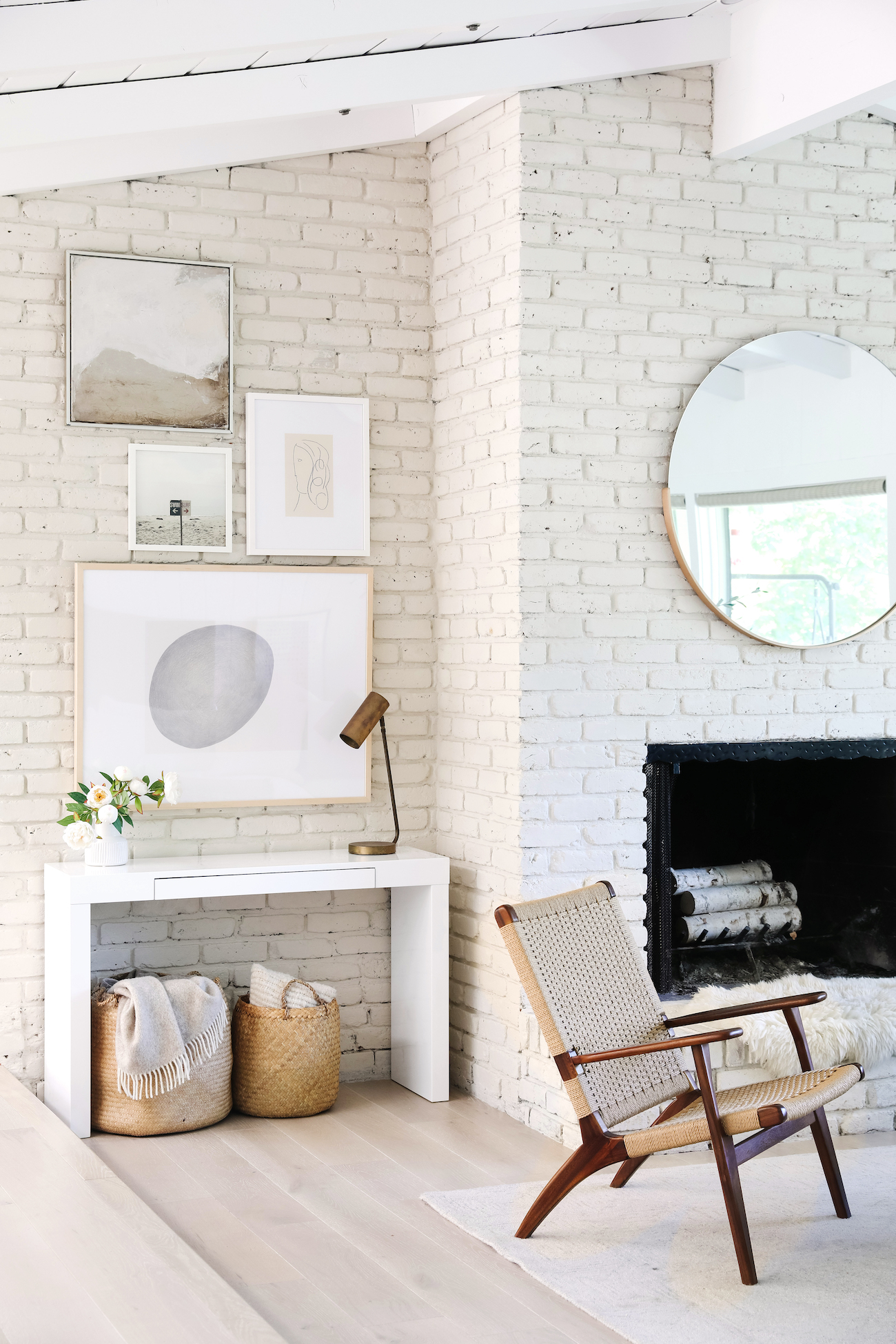 Why was this space so tricky to decorate? For starters, it was a challenging in-between size. Not large enough to warrant a full complement of furniture, but big enough that leaving it empty created a gaping eyesore.
As well, its location next to the fireplace in our living area meant that it had to jive with all the pieces in that room. Yet this spot also acts as a transition zone from our long, central hallway. So it needed a minimalist footprint to maintain the flow.
For a while, I had a large-scale piece of artwork on this brick wall to the left of the fireplace. This solution served to fill the vertical space on the brick. However it left too much open floor space forward of the wall. Long term, I'd need another arrangement.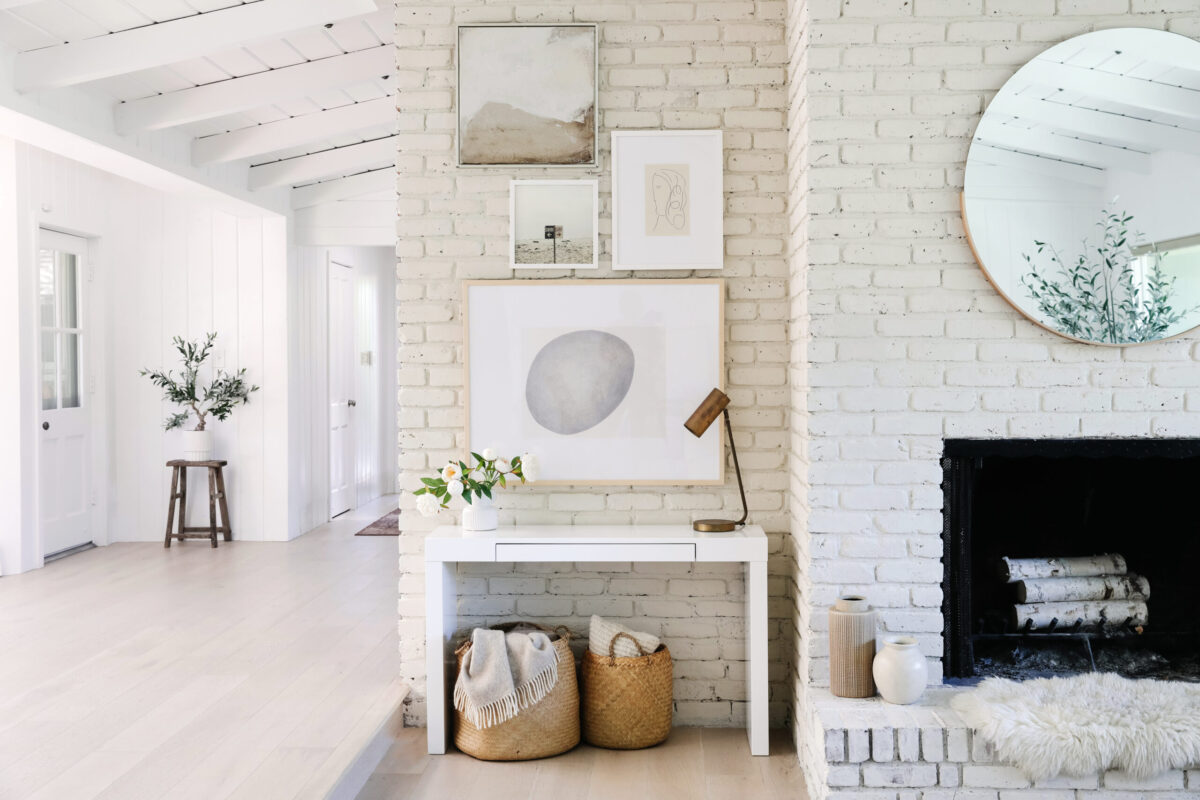 Consider the Whole Picture
To determine how best to decorate this awkward space, I took a step back and assessed all the elements in the scene. With so much going on—the busy texture of the brick, the pitched ceilings, and the multiple levels of floor—I'd need a piece that could hold its own while also maintaining a sense of calm.    
This modern white console table proved to be the perfect choice. What's more, AllModern shipped it to me within a week of placing my order! Not only do I love its clean angles and luxe laquer finish, but I like how it echoes the similarly shaped fireplace hearth. Plus, it's an ideal middle step from the tall sightlines of the hallway to the low line of the hearth.
Finally, the console's relatively shallow 14" depth extends far enough into the room to have a solid presence, without sticking out too far. Don't you love when a beautiful furniture find meets all your requirements?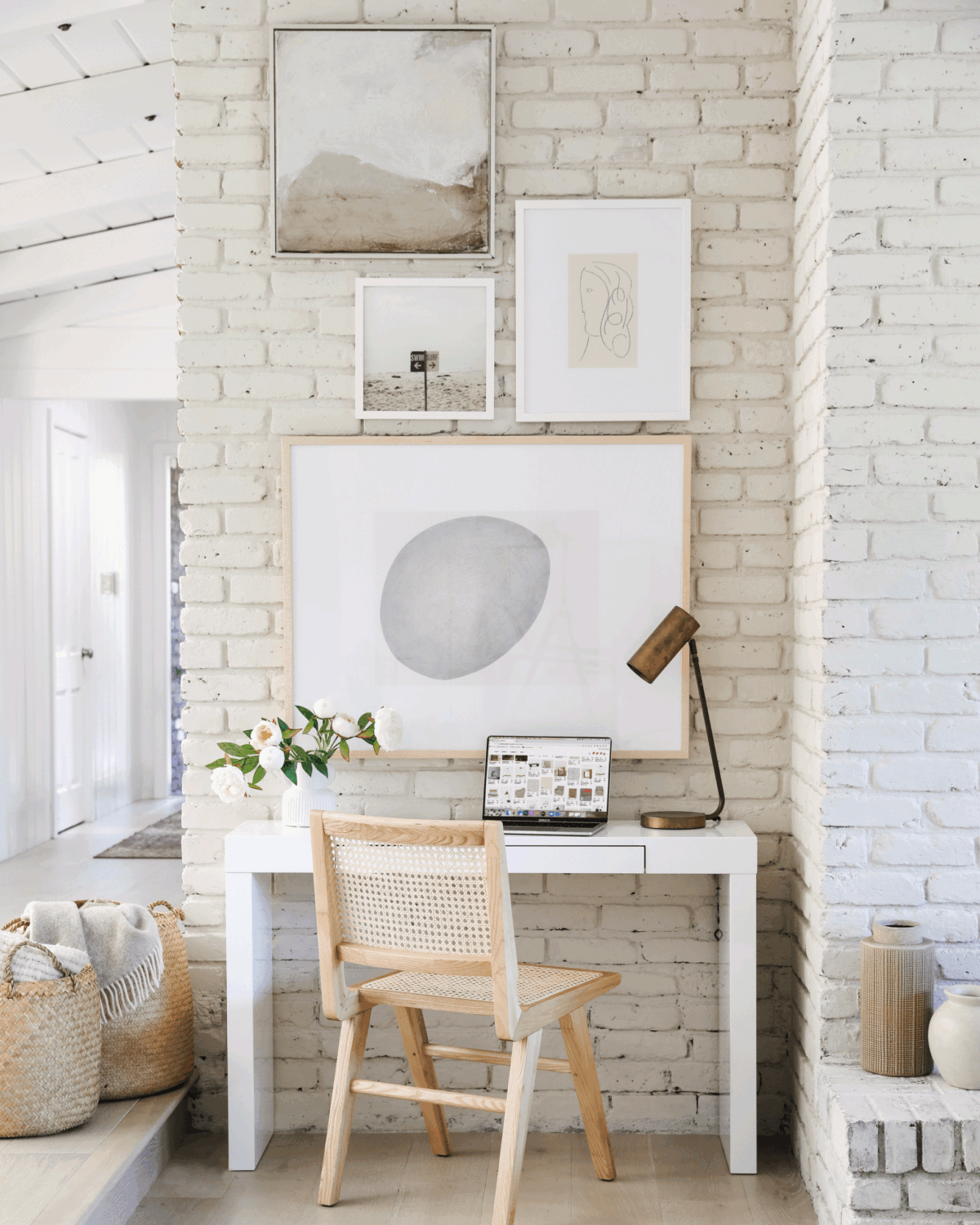 Create Extra Function to Maximize Empty Space
Decorating awkward space by crafting harmonious visuals is an admirable enough goal. But to act as truly great design, an arrangement should maximize function as well! The console provides light storage with its slim drawer. And it's a great spot to tuck a pair of large baskets with handles that hold extra throw blankets and pillows.
Yet the biggest win-win occurs when I change this nook into a work-from-home station! I just shift the baskets to one side, then grab a chair from the dining table that's adjacent to the living room. Voila, a sunny spot to sit with my laptop—one that I can transform back when I'm all caught up on emails! (As if that ever happens, ha!)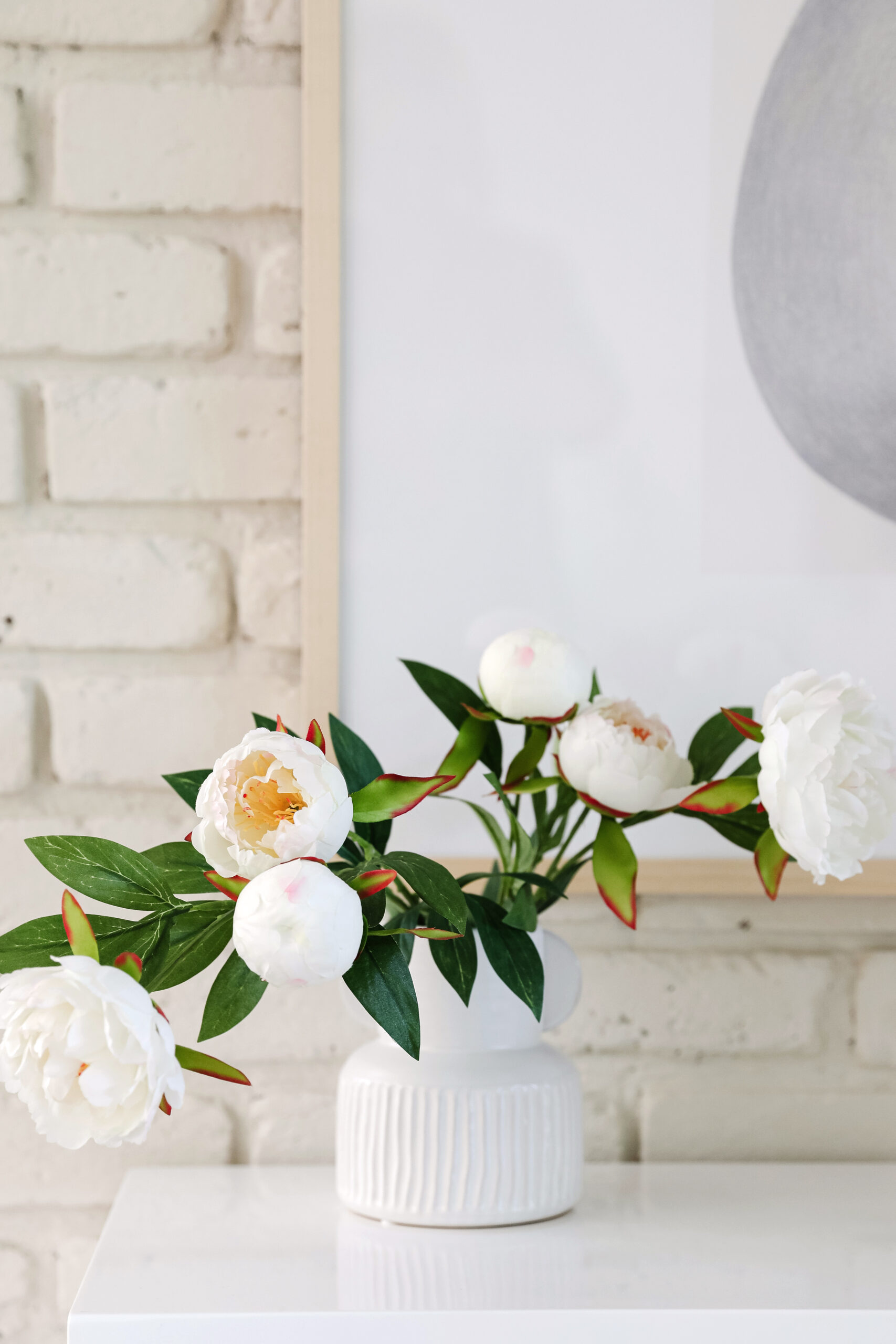 Layer on Thoughtful Finishing Touches

Of course, decorating an awkward space is just as much about those final finishing touches as it is the large furniture! To complete my vignette, I chose an oversized abstract art piece with simple composition to balance the round mirror over the fireplace. The remaining art I pulled from my existing collection, focusing on similarly soft tones and graphic shapes.
Finally, a ceramic vase with handmade vibes furthers the beachy, organic tone set by the seagrass storage baskets. It's just the right size for my favorite summer blooms, with a little pop of texture as a counterpoint to the smooth lacquer of the console table. I'm just over the moon about how decorating this awkward space came together!
Below are all the pieces I used to create this look, as well as a few other faves from AllModern's beautifully curated summer assortment. Snag your faves and take advantage of fast + free shipping to refresh your space in time for your most summer ever!
Disclaimer: This post was created in partnership with AllModern. I received compensation in exchange for concepting, styling, shooting, writing, and sharing this post. As always, all opinions are my own. Thank you for supporting the brands that allow me to bring you fresh inspiration!