Isn't it a bummer that in the quest for healthy eating, the most indulgent foods are also the first ones to be stricken from the menu? For me, nothing says 'indulgent' quite like deep, dark, fudgy brownies warm from the oven—but since I do my best to maintain a clean diet, it's been quite some time since I enjoyed such a treat! Oh sure, there are plenty of gluten free brownie recipes out there, but they tend to produce a pale shadow of the real thing. And as for the ones that come close, they often require pricey ingredients that'll just sit in the pantry long after the last crumb is devoured. What's a chocoholic to do?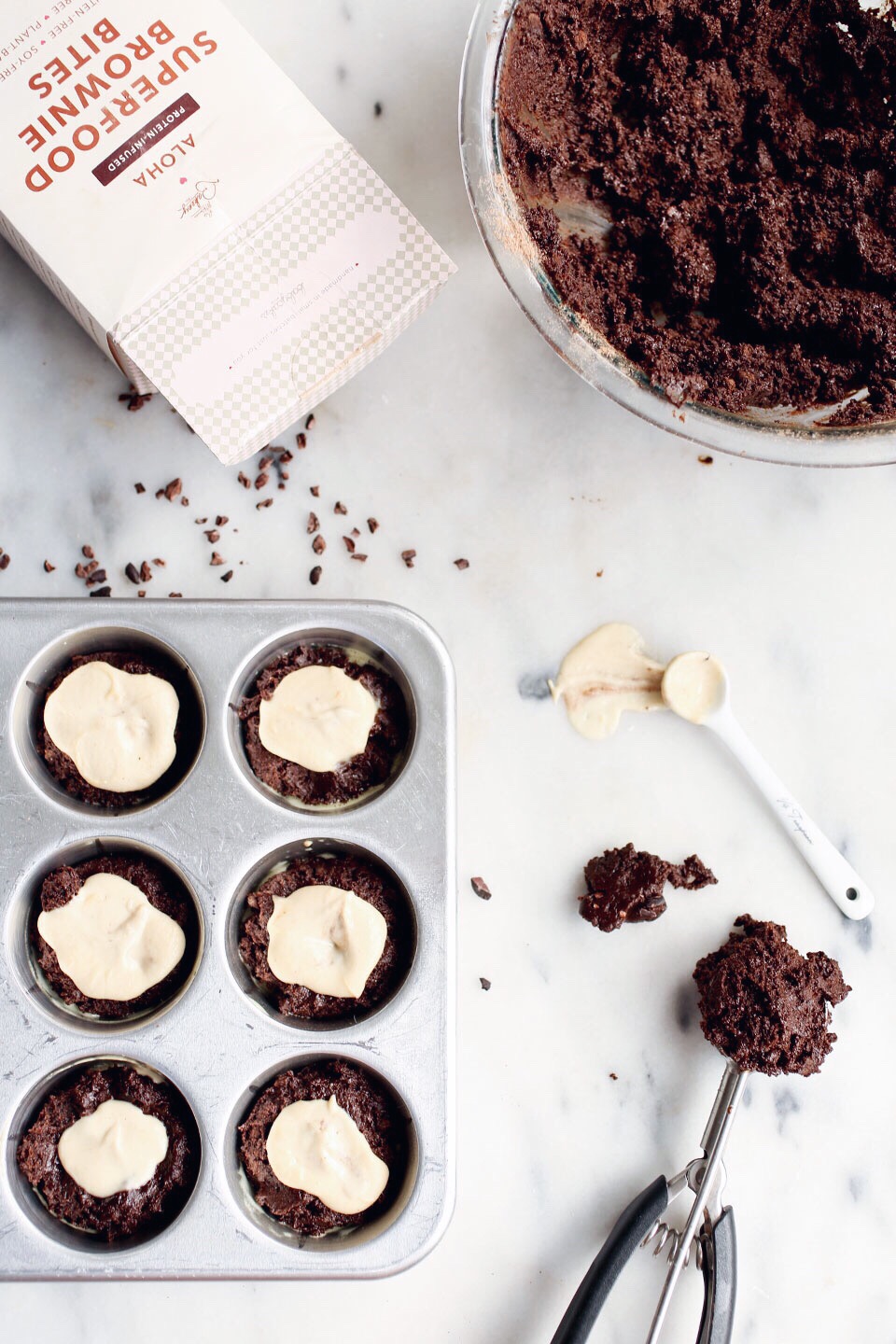 Um, pick up an ALOHA Baking Kit, that's what! ALOHA is a plant-based nutrition brand with a range of teas, protein powders, and supplements, and they've partnered with Babycakes founder Erin McKenna to create a range of superfoods-infused baking kits. Each is not only free of gluten, dairy, egg, and soy, but they feature the benefits of ALOHA's protein and greens formulations. Plus they're so versatile, which means you can customize each batch to suit exactly the craving you're having in the moment!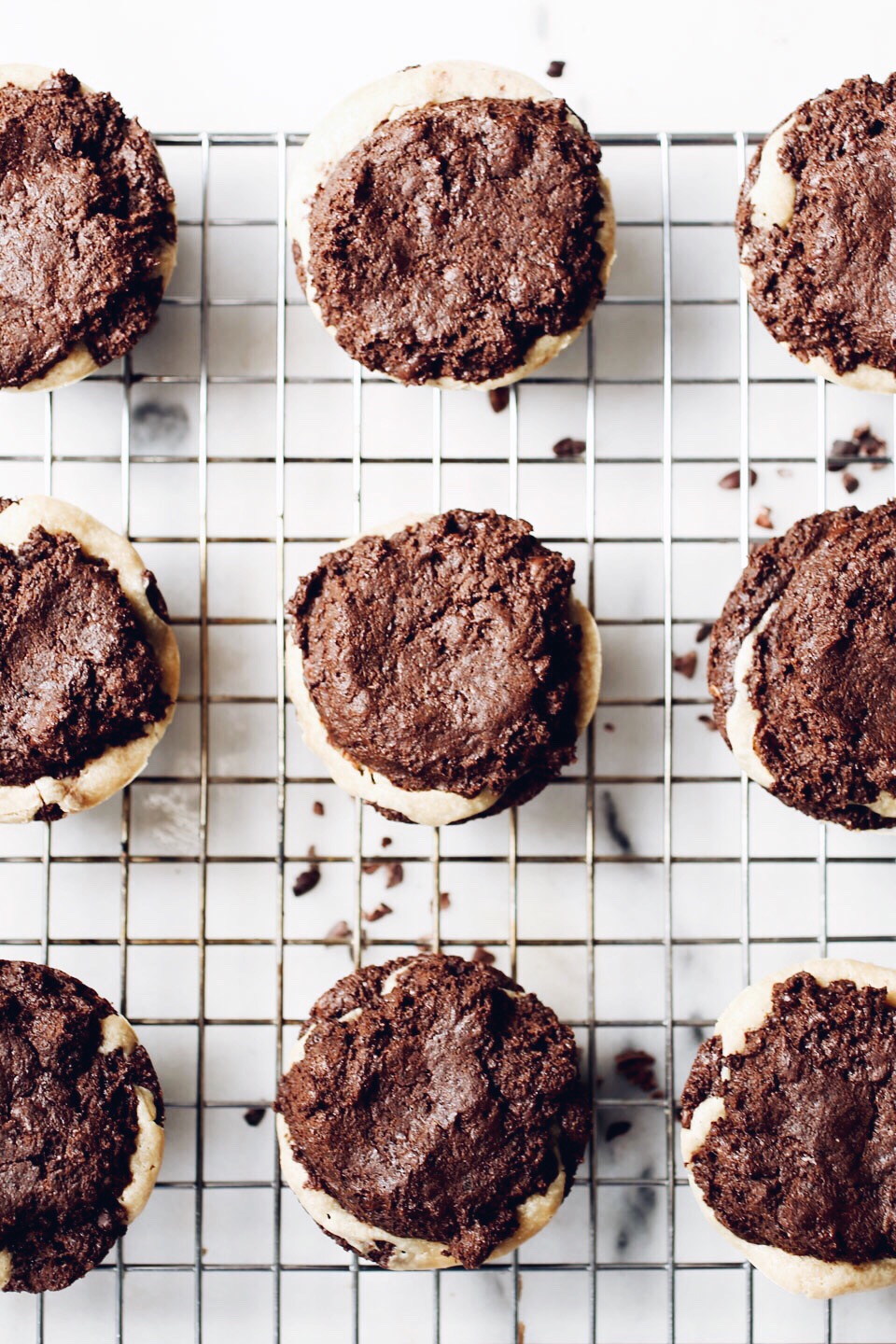 I myself am a peanut butter girl, so I had a blast concocting a variation on the ALOHA Brownie Kit to deliver a gooey PB fix! Of course I wanted to maintain the recipe's health-conscious profile, so I modified a batch of my go-to cashew cream to create a swirly cheesecake-like layer peeking out from the brownies. Baking them in muffin tins not only builds in portion control, it prevents the need for too much oven time—thus keeping these single serve deserts as moist as possible. Chocoholics everywhere, rejoice!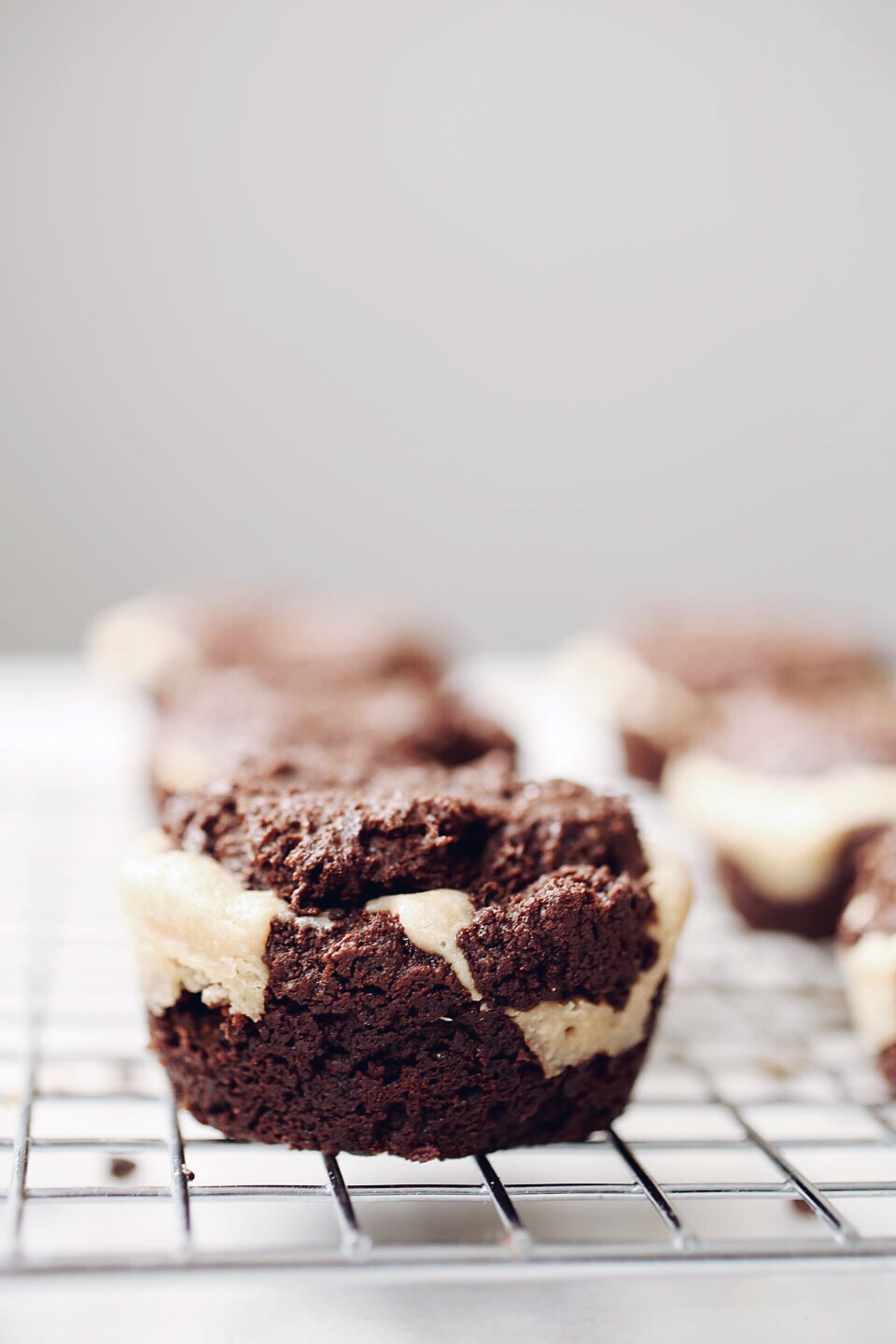 Gluten Free Peanut Butter Cheesecake Brownie Bites
1 ALOHA Brownie Baking Kit (Use the code CITYSAGE to receive 20% off any ALOHA order of $30 or more!)
1 cup raw cashews
1/2 teaspoon salt
1 egg
1 tablespoon coconut flour
2 tablespoons all-natural peanut butter
1 teaspoon vanilla extract
To make the cashew cheesecake layer, place raw cashews in a bowl and cover with water. Soak at least four hours but preferably overnight. Drain, then place in blender with salt and just enough water to cover the nuts. Blend until cashews take on a creamy, whipped consistency. Add egg, coconut flour, peanut butter, and vanilla. Blend to combine. To make the brownies, preheat oven to 325 degrees and grease the cups of a 12-cup muffin tin. Prepare brownie batter according to package directions. Place 2 tablespoons brownie batter into the bottom of each muffin cup, then spoon 1 tablespoon cashew mixture on top. Top off each cup with 1 tablespoon brownie batter. Bake 30 minutes, remove from oven, and let cool completely before eating…if you can wait that long!